Salmon Tataki with Creamy Lemon Dill Sauce
On my last birthday (which was quite a while ago, don't worry, I'm really coming out of nowhere with this one) I was lucky enough to get invited to a hockey game. A real, live hockey game.
And it wasn't just any game either. No way! It was the Habs against the Bruins. Trust me, as far as hockey games go, it doesn't get much better than this. Plus, we had EXCELLENT seats. Wow. What a regal this was for the hockey fan in me!
Before the game, we went and grabbed a bite to eat (as well as a bit of a sip to drink, but I was a good girl, I swear!).  Little did I know that I was about to make a new culinary discovery that night, one that I would remember for the rest of my life: there, sitting proudly right in the middle of the buffet table was this amazing, biooootiful salmon fillet. It had been only barely cooked before to be lovingly sprinkled with lemon juice, chopped capers and chopped fresh dill.
I loved it so much that it ended up being about all I ate that night, along with some of the house's beautiful grilled vegetables.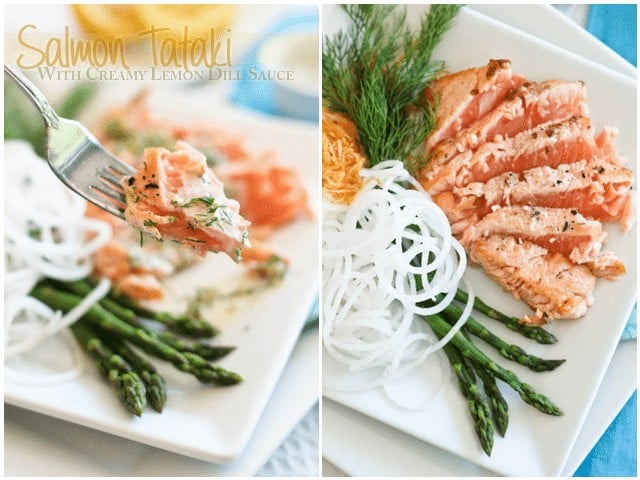 For a couple of months after that memorable night, the thought of that dish just lay dormant inside my brain. I remembered its pleasant appearance and taste and was amply contented with that simple mental appreciation.
But eventually, I became growingly dissatisfied with that distant memory. I needed to taste that delicate meat again.  Remembering it was no longer enough, so my brain rapidly decided for me: I was to attempt recreating it at home.
I started questioning my good friend Internet and soon learned that the dish in question is known as Salmon Tataki. In fact, according to Wikipedia, Tataki (also called tosa-mi) is a manner of preparing fish or meat in Japanese cuisine. The meat or fish is seared very briefly over a hot flame or in a pan, briefly marinated in vinegar, sliced thinly and seasoned with ginger.
In other words, you can "Tataki" just about any fish or meat, so long as they can also be consumed raw.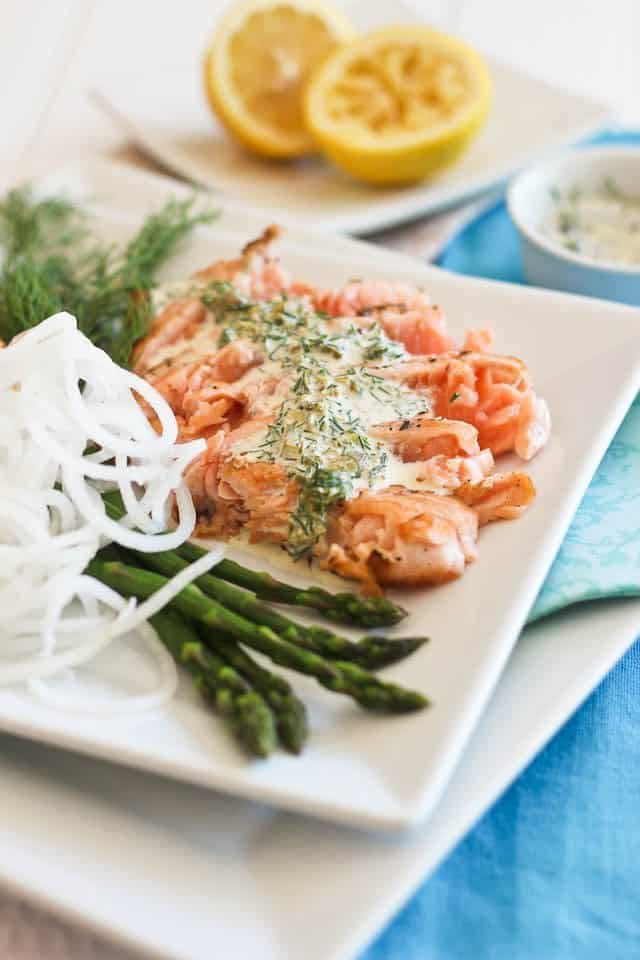 It took me a while to actually dare give it a try and while my first attempt didn't turn out quite as pretty as I'd hoped it would be, it was still extremely tasty and just as good, if not better, than the one I'd enjoyed at the restaurant that night.
The trick is you need to cook your meat over extremely high heat for an very short amount of time. You need to sear the exterior nice and good while the interior is to remain completely raw.
That, if you ask me, is synonymous with deeelicious.
Now that the ice has been broken for me, only one question remains:
Which do I try next? Tuna or beef?
Salmon Tataki with Creamy Lemon Dill Sauce
Servings: 1
Ingredients
Salmon Fillets - Per person
150 g salmon fillets, skin removed
Generous sprinkle salt and pepper
For the sauce (makes enough for 2 people)
1 tsp Paleo Mayo
the juice of half a lemon
1 tsp capers, chopped
1 tbsp fresh dill, chopped
Instructions
In a skillet that can handle some serious heat, add a little bit of refined coconut oil (you don't really want the coconut flavour here) and heat it up over very high heat.

While the pan is heating, trim the pieces of fish, if necessary, to get them as evenly shaped as possible. You're looking for a nice, regular rectangular shape. Sprinkle generously and on all sides with salt and pepper.

When the pan is nice and hot, sear the fillets for a very brief period, about 20-25 seconds per side, just long enough to get a little bit of a golden color going.

Remove to a cutting board and let the fish rest for a few minutes while you work on the sauce.

To make the sauce, add all the ingredients to a small bowl and mix together with a spoon until well incorporated.

Delicately slice the salmon and serve with the sauce.
If you've tried this recipe, please take a minute to rate the recipe and let me know how things went for you in the comments below. It's always such a pleasure to hear from you!
You can also FOLLOW ME on PINTEREST, FACEBOOK, INSTAGRAM and TWITTER for more delicious, healthy recipes!