Orange Cinnamon Beef Stew [and my new favorite "pasta"]
First off guys, in case you missed the announcement on my Facebook page, I need to tell you something.
Because I'm so exited, you know. I've been wanting this for so long now…
Well, finally, FINALLY, it has happened:
THE HEALTHY FOODIE IS NOW ON INSTAGRAM!!! 
Seriously, I'm so excited, it's not even funny. I've been wanting to get on there for a really, really long time now but couldn't because I was stuck with a Windows Phone (yeah, I know!) and Instagram is not compatible with that useless piece of junk. But hey, that's all behind me now.  I am now the proud owner of a Galaxy S4.
Awesome!
Like I said, I don't have much to show for now, but it'll come, trust me.
For instance, I intend to share every single meal that I'll be eating for the remainder of my Whole30®. As well, you'll probably get sneak peeks on upcoming recipes…
And family snapshots as well as silly pictures of me, from time to time, of course!
Just follow me if you want in on that!
Alright, on to tonight's eat…
That too, is pretty exciting!!!
I got the inspiration for this recipe out of Melissa's Well Fed – Paleo Recipes For People Who Love To Eat.
Well, for the actual Beef Stew, anyway.
Had I not read it in Melissa's cookbook, it would've never occurred to me to add cinnamon and orange juice to a beef stew. But as soon as I read the title of the recipe in her book, I knew I had to try it.
Lucky for me (and for you) I did, because the flavor combination is truly FANTASTIC!
Especially when paired with my new favorite pasta.
The long stringy thingies that you are seeing in the pictures, which could easily pass for spaghetti (my own son made that very "mistake") is in fact spiralized rutabaga.
Out of all the spiralized veggies I've had up until now, this one was BY FAR my favorite.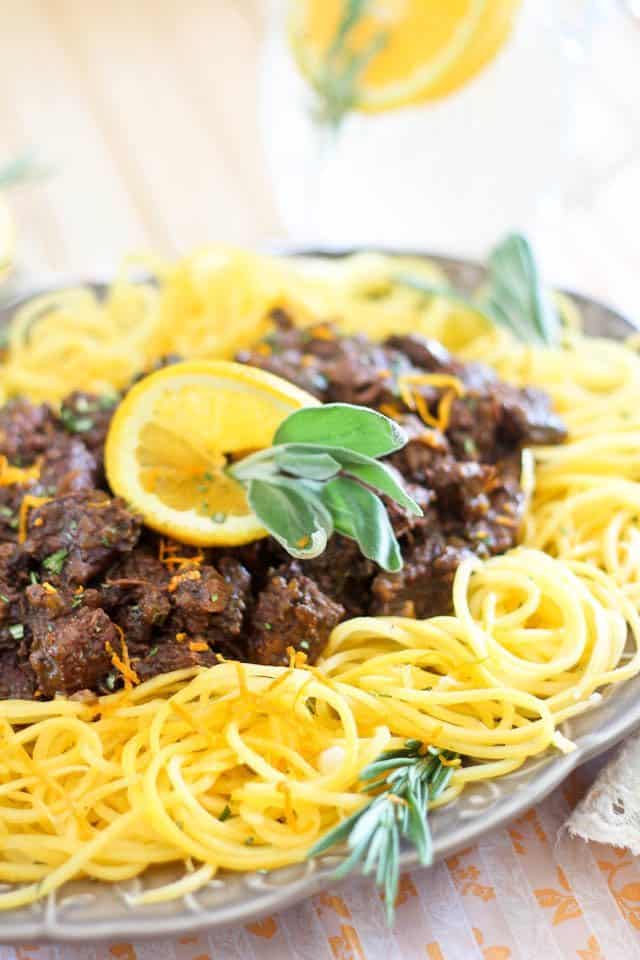 It has such a great bite to it, which really reminds me of true "al dente" pasta.
But not only that, the unique flavor of the rutabaga works extremely well with the concept of pasta. At least I find.
Like I said, it did pair amazingly well with the robust flavors of this hearty and comforting beef stew, but I'm sure it would be just as amazing with a good ole, traditional spaghetti sauce.
In fact, I'll be trying that out very, very soon! I see Spaghetti à la Bolognaise in the very near future for this foodie.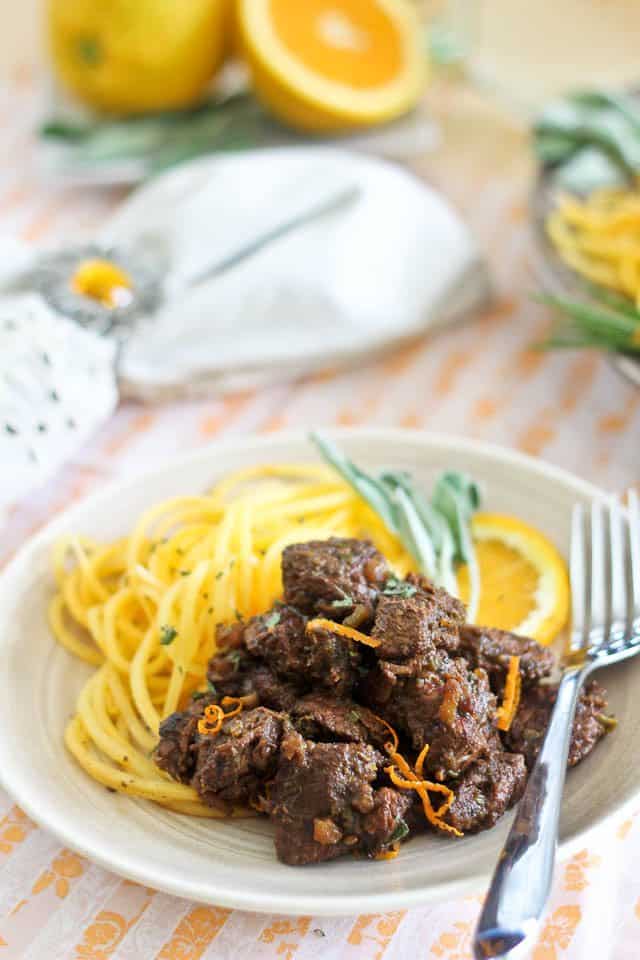 That's if I can resist making this stew again, though.
Because it was really, really that good.
So good in fact, I'm putting this one way high on the list of serious contenders for when company's coming.
You know, that one fail proof recipe that's super easy to make but absolutely certain to impress?
Oh yeah. That's the one.
Only one thing though.
Next time, I'll be sure to make a double batch!
Orange Cinnamon Beef Stew
Servings: 4
Ingredients
900 g grass-fed beef stew meat, cut into 1" cubes and patted dry
About ½ tsp salt + ½ tsp pepper, to sprinkle the meat
2-3 tbsp coconut oil, for cooking
1 medium onion, diced
1 carrot, diced
1 celery stalk, diced
2 cloves garlic, minced
the juice and zest of 1 orange, that's about ½ cup of juice
¼ cup balsamic vinegar
4 cups water
1 tsp salt
1 tsp black pepper
2 tsp ground cinnamon
2-3 bay leaves
1 tbsp fresh rosemary, finely chopped
1 tbsp fresh thyme, finely chopped
1 tbsp fresh sage, finely chopped
3-4 small rutabagas, spiralized
Instructions
Preheat oven to 350F

Heat the coconut oil in a large Dutch Oven set over medium-high heat. Add the pieces of meat in a single layer, taking extra care to leave a good amount of space between them. Sprinkle with salt and pepper and sear the pieces of meat until they get nice and golden brown on all sides. Remove to a plate (you might have to work in several batches and add coconut oil as needed to prevent the Dutch oven from drying out)

Once all the pieces of meat have been browned and removed to a plate, add the onions, carrot, celery and garlic to the Dutch oven and cook until fragrant, about 1 minute.

Deglaze well with the orange juice then add zest, balsamic vinegar, water, salt, pepper, cinnamon and Bay leaves.

Place in the oven and bake for about 2 hours to 2½ hours, until the meat is super tender and almost falls apart.

Stir in rosemary, thyme and sage and cook for an additional 10-15 minutes.

While that is happening, place the

spiralized

rutabaga in a steaming basket, sprinkle with a little bit of salt and steam over boiling water for 3-5 minutes, until "al dente".

Serve immediately (add a little drizzle of extra-virgin olive oil for a yummy boost of healthy fat)
If you've tried this recipe, please take a minute to rate the recipe and let me know how things went for you in the comments below. It's always such a pleasure to hear from you!
You can also FOLLOW ME on PINTEREST, FACEBOOK, INSTAGRAM and TWITTER for more delicious, healthy recipes!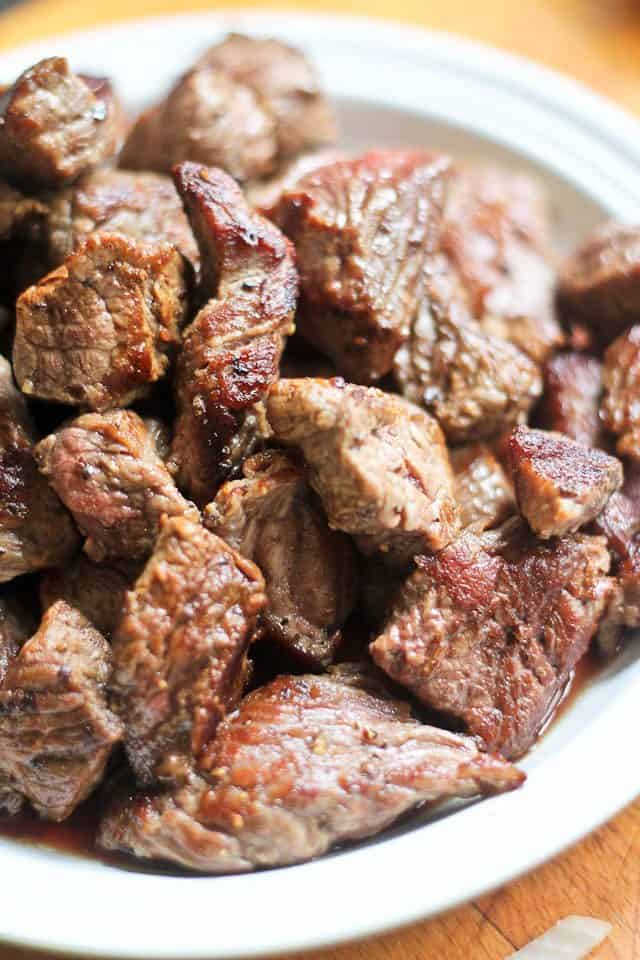 The meat, all nice and golden brown and ready to go back in the pot… 
My new favorite pasta!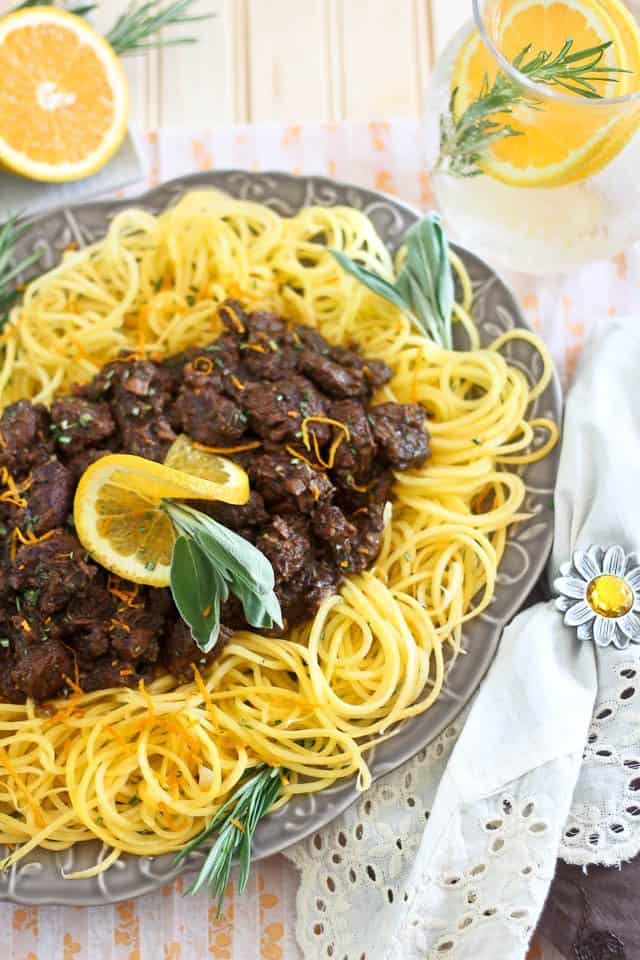 As tasty as it is pretty, I would not hesitate to serve this one to very special guests.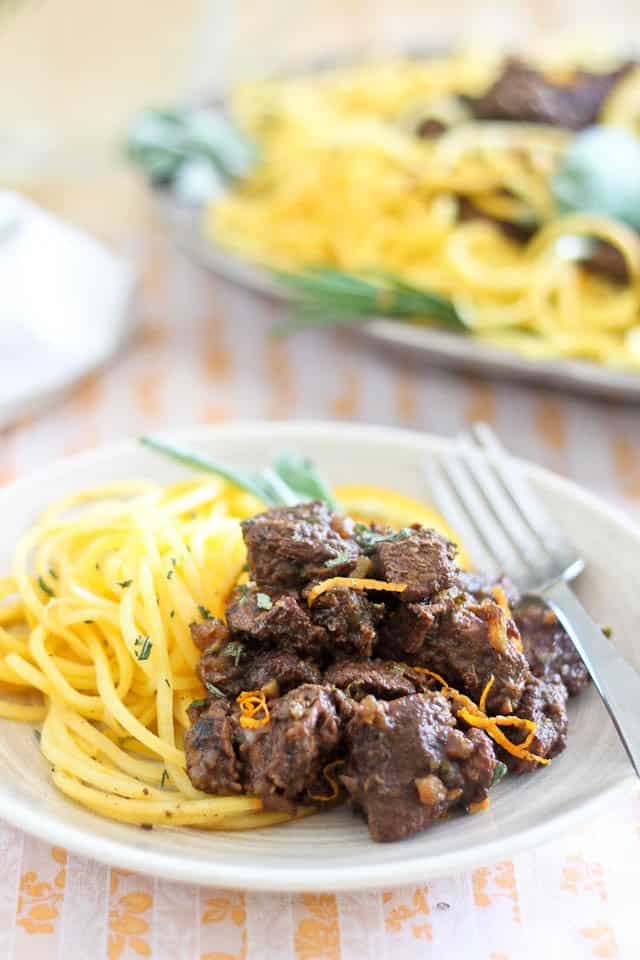 Plate her up… and dig in!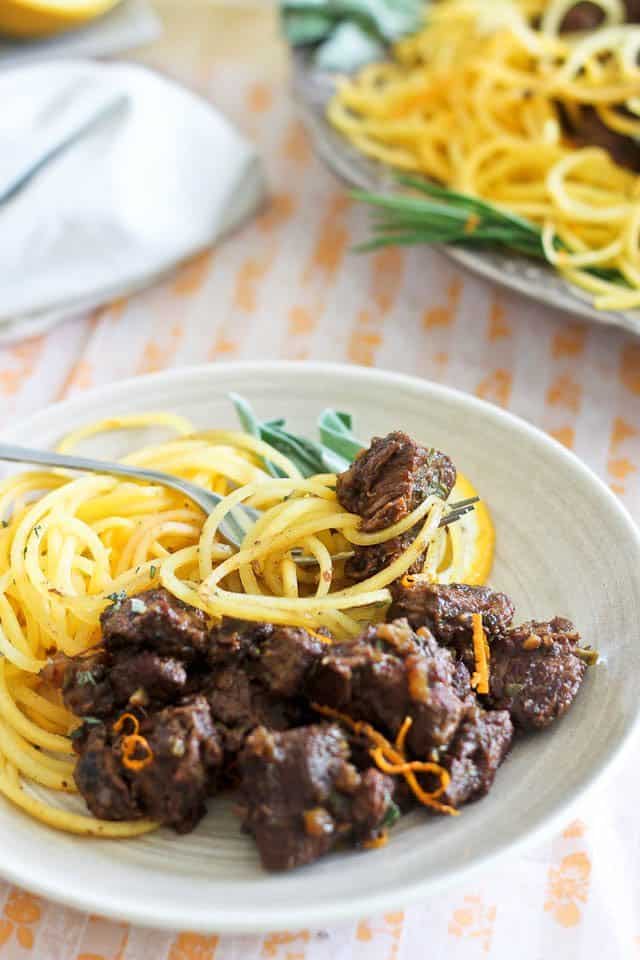 I think this happened only once during the entire meal…
I swear, once you have a bite, you'll have a hard time putting your fork down!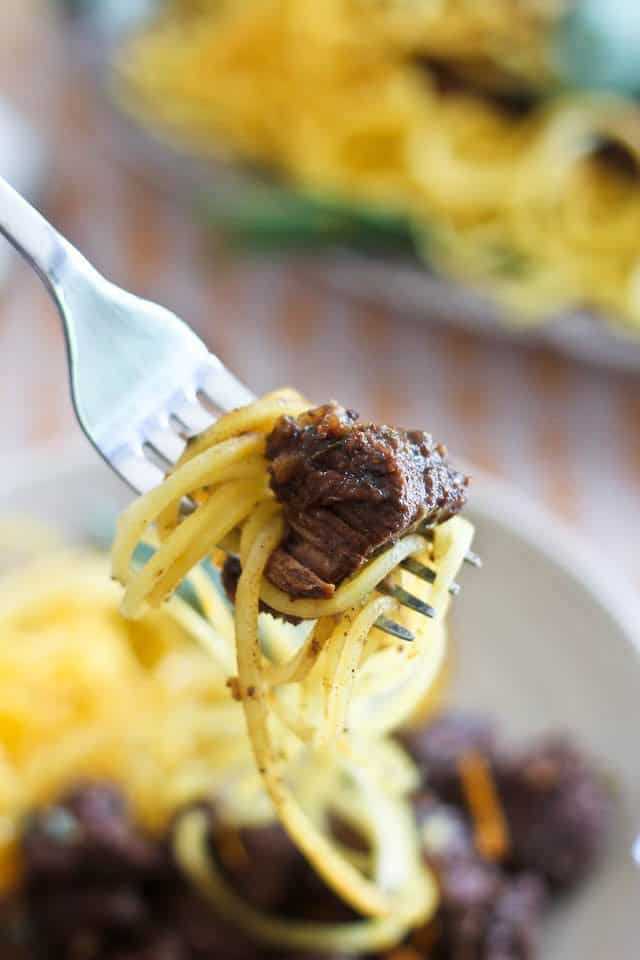 Here, I'll share ONE bite with you, but that's it! 
If you want more, you're gonna have to make your own…