Zuke-Fest Breakfast
If I could create a new life for myself, I think I would make me a farmer.
I'd have a bunch of pigs and goats and chickens.
Oh, and a few horses and [more] dogs, too!
And maybe even a few cats, why not? Someone would have to take care of the mice, now, wouldn't they?
For sure, it would be a life where I would be spending most of my days outside, enjoying the sun and fresh air, putting my body to good use and demanding from it that it does what it was designed to do, which is move and carry stuff around and be really active for the most part of the day.
NOT remain seated on its tush all day, staring at a computer screen.
Mind you, I'd still have to find a little bit of time for blogging, you know…
Of course, in that perfect little life of mine, I'd also have a little garden where I would grow all sorts of vegetables and fresh herbs, so I could just walk out in the yard in the morning, pick me a few perfectly ripe little zukes, a plump aubergine, a beautiful fresh sun-kissed tomato, grab a handful of parsley on the way back home and whip me up this delicious breakfast.
And hopefully, I'd also have to double the recipe because I'd have a very hungry, like-minded life partner to enjoy breakfast with… 
Unfortunately, that's not the way things go for me.
As a full time office worker, I get to spend most of my days resting my rear against a padded cushion. And way too many hours sitting in traffic!
I feel like I die a little with every passing day. I can't be doing this anymore. I need to move. I need to be active.
I need to feel ALIVE!
*Sigh* Who knows what tomorrow is made of, right? 
But hey, I might not have a garden I can call my own just now, but at least, I got to create this beautiful breakfast bowl after purchasing freshly picked vegetables, locally grown in someone else's garden.
It was almost as fresh as if I'd picked them from my own garden!
And while I was eating this, I felt transported, almost as if I'd been right there, living on that farm. At one point, I could have sworn I was even hearing the animals making small conversation out there in yard.
A swift glance in the direction of the noise quickly brought me back to reality: it was my dogs staring at me and complaining loudly, requesting for me to get up and open the door for them, so they could come in and beg for some of that food…
Oh, how happy the two of them would be, if we lived on a farm!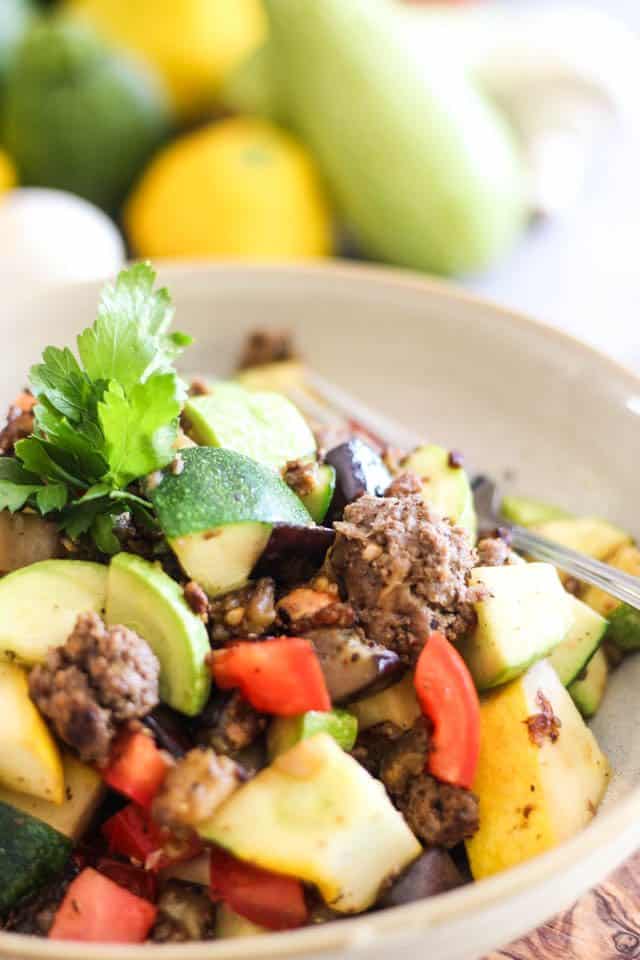 Ah, right. I almost forgot.
I guess it's no secret by now that I really like my ground beef for breakfast. In fact, you might almost say that ground beef is my new cereal.
But if you're not quite there with me yet, as always, feel free to save this one for lunch or dinner.
Oh, and also too, feel free to double or even triple the recipe, for I'm sure you won't mind sharing…
Or generating leftovers, for that matter!
And hey, tell me, if YOU could create a new life for yourself… what would it be like?
Zuke-Fest Breakfast
Servings: 1
Ingredients
150 g leftover cooked ground beef
4 mushrooms, sliced
Salt and pepper to taste
1 small grey zucchini, cut into bite size chunks
1 small green 8 ball zucchini, cut into bite size chunks
1 yellow pattypan squash, cut into bite size chunks
½ small aubergine, cut into bite size chunks
1 ripe tomato, diced
Fresh parsely and extra-virgin olive oil to garnish
Instructions
Heat a skillet over medium-high heat. Melt a little bit of cooking fat (

lard

or ghee preferred) and add the sliced mushrooms, salt and pepper. Cook for one or two minutes, until they become nice and golden brown, then add the chopped courgettes and aubergine. Continue cooking until sligtly softened, about one or two minutes more.

Stir in the cooked ground beef and tomato and continue cooking for another minute or so, until the ground beef is heated all the way through.

Transfer to a shallow bowl and garnish with fresh parsley and drizzle generously with extra-virgin olive oil.

Take a moment to truly savor and appreciate this beautiful dish that you just prepared! Imagine yourself in a place where you'd really love to be (or if you already are, be super thankful for that and take a good long look around you!)
Notes
*You can also use uncooked ground beef, just add it after you're done cooking the mushrooms and make sure you cook it all the way through before you continue with the zucchinis and eggplant.
If you've tried this recipe, please take a minute to rate the recipe and let me know how things went for you in the comments below. It's always such a pleasure to hear from you!
You can also FOLLOW ME on PINTEREST, FACEBOOK, INSTAGRAM and TWITTER for more delicious, healthy recipes!