MILE HIGH POWER BREAKFAST BURGER
Here I am again with my ground beef for breakfast!
What can I say? Next to eggs, it truly has become one of my favorite breakfast foods.
Nothing satisfies me quite like it.
In fact, I've gotten so accustomed to having meat for breakfast now that breakfast without it feels like it's missing something.
One thing's for sure, though, this particular breakfast here felt anything BUT like it was missing anything at all!
In fact, I think it pretty much qualifies as the ultimate breakfast for me.
I find it has just what it takes of everything: a good amount of healthy fats, plenty of protein, a great dose of good carbs and even some probiotics got thrown in the deal!
Frankly, I don't think it gets much better than this.
Plus, it's such a feast for the eyes, too! I don't know about you, but I could just look at this burger for hours. And to be honest, it looked even better in person…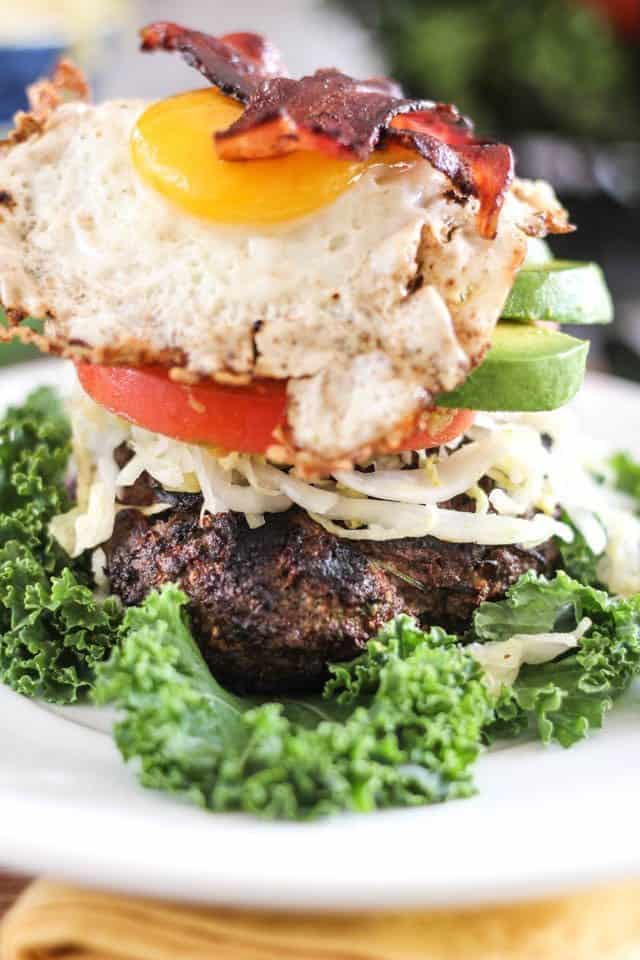 Nope, really. For the time being, I can't think of a better way to start the day.
I only wish it didn't take so long to put this baby together. There's just no way I can manage this one on a weekday…
Unless… unless I cooked the meat and bacon in advance and just reheated them quick quick in the microwave. Then it would only be a question of pan-frying the egg and piling everything up. .
Hmmm. I think I might be on to something here! This might very well become a new regular breakfast meal for me after all!
But as usual, it's not because *I* call this breakfast that *you* necessarily have to consume it for breakfast! Lunch or dinner would work just as well.
Especially with a side of sweet potato fries…
Now, wouldn't that be a dream!
A dream, I tell ya…
MILE HIGH POWER BREAKFAST BURGER
Servings: 4
Ingredients
To make the patties, you will need:
450 g grass fed ground beef
1/3 cup crispy lardons, or 2-3 crispy bacon strips and their drippings
1 tbsp Dijon mustard
3 cloves garlic, chopped
1 pastured egg
¼ tsp Himalayan or unrefined sea salt
¼ tsp freshly cracked black pepper
¼ tsp anise seeds
1/8 tsp ground clove
1 large jalapeño pepper, seeded and very finely chopped
¼ cup fresh parsley, finely chopped
2 tbsp fresh mint, finely chopped
1 tbsp fresh rosemary, finely chopped
½ cup sauerkraut, squeezed fairly dry and roughly chopped
To garnish each burger, you will need:
1 fresh kale leaf, torn into several pieces
2 slices tomato
3 slices avocado
¼ cup sauerkraut
1 pastured egg, pan fried
1 bacon strip, cooked and cut in 2 pieces
Instructions
Start by cooking the required number of slices of bacon (depending on how many burgers you are making and whether or not you are using cooked bacon in your meat patties) and set aside.

In a small food processor, add the lardons (or cooked bacon and drippings) Dijon mustard, garlic, egg, salt, pepper, ground clove and anise seeds and process into a paste.

Add that to a medium mixing bowl along with the ground beef, jalapeño pepper, parsley, mint, rosemary and sauerkraut and knead well with your hands until uniformly blended. Form the meat mixture into 3 or 4 beef patties.

Preheat your outdoor grill to high.

Once your grill is nice and hot, lower the heat to medium and place the patties on the grill; cook for about 3-4 minutes per side or until the patties are done to your liking.

Alternatively, you could also cook the beef patties in a large skillet set over medium-high heat, again, about 3-4 minutes per side.

While the meat is cooking, pan fry as many eggs as you will require to garnish your burgers.

To assemble the burgers, start by laying a few pieces of kale at the bottom of a plate. Place the beef patty right over that, followed by the sauerkraut and a few slices of tomatoes and avocado.

At this point, you might want to insert a toothpick right in the center of the pile to make sure your mile high burger doesn't collapse on you!

Once everything is good and secure, add the pan fried egg right on top of all that and, finally, place two pieces of cooked bacon right over your egg. BEAUTY!

Take a nice long look (if you can!) at your beautiful creation and dig in.
If you've tried this recipe, please take a minute to rate the recipe and let me know how things went for you in the comments below. It's always such a pleasure to hear from you!
You can also FOLLOW ME on PINTEREST, FACEBOOK, INSTAGRAM and TWITTER for more delicious, healthy recipes!