TOMATO & OLIVE BRAISED PORK SHOULDER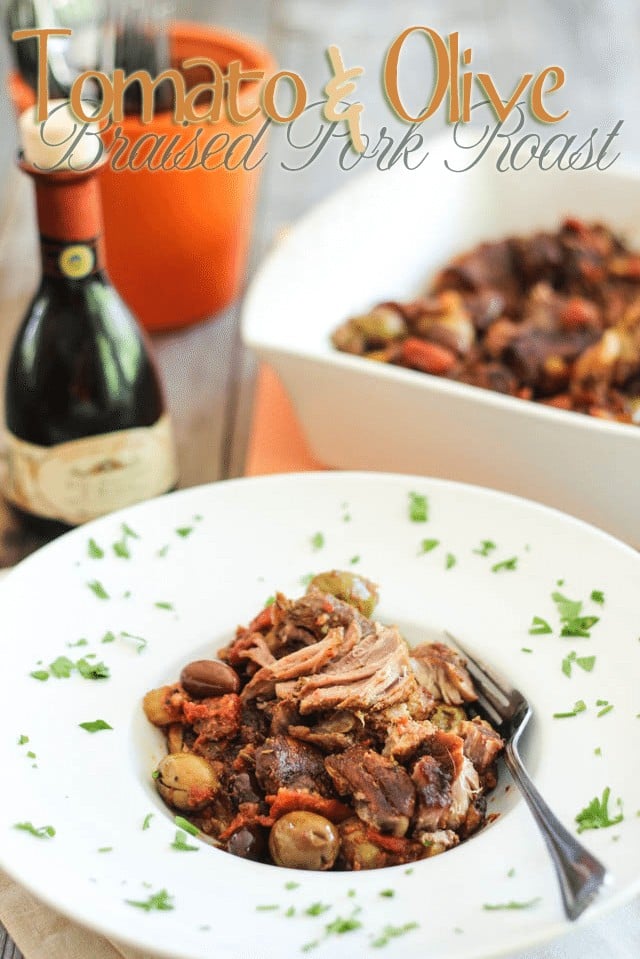 I don't know about where you live, but in MY part of the world, it's already getting p-r-e-t-t-y cold out.
Especially in the morning.
There was actually frost on my windshield when I left for work this morning. F-R-O-S-T, I tell you.
BOO!
I even had to wear a coat.
AND I flicked the switch to my car's heated seats to the ON position for the first time of the season, too.
While we're on the subject of heated seats… Aren't they like THE GREATEST INVENTION EVER? I mean, I would simply LOVE for every seat in the world to give me the option of gently warming up my behind at the flick of a switch when I'm frozen to the bone. I find there's something particularly comforting about this heating method: it almost feels like the heat is completely embracing you from the inside out. Almost like taking a bath, but without the water. Oh bliss!
Alright, call me weird. What can I say? I loooooove heat!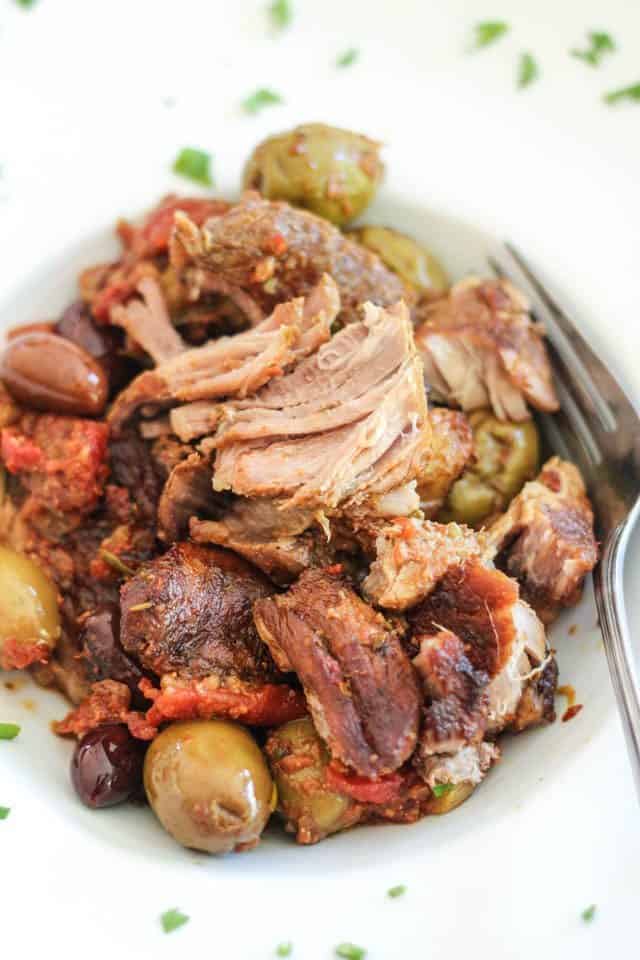 But you know what?
In a little over a week, I won't give so much of a darn about the chilly mornings here in Quebec, or even about heated seats, for that matter. I will be keeping my butt warm in a completely different way: I will have both my feet well planted in the sand of some beautiful (and familiar) sunny Cuban beach.
That's right!
For a full week, I'll be disconnecting completely, turning my own personal switch to OFF as I spend some time relaxing in beautiful Cayo Largo. And trust me, when I say turn my switch to off, I mean turn my switch to off. There really isn't much to do there but sit back, bask in the sun and enjoy the present moment. They don't even have Internet access, or just as well. I hear they just got Wi-Fi installed, but they charge you $8 an hour to use it. And judging by everything else there, it HAS to be slow as hell. At that rate, I think I'll pass…
So sorry, there will be no posting pictures "live from Cayo Largo" to Instagram or Facebook…
Still, I like this place so much, it'll be my 3rd time visiting and I wouldn't mind going back every year. It's clean, it's quiet, the staff is super nice, the food is good, and it costs close to nothing to stay there.
What's there not to like?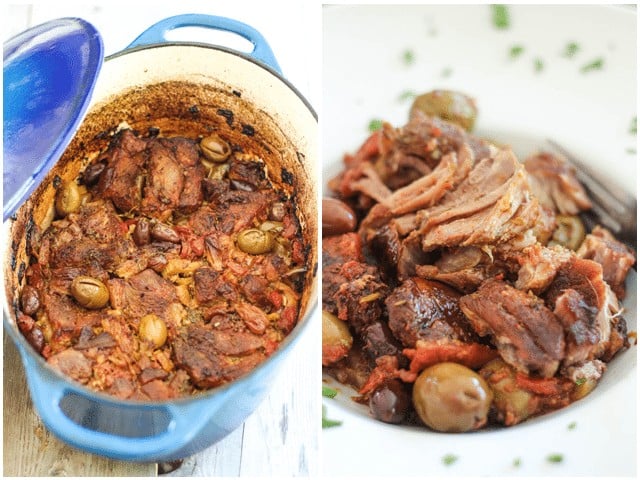 Don't worry, though, I've got you guys covered. I shall not let you hang dry while I'm gone.
This year, I decided to ask a handful of my favorite bloggers to cover for me in my absence and trust me, when you see the total awesomeness of what I've got lined-up for you, you won't even miss me for one second. Who knows, you might even wish that I'd been gone longer… 😉
Until then, since most of us have no choice but to deal with the harsh reality of Autumn slowly taking over, bringing breezy, chilly days and the inevitable temperature drops that come with it,  I give you this beautiful, comforting and warming Tomato and Olive Braised Pork Shoulder recipe.
It's very tasty and it'll do your soul a world of good, I swear.
An yeah, I know… It won't be long until I too, crave these kinds of dishes. In fact, as soon as I return from Cuba, I plan on installing the Christmas lights on my house, before it gets REAL cold out and snow starts to fall.
But hey, I'd rather not talk about this now.
Go make some stew, guys.
Winter can wait a little bit longer…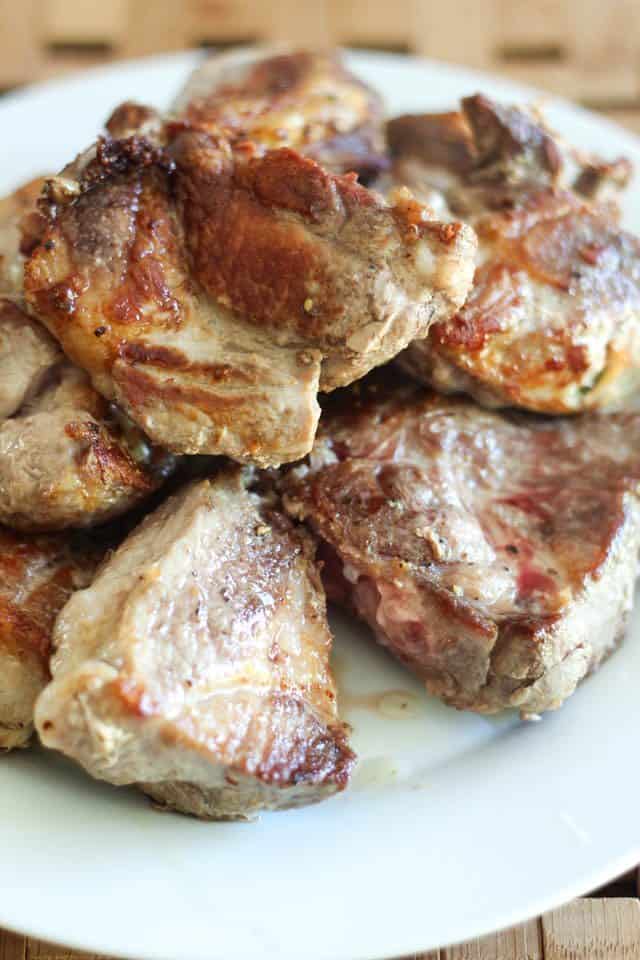 Brown the meat real good on all sides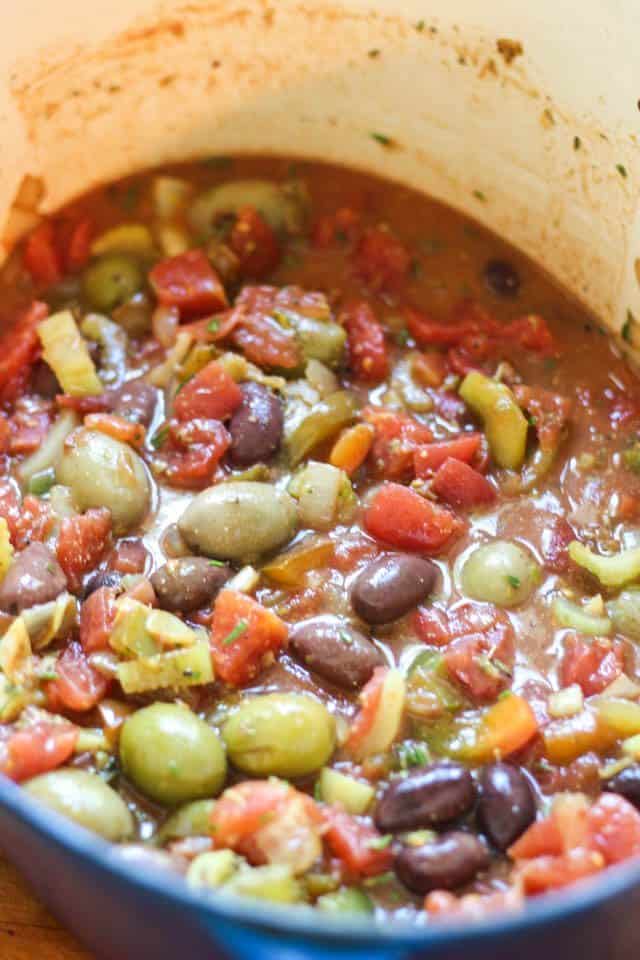 In go the vegetables, olives and tomatoes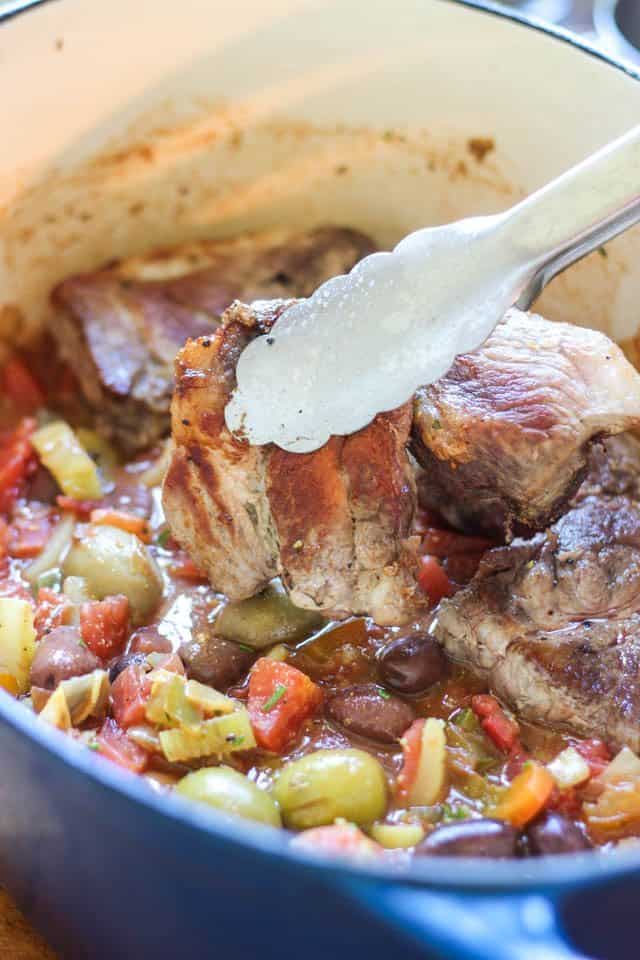 Meat goes back in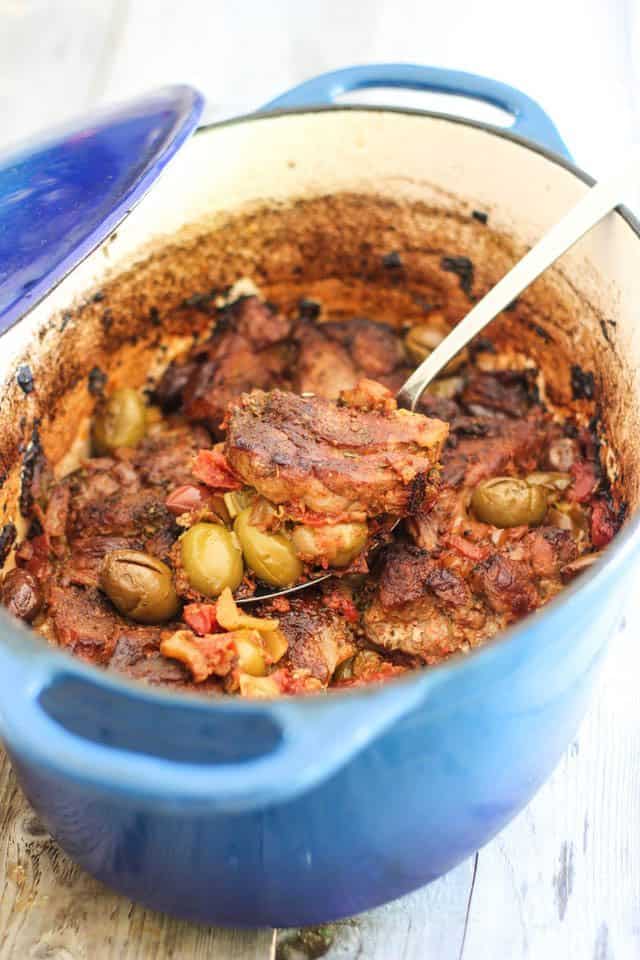 After spending a few hours basking in the oven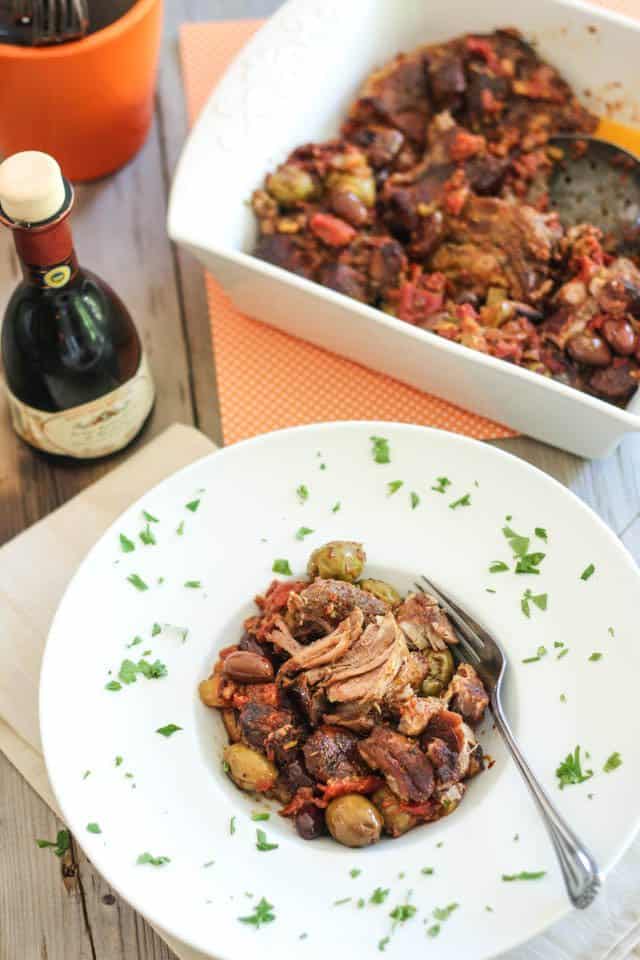 Would you care for a plate?  
Just look at that beautiful, tender and juicy meat… Now imagine the flavor! 
TOMATO & OLIVE BRAISED PORK SHOULDER
Perfect for the colder Autumn days ahead, this slowly braised Pork Shoulder with Tomatoes and Olives will warm you up from the inside out.
Servings: 6
Ingredients
2.2 lb pasture raised pork shoulder
¼ cup lard
1 large onion, chopped
2 celery stalk, chopped
1 bell pepper, chopped
4 cloves garlic, minced
1 head roasted garlic
¼ cup Dijon mustard
1 - 28oz can diced tomatoes
2 cups olives, 1 cup jumbo green, 1 cup jumbo kalamata
2 tbsp fresh rosemary, chopped
1 tbsp dried oregano
½ tsp Himalayan salt
½ tsp freshly ground black pepper
Instructions
Preheat oven to 350°F

Cut your pork shoulder into 6 to 8 pieces and season liberally with salt and pepper; melt the

lard

in a large Dutch oven over medium-high heat. When Dutch oven is nice and hot, add the pieces of meat and do not move them until a nice dark crust has formed, about 4-5 minutes. Flip the pieces of meat and sear the other sides until they too, form a nice golden crust.

Transfer the meat to a plate and reserve.

Add onion, celery, bell pepper and raw garlic to the Dutch oven and cook for one or two minutes, just enough for the vegetables to grab a hold of all the delicious flavours that are attached to the bottom of the pan and soften up a little. Add roasted garlic, Dijon mustard, canned tomatoes, olives, herbs and seasoning and stir until well blended.

Put the meat back in, put the lid on and place that in the oven for about 2½ to 3 hours hours, or until the meat detaches very easily when pulled with a fork.

You might want to check from time to time just to make sure you still have enough cooking liquid. If it appears to have gone down too much, add a little bit more water.
Nutrition
Calories: 246kcal, Carbohydrates: 7g, Protein: 22g, Fat: 15g, Saturated Fat: 3g, Cholesterol: 68mg, Sodium: 1102mg, Potassium: 501mg, Fiber: 3g, Sugar: 2g, Vitamin A: 967IU, Vitamin C: 30mg, Calcium: 76mg, Iron: 2mg
If you've tried this recipe, please take a minute to rate the recipe and let me know how things went for you in the comments below. It's always such a pleasure to hear from you!
You can also FOLLOW ME on PINTEREST, FACEBOOK, INSTAGRAM and TWITTER for more delicious, healthy recipes!