Deliciously Addictive CocoShew Butter
For the entire duration of my last Whole30® challenge, which ended up lasting 62 days after all, I have not had a single bite of any kind of nut butter.
Or coconut butter, for that matter.
In fact, I had even set up a no nut policy for myself because I know full well that nuts and nut butters are HIGHLY addictive for me.
No word of a lie, I used to have at least 3 to 4 different varieties in my cupboards at all times, which had to include AT LEAST one jar of my favorite and oh! so precious Raw Cashew Nut Butter.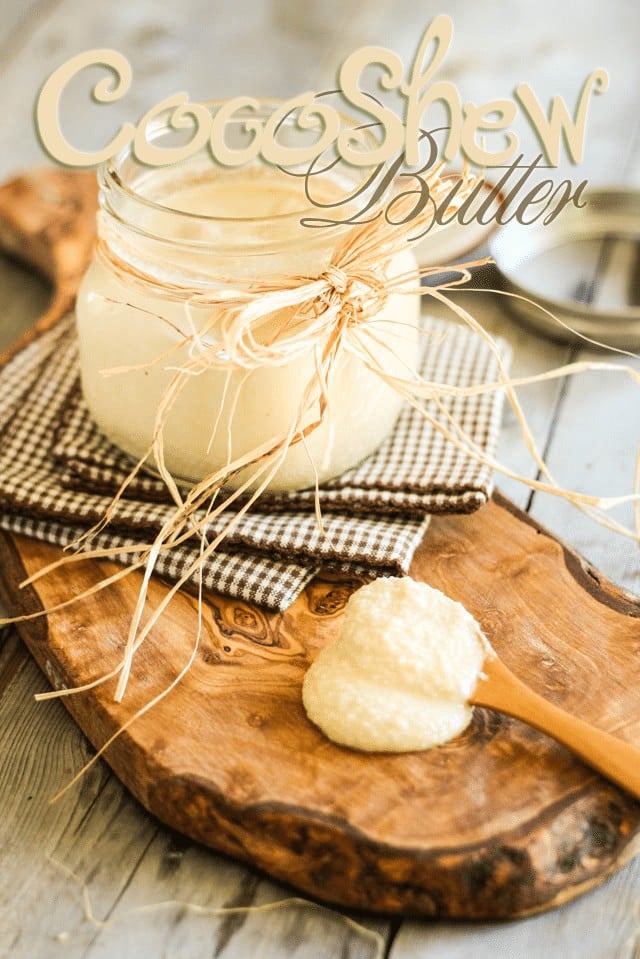 You see, nut butters for me are what's known as Foods With No Breaks.
It's the kind of food that will call me from all the way in the very back of the cupboard and still, I will hear it loud and clear. Louder and lovelier than anything I've heard before. Just what I imagine an angel would sound like.
Sometimes, I think it even goes something like this:
"We are the Borg. Resistance is futile. YOU will be assimilated!"
It doesn't matter how many obstacles I put in front of it in a effort to dissuade me from reaching for the jar and sampling a spoonful… I will beat them all, spoon in hand. And I'll never stop at just one.
That one little taste will generally lead to a second, and a third, and sometimes even a fourth one!
One quick glance at the nutrition facts for this particular baby and you'll instantly understand why this can become a serious problem!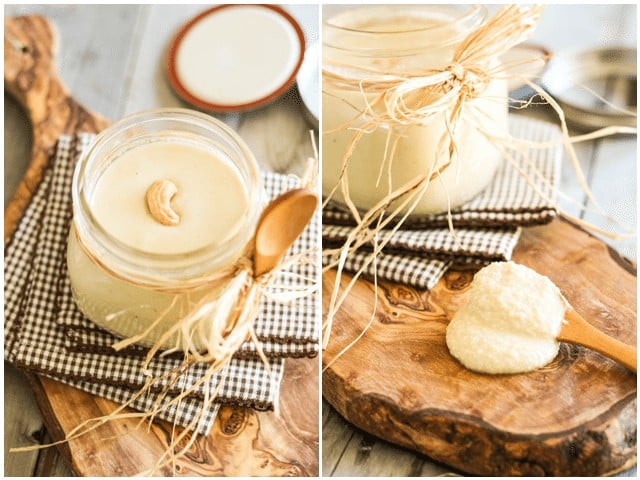 Something HAD to be done.
So when I embarked on this second Whole30®, I knew full well that I needed to fix my issues with nut butter and it is almost specifically for that reason that I decided to take the challenge again.
That and the fact that my nightly "munching" habits had gotten crazy out of control.
So I had added 2 additional rules to the official list: One- I was not to eat ANYTHING AT ALL after dinner and two- I was not to eat nuts in any way, shape or form (although I did reinstate nuts for the second part of my challenge, but was only to enjoy them as part of a recipe and never as a snack).
Funny thing is I ended up using nuts only twice during the final 31 days of my challenge where I'd allowed them.
Good girl!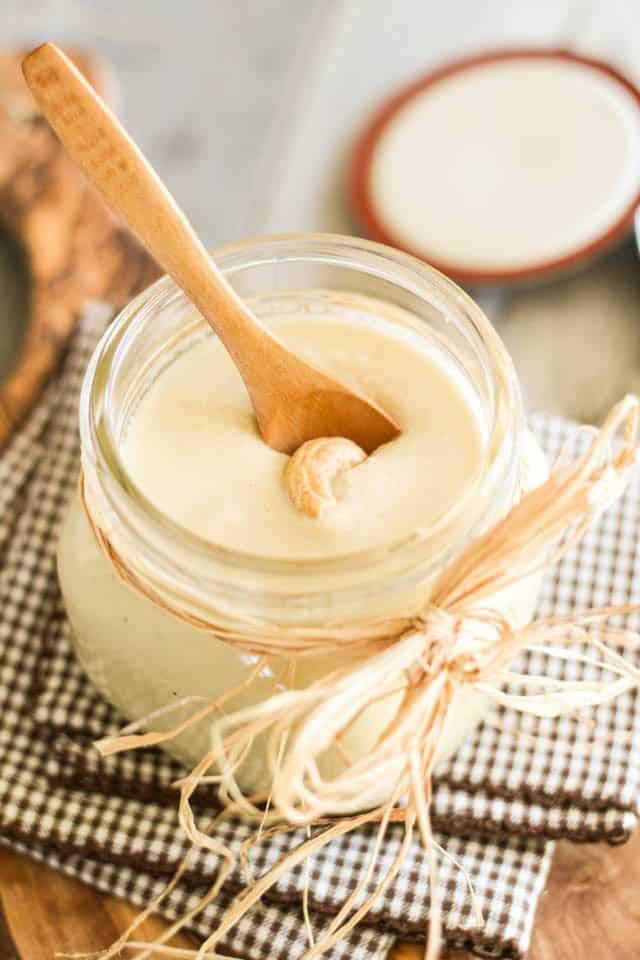 I have to admit that it took me only about a week after my challenge was over before I felt the need to make me a fresh jar of nut butter, but this time I decided that I would try and turn it more into good source of healthy fat.
To do that, I used mostly coconut, to which I added raw cashews, pure cacao butter and beautiful, tasty, creamy, dreamy, golden ghee!
Can you tell that I have developed a very sudden affection for ghee? OMG is that stuff ever good! Mixed in with this decadent CocoShew butter, it gives it that little bit of an edge: a faint, very distant and subtle taste of luscious, sweet caramel.
Oh, the dream, I tell you.
And I'm very happy to report that I've made this batch over 2 weeks ago now and I've only eaten about one quarter of the jar.
Plus, I haven't only been eating it by the spoonful: I've been using it as a garnish for my Coconut Omelette, Scrambled Eggs and Low Carb Pancakes.
Did I tell you it was a dream?
A dream, I tell ya!
Deliciously Addictive CocoShew Butter
Servings: 32 ±2 cups
Ingredients
4 cups unsweetened shredded dried coconut
1 cup raw cashews
¼ cup organic ghee
¼ cup pure organic cacao butter, chopped
½ tsp Himalayan or unrefined sea salt
Instructions
In the bowl of your food processor, add the shredded cococonut and process until it releases enough oil to turn into butter, which generally takes anywhere from 5 to 15 minutes, depending on the food processor and coconut that you are using.

Once the coconut has turned into butter, add the raw cashews and resume processing until you get a luscious creamy butter once again, about 2 minutes.

At this point, you want to add the ghee, cacao butter and salt. Your butter should be warm enough to take care of melting the cacao butter for you but you can melt it beforehand if you want to.

Let the blade spin for a good minute, just to make sure everyting is nicely combined and deliciously creamy.

Transfer the delicious butter into a glass jar (or 2 or 3 if you want to make smaller jars), then grab a rubber spatula and lick that bowl clean!
If you've tried this recipe, please take a minute to rate the recipe and let me know how things went for you in the comments below. It's always such a pleasure to hear from you!
You can also FOLLOW ME on PINTEREST, FACEBOOK, INSTAGRAM and TWITTER for more delicious, healthy recipes!