Smoked Ham & Mushroom Omelette – Breakfast Bowl Style
Sometimes, you know, it's nice to do things a little differently…
I was in such a mood the other morning when I created this dish.
For some reason, I really felt like having an omelette, but I didn't feel like staring at some big yellow disk just sitting there, covering the entire surface of my plate.
And simply folding it in half wouldn't cut it either. I needed to come up with something else.
Then I thought to myself: – Why not sort of "line" a bowl with the omelette and then stuff it with all kinds of goodies? Yeah, just like I used to do with soft tortillas… that might work! And it sure would be different! 
Well, work it sure did!
And different? It sure was!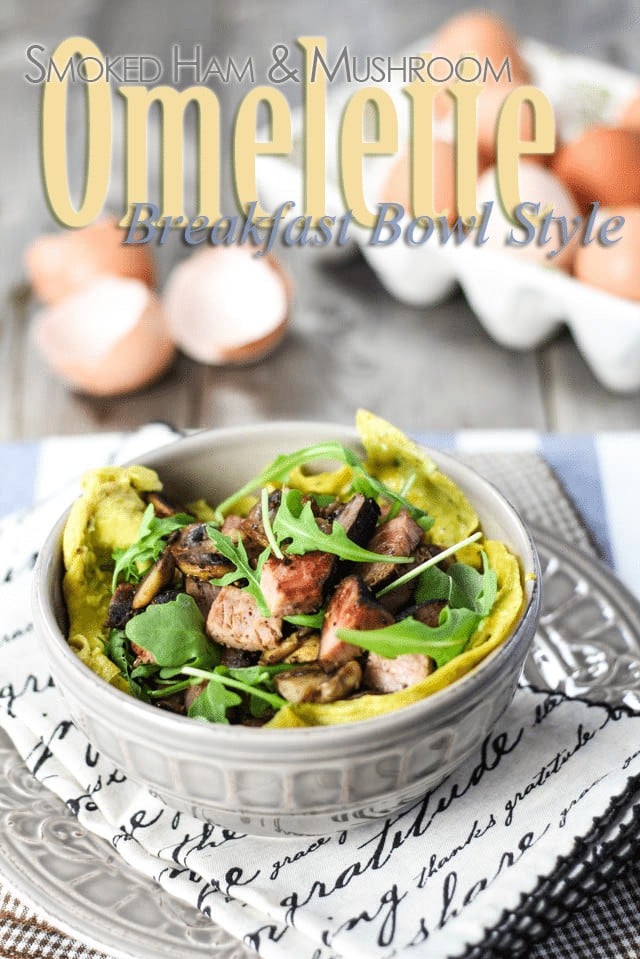 Granted, it was still a plain ole omelette, but serving it this way sure took gave a new perspective to this dish.
At least, I think it did.
I have to admit that getting that omelette to fit neatly in the bowl was a bit of a bi… tricky at first. Trust me, it's much easier to just fold it in half and slide it right onto a flat plate.
But this is just so much more fun, I think it's worth the trouble.
Food HAS to be fun, sometimes, as well as visually pleasing. Now, wouldn't you agree that this is a very fun AND visually pleasing way of presenting an omelette?
I can't really think of a cooler one myself!
And hey, after doing this a few times, you sort of get the hang of it… I found that folding the omelette in half, or even in four, much like you would a pie crust, really helps in getting the job done.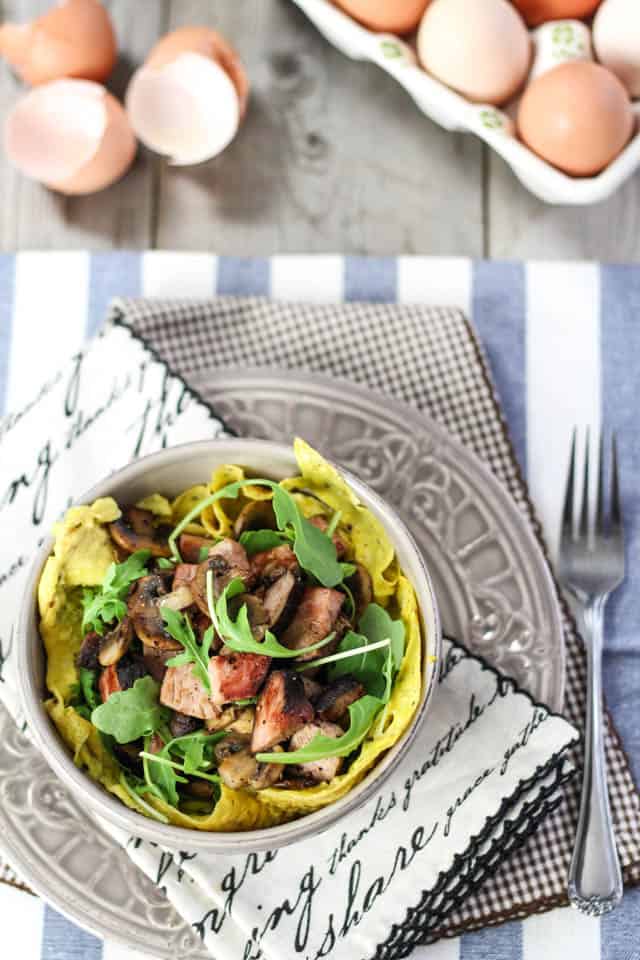 Once your omelette is comfortably resting at the bottom of that bowl, you can go nuts and stuff it with pretty much any garnish that tickles your fancy.
For this particular version, I chose to use some beautiful Black Forest Smoked Ham that I had in the fridge, along with a few sautéed mushrooms and fresh arugula leaves.
The ham itself packs so much flavor that not much seasoning was required…
Still, I could've easily added a few grape tomatoes to the deal, or a handful of sliced olives.
A little sprinkle of crushed toasted hazelnuts would have been great, too!
Or even pine nuts… or pumpkin seeds!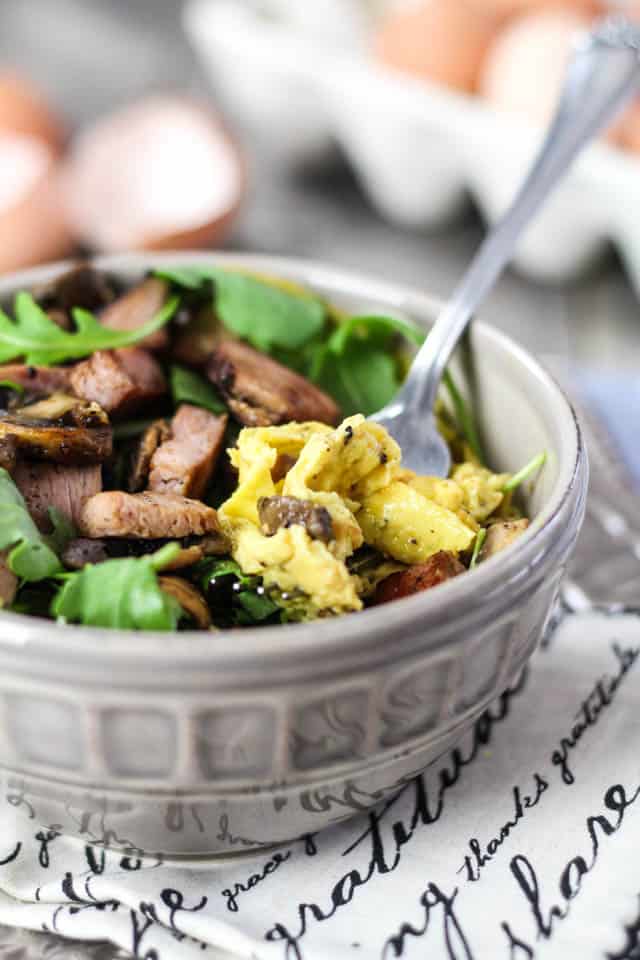 As well, you could very well replace the ham with cooked chicken, or even ground beef, why not?
This would also be a fantastic way to use leftover roast, be it pork, veal, lamb or beef.
Replace the arugula with steamed broccoli florets, or chopped collard leaves, why not? Oh, and I bet sun dried tomatoes and walnuts would be amazing in there.
As you can see, the possibilities are simply endless here.
And I think I just found me a new fave Breakfast Bowl!
Smoked Ham & Mushroom Omelette - Breakfast Bowl Style
Ingredients
1-2 tablespoons ghee or lard
3 large pastured eggs
¼ cup full fat coconut milk
150g organic black forest smoked ham, cut into bite size pieces
100g mushrooms, sliced
Salt and pepper to taste
1 cup baby arugula leaves
Instructions
In a non-stick pan set over medium heat, melt about one tablespoon of ghee or lard. When pan is hot enough, add the sliced mushrooms and cook until nice and golden brown, about 2-3 minutes.
Add the pieces of ham and continue cooking until they too get a nice golden coloration. Remove to a plate.
Add the eggs and coconut milk to a mixing bowl, season with salt and pepper and whisk vigorously until well combined and somewhat frothy.
Add a little bit more cooking fat to the pan, let it come up in temperature for a few seconds then pour the egg mixture right in and swirl it around to spread your omelette evenly over the entire surface of the pan. Let the omelette set for a few seconds then run a heat resistant rubber spatula around the edge to sort of break it down a little bit, then start swirling again. You want some of the uncooked eggs from the top to get under the omelette. Don't be afraid to break it up a little bit. Repeat that process 2 or 3 times until the top really starts to set. Remove from heat and let your omelette sit for a few minutes until the top is completely (or almost completely) set. You can cover it if you want to speed things up a bit...
Delicately slide your omelette into a bowl, (it might help to fold it in half first), then add about half the arugula, followed by half the ham and mushroom mixture; repeat with the rest of the arugula and ham mixture.
Serve immediately

Nutrition Information
Serving size: NF based on 1 serving