Smoked Ham, Kale and Olives Frittata Cups
I look at these and I'm really wishing I still had a few of them sitting in the fridge.
But sadly, they're all long gone…
And seeing as how I'm leaving for Cuba in less than 2 days, I don't think I need to tell you that the ice box is fairly empty at this point.
Aside from a slab of leftover homemade corned beef, half a head of cauliflower, a couple of rock hard avocados, one poor lonely egg and a few jars of homemade sauerkraut, there isn't much going on in there.
Oh, I might have a little bit of greenery still and barely just enough coconut milk for tomorrow morning's cup of Joe, but really, that's where it ends.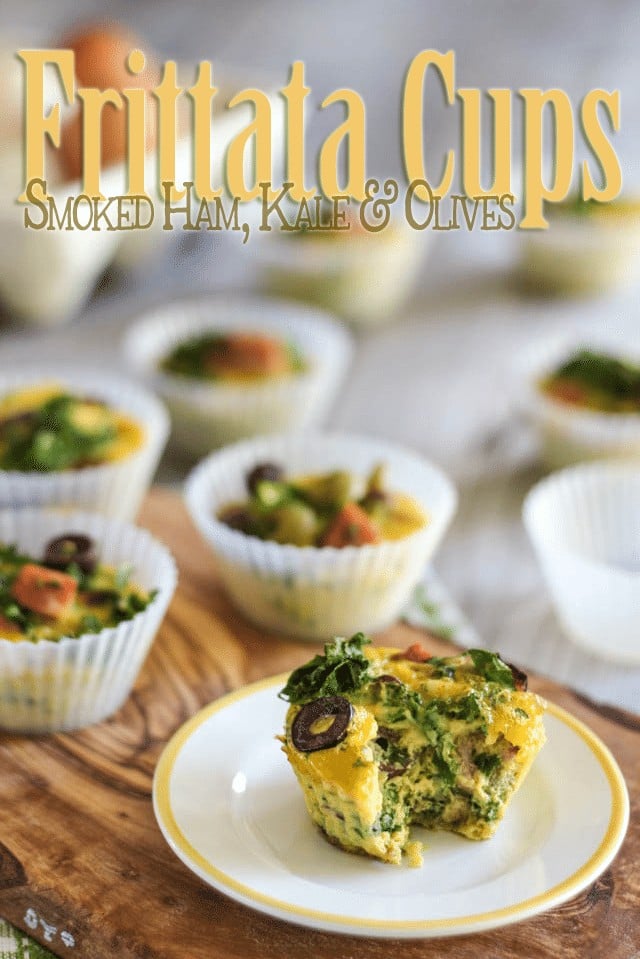 Hmpft.
Couldn't even whip me up a batch of these babies if I wanted to.
That's too bad really, because trust me, I sure wouldn't mind having half a dozen to bring with me on the plane to eat!
But hey, it's not that long a flight, so I guess a good breakfast before I leave, a handful of nuts or two to munch on during the flight and I'll be good to go until I get to the resort.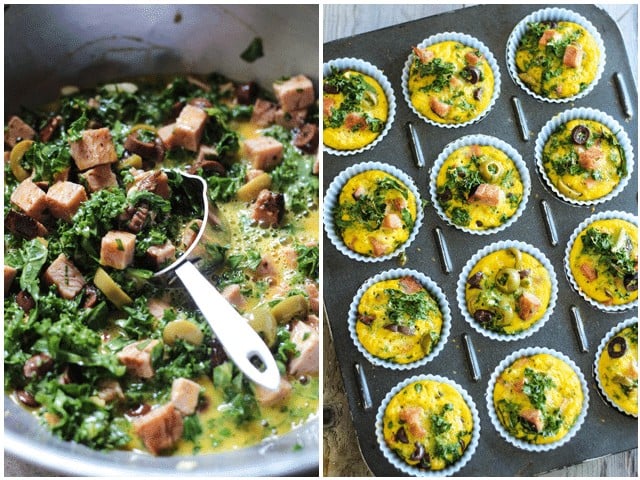 But wait a minute!
Now that I think of it, these things come together so quickly and easily, maybe I could just stop by the store on my way home tonight and grab me a dozen eggs.
I'm sure I could come up with a very decent version of these using some of that leftover corned beef, a little bit of cauliflower and whatever greenery I have left.
Oh yeah. I say this sounds like a plan.
That way, I won't feel so hungry on the plane that I might be tempted to eat the "food-resembling-thing" that they so kindly serve to you during the flight.
AWESOME!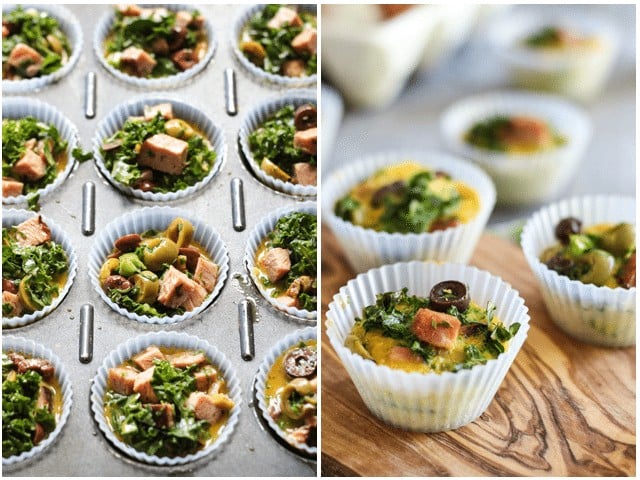 You see, that's how great these little frittata cups really are.
So easy to make and so versatile. You basically grab anything that you happen to have on hand, chop it up, throw it in a bowl, add some eggs, pour that into little cups, shove them in the oven and boom! just like that, you've got an amazing breakfast, lunch, dinner or snack.
For these things are just as delicious right out of the oven as they are right out of the ice box.
And did I mention they are highly portable, too?
Right on!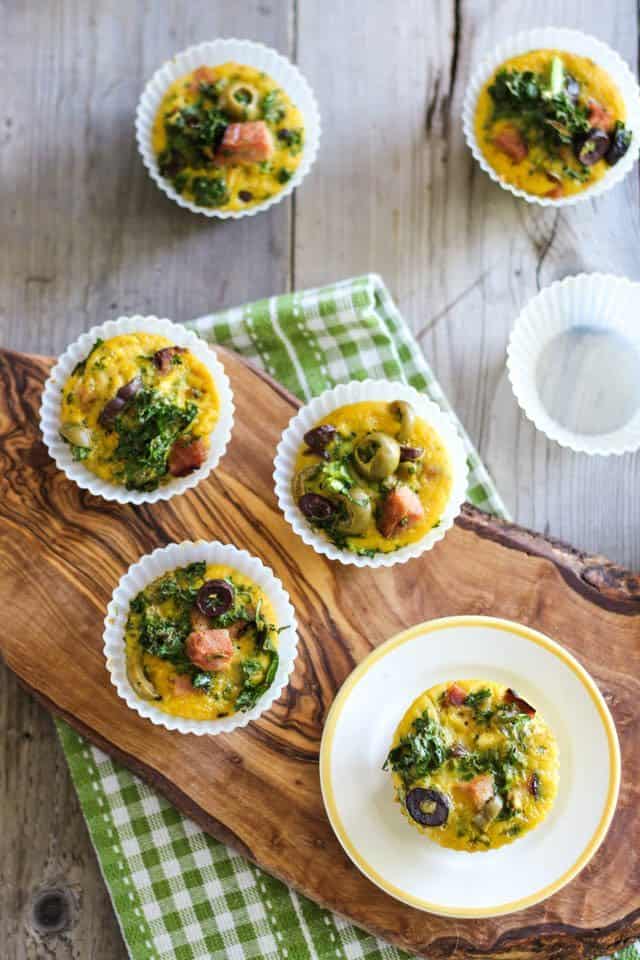 And now with these words, my friends, I'm off!
Don't worry though, like I said before, I'm leaving you in very good hands!
Just you wait 'til you see what amazing recipes my friends have in store for you… I bet you won't even miss me for one minute!
If all goes well, I shall return in a little over a week with, hopefully, some sort of a tan, one or two great stories and a whole bunch of pictures to share.
¡Adiós y hasta luego!

Smoked Ham, Kale and Olives Frittata Cups
Servings: 12 cups
Ingredients
6 large pastured eggs
¼ tsp Himalayan or unrefined sea salt
¾ tsp freshly cracked black pepper
¼ tsp ground ancho chile, or other chili powder
1 cup finely chopped kale leaves, stems removed
200 g organic smoked black forest ham, cut into bite size chunks
¼ cup sliced green olives
¼ cup sliced kalamata olives
1 tsp fresh rosemary, finely chopped
2 cloves garlic, minced
Instructions
Place the chopped kale leaves, pieces of ham, both kinds of olives, chopped rosemary and minced garlic in a large mixing bowl. Stir with a spoon until all the goodies are well distributed. Set aside.

In a separate bowl, add the eggs, salt, pepper, ancho chile powder and whisk vigorously until slightly frothy. Pour that over reserved kale and ham mixture and mix well.

Divide this egg mixture between the 12 prepared muffin cups. Do not fill the cups more than ¾ of the way to avoid spillage.

Cook for 22-25 minutes , until eggs are set and tops start to color slightly.

Allow to cool for at least 5 minutes before removing frittata from cups.

You can serve these immediately, but they are equally good served cold, with a nice green salad, or straight out of the container, standing next to the fridge...
If you've tried this recipe, please take a minute to rate the recipe and let me know how things went for you in the comments below. It's always such a pleasure to hear from you!
You can also FOLLOW ME on PINTEREST, FACEBOOK, INSTAGRAM and TWITTER for more delicious, healthy recipes!