Back from Cayo Largo… already!
I've so much to say guys, I don't even know where to start.
Mind you, I sort of want to keep words at a minimum here, since this post contains so many pictures.
Yeah, I had a hard time picking, again. You see, the thing is I took 680 in all.
I managed to bring the number of keepers down to 375. Still, that's way more than I could show you guys on here, so I had to skim that number even further down.
Stick to the bare essentials. Well, at least try…
For starters, THE BEACH! That was by far the most important part of my trip.
How could one not want to spend hours on that beach? Is it not amazingly beautiful? I've never in my life seen water so clear, so blue!
No one pool in the world could possibly rival with this!
It seems like every hour of every day, the water changes colors… depending on the sky of course! What a fascinating and incredibly intimate relationship the two of them share!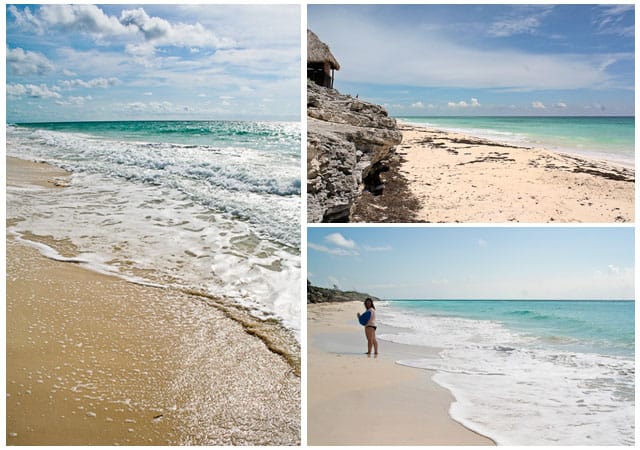 I must have taken at least 200 pictures of the ocean alone. Every single time I would get on the beach, its beauty simply took my breath away.
I couldn't believe I was actually there, leaving footprints behind on that brown sugar look-alike sand.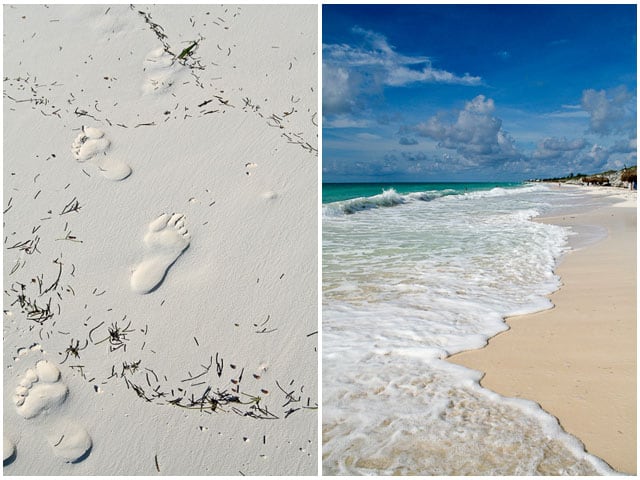 Is it just me or does it look like my footprints are actually sticking out on the above picture?
Sometimes, I manage to see actual imprints, but most of the time, the sand appears to be protruding, NOT receding like it should.
Weird…
Oh, and speaking of feet… looks like this time again, I went on some kind of a foot fetish!
I'll spare you the other 38 foot pictures that I took…  😉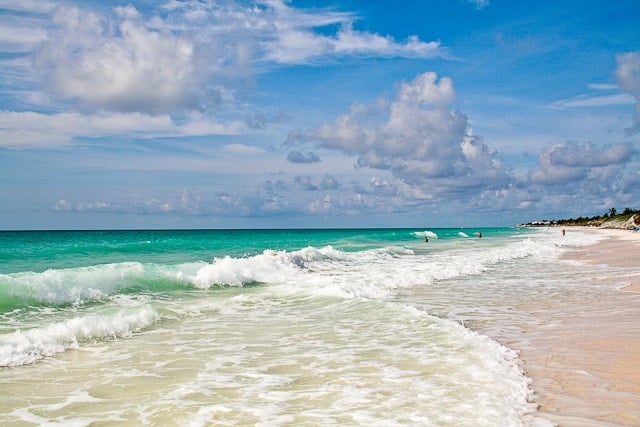 OK, a few more pictures of that awe inspiring sea and then we move on to other things…
Notice how quiet… there are so very few people on that beach!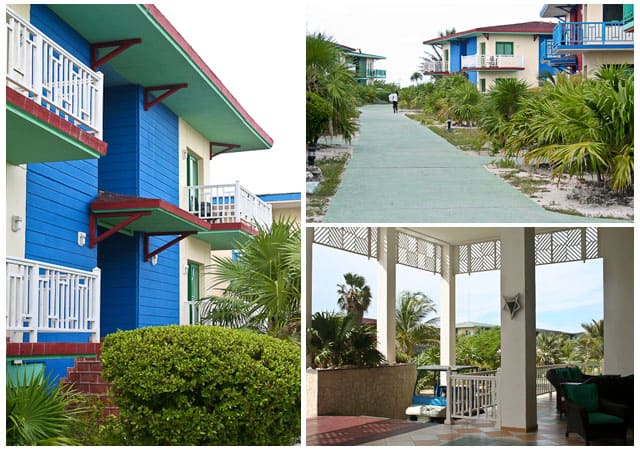 We did have to get back to the hotel once in a while…
And we did manage to spend quite a few hours in the swimming pool also.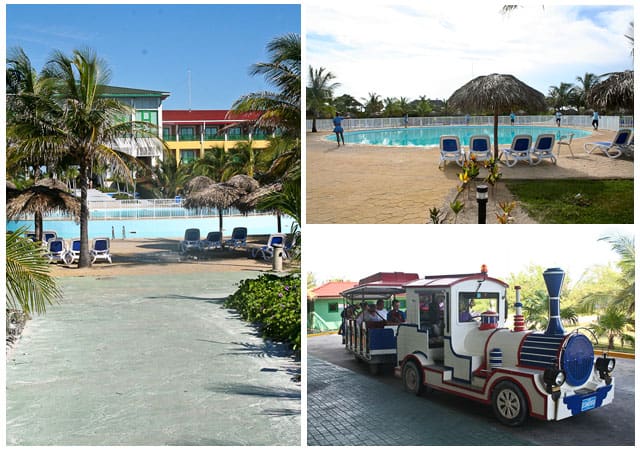 We were just like two fishes, really. Between the ocean and the pool, we must have spent well over 6 hours a day in the water.
No, I am not exaggerating!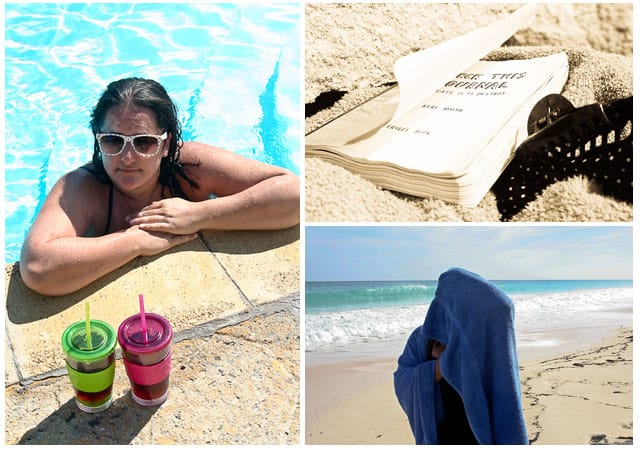 Anyone heard of "Wreck This Journal"?  Tasha had bought a copy of the book right before we left and she took it with her everywhere we went during our trip.
Yeah, even  to the beach… as well as IN the ocean!
The point is to wreck the book after all, and there is this one page in it that instructs the owner to take their journal in the shower with them.
She elected to take hers in the ocean instead. Good call!
There was this one day when we decided to sacrifice a little bit of beach time to take a tour of the village.
I say little bit of beach time, because really, one doesn't need much time to take that tour, for that village is EXTREMELY small.
You see, the entire island of Cayo Largo is no bigger than 3 km wide by 25 km long.
What you are seeing above is, on the left a statue in front of the cigar shop, on the top right is the one and only bank of the island and on the bottom right is one of the rare vehicles that you might come across. NOT what I would call the latest model…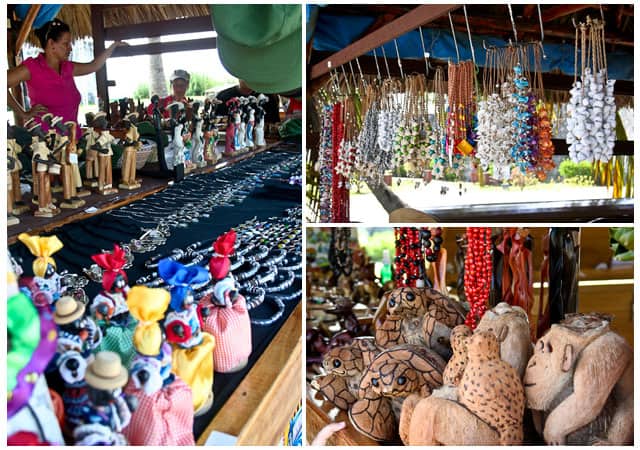 Of course, there is very little shopping to do in Cayo Largo. But there are a few little shops and booths that offer various pieces of jewelry and artwork made by local artisans.
All going for a handful of dollars, of course, and more often than not a single peso will suffice…
We also got to visit the Granja de las Tortugas, where they take care of little baby turtles (they actually collect the eggs on the various beaches) and see to it that make it to the ocean.
I felt extremely privileged to be given the opportunity to hold a turtle in my arms. It almost felt like she was comfortable there and enjoyed the experience as much as I did. At one time, she just rested her head on my finger and closed her eyes. I could've sworn she'd fallen asleep.
All the while, the other visitors were holding their turtle in such a way that the poor things looked like they wanted to fly away… I felt for the poor things!
Then we got to visit this alligator pond, where this very brave man fed bread to the beasts in an effort to get them to show their faces to the visitors…
Not sure I would've wanted to "bond" with these guys like I had with the turtle just moments before.
They didn't look quite as friendly!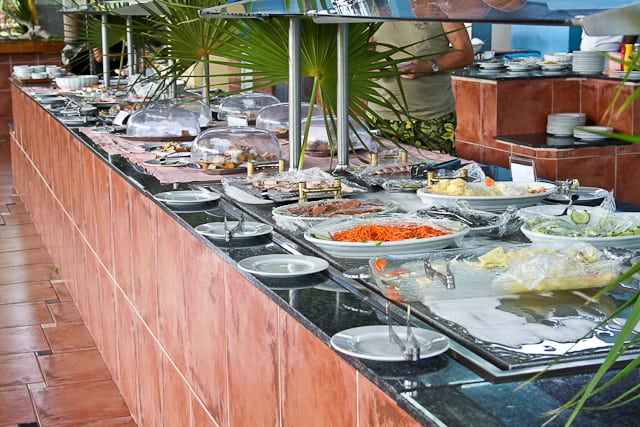 Haha! What's that I see? FOOD!
As you can very well imagine, there WAS food involved, and lots of it, during my stay…
I'm sure you guys all want to know, right?
Just what did I eat while I was there?
Well, there were times when I was good…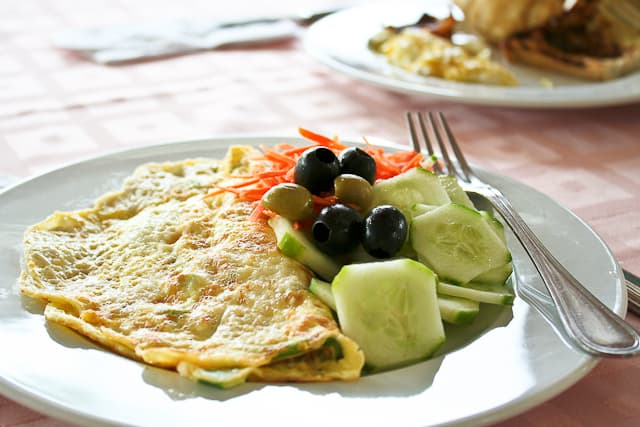 For breakfast, omelet with olives, cucumber and carrots.
You had to see that guy flip eggs and omelet with his little flat spatula. IMPRESSIVE!
I ended up having eggs every single day. Not the best, I know…
But it gets worse!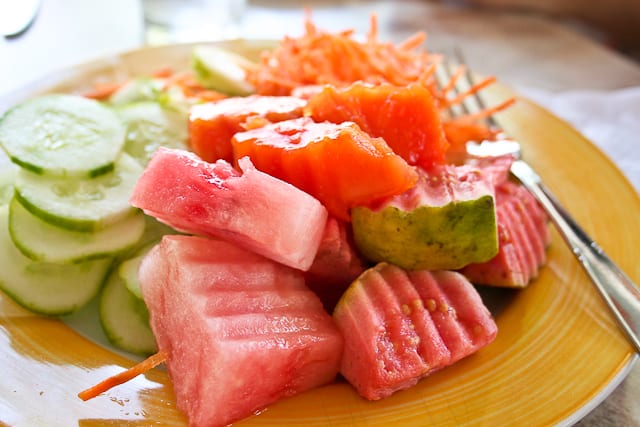 I did have fruits and vegetables every day, at every meal!
TONS of 'em.
Guava, watermelon, pineapple, more cucumbers and carrots.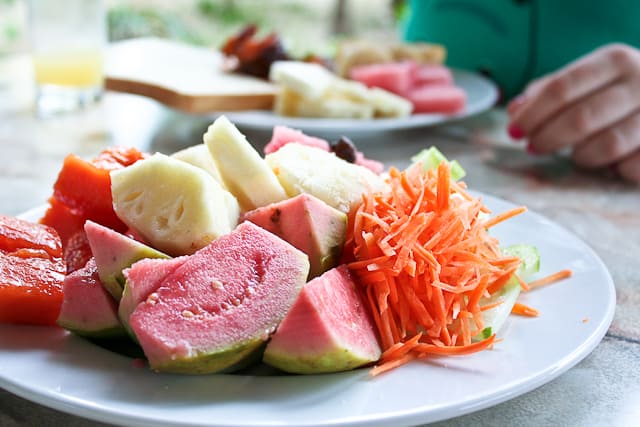 I could never get enough of that. Although sadly, the guava and pineapple went AWOL about halfway through our trip.
That's the thing with Cayo Largo, you see. Sometimes, they run out of certain foods and there is no saying when they will be sent more.
But hey, food is always aplenty nonetheless!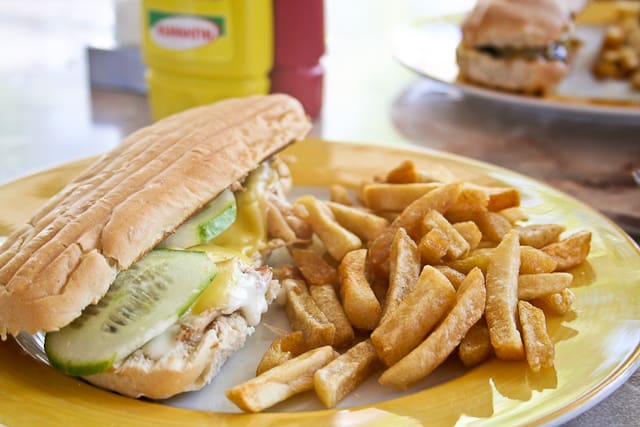 Yep. I have to admit…
There was also some of that.
Lots of that.
Too much of that.
But hey… there was chicken AND cucumbers in that sandwich!
There was some of that too…
Yep, that's white bread… they don't really do whole grain there.
But hey, at least I put honey on it!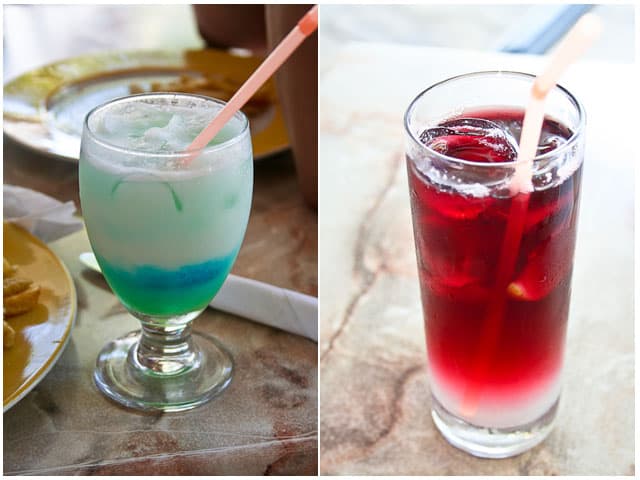 Of course, there was some of that, too. But I was real good though. I didn't drink all that much. 3-4 drinks a day, if that.
The drink on the left is a Piña Colada, with Banana Liquor and Curacao. The waiter looked at me REAL funny when I ordered that. It was the only one I ordered… Might be pretty, but that's where it stops! I don't recommend you give it a try! 😉
The one on the right was my drink of choice for the duration of my stay.
They call it sangria. I call it red wine with lime juice, sugar and sparkling water.
But it was good, light and refreshing. So I adopted it!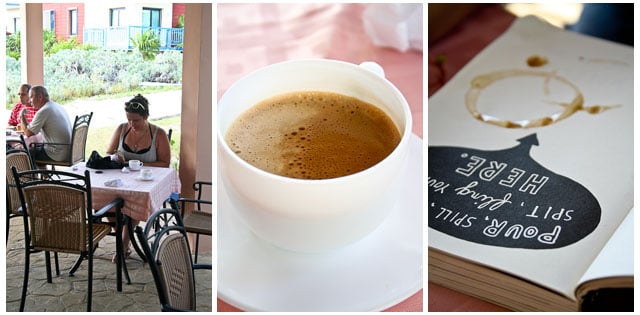 Remember Tasha's book? Well, here, she had to pour, spill, spit or fling her coffee on the page.
That's exactly what we did!
We elected to immortalize the last cup of coffee that Alexei served to us that day.
Alexei would be the sweetest, funniest and cutest waiter in the entire universe.
And he was so darn cute about serving coffee to us that I couldn't resist having another cup, and another one…
Oh, and those cookies? OMG! They are the best cookies in the whole wide world. They're almost the reason I went to Cayo Largo in the first place! 😉
Kidding, of course, but I honestly can't resist them. No matter how hard I try.
Hey, I AM only human after all!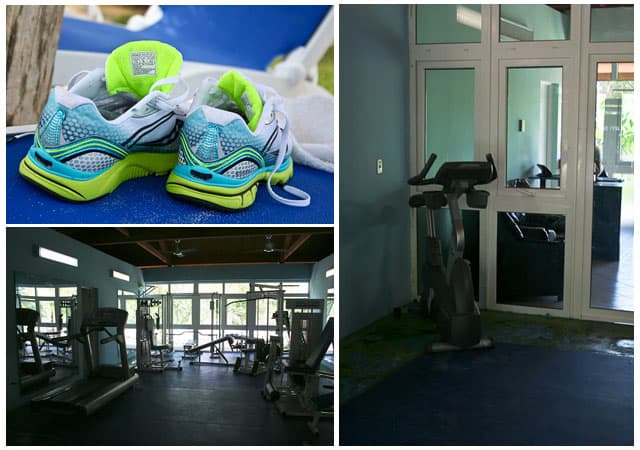 Good thing is, I had bought a brand new pair of running shoes before to leave (aren't they AMAZING?) and I put them on EVERY SINGLE DAY to visit the gym.
It was a very small gym, very dark as you can see, and unbelievably hot and humid. There was no air conditioning in that gym, go figure!
Still, every day come noon, you would see me walk down the little path that lead to it and sweat it out for a good hour.
And I really mean, SWEAT it out.
On my way back, I would remove my shoes, put them on a chair and dive right in the swimming pool.
That, right there, was the very definition of BLISS!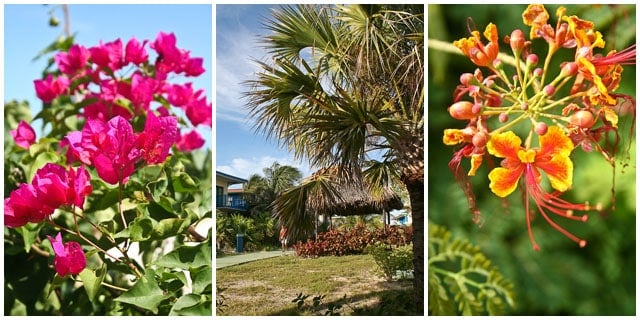 We were just about ready to leave when I realized I hadn't taken much pictures of the vegetation, so I snapped a couple of shots quick quick.
I'm really surprised about that one. I usually take millions of pictures of flowers and trees.
Especially when the flora is that interesting!
Talk about BRIGHT colors.
Oh well, I'll have to take more next time. Because trust me, there WILL be a next time!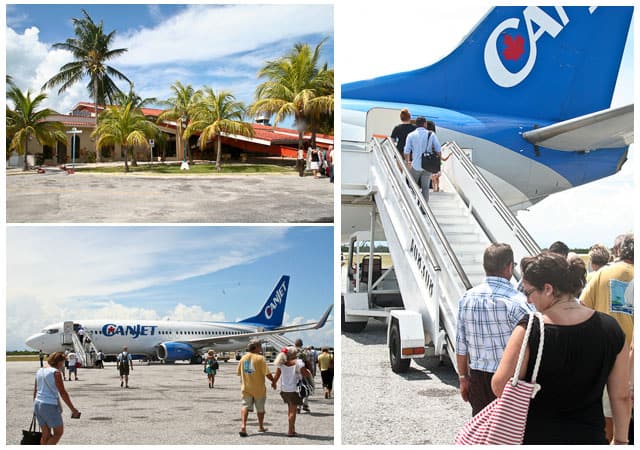 The week went by way too fast. Before we knew it, it was time to go home.
The good thing is, it's so much faster and easier to get on a plane in Cayo Largo…
The only thing missing was a swimming pool right next to that plane!
Note the absence of the letter "s" after the word plane… for there was only one on the ground.
OURS!
I wish our local airport was that quiet!