Roasted Bell Peppers and Raw Corn Chowder
Before I left for Cuba, bell peppers were in the prime or their season.
Corn, on the other hand, was sort of already heading towards the end of his…
Boy, does that ever feel like it was over a thousand years ago.
Perhaps even a million.
In fact, I don't think I have quite completely returned just yet. I think that I have left a huge chunk of myself back there…
I even suspect that I may have forgotten my heart somewhere under a palm tree!
Seriously, it's been really hard for me to get back in the swing of things. I feel like I'm suffering from some sort of a "post-vacation depression". I look at these food pictures and they seem oddly strange to me.
Like they have been taken by someone else. Like I wasn't the one who has made this soup.
Or maybe it was an alternate version of me, in an alternate universe…
I know, I'm weird!
Would you believe me if I told you I haven't even been hungry since I got back? Hungry or inspired to cook?
I look at all the trees that surround me with their brilliant and colorful foliage and all I can think of is snow will be here soon while all I want at this point is neverending ocean blue.
Maybe I wasn't meant to live in Quebec… maybe I wasn't meant for this cold season, year after year after year.
Ô how I hate it. Despise it. Loathe it.
But hey, I have to deal with it, for this IS where I live after all.
Don't worry guys, it shouldn't take too long before I return to my good old self.
For you know what I bought today that instantly made me feel so much better?
SQUASH!!!!
OOOOH YEAH!
Squash is in full season and it can be seen absolutely everywhere you look.
Pepper Squash, Butternut Squash, Buttercup Squash, Spaghetti Squash, Sripetti Squash, Name It Squash…
God I love it!
Mind you, they DO happen to have squash in Cuba, too! 😉
Just looking at these pictures, I feel my appetite coming back.
Oh yeah! I remember this soup.
Boy was it good. It was a bit like creamed corn kicked up a notch. Tangy, chunky yet smooth and creamy, with just what it takes of a crunch thanks to the addition of walnuts and a tiny bit of heat brought to you by Señor Jalapeño.
Oh! yeah, I'm working on learning Spanish… I've been meaning to do this for years now and vowed to get it done this time. Next time I go to Cuba, I will be able to converse with the locals!
Now I have about 6 months to do that. Think I can pull it off?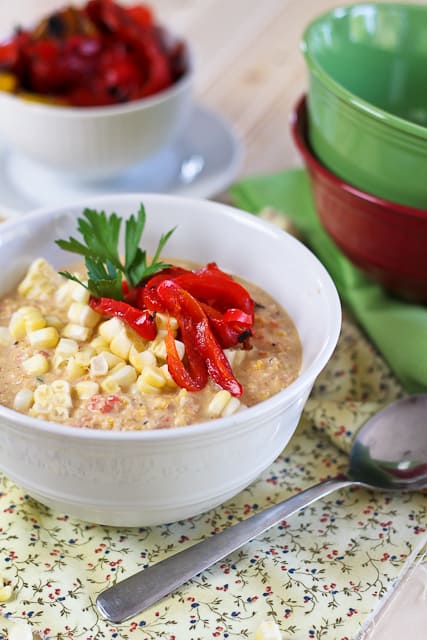 As for this soup, if you want to give it a try, I say you shouldn't wait 6 months to do it. You might get lucky and find a few ears of fresh corn at your local market…
And if you can't get your hands on 'em, well, guess you're gonna have to wait until corn season is here again.
It'll happen soon enough…
Roasted Bell Peppers and Raw Corn Chowder
Servings: 4
Ingredients
3 roasted bell peppers, I used one of each red, orange and yellow
4 raw ears of corn
1 cup fat free plain Greek yogurt
1 large jalapeño pepper, seeded and finely chopped
The juice of one lime
1 garlic clove, crushed
½ cup buttermilk
1 cup water
½ tsp Himalayan salt
½ tsp black pepper
¼ cup walnuts, chopped
1 tsp sherry vinegar
Garnish ideas
Corn Kernels
Plain Yogurt
Roasted Bell Peppers Strips
Fresh Parsley
Instructions
Start by

roasting the bell peppers

(make one or two extra if you want to use some for garnish) over the open flame of your gas range or grill, until skin becomes somewhat charred all around. I like to keep a little bit of a crunch to my peppers so I don't leave them for too long over the open flame. As a result, some of the skin often remains attached to the peppers but I don't mind it, especially not if I'm going to use the peppers in a chunky soup such as this one.

Once your peppers are good and charred to your liking, remove them from the flame and allow them to cool for a a few minutes. Remove the skin, stems and cores and place in the bowl of your food processor. Reserve.

Cut the corn from the cobs: Stand the corn on end in a large mixing bowl or plate and insert a sharp knife just at the bottom of the kernels. Slowly cut all the way to the other end of the corn. Turn the corn and repeat until all the kernels are cut from the cob.

Add to the roasted bell peppers (save a handful of kernels to garnish, if desired).

Add the rest of the ingredients except for walnuts and process until somewhat smooth and well combined.

Add walnuts and give the soup another quick spin.

This soup can be served immediately but will benefit from an overnight stay in the fridge to allow flavors to fully develop.
If you've tried this recipe, please take a minute to rate the recipe and let me know how things went for you in the comments below. It's always such a pleasure to hear from you!
You can also FOLLOW ME on PINTEREST, FACEBOOK, INSTAGRAM and TWITTER for more delicious, healthy recipes!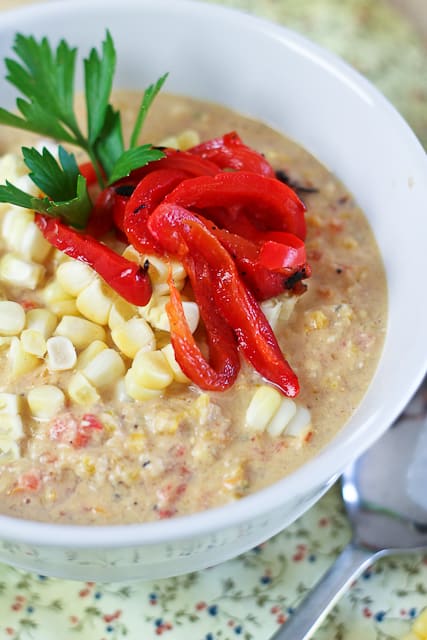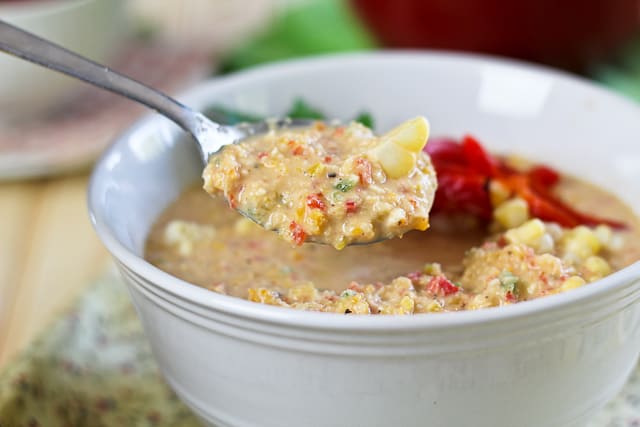 Thick enough for ya?