Pumpkin Zucchini Dark Chocolate Muffins (of course, they're healthy!)
I can't believe this! Looks like I've missed yet another Holiday…
With every single one that passes, I keep thinking that I will get better at it.
I keep telling myself that next time, I WILL plan ahead and that I WILL come up with at least A special recipe to fit the particular Holiday…
But for some reason, I don't seem to be getting ANY better at it.
If anything, I'm only getting worse!
I just found out that our Canadian Thanksgiving was coming up THIS week-end. WHAT?!?! Already? I thought for sure I had another 2-3 weeks to go! To think that I had planned on making a beautiful healthy Tiramisu for the occasion. Shucks! Guess it's gonna have to wait.
And guess once again, I won't have any special Thanksgiving recipe to share with you guys!
Although…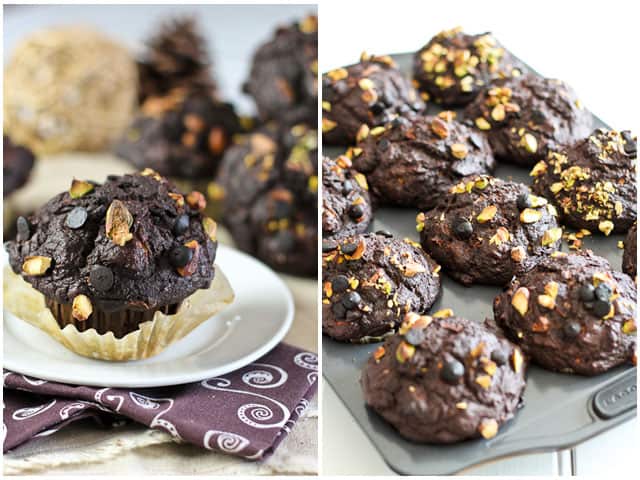 These DO happen to have pumpkin in them, you know. No one will EVER be able to tell, but it really IS present, I swear.
So technically, that DOES make them sort of Thanksgivingy, doesn't it? Alright, maybe I'm pushing it a bit, but it's the best I can do for now.
And they are very worthy of a giving thanks for, if you ask me!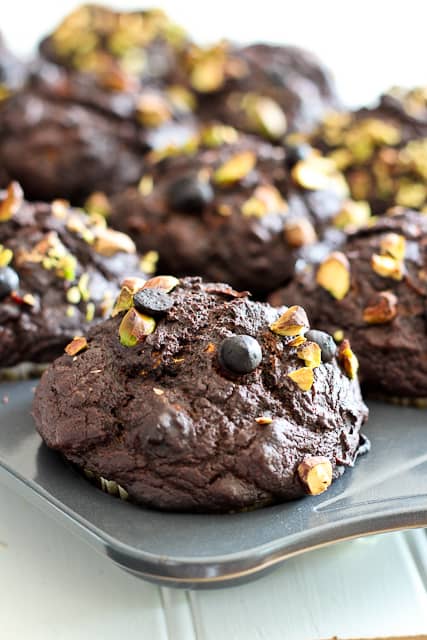 As a matter of fact, these muffins are so good that I am seriously considering turning that batter into some sort of a super decadent healthy chocolate cake.
The ultimate "chocolate birthday cake" is what I'm thinking, complete with frosting and all!
That's how "truly completely unhealthy" these muffins actually taste.
They are nice, moist and fluffy, yet they have a great density and chewiness to them. Of course, they are ample sweet and chocolaty to satisfy the chocolate lover in you…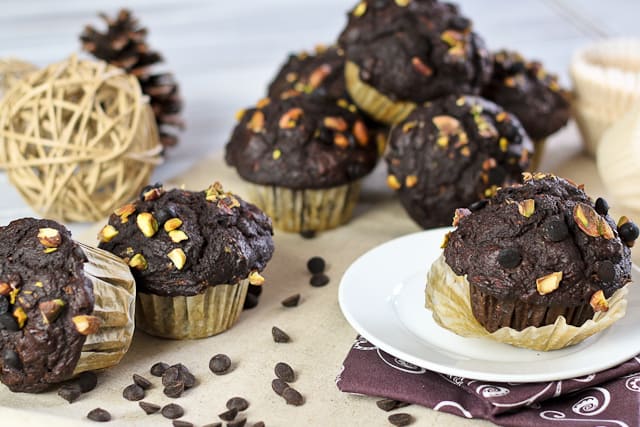 And if you just call them "Double Dark Chocolate Muffins", no one will ever know that they actually contain a healthy dose of pumpkin AND zucchini.
Or that the chocolate chips are in fact carob…
And that they contain no sugar whatsoever!
I get the feeling that this will become my official go-to chocolate cake recipe, eventually.
But for now, I think I better start working on my Christmas menu!
Or better yet… Halloween!
Pumpkin Zucchini Chocolate Muffins
Servings: 12 arge muffins
Ingredients
Dry Ingredients
2 cups spelt flour
4 scoops whey protein
½ cup dark cocoa powder
¼ cup carob powder
2 tsp cinnamon
1 tsp baking soda
½ tsp baking powder
¼ tsp sea salt
½ cup unsweetened carob chips
To be sprinkled on muffins
Instructions
Preheat oven to 425F. Line muffin pan (for 12 large muffins) with

parchment paper cups

and set aside. You could also choose to line it with parchment paper.

In a small bowl mix flour, whey protein, cocoa and carob powders, cinnamon, baking soda, baking powder and salt. Mix in carob chips and set aside.

In a larger bowl, mix all wet ingredients together.

Add dry ingredients to the wet and mix with a rubber spatula until well combined, no more.

Divide the batter between the 12 prepared muffin cups (they will be VERY full, but that's okay) and sprinkle chopped pistachios and carob chips on top (use cacao nibs if you prefer). Place muffins in the oven and bake for 5 minutes. Lower heat to 375F and continue baking for another 12-15 minutes, until a toothpick inserted into the middle of the muffins comes out clean.

Remove the pan from the oven and let the muffins cool in the pan for 3-5 minutes, then remove and place them on rack to cool completely.

Keep refrigerated in an airtight container for up to one week.
Notes
Low Fat, High Protein, Refined Sugar Free
If you've tried this recipe, please take a minute to rate the recipe and let me know how things went for you in the comments below. It's always such a pleasure to hear from you!
You can also FOLLOW ME on PINTEREST, FACEBOOK, INSTAGRAM and TWITTER for more delicious, healthy recipes!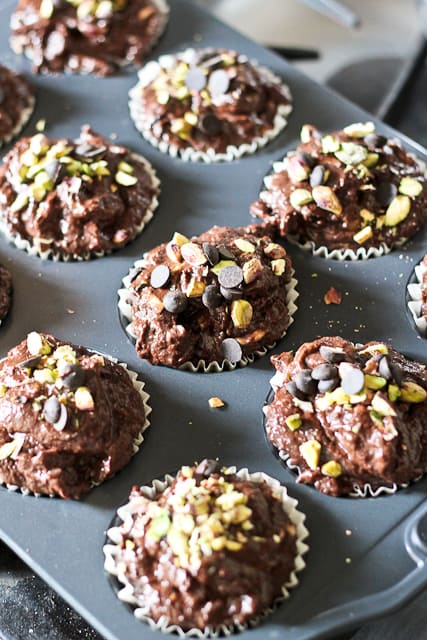 Don't be afraid to fill your cups ALL THE WAY up… and then some!
Really pile it up high, that batter!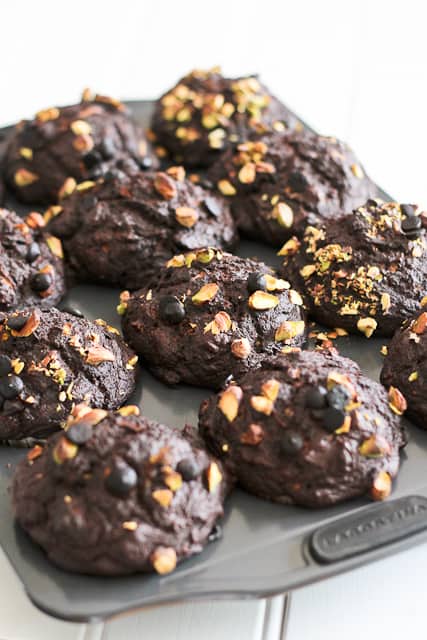 Your muffins will come out with perfectly nice little tops!
After all, muffin tops do look good… on muffins!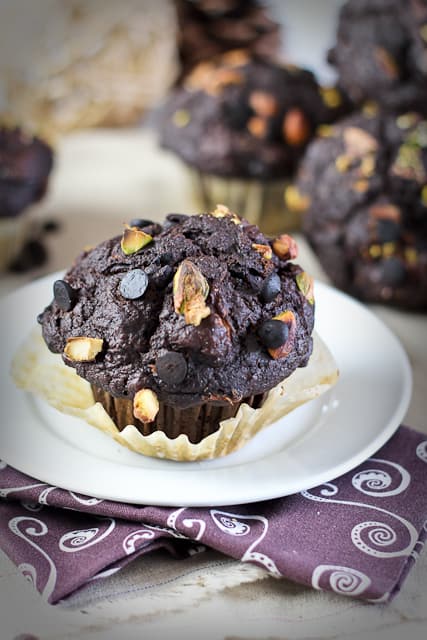 Dark enough for ya? Oh, and those parchment paper cups? They're simply AMAZING!
What a great addition to my cooking arsenal. Now I can never be without them again. They really are absolutely non-stick.
If you haven't tried them already, you HAVE to get some now!
And there, if you look really closely, you can see a tiny little speck of green…
That would be the ONLY giveaway that there is zucchini in these.
But you could always say that it's pistachio!