Shepherd's Pie – Another healthy take on one of my favorite classics
I've always been a HUGE fan of Shepherd's Pie.
If there was ever a dish that I could never get enough of, nor resist going for seconds, this would be the one. However, since it doesn't sit too well with my new healthy lifestyle, I don't eat it nearly as often as I used to. And when I do have it, it's a completely revisited dish that I end up eating…
Let's face it: Shepherd's Pie, as I learned to make it, using regular ground beef, frozen corn kernels and mashed white potatoes made super creamy thanks (or not!) to the addition of tons of butter, cream and salt, did not constitute the healthiest of meals.
Especially not if you're going to add a VERY generous serving of "reconstituted" 5 Pepper Sauce on top of it.
Yeah… I used to do all that!
And I must admit that I truly miss it, sometimes.
I mean sure, there are ways to play with the recipe and make it healthier, by making it vegetarian, for instance, or adding more veggies in an effort to boost its nutritional value.
But none of the healthified versions I made ever really came close to the real thing.
Up until now!
This, ladies and gentlemen, tasted ALMOST like the dish I remember.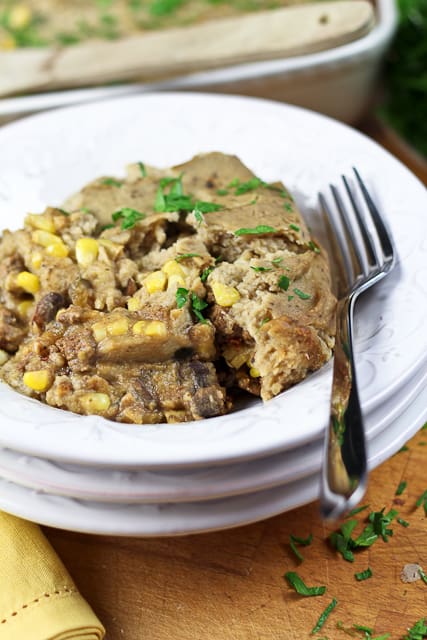 Yet, it's loaded with all kinds of yummy veggies, namely tomatoes, zucchinis, cauliflower and aubergine, as well as the mandatory white potatoes and corn. And since corn was in prime season when I made this, I got to use fresh!
Oh, it doesn't get any better than this.
Granted, the potatoes took a slightly strange, brownish coloration because of the addition of eggplant, but this did not affect the taste in the least. Plus, the aubergine really helped make the potatoes super creamy! So trust me, you want it in there. You won't even be able to taste it.
Just try and keep it from browning too much when cooking it.
Even my son, who despises eggplant, had a full serving of this Shepherd's Pie and said that it was really good.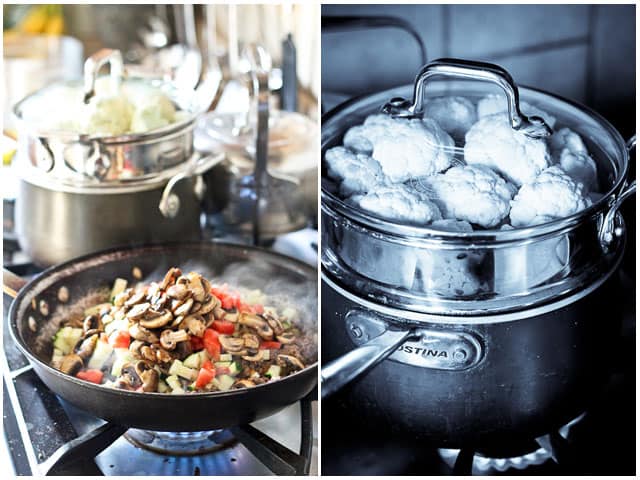 But here comes the best part…
Upon calculating the nutritional value of the dish, I was pleasantly surprised to be presented with the following list of "good points":
High in dietary fiber
High in niacin
High in phosphorus
High in potassium
High in riboflavin
High in selenium
High in vitamin B6
Very high in vitamin C
High in zinc
How awesome is that?
At that rate, guess I could even afford to go for seconds! 🙂
Although… there was really no need for that. A single serving of this was generous enough to get my tummy FULLY satisfied!
Shepherd's Pie
I've always been a HUGE fan of Shepherd's Pie.If there was ever a dish that I could never get enough of, nor resist going for seconds, this would be the one.
Servings: 6
Ingredients
1.25 lb beef from the inside round
1 large onion, chopped
1 celery rib, chopped
2 garlic cloves, crushed
1 large tomato, diced
1 large zucchini, cut into small cubes
1/2 lb mushrooms, sliced
2 tbsp miso, diluted in 1-2 tbsp warm water
1 tbsp sambal oelek
3 raw ears of corn, kernels removed
1 small head of cauliflower, florets only
1 large eggplant, peeled and cut into 1" cubes
4 medium potatoes, peeled and cut into 1" cubes
½ cup buttermilk
½ cup fat free plain Greek yogurt
2 tbsp tahini paste
¼ cup nutritional yeast
1 tsp fermented garlic flowers, or crushed garlic
½ tsp black pepper
1½ tsp salt
Instructions
Preheat oven to 375°F.

Cut the beef into small cubes and grind it in 2-3 batches in your food processor, on pulse, until it has the consistency of ground beef.

Coat a large non-stick pan with cooking spray and place over medium-high heat. When pan is hot enough, add the mushrooms and cook them until they get all nice and golden brown. Transfer to a small plate and reserve.

Put the skillet back over the heat, add onion, celery and garlic and cook until fragrant and takes a slight coloration, about 3-4 minutes.

Add ground beef and continue cooking until the beef is no longer pink. Add miso, sambal oelek, mustard, tomato, zucchini and reserved mushrooms. Continue cooking for a few minutes until liquid has almost completely evaporated.

Transfer to an baking dish, and set aside.

Wipe your skillet clean and add diced eggplant. Cook over medium-low heat until soft and tender. Try not to let the aubergine take too much coloration. You want it to stay as white as possible.

Meanwhile, using a steam basket, steam the cauliflower florets and potatoes over salted water until fork tender, about 5-7 minutes.

Add cooked potatoes, cauliflower and aubergine to your food processor (make sure you clean your bowl first) and process until smooth. You could also use a hand mixer for this, especially if your food processor isn't big enough to accommodate all of the veggies.

In a separate mixing bowl, add buttermilk, yogurt, tahini paste, nutritional yeast, garlic, salt and pepper. Mix with a whisk until well combined and add to mashed potato mixture. Process again until well incorporated.

Arrange raw corn kernels over reserved meat mixture then carefully spread potato mixture on top.

Cook in the oven for about 15-20 minutes, until it starts to bubble and the top turns slightly golden brown. If you like a nice golden crust on top of your potatoes, you can brush a little bit of Extra-Virgin Olive Oil over the potatoes to help the browning process.
Nutrition
Calories: 393kcal, Carbohydrates: 38g, Protein: 32g, Fat: 14g, Saturated Fat: 5g, Cholesterol: 63mg, Sodium: 942mg, Potassium: 1761mg, Fiber: 10g, Sugar: 10g, Vitamin A: 304IU, Vitamin C: 76mg, Calcium: 153mg, Iron: 8mg
If you've tried this recipe, please take a minute to rate the recipe and let me know how things went for you in the comments below. It's always such a pleasure to hear from you!
You can also FOLLOW ME on PINTEREST, FACEBOOK, INSTAGRAM and TWITTER for more delicious, healthy recipes!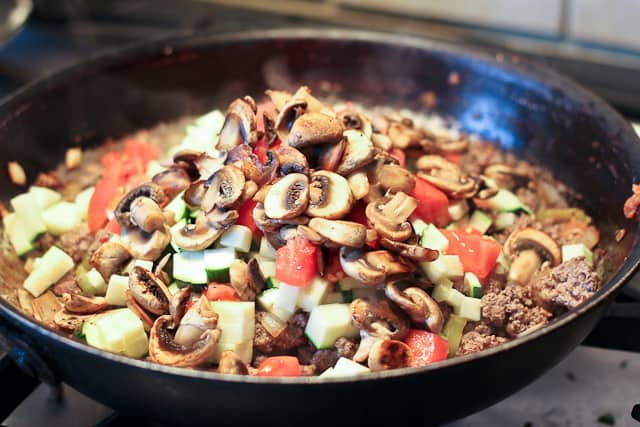 Adding pile of vegetables to cooked meat!
Who says you need fat for flavor? This is a mound flavor AND nutrients right there!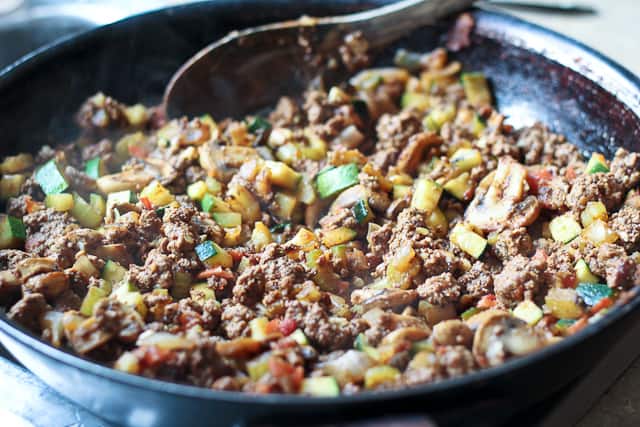 Liquid is all gone, time to transfer to baking dish.
Does that look good or what?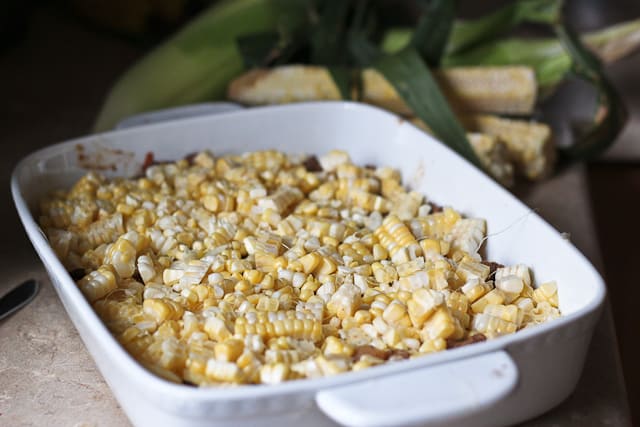 Add fresh corn kernels. Try not to eat them all!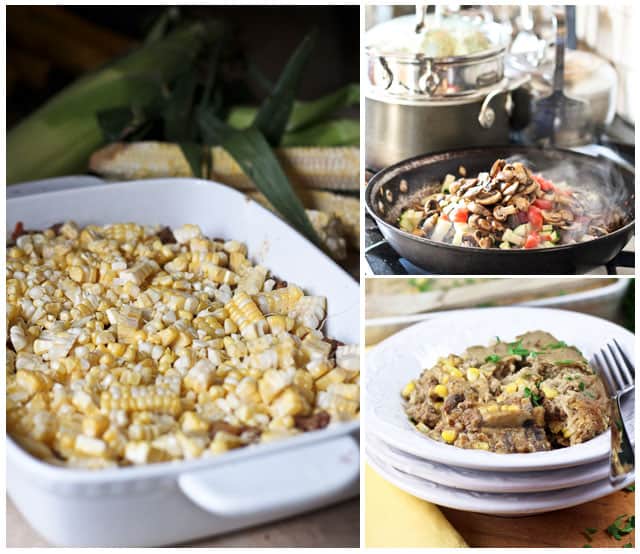 Assembly and finished product.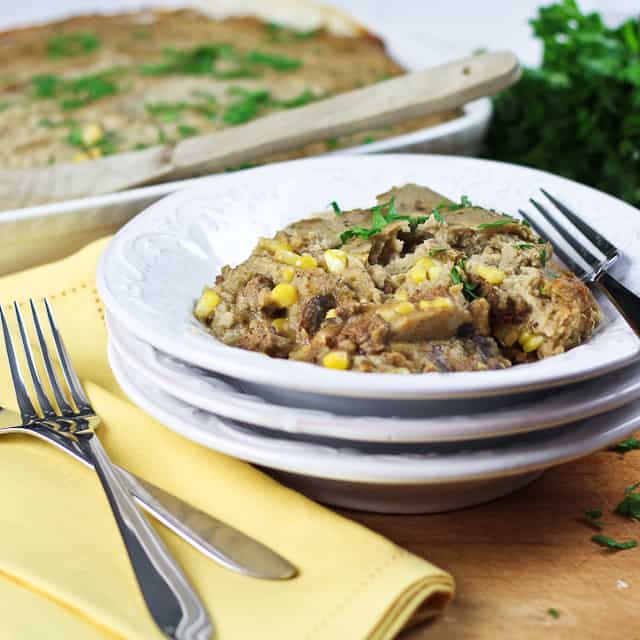 OK, so the potatoes took a slight beige coloration because of the aubergine, but this doesn't affect taste in the least.
And once you get used to it, the color isn't so bad after all…
Hey, 5 pepper sauce will make your potatoes go brown too!
Look at how moist! Can you imagine the flavor?