For real. This is the Best Hummus Recipe EVER!!! It's so unbelievably good, light, velvety and creamy, they should seriously consider renaming it to something like "Chickpea noIce Cream, or Chickpea Delight maybe, or maybe even Yum-mus, why not?
I mean, really, I love this stuff so much, I could very well sit down with a bowl and eat the whole thing by the spoonful! Mind you, that is pretty much what I do… but to make things even tastier, I like to eat mine with pita chips. No, no… not the deep fried kind of chips, simply whole wheat pita breads that I tear to pieces and toast in a 325ºF oven until they are really dry, crispy and golden brown. I then use those in lieu of a spoon. Best chips and dip in the world, I tell you! Best part is, they make for a healthy snack too!
Whooohoo! Chips and dips that are good for you! How's that for awesome news!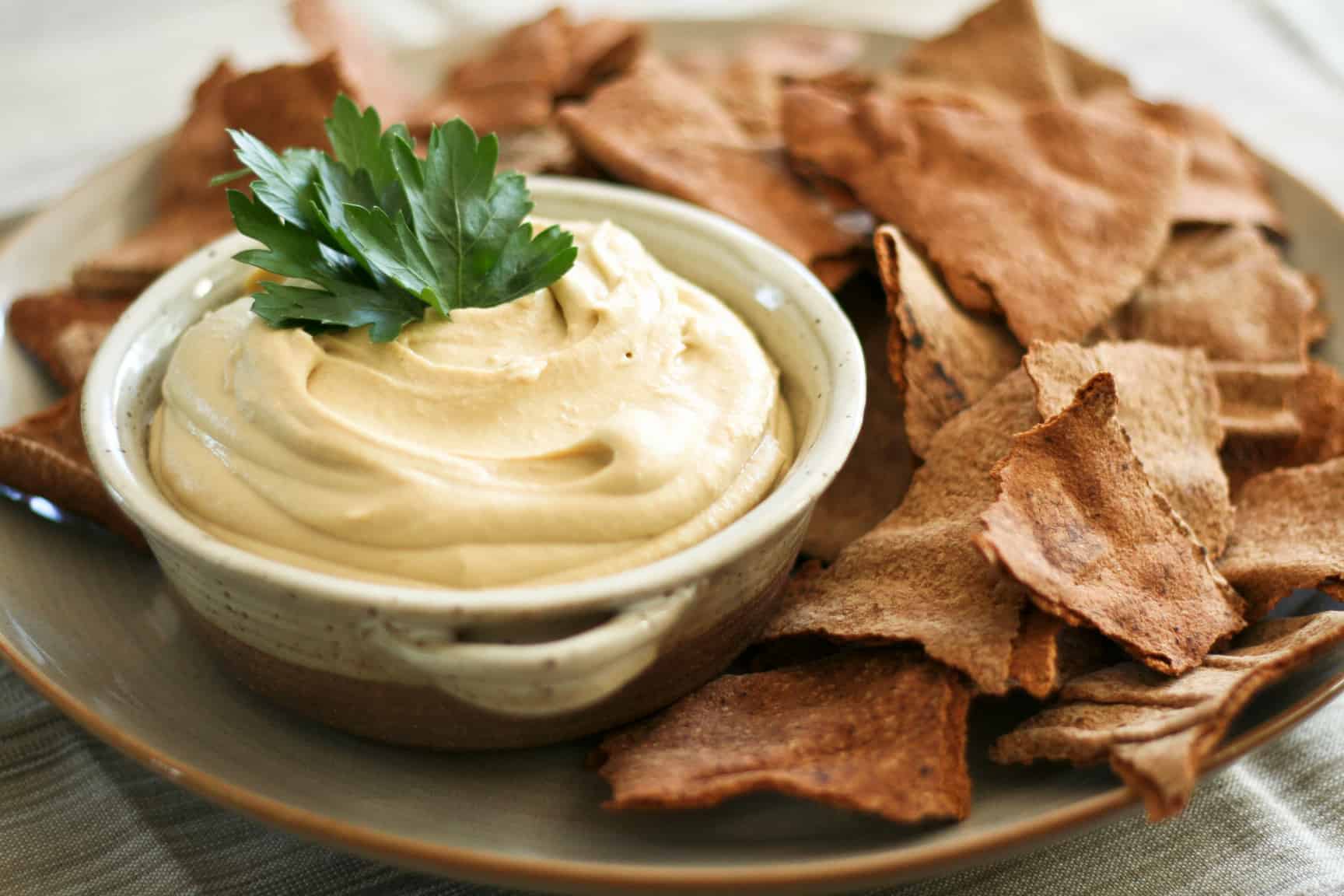 Not all hummus recipes are created equal though. There are quite a few (thousand) available on the Net, and some of them will have you peel your chickpeas before you process them. Talk about tedious work! I don't see the point in doing that, really, especially after I've tried this beautiful recipe which I found a while back. I've only adapted it ever so slightly… Adding baking soda to the soaking water makes all the difference in the world.
I'm telling you, even if you are not a big Hummus fan, you should really consider giving this recipe a try and tasting this heatlhy dip / sauce again, as if for the first time. My daughter, who didn't care much for the stuff not so long ago is now completely sold!
Lucky me just made a double batch of this yesterday… Guess what I'll be having for my afternoon snacks this week!
Oh! I am a happy woman… Life is good! 🙂
Heavenly Velvety Smooth Hummus
Ingredients
2 cups dried chickpeas (the smallest you can find)
2 tbsp baking soda for soaking + ½ tsp for cooking
½ cup tahini
juice from 1 squeezed lemon
2 garlic cloves
½ tsp salt
1 teaspoon cumin
½ - 1 cup water, depending on desired texture
Instructions
Soak chickpeas in clean water with 2 tablespoons of baking soda overnight.
Drain, rinse and soak again in tap water for a few more hours. The grains should absorb most of the water and almost double their volume.
Rinse the chickpeas well and put them in a large pot. Cover with water, add ½ tsp baking soda and NO salt. Cook until the grains are very tender, around 45 minutes to an hour. Regularly skim the surface during cooking process to remove foam and loose peels floating.
When cooked, drain the chickpeas and transfer to food processor. Process into a thick puree. Allow to cool for a little while before you continue.
Add the tahini, lemon juice, garlic, salt and cumin, then start the food processor. Add water, a little bit at a time, until you get the desired texture. Make it a little bith thinner than the actual desired texture, as it tends to firm up after a little while (especially if you don't eat it right away and refrigerate it).
Serve with pita chips, or crudités, or just plain grab a spoon and dig in!