Spicy Orange Ginger Soba Noodles
Oh yeah. Another orange recipe!
Brace yourselves, I've got one or two more coming… or is that three or four? 😉
I've been on a bit of an Asian kick lately. Seems like pretty much everything I eat somehow gets some sort of an Asian twist. So it's no surprise really that, when I started thinking about using oranges with pasta, ginger and shrimp immediately came to mind and were eventually invited to join the party.
Although this whole dish took form entirely in my mind, without any form of external inspiration, I don't think I've invented anything here. We're looking at a pretty classic flavor combination.
But hey, it's a combination that works, so why not?
It's sweet, it's tangy, it's hot and spicy!
It's… yummy!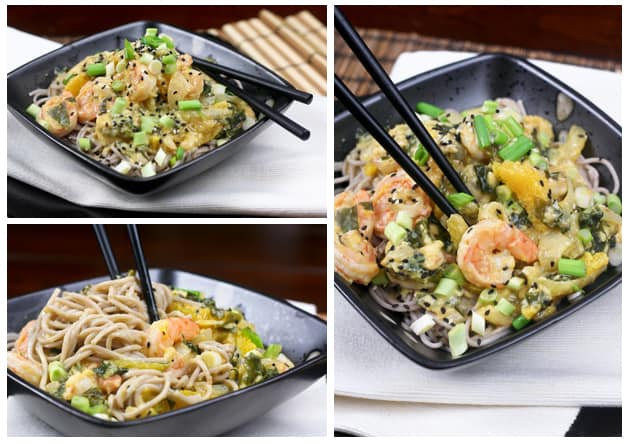 I have to admit though that I don't recall ever seeing anything "oranges" being served with noodles. I think that this is something that we'd expect to see more over a bed of rice… but I find the soba noodles worked really well with this.
And I really wanted to try oranges with noodles. And, well, you know me… When I have an idea in my head, I just HAVE to see it through.
However, feel free to sub rice, if you think it's more appropriate.
I won't take offense, I promise. 😉
Oh, and if you don't care much for algae, you might want to omit the wakame, because it does confer a lot of its flavor to the dish.
But if, like me, you really dig it, feel free to add even more.
SPICY ORANGE GINGER SOBA NOODLES
INGREDIENTS
(Serves 2)
150g soba noodles
20 raw tiger shrimp (size 31-40)
1 small onion
1 celery rib
1 orange
4 green onions, sliced
1 tsp dried Wakame, flaked
1 cup boiling water (to rehydrate wakame)
For the sauce
¾ cup freshly squeezed orange juice (3 oranges should do the trick)
1 tbsp tahini
1 tbsp miso
35g fresh ginger, grated
2 tbsp rice vinegar
1 tbsp sesame oil
1 garlic clove
½ tsp Sriracha
¼ cup water
1 tsp cornstarch
Garnish
White and black sesame seeds
INSTRUCTIONS
Cook the soba noodles according to instructions on package.
Meanwhiles, make the sauce by adding all the ingredients to a mini blender or food processor and process until smooth. Set aside.
Arrange your orange into supremes and set aside.
Add flaked wakame to boiling water and let stand until fully rehydrated, about 2 minutes. Drain and set aside.
Cut the onion in half and slice it rather thinly on the diagonal. Slice the celery rib in the same fashion.
Add about a teaspoon of extra virgin olive oil to a non-stick pan and heat over medium high heat. Add onions  and celery, sprinkle with salt and pepper and cook until they start to soften and take a little bit of color, about 3 minutes.
Add shrimp and cook until the shrimp turn pink, about 4-5 minutes.
Add sauce, bring to a simmer and cook for about 3-4 minutes, until sauce thickens.
Add orange supremes, rehydrated wakame and half the green onions. Give that a good stir until well combined and serve immediately over soba noodles.
Garnish with the rest of the green onions and black and white sesame seeds.