Spinach and Blue Cheese Chicken Roulades
This week-end, I am going to the U2 concerts with my son and daughter. We will be there both nights! That's Friday AND Saturday!:D
I am sooooo excited, I can barely think straight, so please, don't be too hard on me if this post doesn't seem to make much sense… 😉
My daughter came home to spend a couple of days for the occasion, and I made us some beautiful chicken roulades, served with a simple grilled graffiti aubergine and one of her favorite sides: a zucchini carpaccio.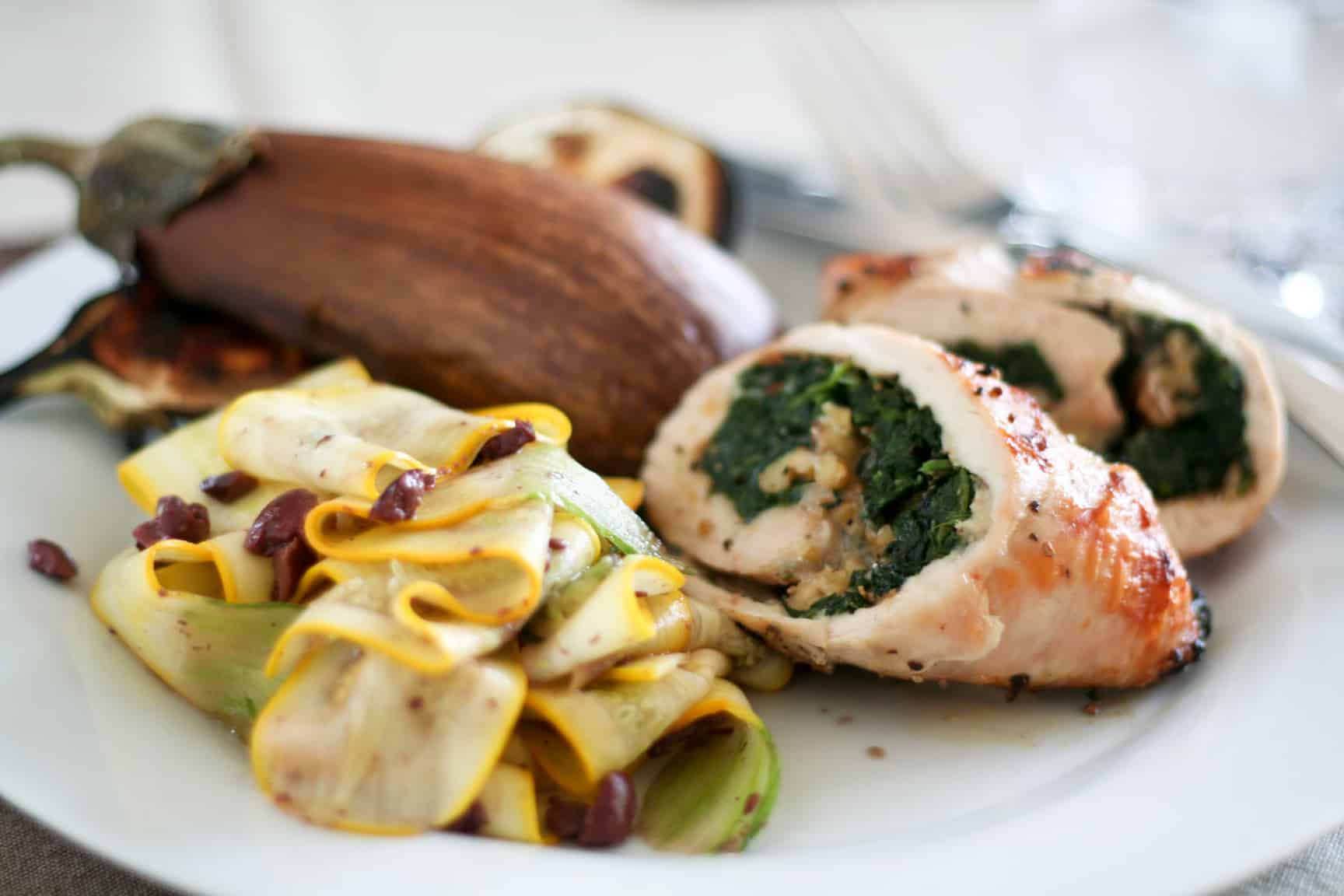 While this dish might seem elaborate, it was actually quite simple to put together, and it turned out delicious, very worthy of a special occasion.
Tasha even said that it was one of her favorite meals in well… a very long time. That made me real happy.
I think the most complicated and time consuming part, really, is to flatten the chicken breasts. You have to make them relatively flat so they can hold all that stuffing and still roll easily.
Other than that, it's incredibly simple. You don't need that many ingredients, and you don't need much of them either.
I chose to cook my chicken on the grill, but you can just as easily make it in a pan.
One thing is certain, I will be making this again!
Spinach and Blue Cheese Chicken Roulades
Servings: 2
Ingredients
CHICKEN ROULADES
2 x 150g skinless chicken breasts
225 g baby spinach
25 g blue cheese
20 g walnuts, chopped
ZUCCHINI CARPACCIO
1 zucchini, yellow or green
1 tbsp olive oil
Salt and pepper to taste
GRILLED AUBERGINE
2 small aubergines, I used the graffiti variety
1 tbsp olive oil
Salt and pepper to taste
Instructions
For the zucchini carpaccio
Slice the zucchini lengthwise as thin as you possibly can while still getting complete slices. The use of a mandoline is almost mandatory here. I like to keep the green top, I find it adds a lot to the visual aspect of the carpaccio. Just cut off the "dry" part at the end. Transfer zucchini slices to a medium mixing bowl.

Chop the olives finely and add to zucchini. Add olive oil, salt and pepper and mix very delicately, making sure all the slices are seperated and coated with the oil mixture. I find my fingers work best to do this.
For the chicken roulades
Preheat your grill to medium high.

With a meat mallet or small saucepan, flatten chicken breasts as flat as you possibly can without ripping them, about ¼ inch thick. It helps to put your breasts between 2 sheets of plastic film. Sprinkle both sides with a little bit of salt and pepper and set aside.

Wilt your spinach using your method of choice. I like to just throw mine in a large nonstick pan over medium heat and toss them around from time to time until they are completely wilted.

Remove excess liquid from spinach. Divide equally betwen the chicken breasts and spread evenly over the "bad" side of the breasts.

Crumble blue cheese overtop spinach and sprinkle with chopped walnuts.

Roll as tightly and nicely as you possibly can without ripping the delicate chicken flesh. Drizzle both sides with a little bit of olive oil then sprinkle with salt and pepper.

Place on the grill, seam side down and close the lid. Cook for about 5-7 minutes. Meat will turn opaque.

If you are making the grilled eggplants, drizzle them with a little bit of olive oil, sprinke salt and pepper and throw them on the grill when you go to flip your chicken roulades.

Flip chicken and continue cooking for 5 minutes, or until cooked through.

Remove from heat and let rest for a minute or two.

You can serve the breasts whole or cut them in half on a diagonal to reveal the stuffing.
If you've tried this recipe, please take a minute to rate the recipe and let me know how things went for you in the comments below. It's always such a pleasure to hear from you!
You can also FOLLOW ME on PINTEREST, FACEBOOK, INSTAGRAM and TWITTER for more delicious, healthy recipes!