Totally Nuts Sticky Protein Bars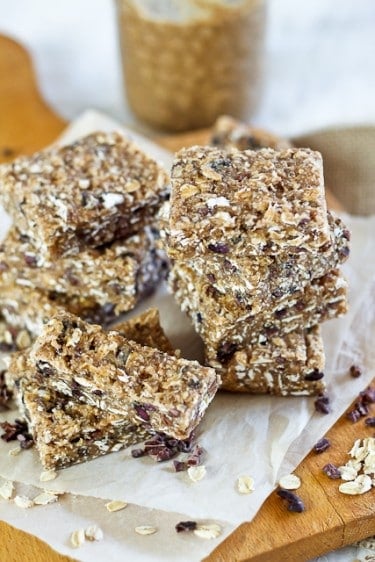 I'm not gonna lie to you guys.
Chances are, you're NOT going to like these.
Sorry about that…
I know, they look good and all, but you're just not gonna like them.
So don't even bother trying them. In fact, you should probably move on to the next post on your list of blogs to read…
Hey, I'm not kidding!
Well, ok… maybe a little.
But still, I need to serve a serious warning here. These bars are… different. I, myself, happen to love 'em for everything that they are, but I'm weird, you know that!
What's that you ask? You would still like to find out more about them?
Well, alright. They are:
– Totally unsweetened. They don't even TASTE sweet.
– Totally sticky! They will stick to everything. The knife you cut them with, the plate you place them in (a napkin might not be a good idea for these guys, unless you happen to like munching on paper), your fingers, your teeth… even your mind!
– Totally super healthy and clean. They are the very definition of what a protein bar should be and taste like to me!
– Totally addictive. Oh yeah. That, they are. Even if you don't like them at first, you'll want to take another bite… and another one, and another one still. Then, you'll be completely hooked. And like me, you'll wonder who in the world decided that peanut butter flavored things HAD to be sweet. Trust me, they don't need to be. This tastes like pure nut butter and oatmeal in a bar.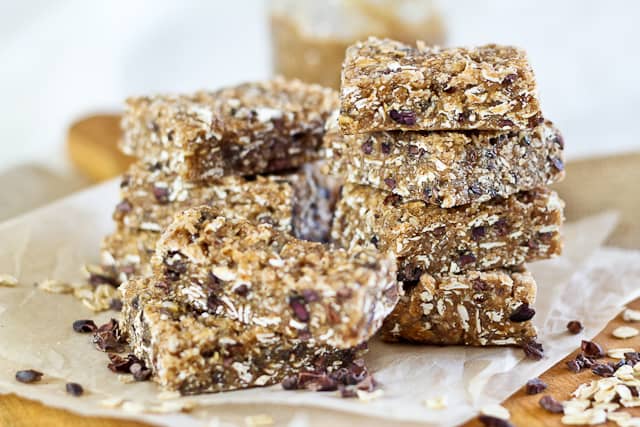 But… like I said.
You won't like 'em… at first!,
And if you think that you might want to give them a try but would like them to have a little bit of a sweet touch, you could always use vanilla flavored whey protein powder instead of plain. Add a handful of dried fruits, a few tablespoons of date paste maybe, or even honey, why not? Just use a little less water to compensate.
Also, feel free to use any nut butter you want. I happened to have a batch of mixed nut butter, which is made from walnuts, pecans, hazelnuts and almonds, to which I add a touch of cinnamon. OH! Heaven help me. I love that stuff.
But really, any nut butter would work here.
So long as you use all natural, that is!
Totally Nuts Sticky Protein Bars
Servings: 12 bars
Instructions
Grind one cup of rolled oats in the food processor and set aside.

If you are making your own almond meal from slivered almonds, make that now also while your bowl is still dry and clean...

Add nut butter and water to your food processor and process until well blended.

Add oats flour, coconut flour, almond meal, whey protein, cinnamon, vanilla and salt and process until well incorporated.

Add whole oats, shredded coconut and cacao nibs and process until just blended.

Transfer to a 8" x 8" pan that's been lined with parchment paper.

Press the mixture down firmly with a wet rubber spatula until it's all nice and flat, then cover and refrigerate overnight.

Cut into 12 bars and keep refrigerated for up to a week in an airtight container.
If you've tried this recipe, please take a minute to rate the recipe and let me know how things went for you in the comments below. It's always such a pleasure to hear from you!
You can also FOLLOW ME on PINTEREST, FACEBOOK, INSTAGRAM and TWITTER for more delicious, healthy recipes!