Quick Caprese Salad
Sometimes, I'm in the mood for a little quickie…
Naaaah…  Let me start over.
Make that, lately, I've really been in the mood for little quickies.
A lot!
OF COURSE, I'm talking about food here. What DID you think I was talking about?
I mean super quick, light and easy meals.
Like this gorgeous salad right here.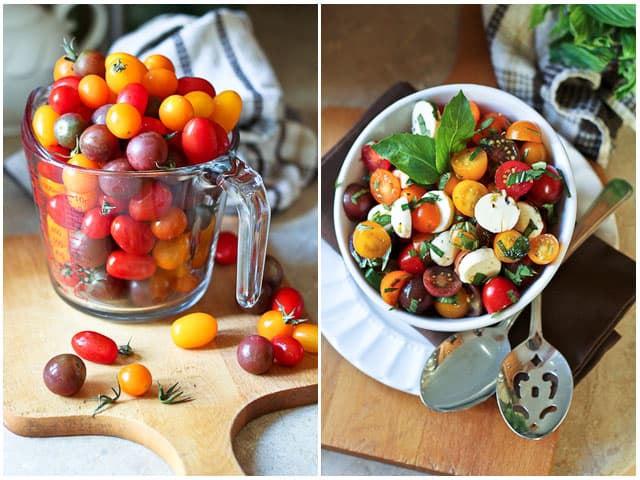 I finally managed to pay a little visit to Marché Jean Talon (Leanne's recent post totally convinced me that I HAD to go) and I quite simply flipped. It's literally fresh produce paradise. I wanted to buy EVERYTHING in sight! It's a good thing that you don't get to carry a cart around at the market because I would've filled mine up so full, I'd have never been able to fit everything in the fridge.
Just with tomatoes alone, I think I could've easily filled it up. Cute little tomatoes such as these ones were all over the place, and cost mere pennies.
Of course, I had to buy a ton.
And what better way to use up little cherry tomatoes than by making a quick Caprese Salad? Especially when you happen to be in the mood for quickies…
Doesn't get much quicker than this, let me tell you,
Quicker, or fresher!
There's never been a better time to whip up a fresh Caprese Salad!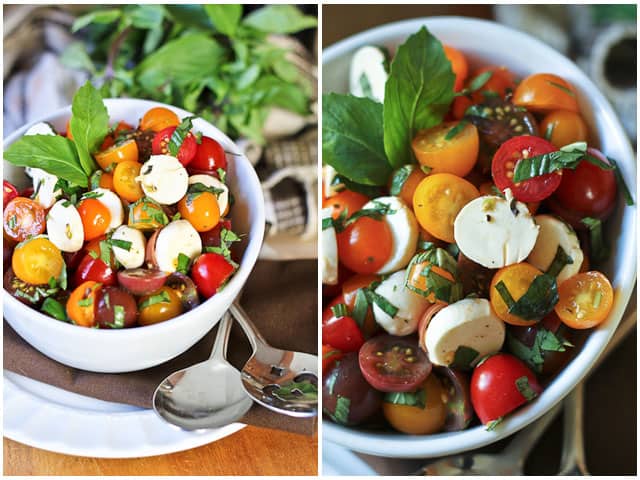 And since I'm all about quickies tonight… what do you say I make this a quick post for change?
I'll let the pictures do the talking this time. I think they tell the story much better than I could do it myself, anyway.
Hey, don't get too used to this, though… Next time, I might have a little bit more to say! 😉
Oh, and when I go back to the market, I promise to give you guys a tour.
Did I tell you it was like food paradise?
P.A.R.A.D.I.S.E!
Quick Caprese Salad
Servings: 2
Ingredients
3 cups cherry tomatoes
9 light mini cocktail bocconcini, 75g
2 tbsp balsamic vinegar
3 tbsp coarsely chopped fresh basil leaves
¼ tsp Himalayan Salt
½ tsp freshly cracked black pepper
Instructions
Cut the cherry tomatoes in half and place them in a medium mixing bowl.

Slice the mini bocconcinis. Add to the tomatoes.

Add basil leaves, balsamic vinegar, salt and pepper.

Toss lightly to combine and serve immediately.
If you've tried this recipe, please take a minute to rate the recipe and let me know how things went for you in the comments below. It's always such a pleasure to hear from you!
You can also FOLLOW ME on PINTEREST, FACEBOOK, INSTAGRAM and TWITTER for more delicious, healthy recipes!