I think I have an obsession with nut butters. Or more like a real passion for them.
If it wasn't for the fact that I have to eat every new batch that I make, I think that I could easily come up with a different flavor combination every single day.
Yes, I like my nut butters that much. Maybe I should open a Nut Butter Factory!
To make matters worse, I tend to make rather large batches. I find it easier to work with fairly large amounts of nuts: when you use too little, all they want to do is climb against the walls of the food processor and you constantly have to stop the motor to push them down.
When you have a good amount, however, scraping is reduced to a minimum as the larger mass takes care of pushing itself down.
I wanted this latest concoction of mine to taste and feel just like Oatmeal Cookie Dough, so I figured it needed to have a whole bunch of lovely pieces of nuts and dried fruit in it. Much like what you would find in a good oatmeal cookie!
So, I started by adding raisins, pitted dates and walnuts to the bowl of my food processor. I pulsed a few times to break them down into a mixture that had the consistency of small pebbles.
Once I got the desired texture, I transferred this pile of goodness to a small bowl. 
I then added the shredded coconut, macadamia nuts, cashew pieces, and coconut oil to the bowl of my food processor.
Now this had to spin for a total of about 10 minutes, with a few stops to scrape the sides from time to time.
Luckily, this one does turn to butter rather quickly thanks to the fairly high oil content of the macadamia nuts.
Already, after 4-5 minutes, you get this beautiful paste. You might be tempted to stop at this point, but keep going. This butter will get MUCH smoother and creamier in just a few minutes…
See? I told you! Look how smooooth and creamy!
It's now time to add the honey, vanilla, salt, ground cinnamon and nutmeg.
Resume processing for about one minute, until everything is evenly combined.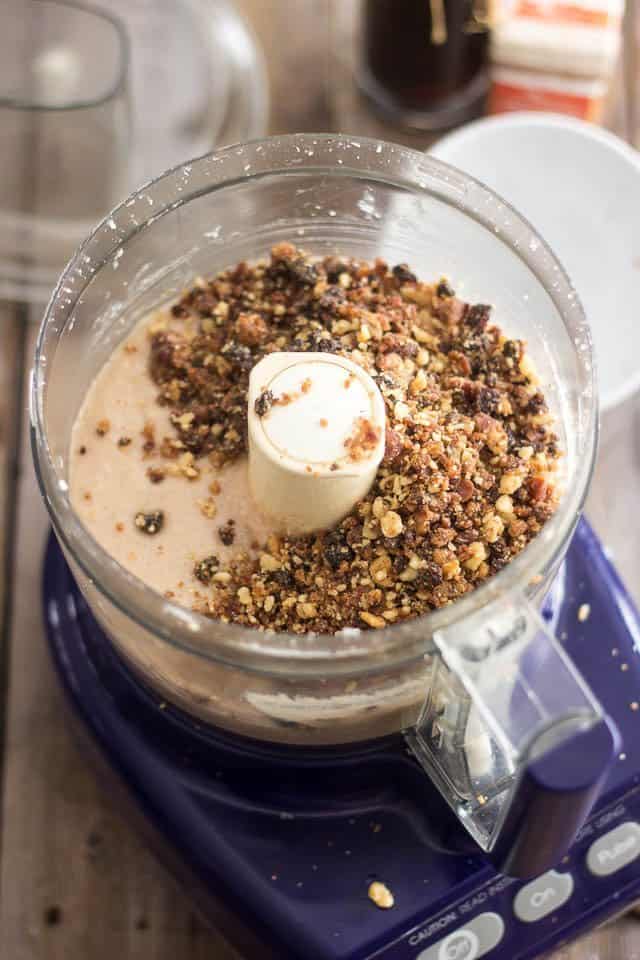 Back in go the crumbled dates, raisins and walnuts that we previously set aside.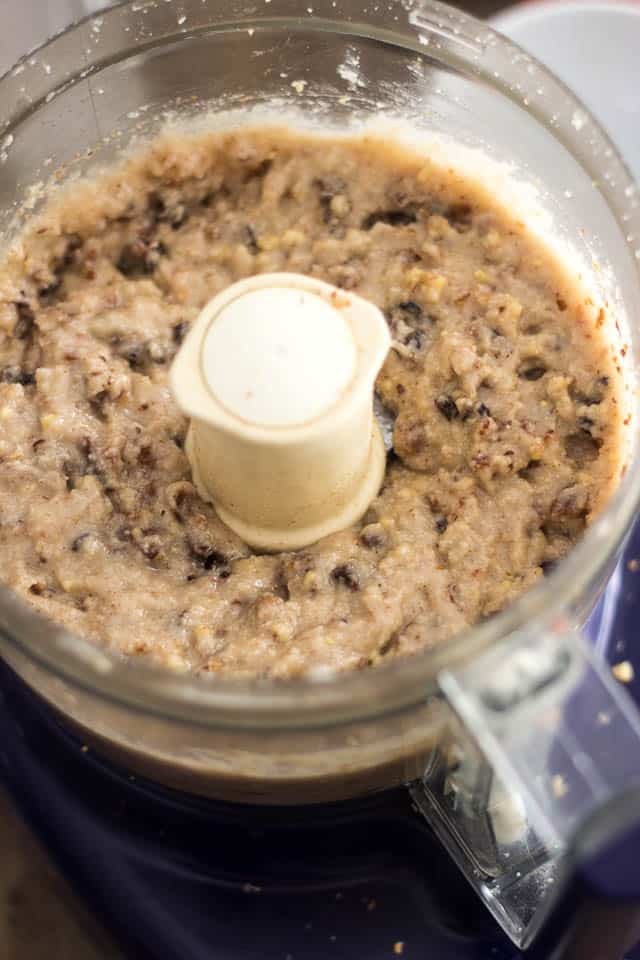 Pulse a few times, very quickly, just to incorporate everything but no more. You want all those little chunks of goodness to remain intact.
Transfer your delicious nut butter to a clean glass jar.
At this time, it will have a very soft and creamy consistency. Not really Oatmeal-Cookie-Batter-Like if you ask me. And the flavor isn't quite there yet, either.
I find nut butters need to rest for at least 24 hours after you make them to get their true flavor and consistency. Yeah, I know. Easier said than done but trust me. It's worth it.
After resting for a wee bit, the texture becomes much firmer, yet still highly pliable, and the flavors have had time to mingle and make friends with one another, letting their inhibitions aside and their true personality shine!
I say now you can dig in and enjoy the absolute real nature of this cookie-dough-like nut butter.
I think you'll be happy you waited after all.
Just look at that texture. Don't tell me you wouldn't want a bite?
Oh, I'm drooling just looking at it. I only want to run to the pantry and have a spoonful or two, but this jar has now been stored away, way in the back of my cupboards. I can't touch it until my 30-Day Reset, which bans any and all forms of sugar, is over. Bah. Only 2 weeks to go. I can do it. I know I can…
But I think I need to leave here at once. I can't stand to look at these pictures anymore.
You guys enjoy them for me, will you?
Oatmeal Cookie Nut Butter
INGREDIENTS
INSTRUCTIONS
Start by adding the raisins, pitted dates and walnuts to the bowl of your food processor
Pulse a few times until you get a mixture that has the consistency of small pebbles. Remove and set aside.
Add the shredded coconut, cashew pieces, macadamia nuts and coconut oil to the bowl of the food processor. Process until very smooth and creamy, about 8-10 minutes total, scraping the sides from time to time.
Add the honey, vanilla, salt, ground cinnamon and nutmeg. Resume processing until very well incorporated, about one minute.
Add reserved date raisin mixture and pulse a few times, very quickly, just to get everything mixed in, no more.
Transfer to a clean glass jar and allow to rest for 24 hours so the nut butter can firm up a bit and flavors have a chance to fully develop.
http://thehealthyfoodie.com/oatmeal-cookie-nut-butter/
Recipe by Sonia! The Healthy Foodie | thehealthyfoodie.com