Almond Coconut Cauliflower Rice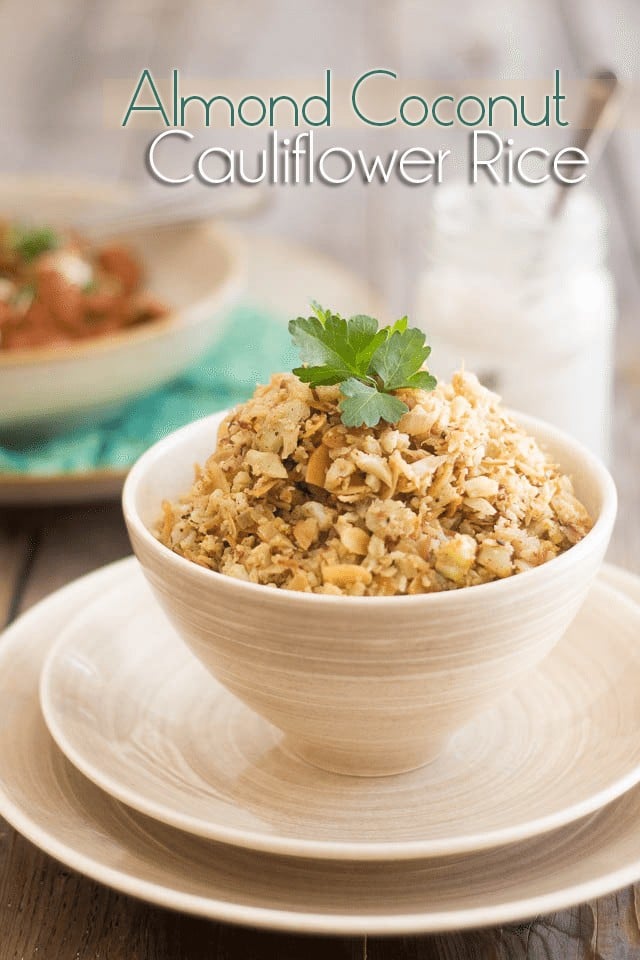 So you've just made some of that exquisite West African Chicken Stew and now you want to whip up a batch of that fabulous Almond Coconut Cauliflower Rice that I'd served right alongside it?
Well, you've come to the right place!
Even if you haven't made the stew, no need to leave! I'm pretty sure that you're going to enjoy this delicious side with many, many other dishes, too!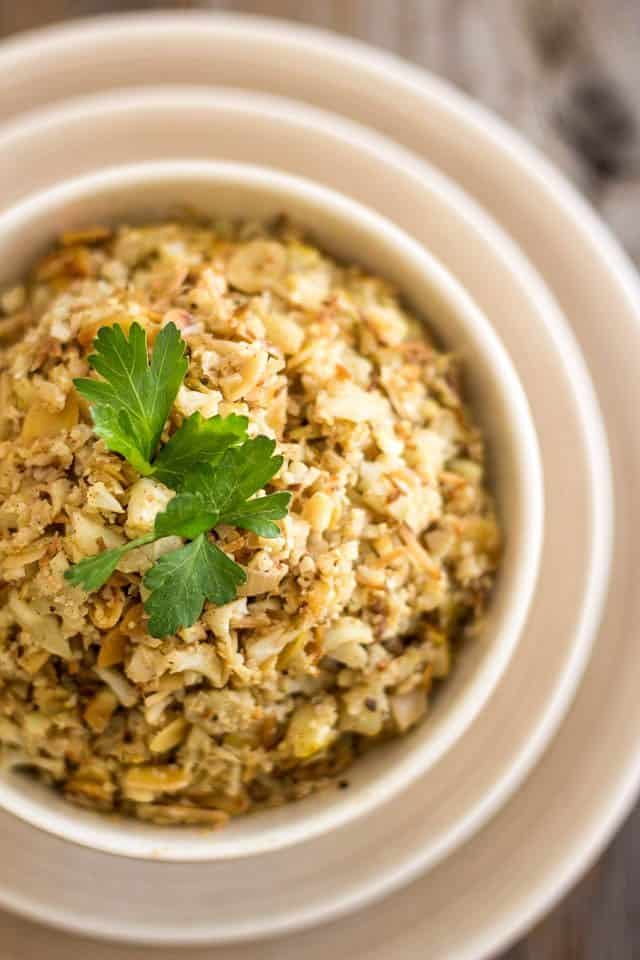 It may even become a favorite of yours…
Why?
Quite simply because it's ridiculously quick and easy to make, it's insanely fragrant and delicious to eat and is loaded with nothing but nutritious ingredients that'll do your body good.
Plus, it's so pretty to look at.
I say this is a side dish that, when included on any given plate, might very well steal the show…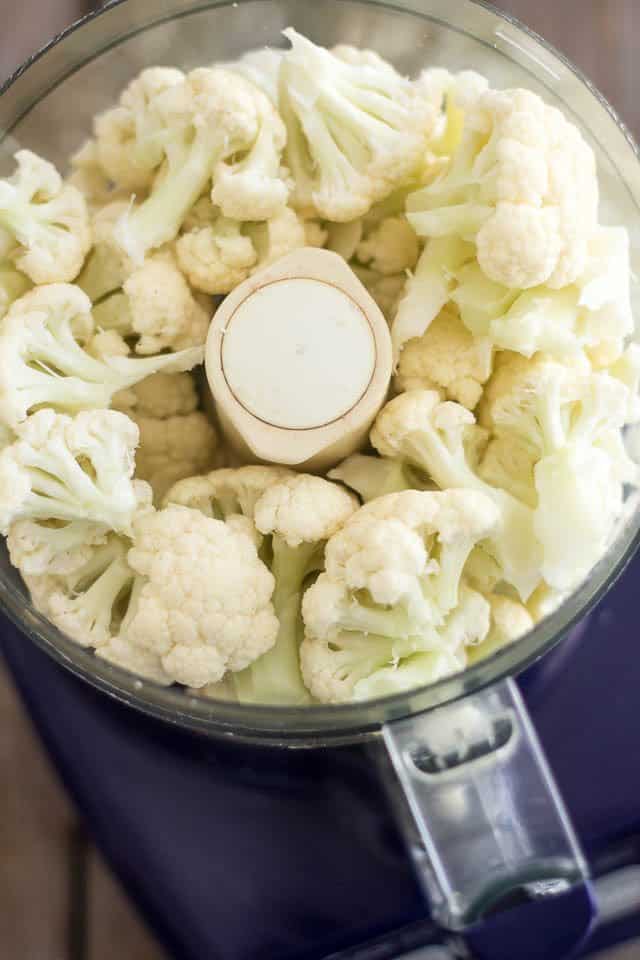 If we're going to make this, we need to first get busy ricing that cauliflower. Like I said earlier when I made this very intriguing Apple & Cinnamon N'Oatmeal, my method of choice for ricing cauliflower is in my trusty food processor.
I find it produces a better texture than the box grater, plus, let's face it, it's much, MUCH quicker. And in the kitchen, I'm all for quick!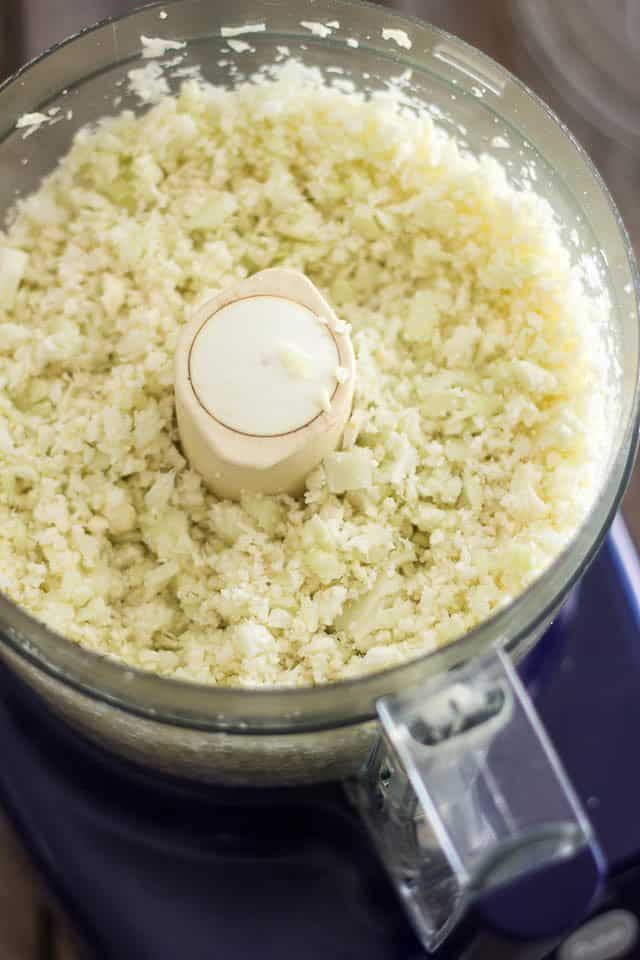 The trick to getting great "rice" is to not overcrowd the bowl of you food processor. You're better off working in several batches if you have to. If you put too much at once, you'll only end up making mush. The little florets need to have plenty of room to bounce around and hit those blades.
Also, keep your pulses really short. A whole bunch of short pulses does a much better job than a few longer pulses.
You'll notice that I like to keep my "rice" on the coarser side, but feel free to give it a couple extra shots if you like yours to be a bit finer…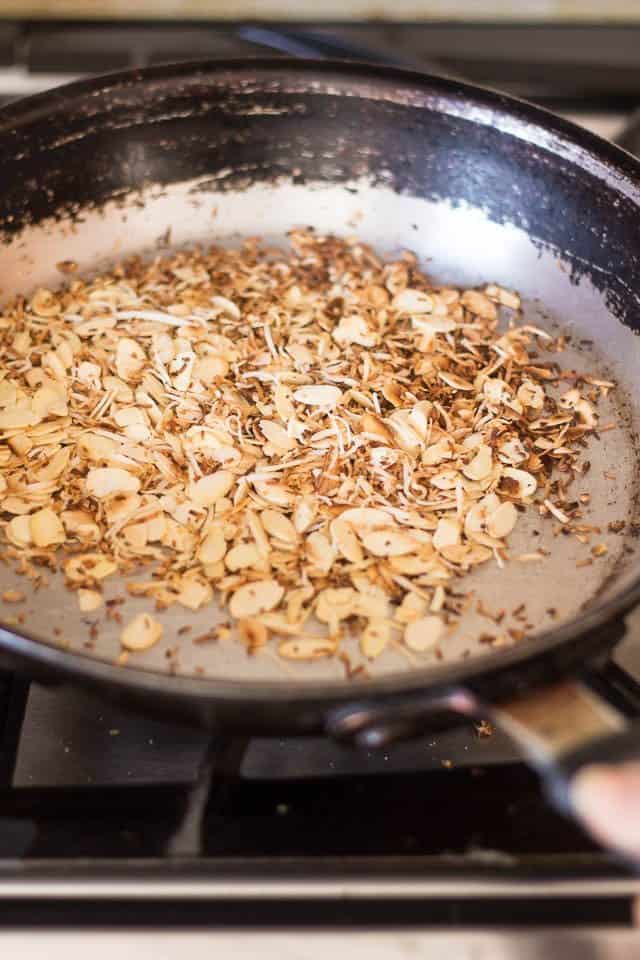 Once the cauliflower has been riced, toast the almonds and coconut in a dry skillet set over medium heat until golden and fragrant.
This will only take a few seconds, maaaybe a minute… watch these like a hawk! They could burn on you in no time.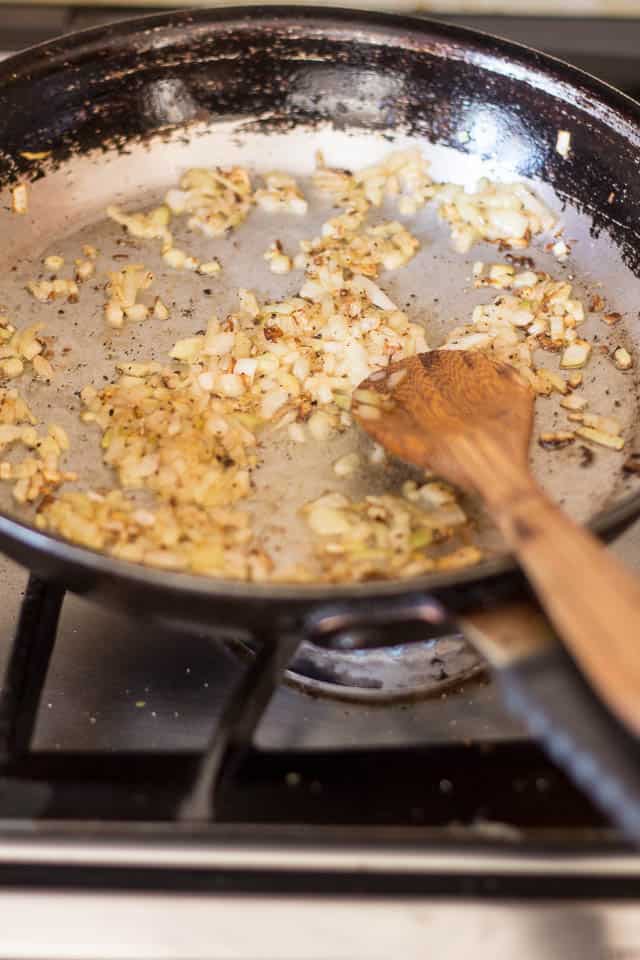 Once golden and intensely aromatic, remove the now toasted almonds and coconut to a plate; add coconut oil to the pan and sweat the onions for about 5 minutes.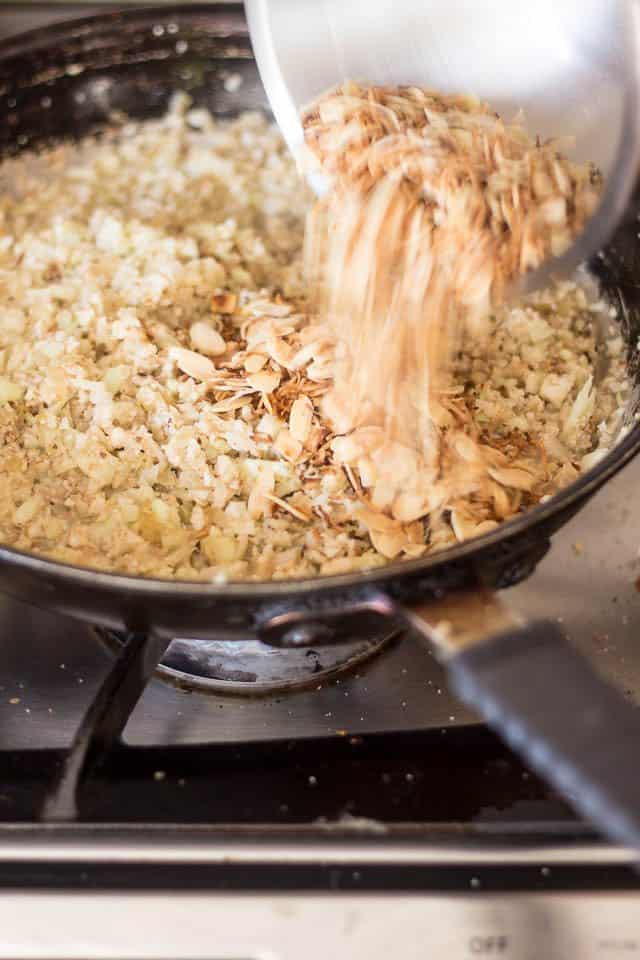 Add everything back to the pan, mix well and continue cooking for a few minutes…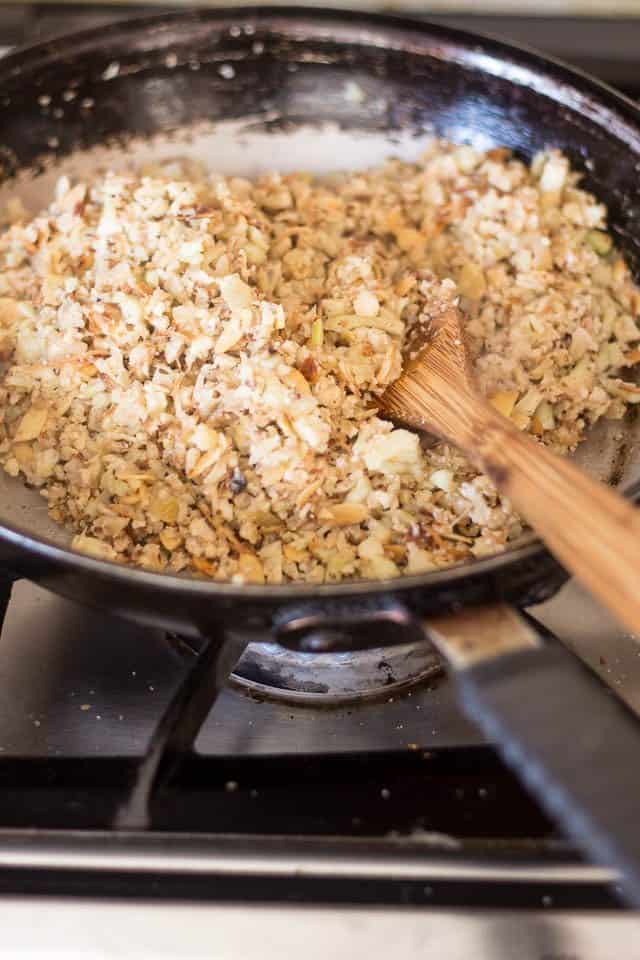 …until all the liquid is absorbed.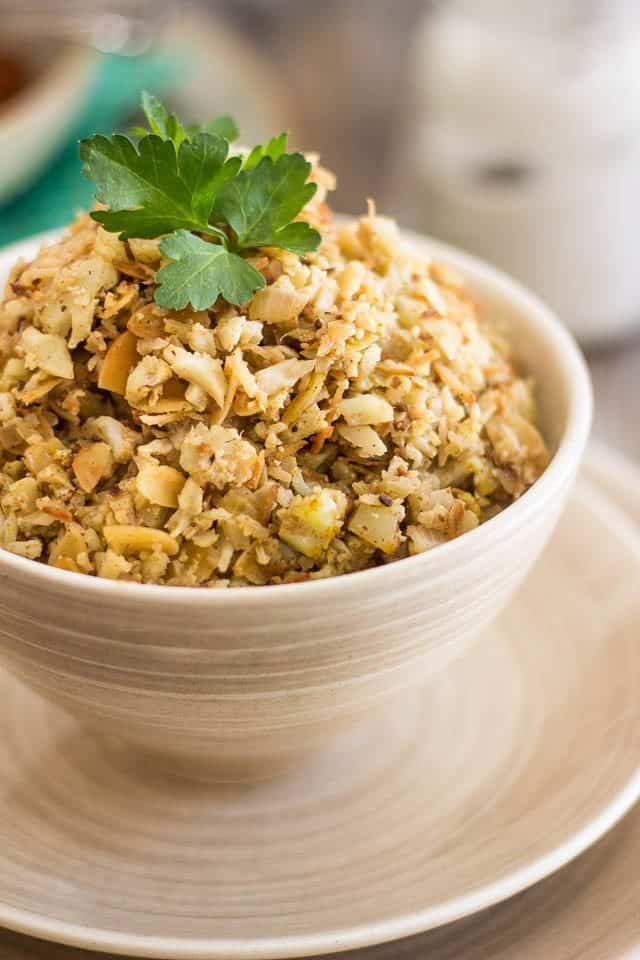 Serve this "rice" while it's still piping hot, that's when it's at its best.
And for a complete meal, just mix a good source of protein right into this. Chicken would be amazing, I'm sure, and shrimp would be an excellent match, too, no doubt about it! Did I tell you it's absolutely fantastic with scrambled eggs? You can mix them right in, or just enjoy them on the side. Makes for a fantastic breakfast, if you ask me.
HA! Between the N'Oatmeal and this "rice", it looks like I'm making a habit out of having cauliflower and eggs for breakfast…  😉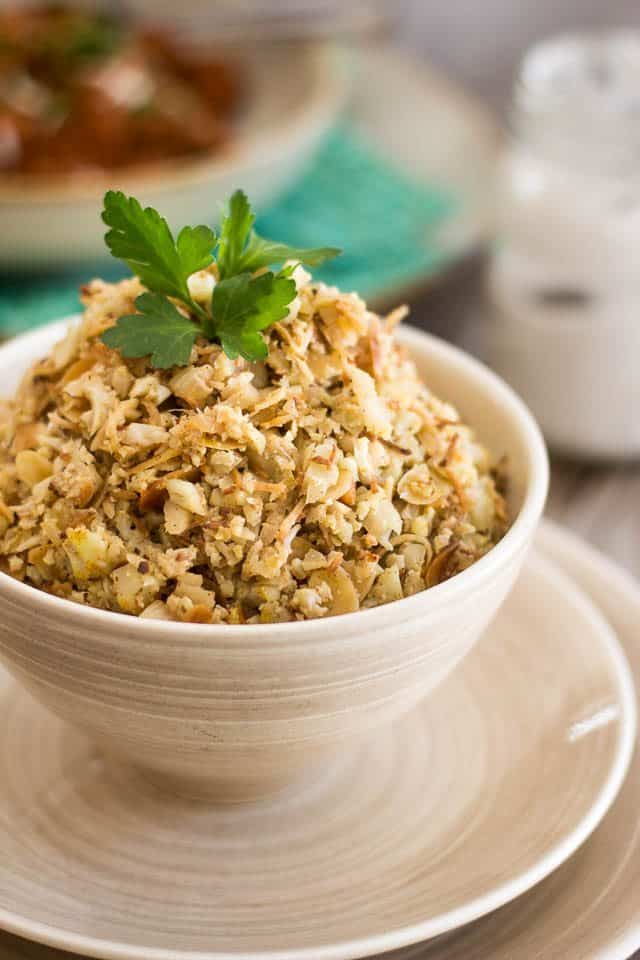 Almond Coconut Cauliflower Rice
This Almond Coconut Cauliflower Rice is ridiculously quick and easy to make, it's insanely fragrant and delicious to eat. No doubt you'll love it!
Servings: 4
Instructions
Cut the cauliflower into small florets and place in the bowl of your food processor.

Pulse a few quick times (about 10 to 15) until it resembles the texture of rice

Toast the coconut and almonds in a dry skillet set over medium heat; remove to a plate when golden and fragrant.

Add the coconut oil to the skillet and cook the onion with the salt and pepper until fragrant and slightly translucent, about 5 minutes.

Meanwhile, in a measuring cup or small bowl, mix the coconut milk and water.

Add riced cauliflower, garam masala, ginger and spicy curry to the pan, followed by coconut milk, lime juice and finally, toasted coconut and almonds.

Mix well and continue cooking for an additional 4 to 5 minutes, until cauliflower is cooked but remains somewhat firm and cooking liquid is completeley absorbed.

Serve piping hot
Nutrition
Calories: 305kcal, Carbohydrates: 17g, Protein: 8g, Fat: 26g, Saturated Fat: 16g, Sodium: 348mg, Potassium: 698mg, Fiber: 7g, Sugar: 5g, Vitamin C: 72mg, Calcium: 83mg, Iron: 2mg
If you've tried this recipe, please take a minute to rate the recipe and let me know how things went for you in the comments below. It's always such a pleasure to hear from you!
You can also FOLLOW ME on PINTEREST, FACEBOOK, INSTAGRAM and TWITTER for more delicious, healthy recipes!