West African Chicken Stew – A Recipe Right Out of Well Fed 2
OMG you guys I did it.
For the first time in my life, I managed to follow a recipe TO A TEE! Well, okay, I'll be honest. I do need to add an *almost* to that. But I swear, I just made one or two VERY slight modifications: nothing too serious.
And lucky for you, Melissa Joulwan, the creator of this West African Chicken Stew, blogger behind "The Clothes Make the Girl" and author of the fabulous cookbooks Well Fed (which I previously reviewed here) and Well Fed 2 was kind enough to let me share that recipe with you.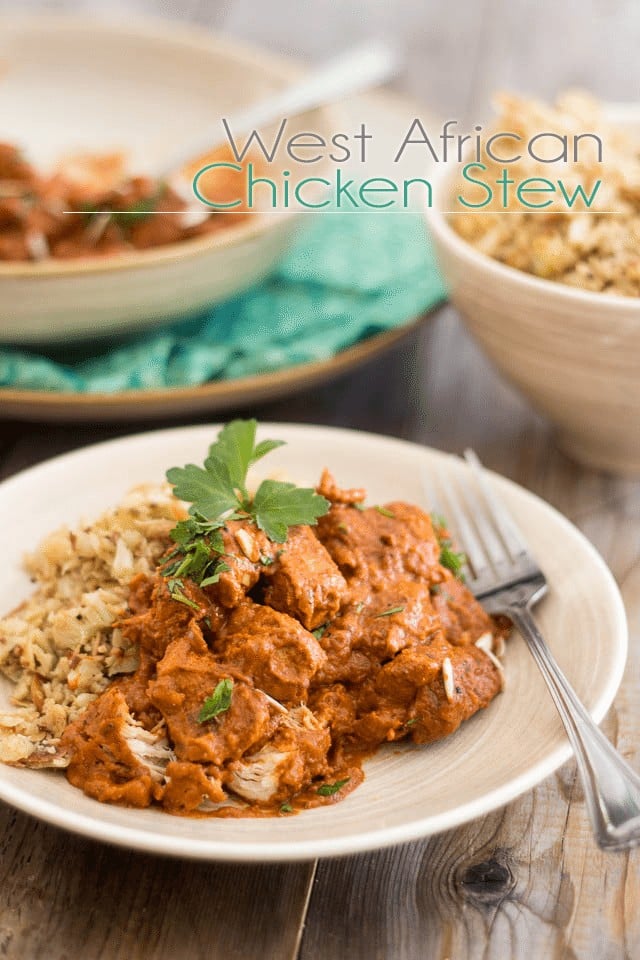 If you don't own that book yet, I say it's one that you should seriously consider adding to your collection! That second edition of Well Fed is just as brilliant as the first: the photos are just as mouth watering, Melissa's voice is just as fun and lively and she pretty much takes you on a trip around the world. Melissa sure knows her stuff when it comes to exotic flavors! This West African Chicken Stew is the perfect example..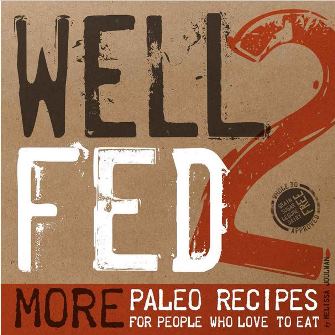 To help you get the flavoring just right, the book includes an entire section on sauces and seasonings, where you can find the formula to many spice mixes and numerous tasty sauces. Melissa also shares a whole bunch of quick tips and very simple but useful ideas such as flavor boosters, burger toppers, stuff to put on your eggs as well as neat fixes to quickly and easily dress up your broccoli.
Oh, and my personal favorite: there is this super cool section on burgers, meatballs and bangers, where you get to mix and match meats, shapes and flavors to create your very own dish. Melissa's made it very easy to follow the guide, too! You choose your favorite "shape" and flavor, follow the master recipe and then follow through to the instructions specific to your picks. Very handy! I want to try all the different flavors, but my first try is going to be a toss between Moroccan Chicken and Apricots or Japanese Gyoza.
Every recipe has its own little introduction story, includes Melissa's handy-dandy "You know how you could do that?" capsules where she offers substitution ideas and more neat tips and tricks, as well as suggestions for side dishes, prep time, cook time and number of servings.
Seriously, this is a little gem of a recipe book. Get it, you won't regret it.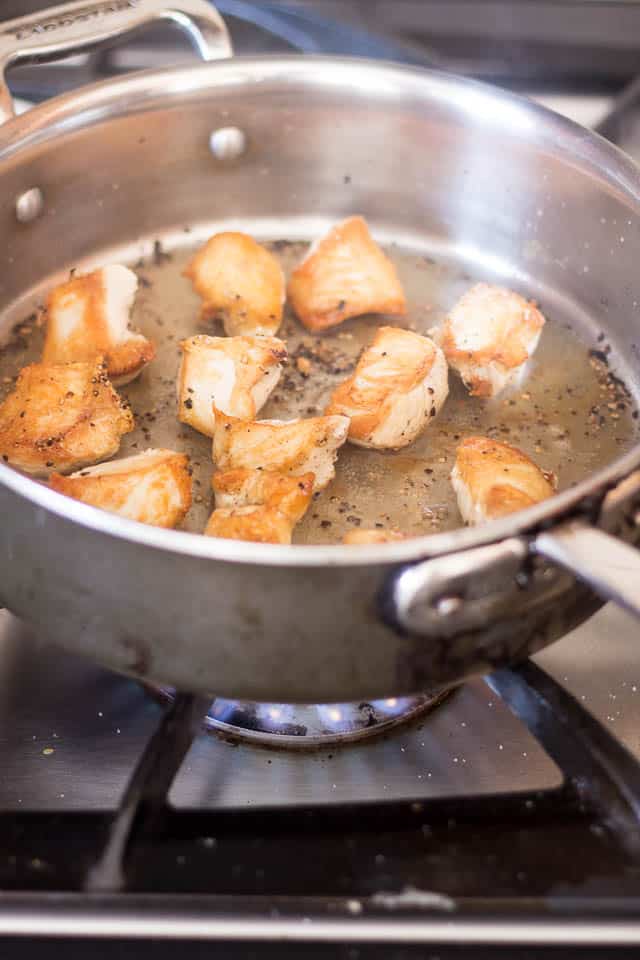 Now let's start this recipe. Oops… looks like right from the get go, I'm already changing things…
You see, I had no chicken thighs on hand, so I used chicken breasts instead. I figured it wouldn't really change the integrity of the dish… so I chose not to get out of my way to get the thighs.
But, just like the recipe says, I browned the chicken, in batches so not to overcrowd the pan. See? I can follow instructions! 😉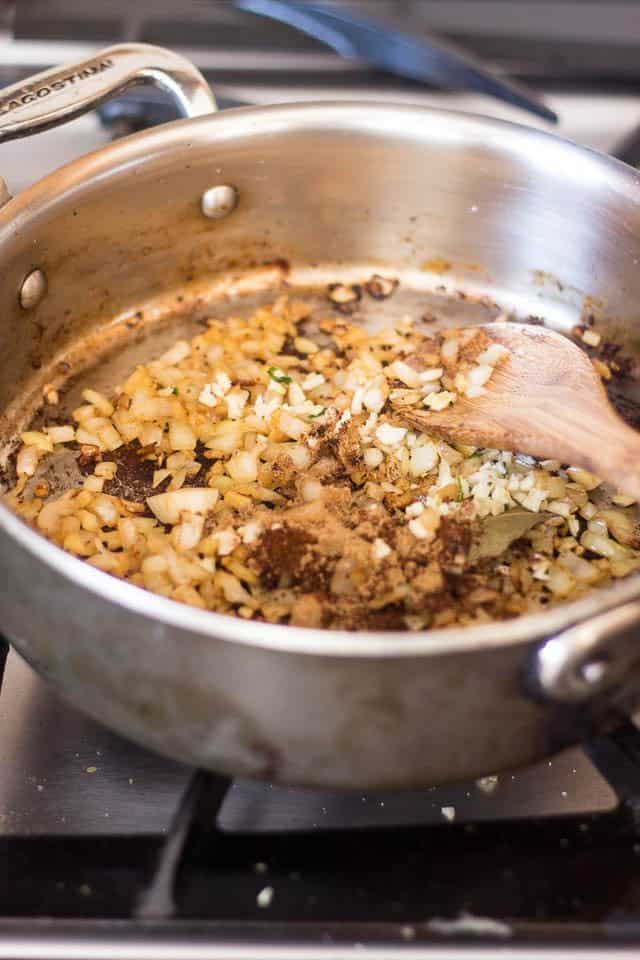 I added the onion and ginger and cooked until soft, then threw in the garlic, coriander, cayenne and bay leaf.
This got tossed around for about 30 seconds, until fragrant.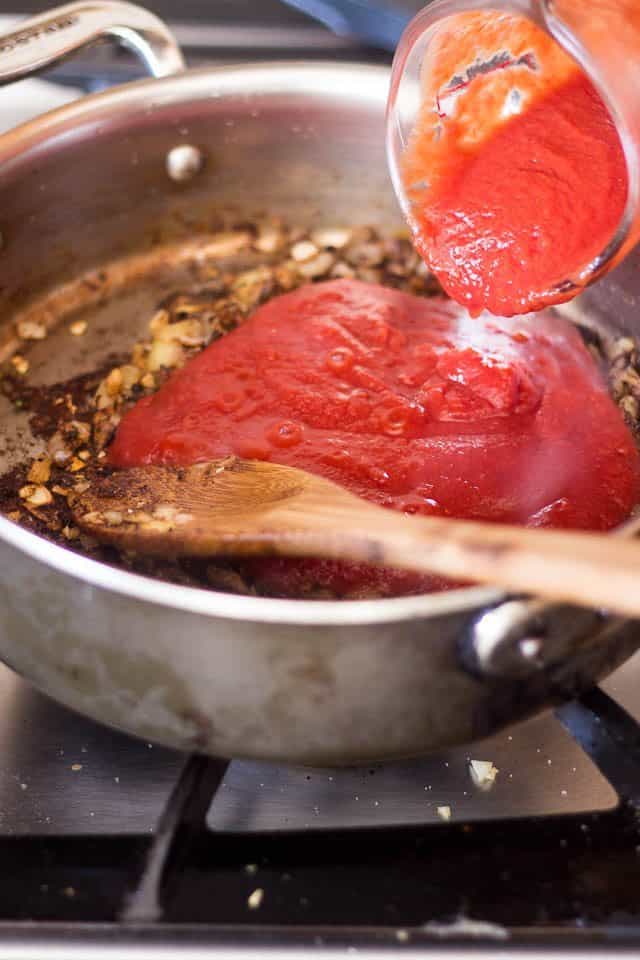 Tomatoes and water went in…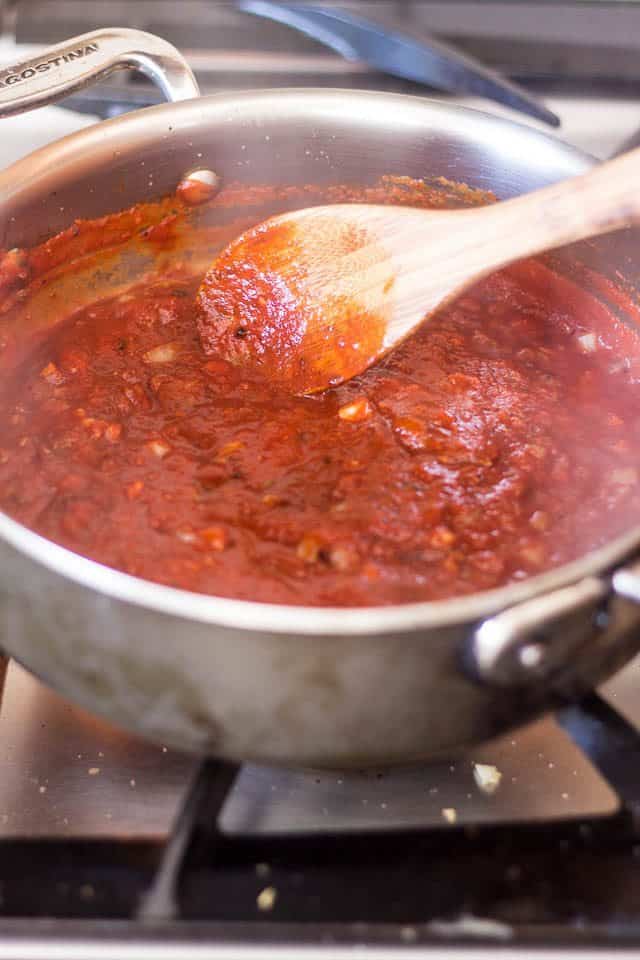 And I stirred to combine!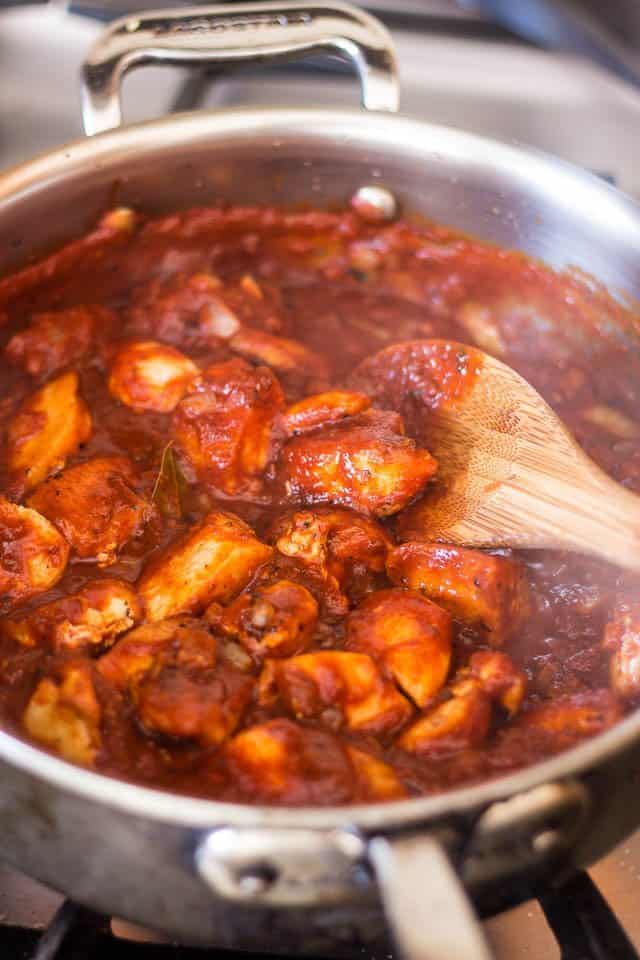 Back in went the chicken along with the juices it released. I brought this back to a boil then lowered the heat, covered and let that simmer for precisely 25 minutes.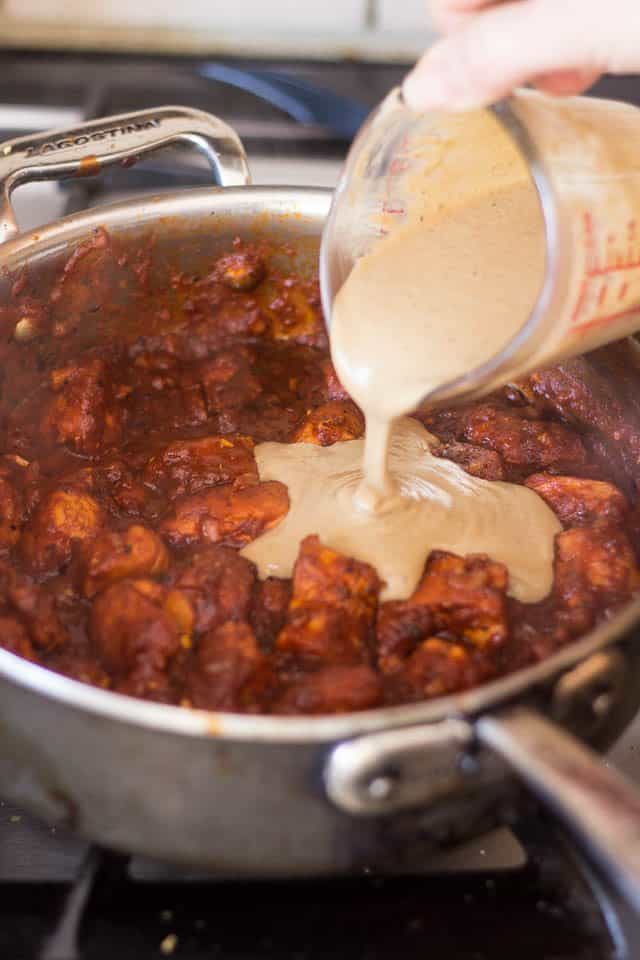 And here is where I made another slight modification.
Since I wasn't removing the chicken (because I didn't need to seeing as how it was already bite sized) I figured it would be easier to incorporate the sunflower seed butter if it was a bit on the looser side. And since I thought my sauce was a tad on the thick side and could use a little bit of water, I mixed 1/2 cup of water in with my sunflower seed butter, and while I was at it, I added the vanilla right in there too!
Gave that a good whisk then poured this beautiful creamy mixture right into the chicken stew.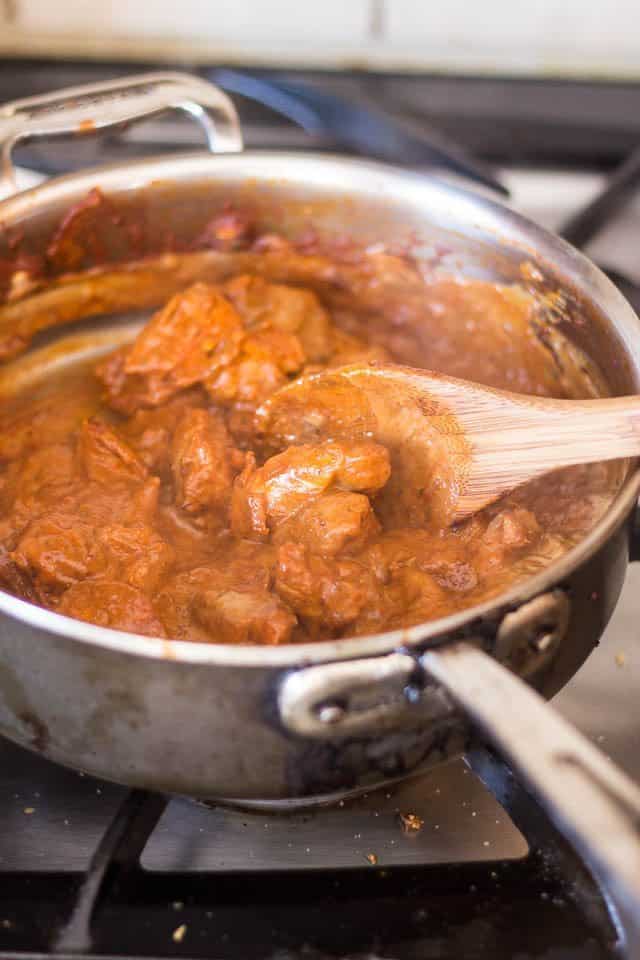 And it blended with the tomato sauce so beautifully well. See how rich and thick and creamy that sauce is? Unreal! And OMG the smell! I really, REALLY wish you could smell this!
At that point, I just couldn't wait to dig in. My stomach was rumbling like mad, screaming GIMME! GIMME!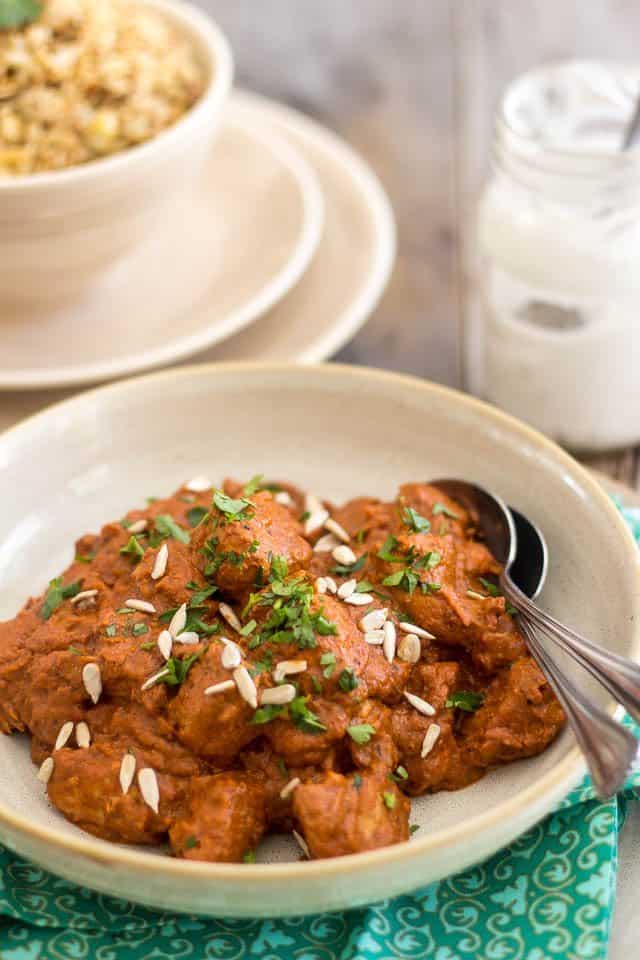 I think I could've eaten this stew straight out of the pan, standing right next to the stove… but it wouldn't have been fair to it. It just wouldn't have done it justice.
Eating is an experience that must be savored with all the senses, and it is said that one eats with their eyes first! Gotta make it look pretty, don't I?
Besides, the recipe does say to serve, sprinkled with raw sunflower seeds and chopped parsley. I'm pretty sure that Melissa didn't mean for this to be served directly in the skillet!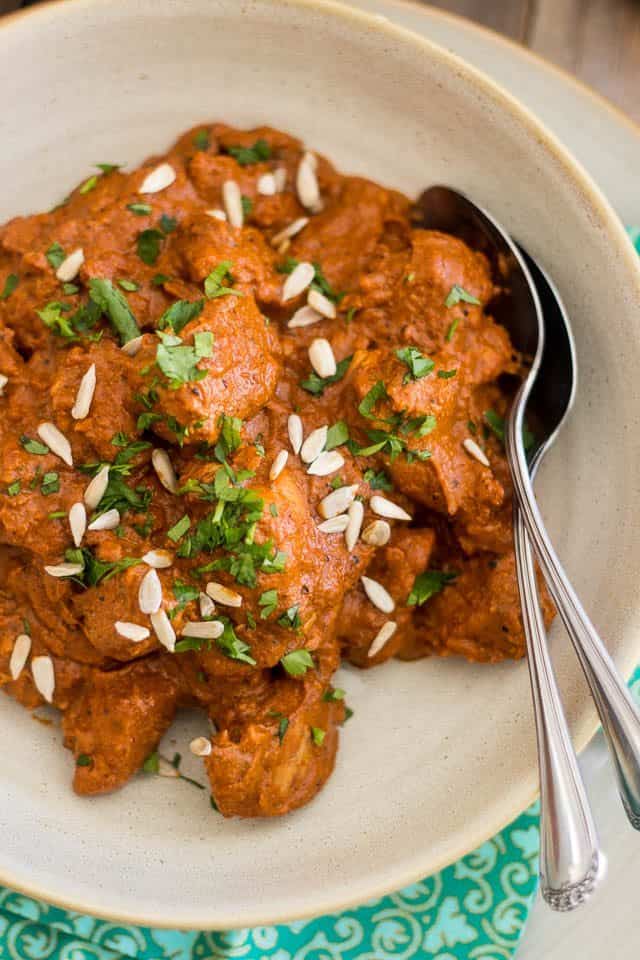 This experience thought me a valuable lesson: I need to learn to follow recipes more often. Had I played with this one even a tiny bit, I would have missed out on a lot.
Of course, I would have added my own twist to the flavoring and it would've tasted nothing like what I just experienced. Trust me, this dish is the kind that has A LOT to offer in the flavor department. The union of the tangy tomato and smokey sunflower seed butter creates the most unique and interesting aroma, while the hints of ginger and vanilla do an amazing job at intriguing the taste buds.
Served alongside a healthy serving of Almond Coconut Cauliflower Rice, this stew really transported me to a very, very distant place, far far away from all that cold and all that snow.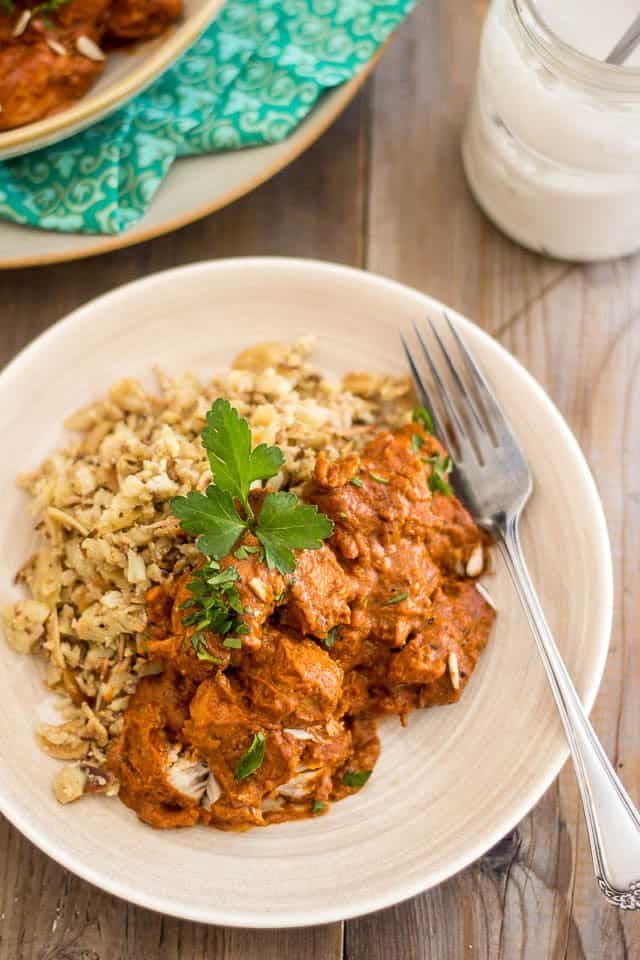 Do I need to tell you that this stew was gone in no time? For once, I was happy not to have anyone to share with. This was mine, mine, mine and only mine!
I'm already looking forward to making it again… perhaps I'll give the thighs a go this time 'round.
Who knows, maybe I'm missing out on something! 
West African Chicken Stew – A Recipe Right Out of Well Fed 2
Servings: 4
Ingredients
1/2 tablespoon coconut oil
1 pound boneless, skinless chicken thighs (I used breasts)
salt and ground black pepper
1/2 medium onion, diced (about 1/2 cup)
1- inch piece fresh ginger, grated (about 1 tablespoon)
3 cloves garlic, minced (about 1 tablespoon)
1/2 tablespoon ground coriander
1/2 teaspoon cayenne pepper
1 bay leaf
1 cup canned crushed tomatoes
1/4 cup water
1/4 cup sunflower seed butter, no sugar added
1/4 teaspoon pure vanilla extract
garnish: minced fresh parsley leaves, sunflower seeds
Instructions
Sprinkle the chicken enthusiastically with salt and pepper. Heat a large soup pot over medium-high heat, about 3 minutes. Add coconut oil and allow it to melt. Add the chicken in a single layer and brown well on both sides, about 10 minutes. (Don't crowd the pan; cook in batches if you need to.) Remove the chicken to a bowl to catch the juices.

In the same pot, cook the onions and ginger until soft, about 5-7 minutes. Add the garlic, coriander, cayenne, and bay leaf, and cook until fragrant, about 30 seconds. Add the tomatoes and water, stirring to combine. Nestle the chicken into the sauce, along with any juices it released. Increase the heat to bring the pot to a boil, then reduce to a simmer and cook, covered, for 25 minutes.

Remove the chicken from the pot; it will be very tender. Break the chicken into large pieces with the side of a wooden spoon. Add the sunflower seed butter and vanilla to the pot and mix to combine. Return the chicken to the pot and cover. Heat through, about 5 minutes, then serve, sprinkled with parsley and sunflower seeds.
Notes
Source: Well Fed 2: More Paleo Recipes for People Who Love to Eat
Even though I made a few substitutions, I chose to leave Melissa's original recipe exactly as it appears in Well Fed 2 so you can get an idea of her writing style. Even her recipes are a fun and easy to read. My very minor substitutions have been documented in the body of the post instead.
If you've tried this recipe, please take a minute to rate the recipe and let me know how things went for you in the comments below. It's always such a pleasure to hear from you!
You can also FOLLOW ME on PINTEREST, FACEBOOK, INSTAGRAM and TWITTER for more delicious, healthy recipes!