Have you guys noticed? It's pumpkin season again!
Hard not to when everywhere you look, all you see is pumpkin this and pumpkin that… pumpkin is all over the place. Looks like I've no immunity against the fever that, every year at around this time, takes the entire nation by storm.
What can we do about it? Spiced pumpkin dishes happen to be so delicious and comforting, they might very well be just the perfect thing to trick our minds and bodies into almost welcoming the passage to cold, gray, rainy, damp and much, much shorter days that lay ahead.
Weirdest thing, though, is that I never even actually liked pumpkin until only a few years ago. That's right! I really didn't care much for squash in general but I think pumpkin was the worst. I thought they were only good for carving Jack-O'-Lanterns on Halloween night and not much else. And seeing as how I've never been a fan of Halloween, even that purpose wasn't a very useful one in my mind. Things sure have changed since!
However, since I've only recently had a change of heart about this member of the squash family, there are many a delicious pumpkin recipe that I've yet to try. Pumpkin pancakes was one of them. I say "was" because this has finally been taken care of.
And quite brilliantly, might I add!
I don't know if "normal" pumpkin pancakes are anything similar to the ones I'm offering today, but one thing I do know is that these were absolutely delicious. In fact, they're so sweet and tasty and spicy and moist on their own that you hardly even need to put anything on them; A little bit of coconut butter, a few pecans and a drizzle of honey did the trick for me.
Oh, and did I mention they were pretty nutritious, too? While they're not your "ideal" breakfast food option, they still are a fairly decent choice for an occasional week-end treat breakfast.
Hey, I'm no saint, you know, and no matter how healthy I try to keep things for my body, I certainly do appreciate a nice stack of pancakes from time to time… as do you I'm pretty sure!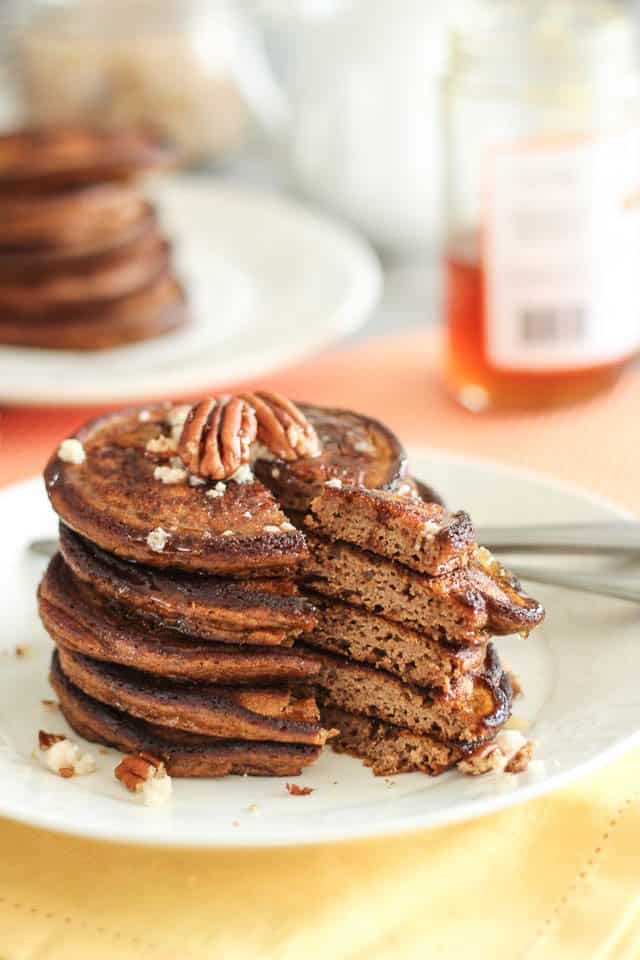 Now that pumpkin pancakes have been crossed off my list, I can try my hand at a few other classics that I've yet to sample, namely pumpkin marmalade, pumpkin chutney, pumpkin butter and (you're not going to believe this one): PUMPKIN BREAD!!!
Nope, I've never had pumpkin bread. Ever.
I know! Yet another flaw in my culinary world that needs fixing, and the sooner, the better!
Anyone has a good recipe?
INGREDIENTS
Dry Ingredients

1/2 cup almond flour
2 tbsp coconut flour
1 tbsp arrowroot flour
1/4 tsp baking soda
1-1/2 tsp ground cinnamon
1/2 tsp ground ginger
1/4 tsp ground cloves
1/4 tsp ground cardamom
1/4 tsp freshly grated nutmeg
1/8 tsp Himalayan or fine sea salt

Wet Ingredients

4 eggs, beaten
1/2 cup pumpkin puree
1/4 cup pure unsweetened apple cider
2 tbsp ghee (or coconut oil)
1 tsp blackstrap molasses
1 tsp pure vanilla extract
INSTRUCTIONS
In a large mixing bowl, add all the dry ingredients and mix with a whisk until very well combined. It might be a good idea to sift them to insure even distribution and remove any possible lumps. Set aside.
In a separate bowl, combine the wet ingredients and mix well. Add the dry ingredients to the wet and mix delicately with a whisk until very well combined. Let the batter sit for a few minutes to give the coconut flour a chance to thicken.
Meawhile, add some coconut oil to a large skillet and heat over medium heat.
When pan is hot enough, slowly pour about ¼ of a cup of batter per pancake and cook until tops become sort of matte and dull looking and edges appear cooked, about 2-3 minutes.
Very delicately flip the pancakes and continue cooking until set, about 45 seconds.
Place the cooked pancakes in a very low temp oven to keep them warm while you cook the remaining pancakes.
Garnish with coconut butter, a drizzle of honey and a few pecans, if desired.
http://thehealthyfoodie.com/spiced-pumpkin-pancakes/
Recipe by Sonia! The Healthy Foodie | thehealthyfoodie.com