Apple and Butternut Squash Pork Stew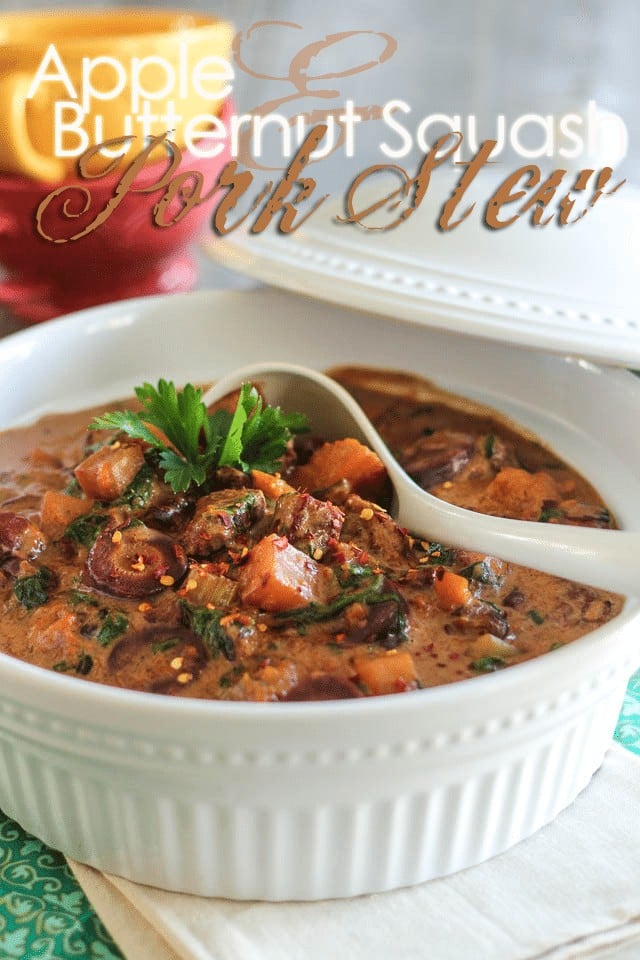 Have you ever felt like a stranger to your own life? Like you don't really belong in your own story? Like not a single soul in your immediate entourage is on the same page with you?
That's basically how I've been feeling lately…
I went out for lunch today and spent the better part of the hour listening to people talking super excitedly about all the kinds of things that they like to eat, things that I simply can't relate to anymore.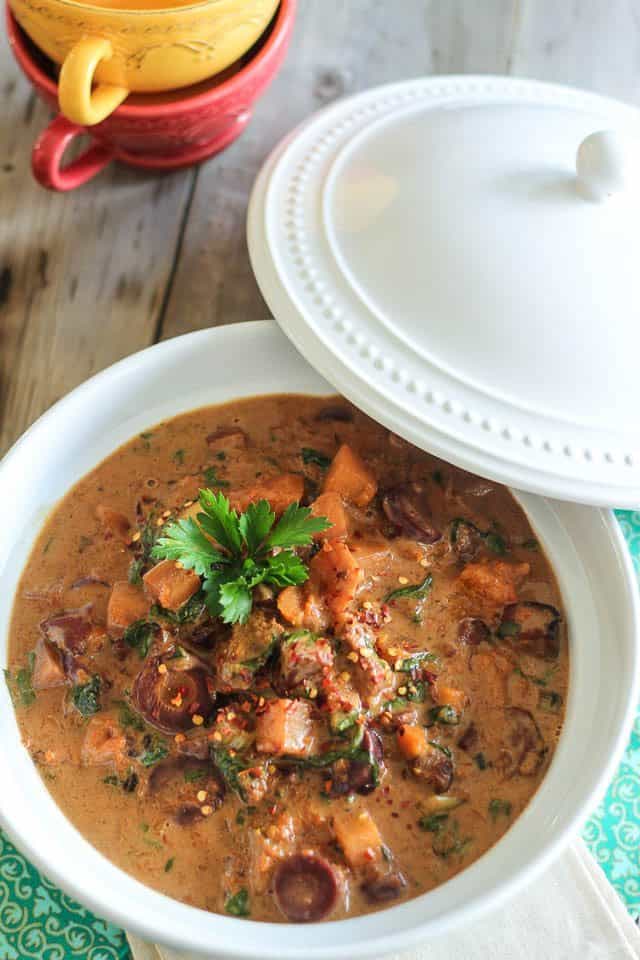 They just went on and on about how they LOOOOVED Cheez Whiz and had to put LOADS of it on their celery sticks and could probably eat the whole jar by the spoonful…
Or Velveeta, the cheese that's so orange it almost glows in the dark, how they could go through an entire block of it or how they can't get enough Bugles chips dipped in Chive & Onion Whipped Philly Cheese and would easily eat the entire bag.
Oh, yeah, and has anybody tried the new "spreadable" (read: loaded with chemicals) version of this or that cheese?
Of course, they all know that it's a bunch of crap and that it's really bad for their health and stuff. Yet, it seems they just can't help themselves, they have to eat it.
And then I'm the weirdo, for not eating any of that sh*t…
What saddens me though isn't really the fact that the people around me are talking about stuff like that.
What saddens me is that I seem to be surrounded with nothing but individuals who happen to share that exact same mentality.
It makes sticking to a healthy lifestyle that much harder. Not because I don't enjoy it, but because I feel I can't connect with anyone anymore. I have nothing to talk about. People, they don't want to hear about my crazy beliefs and stuff. They have but one life to live and they intend to live it to the fullest, which of course includes eating and drinking as much "good" stuff as they possibly can.
Even at the box last Friday! After a particularly killer WOD week, I tell the guy in the cage next to me: "Thank goodness we'll have the week-end to recuperate!" His retort came immediately: "This week-end? I'm drinking BEER! Oh yeah! BEEEEEEEER! That's what week-ends are for!"
Really?
Is that really what week-ends are for?
This came from the very mouth of a regular CrossFitter. Maybe I have it all wrong, then!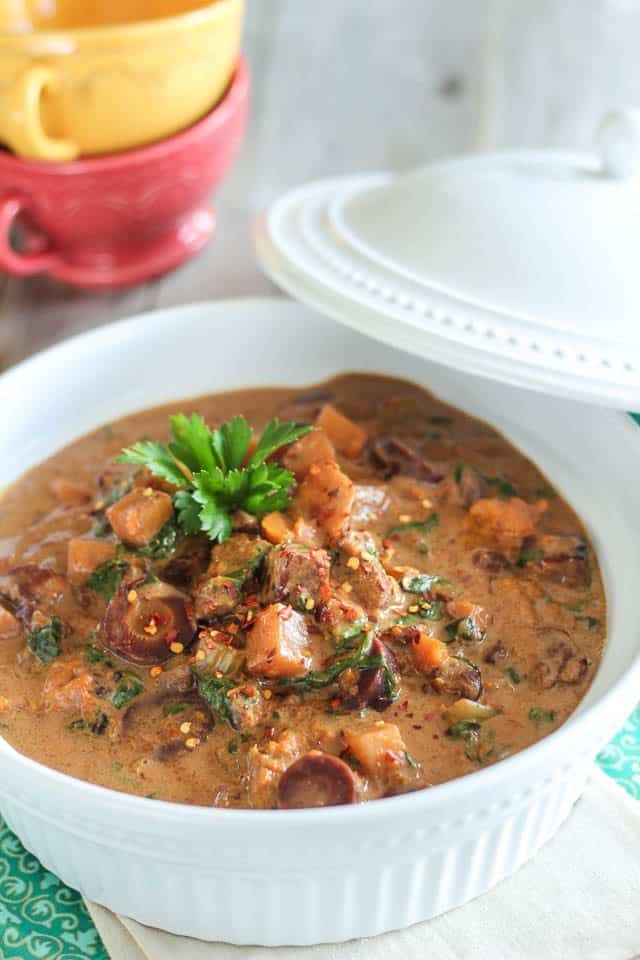 Sometimes, you know, I feel I should reacquaint with the person that I used to be, just for the sake of connecting with the people around me. So I can feel like I belong, again. Because we all need to belong, don't we?
But hey! Thank goodness I have you all to understand me! I feel so lucky for that. I'm so thankful that I have each and every single one of you to help me stay on track and to keep me wanting to eat good food, and stay fit and healthy and come up with awesome, nutritious recipes.
And just like some of the best recipes out there, the one I'm offering today magically came to life on a day where the fridge was particularly sad and lonely, as in, pretty empty… I was basically forced to use up whatever food was left in there, or it would've ended up in the trash!
It goes to say, sometimes the best things in life have to be forced out of you… you just need to have faith, trust yourself and go with the flow. I sure came up with a winner, that day. Like I will come out a winner today!
Oh! and erm, hey… thanks for lending me your ear, you guys.
I really needed that!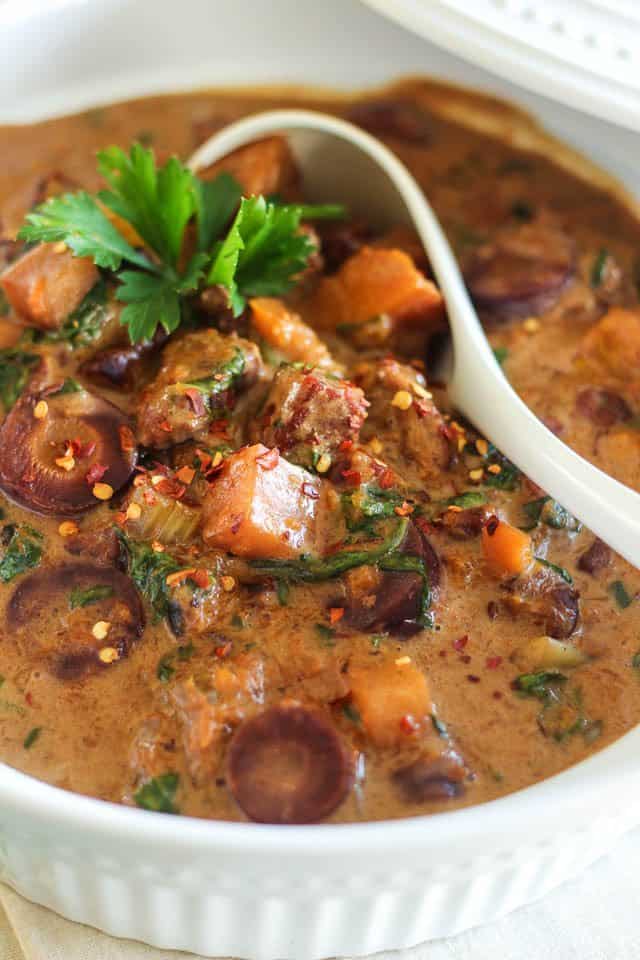 Apple and Butternut Squash Pork Stew
This sweet and tangy Apple and Butternut Squash Pork Stew is so deliciously warm and comforting, it will instantly make you feel good, inside AND out!
Servings: 4
Ingredients
1.35 lb pork loin, cut into bite size pieces
½ tsp Himalayan salt
½ tsp ground black pepper
3 garlic cloves, smashed
1 star anise
¼ tsp ground cinnamon
¼ tsp ginger
½ tsp garam masala
1 cup unsweetened apple cider
The juice of 1 lime
2 cups chicken stock
2 large carrots, sliced
2 celery ribs, chopped
½ medium rutabaga, (about 2 cups) cut into bite size chunks
½ butternut squash, (about 2 cups) cut into bite size chunks
5.5 oz baby spinach leaves, roughly chopped
1 cup full fat coconut milk
2 tbsp arrowroot flour
Instructions
Heat a little bit of cooking fat in a large, heavy saucepan set over high heat. Add the pieces of meat and sear until golden on all sides. Stir in salt, pepper, garlic cloves, spices and apple cider.

Bring to the boil then turn the heat down, cover and simmer on low for an hour to an hour and a half, until the meat is nice and tender.

Add chicken stock, lime juice and chopped vegetables. Continue cooking until the vegetables are fork tender, about 10 minutes.

Add chopped baby spinach leaves and continue cooking for another minute, until the spinach is wilted.

In a small container, make a slurry by mixing the coconut milk and arrowroot together with a whisk, then add that to the stew. Stir well and bring back to the boil for a full minute to allow the arrowroot flour to fully cook and reach its full thickening power.

Serve piping hot with lime wedges, additional coconut milk and a generous pinch of hot chili pepper flakes, if desired
Nutrition
Calories: 462kcal, Carbohydrates: 33g, Protein: 43g, Fat: 19g, Saturated Fat: 13g, Cholesterol: 96mg, Sodium: 498mg, Potassium: 1610mg, Fiber: 5g, Sugar: 12g, Vitamin A: 18806IU, Vitamin C: 47mg, Calcium: 149mg, Iron: 5mg
If you've tried this recipe, please take a minute to rate the recipe and let me know how things went for you in the comments below. It's always such a pleasure to hear from you!
You can also FOLLOW ME on PINTEREST, FACEBOOK, INSTAGRAM and TWITTER for more delicious, healthy recipes!