PUMPKIN SEAFOOD CHOWDER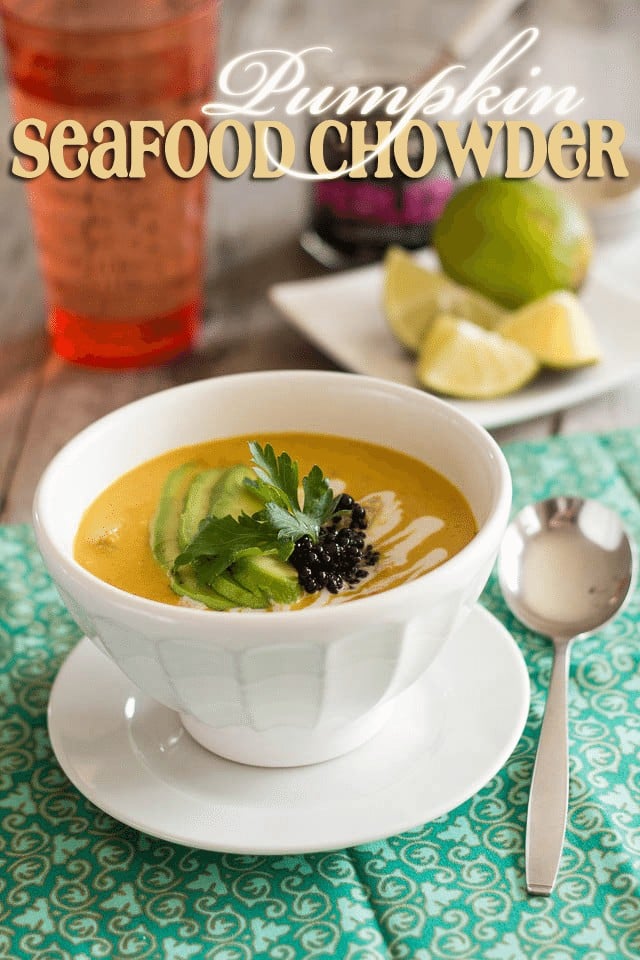 Have you ever noticed how I don't do Halloween themed recipes or posts? Truth is, I totally dislike Halloween. People, especially grown-ups, dressed up in costumes simply make me feel extremely uncomfortable. Zombies, vampires, monsters, critters, creepy crawlers, blood, death and violence, all those scary things that are associated with this spooky holiday just don't sit well with me.
Even the very colors of Halloween, black and orange, are a big turn off for me! Plus, as you can very well imagine, I am in strong disagreement with the principle that sends young kids and toddlers walking from door to door on a mission to amass mounds and mounds of candy, which they will then feed off of for days and weeks on end.
You know, I hate Halloween so much that I'm seriously considering skipping today's WOD, for they're having this special Halloween thing at my box, where people are supposed to show up wearing some kind of a costume. Those who don't will be given a "surprise" 50 burpee penalty.
Hmpft! Seriously!
I wouldn't really mind doing the darn burpees, but I'm like: why would I get penalized for refusing to do something that has nothing to do with the actual WOD? It's totally unfair. Plus, dressing up and working out just don't go hand in hand, if you ask me.
In fact, I generally try to avoid finding myself in places where I run the risk of being in contact with people wearing masks and costumes, even if said costume is all glitter and stars and feathers. Heck, I'd even skip work, if I could!
Yes, it makes me THAT uncomfortable. And yes, clowns DO make me feel uneasy.
So I still haven't decided whether I'll be hitting the box or not tonight. We'll see. I might decide to work out from home, for a change. At least I know Frankenstein won't be joining the party!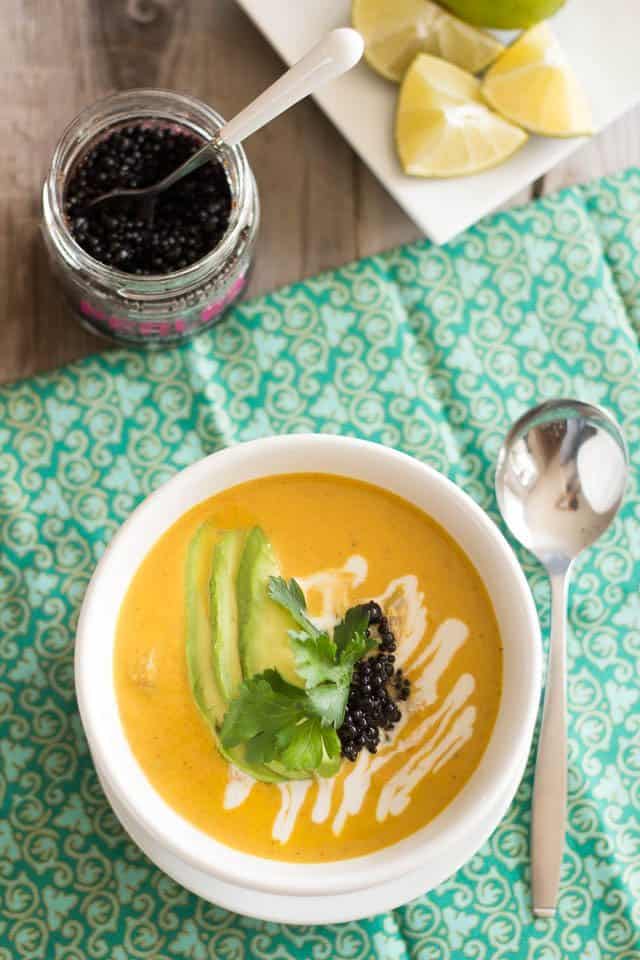 Still, if I had to name one thing that I like about Halloween, it would have to be pumpkins.
So I figured I would at least get in the spirit and give you something "pumpkin", although this isn't even a treat.
I know, how very cheap of me! 😉
To my defense, though, this is not at all what I had initially planned on sharing today. You see, October 31st also happens to be The Healthy Foodie's Blogiversary. That's right! Today, THF is celebrating 3 years of existence. For the occasion, I wanted to share a paleoified version of one of Quebec's true staple deserts: Pouding Chômeur (which loosely translates to Poor Man's Pudding).
Unfortunately, what was off to a VERY promising start didn't turn out quite as good as I expected, so I decided that I needed to re-work that recipe some before I could share it.
Bummer, I know, but it'll be well worth the wait, trust me!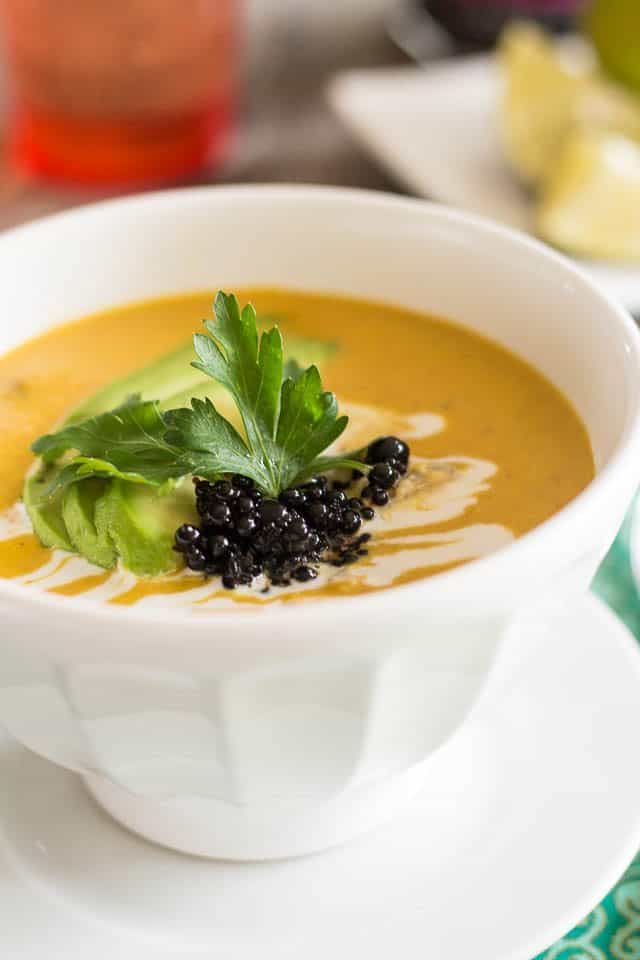 For now let's get back to this soup, shall we? If you have never tried adding pumpkin puree to your seafood chowder, I say you should rectify the situation, and the sooner, the better.
While the combination of pumpkin and seafood might sound a little bit odd, trust me, the resulting flavor is simply astounding. In other words, it works. It truly does.
In fact, I think that the addition of pumpkin puree, coconut milk, as well as a tiny little hint of spicy curry, imparts a subtle note of sweetness and exoticism to this chowder, which brilliantly elevates and complements the flavor of the seafood.
Trust me, you need to try it. Just one bite and you will understand exactly what I'm talking about.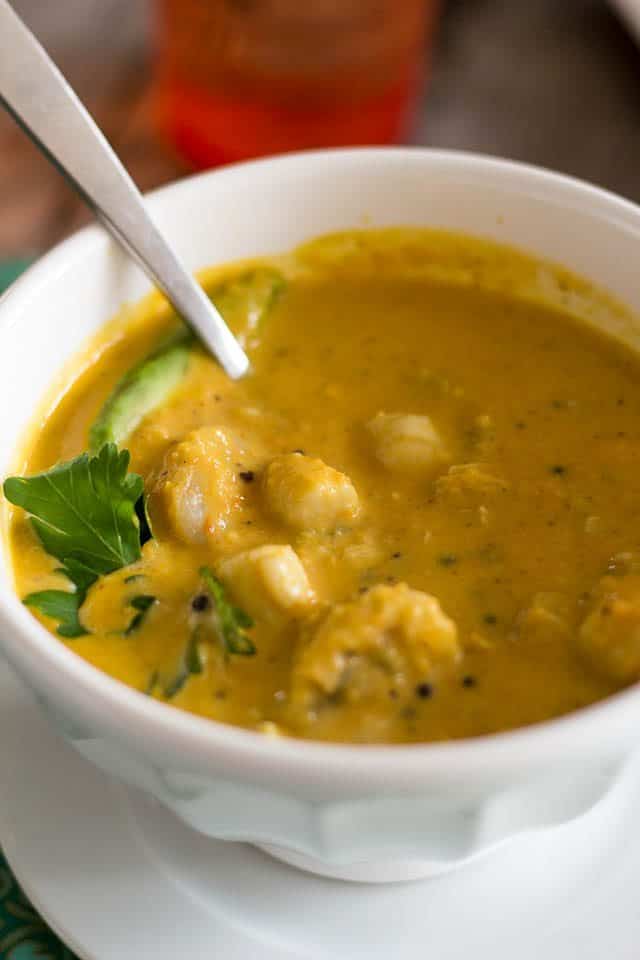 Now of course, before I go, I would like to take this opportunity to thank each and everyone of you for being here, for reading me on a daily basis, for supporting me and for helping me stay on the right track.
Had it not been for this place, for you all, I know for a fact that I wouldn't be where I am today.
So this year again…
To the 9 273 people who follow me on Tumblr;
To the 2 230 people who follow me on Twitter;
To the 18 363 people who like my Facebook page;
To the 43 880 people who follow me on Pinterest;
To the 8 136 people who subscribe to this blog;
To the 711 people who follow me on Instagram
To the tens of thousands of people who visit me here on a daily basis…
To each and every one of you, I WANT TO SAY A GAZILLION THANK YOUS!!!
Living a healthy lifestyle isn't always a walk in the park and there are many occasions when I just feel like throwing it all out the window. But knowing that you are all here to walk the path with me, having you support me with your kind comments and heartwarming emails, that's what keeps me going.
I wouldn't be where, or who I am today, without you guys.
Don't ever forget this: I need you all a hell of a lot more than you actually need me.
YOU ARE ALL TRUE ROCKSTARS!
PUMPKIN SEAFOOD CHOWDER
The addition of pumpkin puree, coconut milk, as well as little hint of spicy curry, imparts a subtle note of sweetness and exoticism to this seafood chowder.
Servings: 2
Ingredients
1 tbsp lard or ghee
1 small onion, finely chopped
1 clove garlic, minced
2-3 tbsp fresh ginger, grated
½ tsp Himalayan salt
¼ tsp freshly cracked black pepper
¼ tsp spicy curry powder
2 medium carrots, shredded (about 1 cup)
2 cups pure coconut water
1 cup full fat coconut milk
the juice of 1 lime
1 cup pumpkin puree
1 cup bay scallops, 175g | 6oz
20 medium raw shrimp, size 31-40
1 can baby clams, drained
Instructions
Melt lard or ghee in a medium saucepan over medium-high heat; Add onion and garlic and cook for 3-4 minutes until the onions are fragrant and become translucent.

Add ginger, salt, pepper, curry and carrot and continue cooking until carrot softens up a little.

Add coconut water, bring to the boil then reduce heat and simmer for about 5 minutes until the carrots are completely cooked.

Remove from heat, add coconut milk and puree with a hand blender (or transfer to a food processor or blender) then return to heat source and bring to the boil again.

Add scallops, shrimp and baby clams bring back to the boil then kill the heat and let sit until shrimps and scallops turn opaque, about 3-4 minutes.

Garnish with coconut milk, fresh parsley, avocado slices and balsamic vinegar pearls, if desired.
Nutrition
Calories: 432kcal, Carbohydrates: 35g, Protein: 20g, Fat: 26g, Saturated Fat: 22g, Cholesterol: 153mg, Sodium: 1402mg, Potassium: 1453mg, Fiber: 9g, Sugar: 16g, Vitamin A: 29255IU, Vitamin C: 23mg, Calcium: 230mg, Iron: 8mg
If you've tried this recipe, please take a minute to rate the recipe and let me know how things went for you in the comments below. It's always such a pleasure to hear from you!
You can also FOLLOW ME on PINTEREST, FACEBOOK, INSTAGRAM and TWITTER for more delicious, healthy recipes!