I told you I had to eat more vegetables…
Yep!  Have to.
Especially now that I have officially officialized (but not accepted!) the fact that my body doesn't really agree with carbs. If I don't keep my carb intake in check, I tend to bloat like no tomorrow and this, of course, makes me feel bad about myself, both physically and mentally.
But as soon as I cut [way] down, it's only a matter of days before I feel 10 pounds lighter and so much better about myself. So definitely something that I will have to work on, and work hard!
I mean, you guys know just how much I love my carbs!
Unfortunately, my body doesn't… Hmpft!
Also, I recently realized that I seem to be doing much better on 5-6 meals per day, as opposed to my usual 4 of the late.
If I don't eat often enough, I find myself mindlessly and uncontrollably munching on one thing or another, which probably leads to my consuming more calories than I should by the end of the day, especially since my favorite go-to munchie would be nuts, and nuts are sort of calorie dense.
Good for you, but they still rank pretty high on the calorie scale.
So what I've been doing for the past week is allocate 70% to 75% of my daily calorie intake to my 3 main meals, and divide the remaining 25% – 30% between 2 or 3 light snacks.
Now, with all that in mind, I decided to revisit this super awesome recipe.
These gorgeous fritters just happen to be a delicious way of sneaking veggies into my tummy while fooling my brains into believing that they are getting their precious carbs!
Hey, they LOOK just like little cakes, after all. You'd think that they are loaded with flour, breadcrumbs, or even mashed potatoes… And that is just what your brains will think, too. That's ok, you don't have to tell them the truth. 😉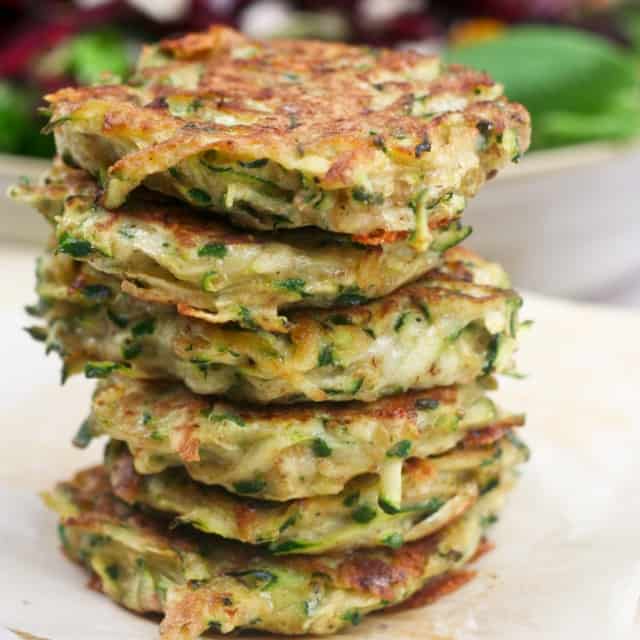 Seriously, these things are so good, you just want to keep eating them, and the good news is, you can!
They are made with mainly… zucchini. There isn't much else that goes into the making of these cute little fritters. A tiny little bit of cheese, a few tablespoons of flour, a few eggs, and a full truckload of grated zucchini.
Now that's my kind of veggies!  🙂
Oh, I almost forgot…
Has any of you been waiting on these?
Cookies so healthy, they should be called plain oatmeal!
Well… they're coming tomorrow! 😀
Hey, I know, they're like concentrated carbs. But I still gotta have some, don't I?
And le me tell you, two of these babies makes for a wonderful light morning snack.
Been lovin' on them all week!
I know, lucky me!
Zucchini Fritters
Serves:
Makes 12 fritters
Ingredients
450g zucchinis, grated (2 large)
30g (3 tbsp) Freshly Grated Parmesan Cheese
2 eggs, beaten
4 tbsp Whole Wheat Flour
Salt and Pepper to taste
Pinch Chili Flakes
Instructions
Squeeze the zucchinis in a dish towel to remove excess water, then combine with the Parmesan cheese, eggs, flour, salt and pepper and chili flakes.
Heat a splash of olive oil in a frying pan and add 2 tablespoons of the mixture for each fritter.
Cook three fritters at a time for 2 – 3 minutes on each side, until golden brown, then keep warm while you cook the remaining fritters.
Serve immediately.

Nutrition Information
Serving size:
Nutritional Information based on 1 fritter