Almond, Date and Vanilla Smoothie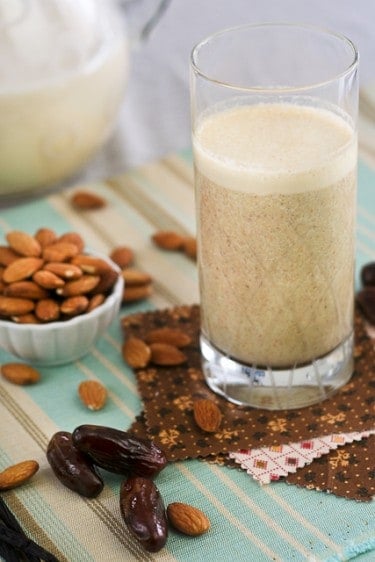 Over the past few months, I've gone through great extents to find original and creative ways to use the leftover almond pulp that I generate every time I make almond milk.
I mean, so far, I've given you muffins, brownies, cakes, quiche, tartlets, and even pizza!
Yet, there's this one super simple recipe, perhaps too simple even, that I hadn't even bothered sharing with you until now.
I guess maybe it was just TOO easy and obvious…
Of course, it's a smoothie!  What else?
Hey, I mean, it sort of combines my 2 obsessions of the late into one!
Seriously, though, since you're already making the milk, it's just a no brainer to me. You just HAVE to take this opportunity to make a smoothie.
EVERYTHING can be turned into a smoothie, can't it? 😉
This one is just too easy. Basically all you need to do is reinstate some of that pulp (which you've just worked so hard at extracting) back into your milk, add a few more ingredients, take the whole thing for a spin and voilà! You're all set!
Yeah… I know what you're thinking: why bother with removing the pulp if I'm gonna put it right back in?
I so totally hear you!
If you don't want to be bothered with doing that, just take the easy route and simply save some "unfiltered" milk for the sole purpose of making smoothies!
Trust me, you won't regret it…
That smoothie has this beautiful and delicate flavor to it, it's not overly sweet and has a really smooth, rich and creamy texture.
Just take a look at that collar!
I've only got one thing to say about that…
YUM!
Almond, Date and Vanilla Smoothie
Servings: 1
Ingredients
1 cup home made almond milk
¼ cup almond pulp, from above milk
¼ cup fat free plain Greek yogurt
¼ cup pasteurized egg whites, optional
1 tbsp flaxseed meal
1 tbsp date paste
1 scoop vanilla flavored whey protein powder
1 tsp pure vanilla extract
Instructions
Add all ingredients to your mini food processor or blender and process until smooth, about one minute.

Transfer to drinking glass and enjoy!
If you've tried this recipe, please take a minute to rate the recipe and let me know how things went for you in the comments below. It's always such a pleasure to hear from you!
You can also FOLLOW ME on PINTEREST, FACEBOOK, INSTAGRAM and TWITTER for more delicious, healthy recipes!