Shrimp and Fava Beans with Tomatoes and Kalamata Olives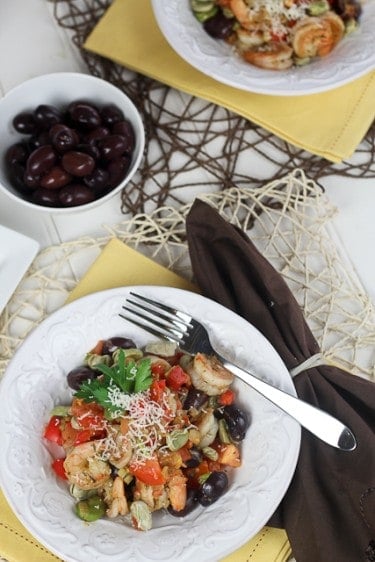 I loooooove fava beans!
Up until now, though, I'd only ever had them in a soup.
Why is that, you ask?
Well, I happen to really really love that soup, and since I don't come across fresh Fava beans all that often, I tend to not want to miss out on an opportunity to savor a bowl of that delicious fare.
But this time around, I decided that I wanted had to do things differently.
I mean, change is good, sometimes, isn't it?
You'll probably notice that this dish is VERY MUCH inspired by the soup, only it's got shrimps in it and well… no broth!
Well, you know what?
From now on, I will really hesitate between the two. I guess I will have to buy twice as much beans, because I might very well have to make BOTH dishes.
Oh yeah! This new creation was just plain delicious. The kind of dish that I could eat without end.
So light, so flavorful, yet so simple.
And did I mention extremely quick and easy to make?
The hardest, and longest part, I think, would be to shell the beans.
But, as you can see on the picture below, I'm always in very good company when I do things like that…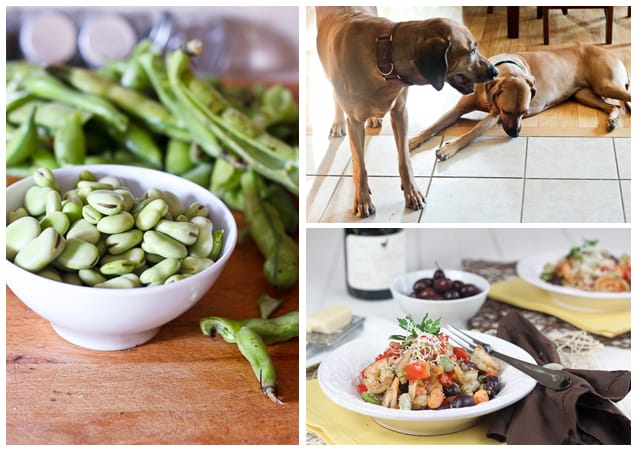 Oh, they might pretend like they're not looking, but don't let their innocent look fool you. They're waiting for one thing and one thing alone, and that is for something to fall on the floor.
As soon as it hits the tile, it becomes THEIRS! And that's when they BOUNCE!
You wouldn't believe how fast they are. No use trying to save whatever makes it to the floor. Hey, I just have to be careful and not let it get there in the first place, right?
I'm pretty sure that's what they would be thinking! Silly dogs…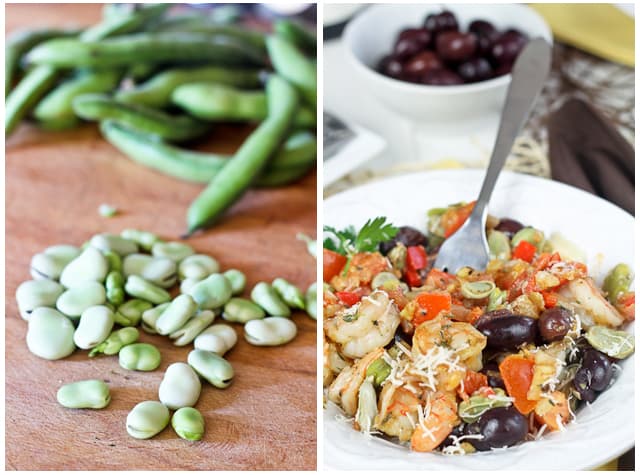 Some people like to peel their fava beans after they've cooked. They do have a somewhat tough outer skin, but I happen to really like it. It brings a really nice contrast against the extremely creamy interior. Plus, it adds a very interesting chewy texture. And, I'm sure it's absolutely loaded with all kinds of nutrients. So why waste it, I ask you?
Still, this time, I chose to peel about a quarter of my beans, just to expose their vibrant green color. I have to admit that they ARE a lot prettier when they are naked. Their skin looks a bit like that of a wrinkled toe that stayed underwater for too long… 😉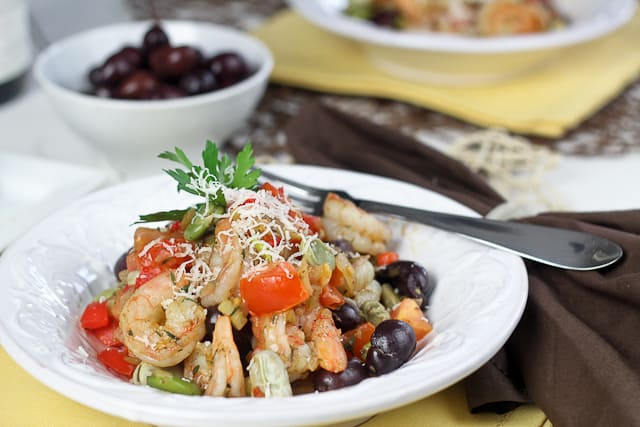 If you do choose to peel them, all you need to do is pinch one end with your nails to pierce the skin, then squeeze the opposite end between your thumb and index fingers. The interior will come right out.
I need to warn you, though. This IS very time consuming, so you better be patient if you're gonna do this.
I'm afraid I'm not that patient.
So skin stays on!
Shrimp and Fava Beans with Tomatoes and Kalamata Olives
Servings: 2
Ingredients
650 g Fava beans, about 200g once shelled
1 small onion, finely chopped
1 celery rib, finely chopped
½ tsp salt
¼ tsp black pepper
20-24 large raw tiger shrimp, cleaned and shelled (I used size 26-30)
½ red bell pepper, finely chopped
1 large ripe tomato, diced
20 kalamata olives, pitted and cut in half
25 g parmesan cheese, plus a little more to garnish
Instructions
Shell the fava beans and set aside.

Bring about ½ cup of salted water to a boil, add the fava beans, lower heat and cover. Cook for 3-4 minutes, or until fava beans are tender but still somewhat firm. Drain and set aside. You COULD peel them if you wanted to, but that is completely optional.

Coat a skillet with cooking spray and heat over medium-high heat. When pan is hot, add onion, celery, salt and pepper, stir and cook for 2-3 minutes, until fragrant and onion becomes translucent.

Add shrimp and saute until they start to turn pink but are still slightly translucent. Stir in bell pepper, tomato and kalamata olives and cook until warm.

Stir in parmesan cheese.

Divide into 2 serving plates and garnish with more freshly grated parmesan and parsley.

Serve immediately.
If you've tried this recipe, please take a minute to rate the recipe and let me know how things went for you in the comments below. It's always such a pleasure to hear from you!
You can also FOLLOW ME on PINTEREST, FACEBOOK, INSTAGRAM and TWITTER for more delicious, healthy recipes!