Fava Bean Soup
Whenever I come across fresh Fava Beans, or "gourganes" as we call them here in Québec, I can't help but get super excited, for this can only mean one thing: I will get to eat one of my favorite soups in the entire world…
La soupe aux gourganes, or Fava Bean Soup is seriously warm and comforting, but it's also got something extremely refreshing about it.
It's made with nothing but super fresh ingredients, doesn't need to simmer for too long and is literally exploding with flavour. So really, it's almost like a summer soup that's also perfectly fit for winter.
If you've never had fresh Fava Beans, you definitely have to give them a try. They're a bit like giant green peas, if you will. They have a very sweet taste to them, as well as a creamy, almost buttery texture.
The beans themselves have a leathery skin on them, which you can remove if you want, but I like to leave it on as I find it adds a little bit of a chewiness, which, when combined with the creaminess of the interior, makes for a very pleasurable experience that works especially in this soup.
When buying fava beans pods, make sure you buy way more than the final quantity that you need, and I do mean way more. At least two and a half times more! As in, if you need one pound of beans, you will need to buy two and a half pounds of pods.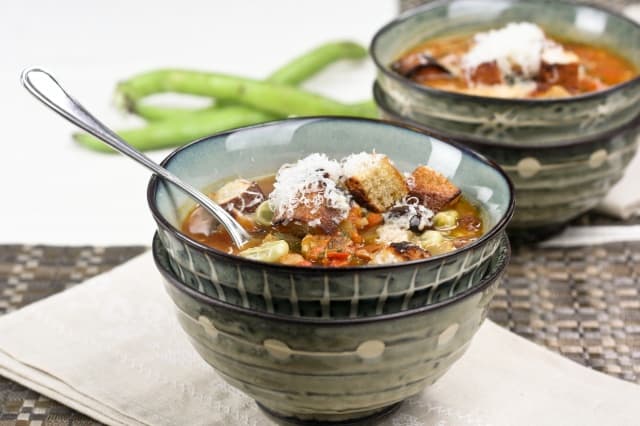 Now this is one legume that I'd like to eat way more often… and maybe experiment with a little, instead of making that soup every single time. But the thing is it's so good, I just can't help it.
If only the beans weren't so darn expensive around here, I could buy them way more often. I'll have to keep an eye out for them when they're in season.
Or, maybe I could grow some next summer?
Now there's an idea!
I might very well do that!
SOUPE AUX GOURGANES (FAVA BEAN SOUP)
INGREDIENTS
(Serves 3)
The Soup
1 small onion, diced
1 celery rib, sliced
1 garlic clove, minced
850g (4 cups) fresh tomatoes, diced
½ tsp salt
½ tsp black pepper
1 tbsp dried savory (or thyme)
2 cups water
30 kalamata olives, chopped
350g fresh fava beans
¼ cup fresh parsley, chopped
1 tsp fresh rosemary, finely chopped
The Croutons
2 thick slices of crusty whole grain bread (I used kamut)
1 tbsp extra virgin olive oil
Sprinkle salt and pepper
To Garnish
25-30g freshly grated parmesan cheese
INSTRUCTIONS
In large saucepan, cook onions, celery and garlic over medium heat until fragrant and the onions become translucent, about 5 minutes.
Add tomatoes, salt, pepper and savory and continue cooking for 5-8 minutes then add water, kalamata olives and fava beans.
Bring to the boil then lower heat and simmer for about 10 minutes, or until fava beans are tender but still have a nice bite to them.
Heat one tablespoon of olive oil in a medium non stick pan over medium heat. Cut the slices of bread into one inch cubes and add them to the pan. Cook until nice and golden brown on each side, about 2-3 minutes per side.
Remove soup from heat and stir in chopped parsley and rosemary.
Ladle soup into bowls, garnish with croutons and freshly grated parmesan cheese.
Serve immediately.