Home Made Spelt Fettucine and Healthy Alfredo Sauce!
To be honest, I was extremely sceptical of my own ability to succeed when I decided to tackle the great classic that is Fettuccine Alfredo. I mean, let's face it; we are talking about a dish that is made of mainly butter, cream, more butter, more cream and cheese! Ooof… some things are better left alone, aren't they?
But hey… growing up, Fettuccine Alfredo used to be one of my ultimate favorite dishes, and I've always kept sort of a sweet spot for it. Surely I can't cross it off my diet just like that, now, can I?
Sooo, I'd been toying with the idea of recreating this dish with a healthy approach for quite some time now. But I never dared. Until now.
I thought that I should at least attempt it, see what it said, and well, be prepared to give it another 15 to 20 tries… 😉
Well, sorry to disappoint, but it very well looks like try number one will be the one and only. The search for the perfect healthy replacement has ended before it's even begun.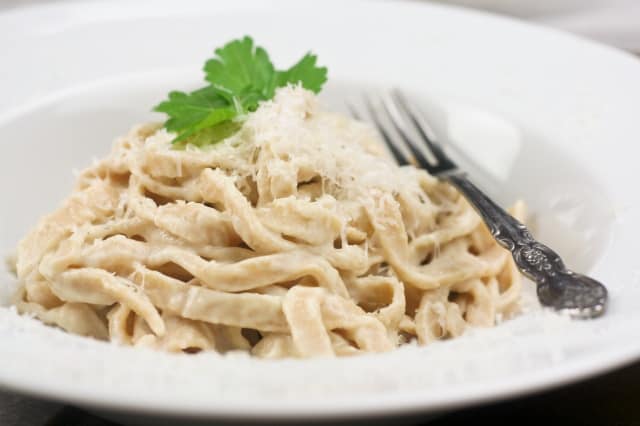 This dish, right here, is simply EXTREMELY worthy of being called Fettuccine Alfredo.
I, for one, just loved it.
My daughter also loved it, but wait, wait, there's more…
You're not going to believe this…
My son actually liked it a lot! A LOT! Spelt pasta and all!
He ate a full plate! For real. An ENTIRE plate!
Now THAT says a lot about the dish. You see, some of you might not know this, but my son, much to my dismay, just doesn't do healthy. My son feeds mostly on Ramen, Kraft Dinner and bologna sandwiches, on white, of course (and NO, I don't buy these for him, he's on his own when it comes to that. No way will I ever buy such innutritious food items. I know… evil mom!)
To put it shortly, just say the word "wheat" and he RUNS!
But he loved this. LOVED IT!
I still can't believe it.
So, how 'bout you? Care to try it?
I really think you should… 
Home Made Spelt Fettucine and Healthy Alfredo Sauce!
Servings: 3
Ingredients
For pasta (source Food.com)
For Sauce
1 cup cottage cheese
½ cup fat free plain Greek yogurt
¾ cup unsweetened soy milk
80 g fresh parmesan cheese, grated
1 garlic clove, coarsely chopped
Pinch of salt and pepper
1 tsp cornstarch, to prevent curdling
Instructions
For Pasta
Sift the flour and salt.

Beat the eggs with the oil.

Add flour to a large mixing bowl and make a well in the middle. Stir in the eggs and oil with a spoon.

Finish mixing with hands and then knead on a lightly floured surface. Knead until the mixture "comes together".

Flatten dough and shape into a "rectangle". Cover in cling wrap and allow to rest at room temperature for at least 30 minutes.

Roll in a rectangular shape with a pasta press or rolling pin, as thin as you possibly can.

Cut out the edges to make a nice, clean rectangle, dust with a tiny little bit of flour to prevent sticking and fold rectangle in 2 and in 2 again.

Using a sharp chef knife, cut your pasta into thin strips then use your fingers to gently unfold and separate them.

Cook in ample quantity of salted boiling water until pasta is tender but still has a bit of a bite to it, about 4-5 minutes.
For Sauce
Add all the ingredients to your food processor and process until smooth and creamy, about 1 minute.

When pasta is cooked, transfer it to a large non stick pan and pour sauce over it.

Heat over low-medium heat until sauce starts to thicken and adhere to pasta, about 5 minutes.

Transfer to serving plates and garnish with freshly grated Parmesan and fresh parsley, if desired.
If you've tried this recipe, please take a minute to rate the recipe and let me know how things went for you in the comments below. It's always such a pleasure to hear from you!
You can also FOLLOW ME on PINTEREST, FACEBOOK, INSTAGRAM and TWITTER for more delicious, healthy recipes!