Healthy Chestnut Fruitcake
According to my daughter, this is the best cake that's ever been made by anyone, anywhere, at any given time on the surface of this earth.
Not even the best "healthy" cake. The best cake, period.
That's what she said EVERY SINGLE TIME she ate a piece.
And apparently, she really means it. She seems to loves it that much.
Now… I can't say that I really disagree with her.
This is one awesome, spectacular cake. I am really super happy with this latest creation.
EXTREMELY happy.
I'd even call this a signature dish.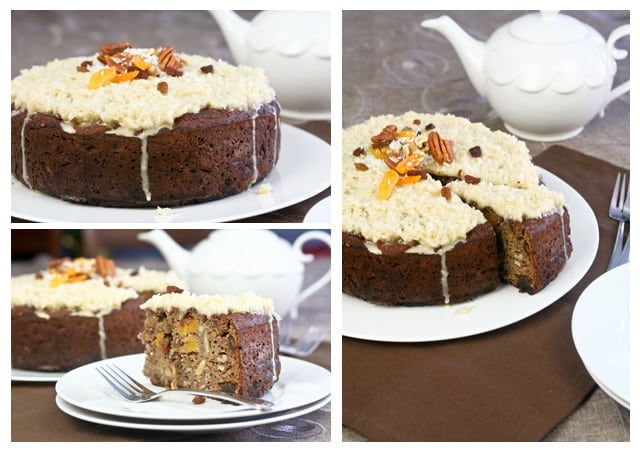 It came out EXACTLY as I'd envisioned, too! Super thick, dense, chewy but moist, totally loaded with morsels of fruits and nuts, just like the best fruitcakes of this world. Sooooo tasty! No need to add any sugar to it either, the dates, chestnuts and dried fruits took care of that well enough. More than well enough, in fact.
I actually find it to be a tad on the sweet side, especially with the coconut glaze, which has a tiny bit of sugar added in the form of liquid honey.
What?
I needed something gooey to make it, well, ooze all over the surface of the cake. So honey was the way to go. And it did its job wonderfully too!
But really, that's 4 tablespoons of honey divided by 16 servings. So it's not so bad, really, is it?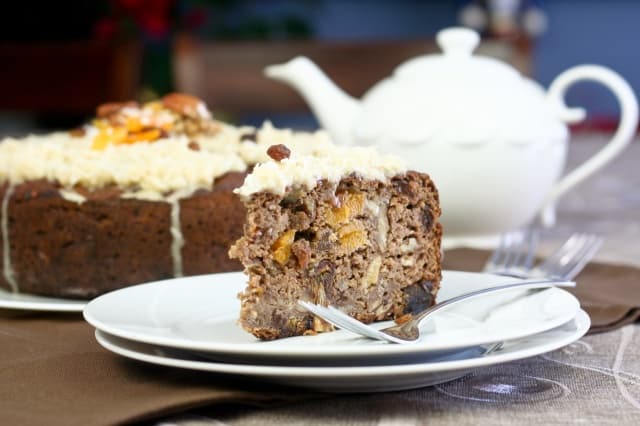 Now I've had this cake for breakfast every single day this week, and I am happy to report that it did support me extremely well. I usually am absolutely starving when lunchtime finally comes, but I went right through my usual time twice this week. Guess I wasn't feeling that hungry, was I?
No doubt, this cake will really fill you up. So much so that I'm not even sure I can recommend eating it for dessert…
This is pretty much a meal in itself.
A meal that will undoubtedly make you go "hmmmm"

And you know what?
You will never ever be able to tell that it's actually good for you.
Healthy Chestnut Fruitcake
Servings: 16
Ingredients
Instructions
For the cake
Soak dates in boiling water for 10-15 minutes.

Preheat oven to 375F

Add all the dry ingredients to the bowl of your food processor and give them a good spin until everything is nicely combined.

Transfer that to a large mixing bowl and incorporate the "Fruits and Nuts" ingredients. Mix well with a spoon or spatula so that all the little bits and pieces get completely covered in flour. Set aside.

Add all wet ingredients, including dates and their soaking water, to the bowl of your food processor and process until smooth and creamy.

Pour mixture over reserved dry ingredients and mix delicately with a rubber spatula until very well combined. Do not overmix.

Coat a 9" springform pan with cooking spray.

Transfer batter to prepared pan and bake in the oven for 70-75 minutes or until a toothpick inserted in the middle comes out clean.

Cool completely on a rack before removing cake from pan.
For the glaze
Add honey, water and coconut oil to a small saucepan and bring to a simmer over medium low heat. Alternatively, you can heat this in the microwave just until it starts to simmer (about 40-45 seconds on high)

Add the coconut and whey protein powder to a mixing bowl and, using a whisk, mix until very well combined. Add honey mixture and mix well.

Place cake on a cake plate and mound glazing in the center. Spread it gently and evenly all the way to the sides.

Garnish with a few chopped apricots, raisins, pecans and walnuts, as well as a sprinkle of shredded coconut.
If you've tried this recipe, please take a minute to rate the recipe and let me know how things went for you in the comments below. It's always such a pleasure to hear from you!
You can also FOLLOW ME on PINTEREST, FACEBOOK, INSTAGRAM and TWITTER for more delicious, healthy recipes!