Grain Free Bosc Pear, Fresh Figs and Goat Cheese Pizza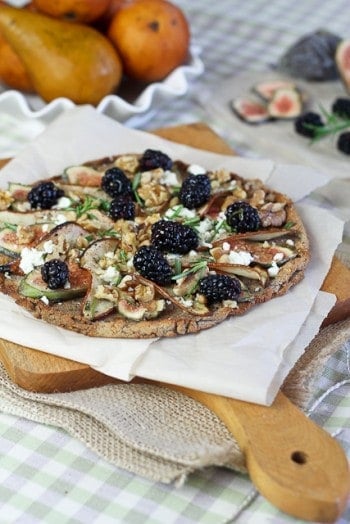 Does this really qualify as pizza?
Not sure…
I mean, we are so far from that first image that comes to most people's minds when you say the word pizza: a thick, cripsy (if you're lucky) white crust, garnished with loads of tomato sauce, highly processed meats and or coldcuts, a few vegetables (again, if you're lucky!) and mounds of cheese.
Not much "healthy" stuff going on there.
Granted, there are healthier alternatives even at your local pizzeria, but I don't think that they would offer anything that's even remotely close to this one.
What a shame, I say…  "Cuz pizza or not, this dish was DIVINE!
I guess by now, you guys know just how much I love my pizza, right? And since I've decided to avoid grains for a while, well, my all time ultimate favorite pizza crust is pretty much off limits.
I turned to my very good friend Internet to try and find a good grain free pizza crust recipe, but found none that really called my name.
Sure, there is this cauliflower based pizza dough that's all over the place, but it didn't really appeal to me.
At least not at this point.
Not saying I'm never gonna try it, but I thought it wouldn't go too well with what I had in mind for this particular pizza. I mean, pear, figs, blackberries and… cauliflower? Ewwww… I know I can be out there sometimes, but that just didn't work for me.
I don't think it would've worked for any of you, either! 😉
So I decided to go with a cross between the crust that I'd done for my Grain Free Asparagus Quiche and that of my Rustic Sweet Potato Tarlets.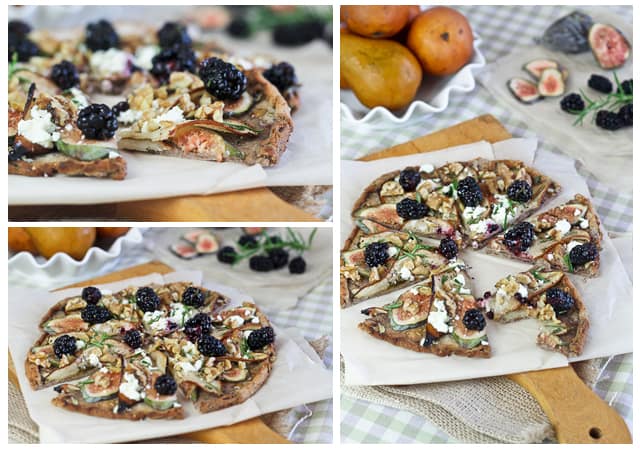 That worked amazingly well. Even beyond my expectations.
The taste of the buckwheat went PERFECTLY well with the sweetness of the fruits and honey, the tanginess of the cheese and the fresh sharpness of the rosemary. As for the walnuts, they added that extra little crunch and were just plain sublime on there.
This was probably one of the best pizzas I ever had. I just died with every single bite.
Now, I'm not saying that I'm ready to give up on standard pizza crust for good, but I can guarantee that I will be having that exact same pizza again many, many times. In fact, I had it 2 nights in a row. And I never did that with ANY other pizza before.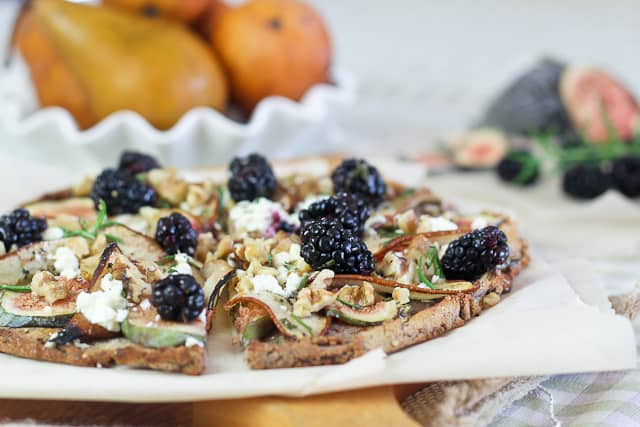 Well, except for that take-out stuff, way back when, that is… when I'd have the leftovers the next day!
Now, you might be wondering whether this is a main course or dessert pizza… I mean, with all the fruits and honey, it's gotta be way sweet, no?
Well, in fact, no, it isn't. I don't think it would make a very good dessert. Yes, it is somewhat sweet, but it's also surprisingly savory. So I wouldn't recommend it.
Appetizers, on the other hand…
Oh, yeah! Now THAT would be splendid!
Grain Free Bosc Pear, Fresh Figs and Goat Cheese Pizza
Servings: 4 Crust recipe yields 4- 10inch pizza crusts
Ingredients
Garnish (per pizza)
1 bosc pear, sliced very thinly (the use of a mandolin is recommended)
2 fresh figs, sliced rather thinly
25 g walnuts, chopped
25 g unripened goat cheese
6-8 blackberries
1 tsp extra virgin olive oil
salt and pepper to taste
about 1 tsp fresh rosemary, finely chopped
about 1 tsp liquid unpasteurized honey
Instructions
For the crust
In a small mixing bowl, beat egg whites and buttermilk together and set aside.

In a seperate (and significantly larger) bowl, add buckwheat flour, coconut flour, baking soda, cream of tartar and salt and whisk until well incorporated. Whisk in almond meal, blend thoroughly and make a well in the middle.

Pour buttermilk mixture into the well and progressively mix in flour mixture with your fingers or wooden spatula. Continue mixing until dough comes together then turn over onto a floured surface (make sure to use grain free flour!)

Knead dough for about a minute, until really well incorporated then divide into 4 pieces. Shape each piece into a flat circle. Cover with plastic film and refrigerate for at least 30 minutes.
Pizza assembly
Preheat oven to 500F

Grab one circle of dough and place it between two sheets of parchement paper. Roll it gently, changing direction often, until you get a disc that's about 10" in diameter.

Remove the top piece of parchment paper and flip dough over onto pizza sheet. Remove second piece of parchment paper. At this point, you might want to bring the edge back a little to help form a perfect circle and create a little bit of a "crust".

Repeat with other discs if making more than one pizza at this time. If not, you can keep the dough in the refregirator for 3-4 days.

Brush olive oil overtop your pizza dough and srpinkle with salt and pepper.

Arrange your pear slices in a circle, leaving enough space between each slice to insert figs later

Sprinke half the rosemary, a litte more black pepper and place in the oven. Cook for about 7-8 minutes, or until the crust and pears start to take a light golden color.

Remove pizza from the oven, insert fig slices between each pear slice, sprinkle walnuts, goat cheese and remaining rosemary. Return pizza to the oven for 2-3 minutes, until goat cheese just starts to soften.

Remove pizza from the oven, add blackberries and drizzle with honey.

Slice and enjoy immediately (you might want to sit down, first!)
Notes
Grain Free, Gluten Free, Vegetarian
If you've tried this recipe, please take a minute to rate the recipe and let me know how things went for you in the comments below. It's always such a pleasure to hear from you!
You can also FOLLOW ME on PINTEREST, FACEBOOK, INSTAGRAM and TWITTER for more delicious, healthy recipes!