Cauliflower Crust Pizza with Ground Beef and Green Olives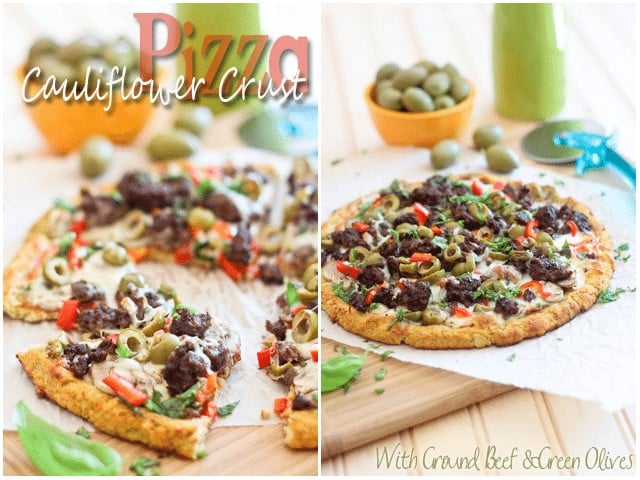 I recently got a major craving for one of my favorite pizzas ever, namely Ground Beef and Green Olive Pizza.
I figured it was probably a good time for me to go out and try the classic paleo replacement that is cauliflower crust pizza. I knew of its existence for I'd seen a lot of recipes for it on several blogs, but  never was fully inspired to actually go out and make it.
As long as grains were still a part of my regular diet, I really couldn't think of a valid reason for me to make the switch, except for maybe saving myself a couple hundred calories.
But for me, the pleasure of biting into a chewy, soft and cracking pizza crust far outweighed the need to slash down a few calories.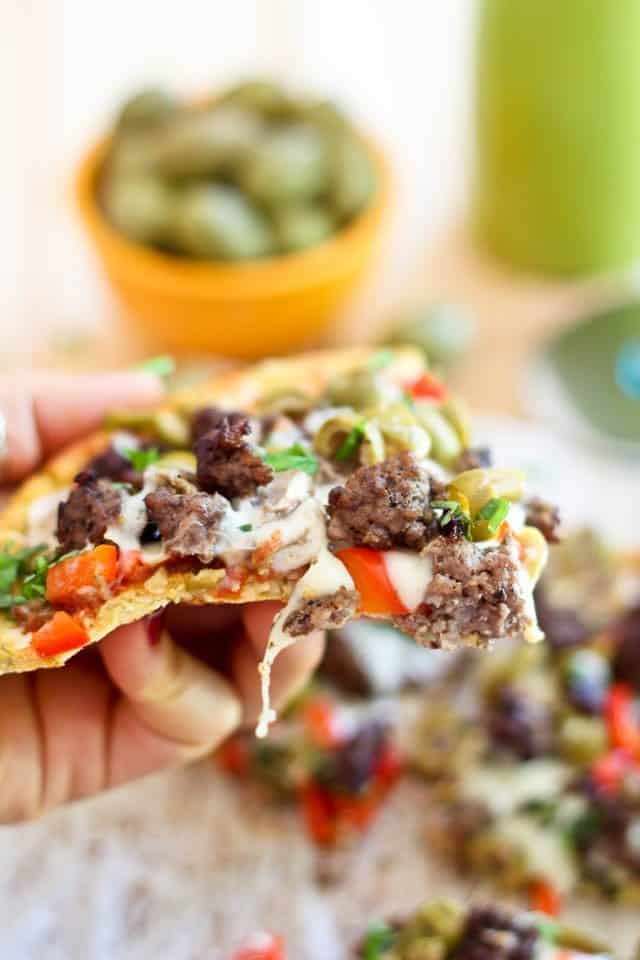 I've since changed my views on the subject and now believe that I'm much better off without the grains, so I figured I was finally good and ready to make the switch. Officially!
So I asked for recommendations on Facebook and got directed to quite a few yummy recipes.
Unfortunately, most of them called for a hefty serving of cheese, which I was not a fan of. If I was gonna have pizza with cheese, I preferred to save said cheese for the top and not add it to the crust itself.
Hey, something HAS to be said for hooey, gooey, melting cheese.
And so it was decided: I would use the recipes for inspiration, but create my very own, dairy free version.
One of my main concerns with cauliflower crusts was that I've always been HIGHLY skeptical as to its ability to "stay together". I thought for sure that it would completely collapse and fall apart as soon as I'd try to lift a slice up from my plate.
Well, much to my surprise, it held up just fine!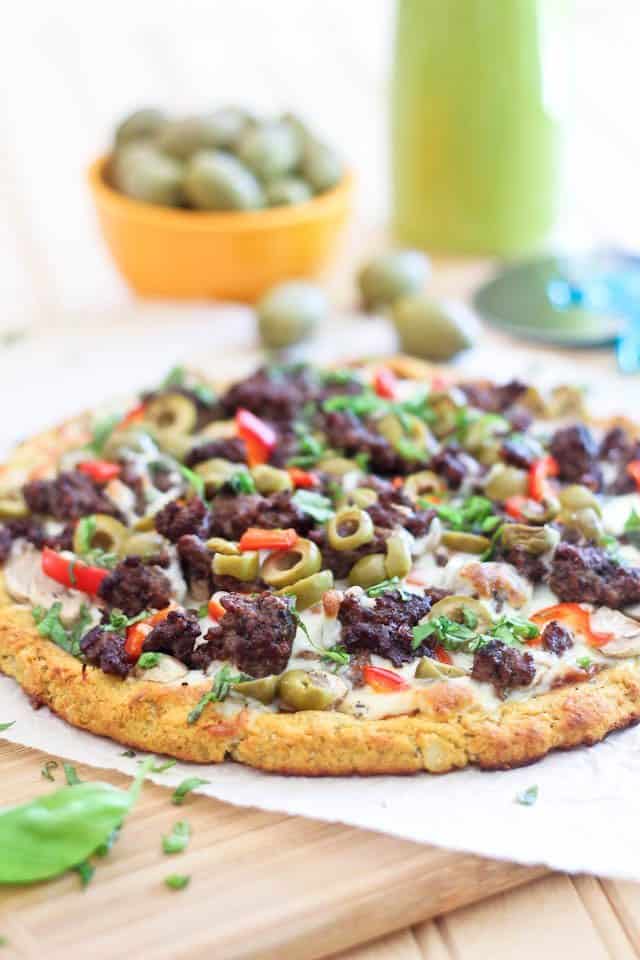 See? I was able to hold my pizza in one hand, just the way I like to eat it.
I've never been one to eat pizza with a knife and fork, you see. I dunno. To me, that kind of misses the point. I mean, you wouldn't think of eating a hamburger or a hot-dog with a fork and knife now, would you? Well, to me, same goes for pizza. It's meant to be eaten with your hands! Why else would it have a crust?
And this crust allowed me to do just that. SCORE!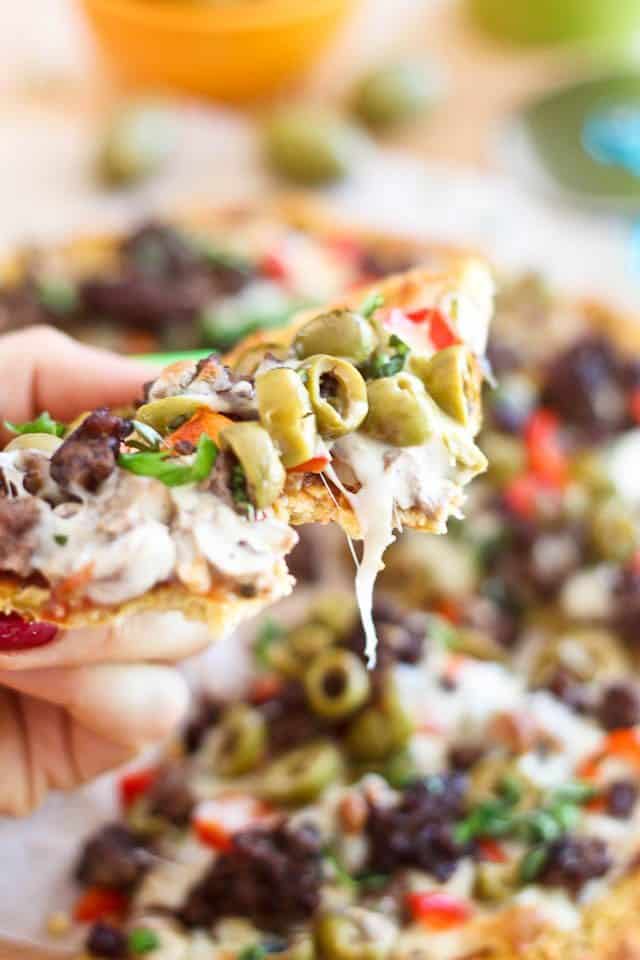 Now, of course, the texture is really different from that of a traditional pizza crust. You don't get much of the crispiness or chewiness that a good bread crust provides. However, its texture is still very agreeable, if you ask me. Hard to describe, but one that I can very well see myself adapting to.
It's sort of firm, chewy and soft, all at the same time! That's pretty much how I would put it. But the best way to find out, is to try it for yourself.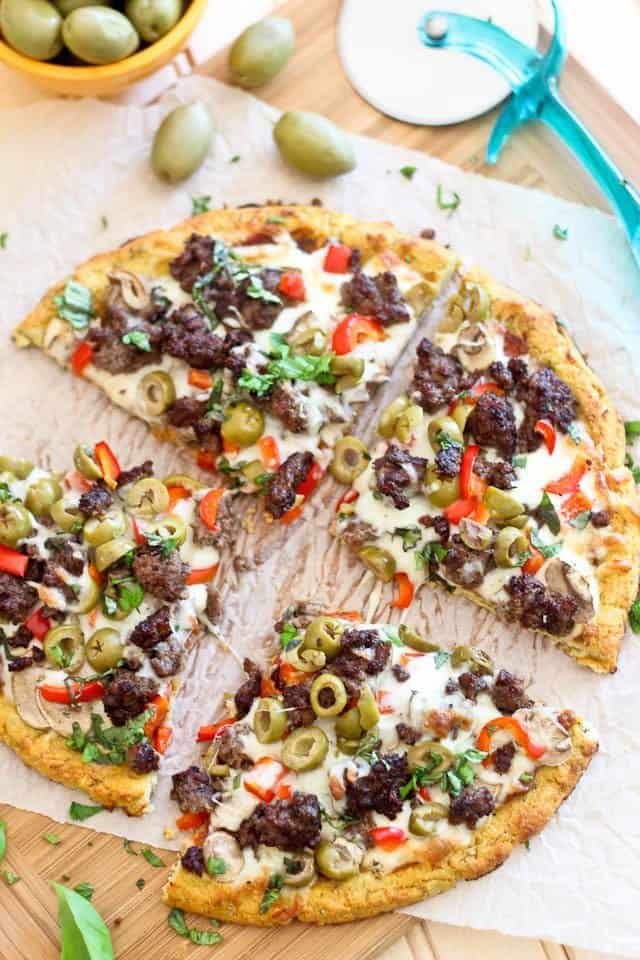 One department in which this crust would be far superior to the classic whole grain crust is FLAVOR!
Let's face it, bread on its own doesn't have much flavor going on.
This crust, however, is simply LOADED with flavor, so in that sense, it makes the whole pizza eating experience even better.
In fact, this crust has so much flavor on its own that I think it would make for a fantastic light meal simply drizzled with some good extra virgin olive oil, topped with a few sliced  olives, a handful of fresh herbs and maybe a few pine nuts sprinkled on top.
In short, I think I won't need much more convincing to switch to cauliflower crust for good.
I'm already completely sold!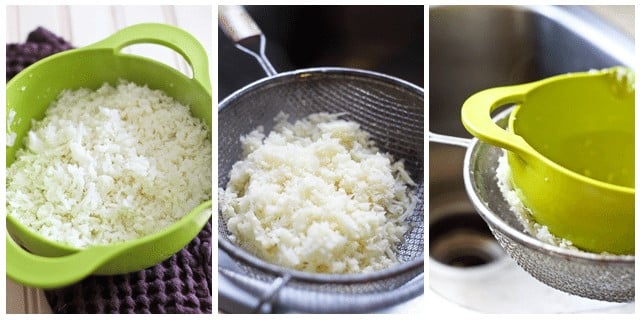 Grate the cauliflower, microwave and remove extra liquid by pressing it down through a fine mesh sieve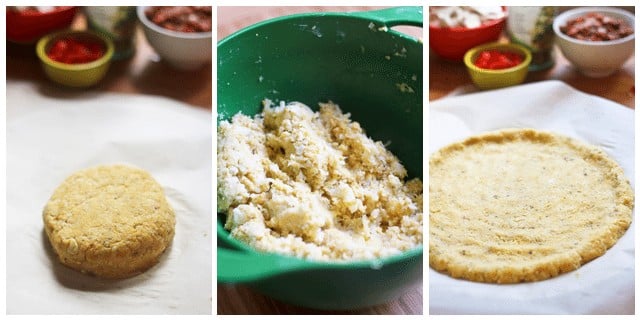 This is what the dough should look like when all the ingredients have been mixed together.
Form the dough into a ball and shape into a thin round disc.
If you want a thicker edge, you're gonna have to form that by hand as this dough won't raise!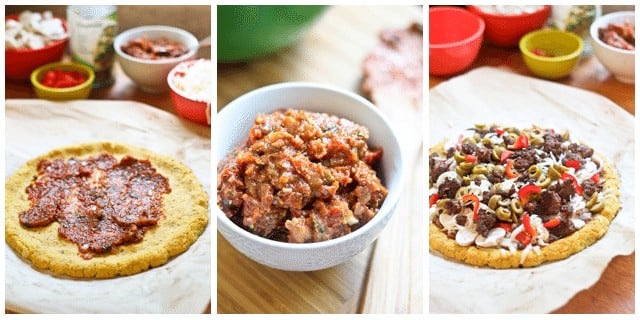 After the crust comes out of the oven, spread however much tomato sauce you like all over the top of your pizza then add the toppings.
Then back into the oven it goes…
Can you tell I like mine with LOTS of toppings?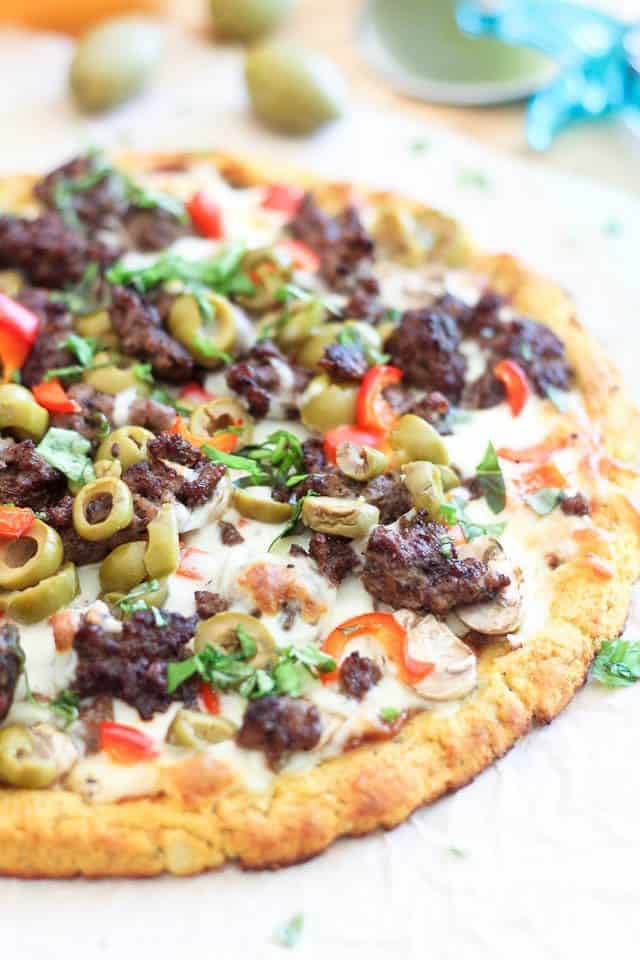 Take pizza out of the oven and let it cool for a minute or two. 
This'll give you some time to admire it…
Cut into wedges and admire some more… 
Oh, you're allowed smelling, too! 
And it can also be torn into smaller pieces, without completely falling apart!  Take a closer look…
Can you see that this crust really does have a crusty feel to it?  I think I'm in love!
Ground Beef and Green Olive Cauliflower Crust Pizza
On top of being super tasty, this Cauliflower Crust Pizza is sturdy enough to be held in one hand! Impressive. I think I'm in love!
Servings: 2
Ingredients
The Sauce (I used ¼ cup for 1 pizza)
The Garnish
3-4 mushrooms, sliced
¼ red bell pepper, diced
3.5 oz ground beef, cooked
½ tsp onion powder
½ tsp garlic powder
Pinch Himalayan or fine sea salt
¼ tsp freshly cracked black pepper
3.5 oz fresh mozzarella cheese, grated
4 tbsp sliced green olives
Fresh basil, chiseled
Instructions
The Sauce
To make the sauce, add onions, garlic and seasoning to a small saucepan and cook over medium heat until fragrant and the onions become translucent, 2-3 minutes.

Add canned tomatoes and honey if using and bring to the boil then lower heat and simmer, partly covered, for about 15-20 minutes, until sauce is thickened and all water has evaporated. Reduce to a fine puree with a stick blender, if desired. Set aside while you work on the crust.
The Crust
Place a pizza stone or baking sheet in the oven and preheat oven to 475°F.

Use a box grater or the grater disc of your food processor to grate the cauliflower.

Place the grated cauliflower in a microwave safe bowl and cover loosely; microwave for about 4 minutes on high. Place the cooked cauliflower in a fine mesh sieve and press it down real hard with a ladle or an unbreakable bowl or plate that fits snugly into the sieve; You need to remove as much water as you possibly can, so don't be afraid to squeeze. If you don't have a fine mesh sieve, you could also dump the cauliflower onto a clean tea towel, let it cool for a few minutes then wrap it like you would a candy and squeeze the heck out of it by wringing the towel.

Add the cauliflower into a bowl, along with the rest of the ingredients. Mix well by hand until all the ingredients are well incorporated and resemble dough.

Place a piece of parchment paper onto a cutting board and dump your dough smack in the center. Form it first into a ball, then flatten it down gently with your fingers and form it into a nice, flat disc or approximately 8 to 10 inches in diameter. If you want a ticker border, you will have to also form that with your fingers, as the dough won't rise.

Use the cutting board to slide your crust onto the hot pizza stone or baking sheet that's been sitting in the oven. Bake for 8 - 11 minutes, until it starts to turn golden brown; remove from oven by sliding it back onto your cutting board.
The Garnish
Spread however much tomato sauce you like evenly over the cooked pizza crust; top with mushrooms and half the bell peppers; add ¾ of the mozzarella cheese, followed by the cooked ground beef, the rest of the bell peppers and sliced olives. Finally, add the rest of the mozzarella cheese.

Slide pizza back in the oven and cook for an additional 7-10 minutes, until cheese is melted and the crust starts to color on the edge.

Remove from oven and let cool for a minute or two. Sprinkle with fresh basil, cut into wedges and ENJOY!
Nutrition
Calories: 646kcal, Carbohydrates: 49g, Protein: 40g, Fat: 35g, Saturated Fat: 15g, Cholesterol: 238mg, Sodium: 1642mg, Potassium: 1549mg, Fiber: 17g, Sugar: 17g, Vitamin A: 1385IU, Vitamin C: 128mg, Calcium: 483mg, Iron: 7mg
If you've tried this recipe, please take a minute to rate the recipe and let me know how things went for you in the comments below. It's always such a pleasure to hear from you!
You can also FOLLOW ME on PINTEREST, FACEBOOK, INSTAGRAM and TWITTER for more delicious, healthy recipes!