Pineapple Braised Pork Roast
I had to make this particular recipe twice…
The first time I made it, I wrote it down in Notepad (like I usually do) and neglected to save it (like I too often do).
Then, I probably went to bed. Unfortunately, I sometimes have to do that.
In the middle of the night, Windows decided to install some update I that I probably needed. At least, it thought I did… Of course, my computer had to be restarted for the process to be complete, so Windows took the liberty of doing that for me, without even asking my permission first.
Of course, it took my recipe down in the process. Swallowed it whole, without even so much as an apology.
How rude!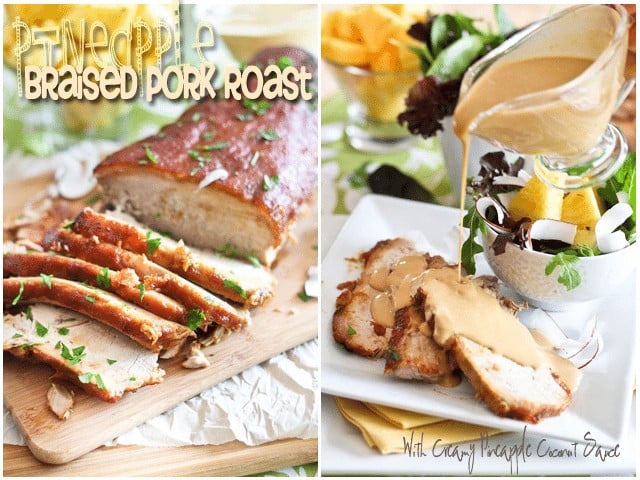 Well, there was no way I could ever recover it… There was only one thing left to do:
Start over! Pictures and all!
For of course, I had taken pictures the first time 'round, you know. But since I couldn't be certain that the recipe was the exact same, I just couldn't use the first set of pictures. It just didn't feel right…
As much as I cursed when I realized what had happened, in the end, I'm really glad that Windows destroyed my first attempt at this recipe. I hope it found it tasty too, for this is all that it'll be getting.  There's just no way it's getting its hands on this one.
For let me tell you, this second attempt is FAR superior to the first one.
Both in terms of flavor AND looks!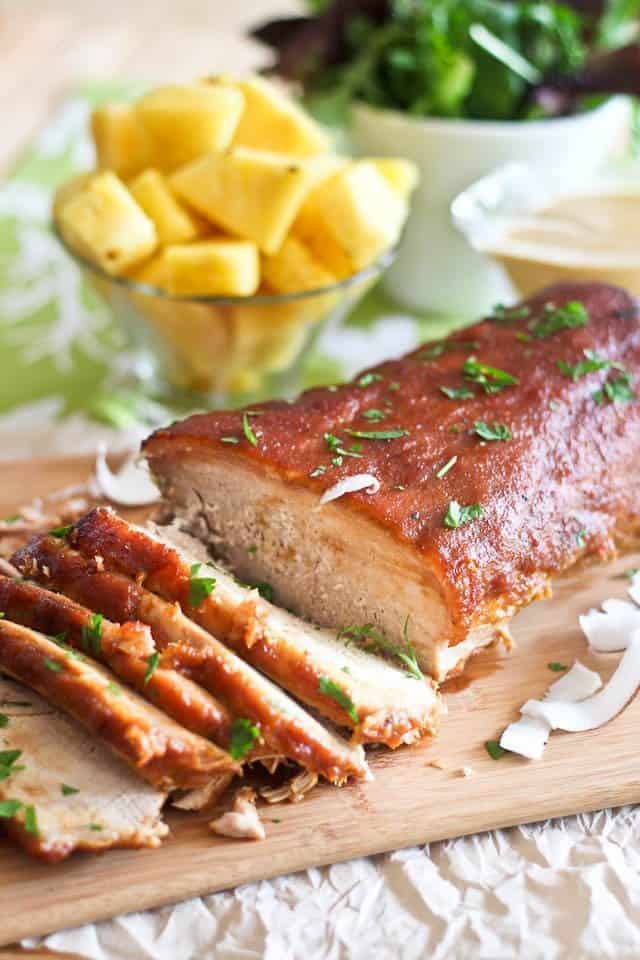 The first thing that I made different with my second attempt is that I soaked my roast in a simple solution of salt and water for the entire night. You would not believe the difference that this extra little step makes. It renders the meat SO very tender and juicy,  unreal.
You really oughta give that a try.
The second thing that I changed was that I added coconut milk to my sauce AFTER it was done cooking. This made it extra smooth and silky and super mild in flavor. Sweet and slightly tangy and oh so delicate.
This sauce, I could've easily eaten with a spoon, or even drunk it with a straw!
Mind you, I think it might have been a tad too thick for that…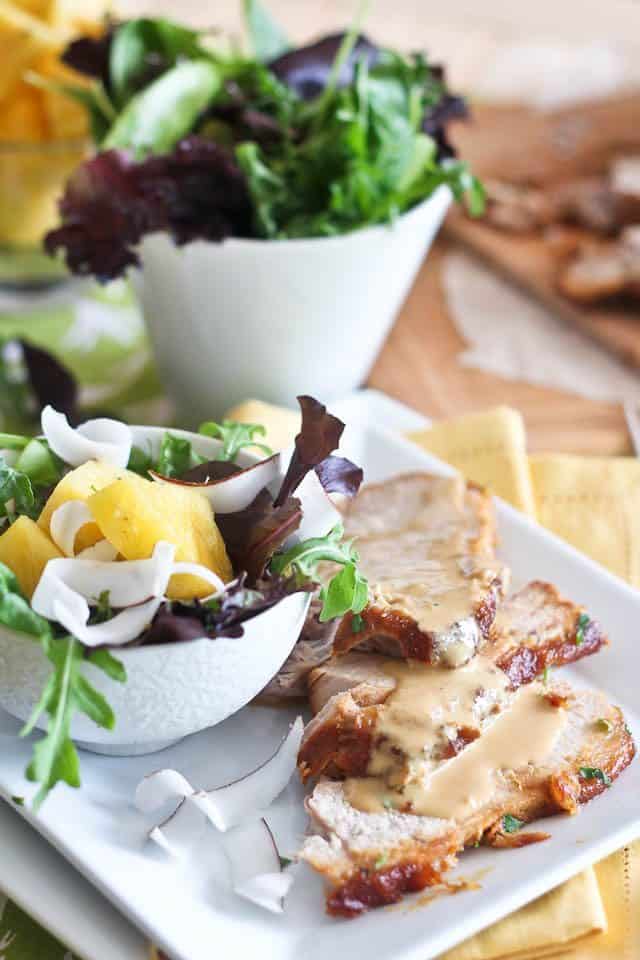 Trust me, this time I made sure that I saved the recipe as soon as I was done writing it.
Good thing I did that, because it would've been a real shame to lose it.
For believe me, this one will now be a part of my regular rotation. If not for the roast itself, for the amazing dish that I managed to whip up with the leftovers.
Just wait 'til you see that one! And yes, I made sure I saved that recipe too.  In fact, I have now changed my settings to install updates manually. Windows will not be swallowing any of my recipes whole, ever again.
I have learned my lesson!
Pineapple Braised Pork Roast
Servings: 8
Instructions
The previous night, place your pork roast in a large non-reactive container with fitting lid. Mix water and salt together and pour over the roast. Cover and refrigerate overnight.

In the morning, take roast out of fridge, rinse and place in Dutch Oven or large oven safe saucepan with fitting lid.

Combine pineapple, coconut milk, coconut aminos, garlic, ginger, chili pepper, rice vinegar, sesame oil, salt, pepper and Chinese 5 spice in your high speed blender and process until smooth.

Pour that pineapple mixture over the roast and marinate for 2 to 3 hours.

Preheat the oven to 325F. Slide the roast in the oven, covered, where it will remain for a total of 5 hours. Every half hour or so, you'll want to take the roast out of the oven and baste it with the cooking liquid.

After 2½ hours of cooking, crack open the lid just a little bit to allow some of that cooking liquid to evaporate.

Completely remove the lid for the last half hour of cooking, after basting one last time. This will ensure that the top gets nice and golden brown as well as make that sauce really nice and thick.

Remove roast from the oven; carefully lift it with 2 large forks and place it on a serving plate. Tent it loosely with aluminum foil to keep it warm while you work on the sauce.

Add a cup of coconut milk and the juice of half a lime to the cooking liquid that's left at the bottom of the Dutch oven and mix well.

You could serve it as is, but for a sauce that's got a really smooth and silky consistency, pour it through a fine mesh sieve and help it through by pushing it down with a ladle in a circular motion. Don't forget to scrape the underside of your sieve with a rubber spatula!

Slice the roast and serve with the sauce on the side.
If you've tried this recipe, please take a minute to rate the recipe and let me know how things went for you in the comments below. It's always such a pleasure to hear from you!
You can also FOLLOW ME on PINTEREST, FACEBOOK, INSTAGRAM and TWITTER for more delicious, healthy recipes!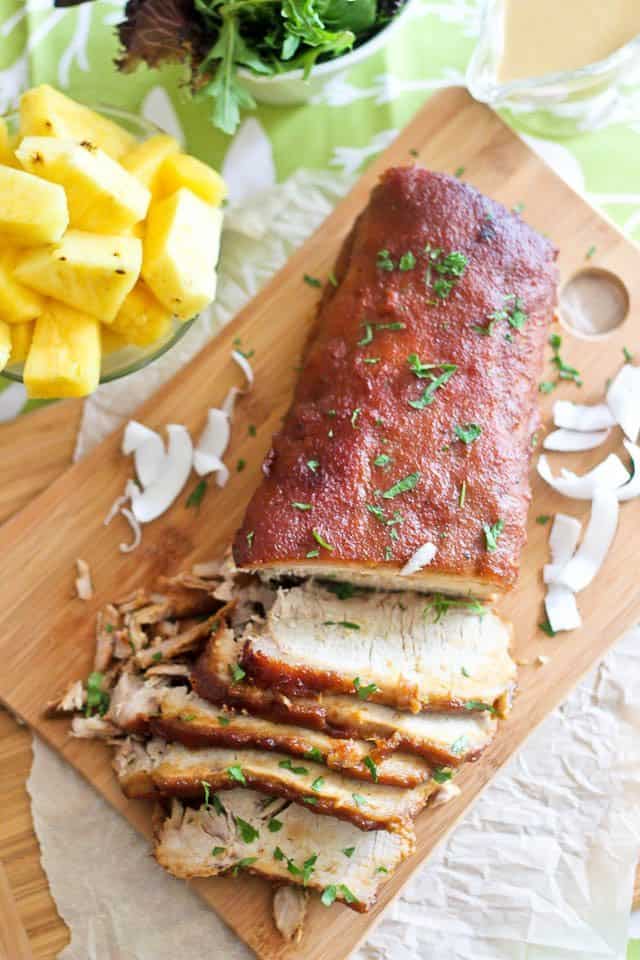 Just look at that gorgeous color… Beautiful and golden brown!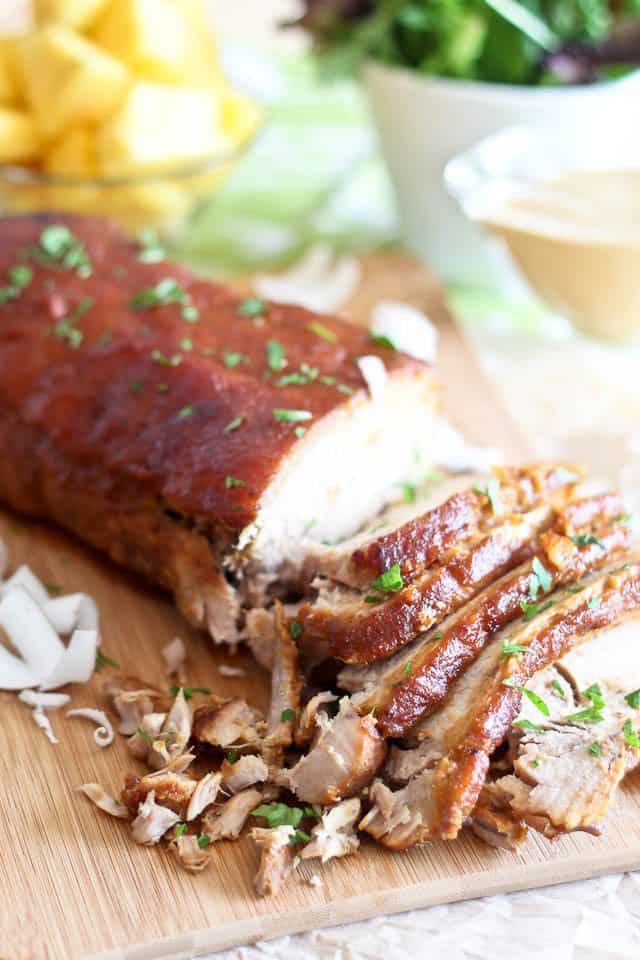 So tender and juicy, it falls apart!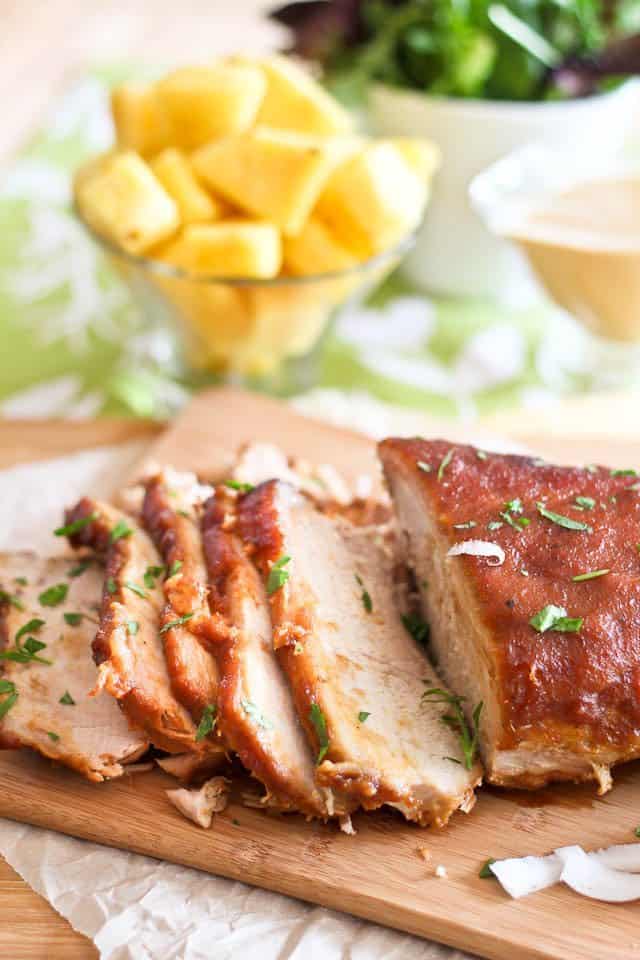 Would you care for a slice?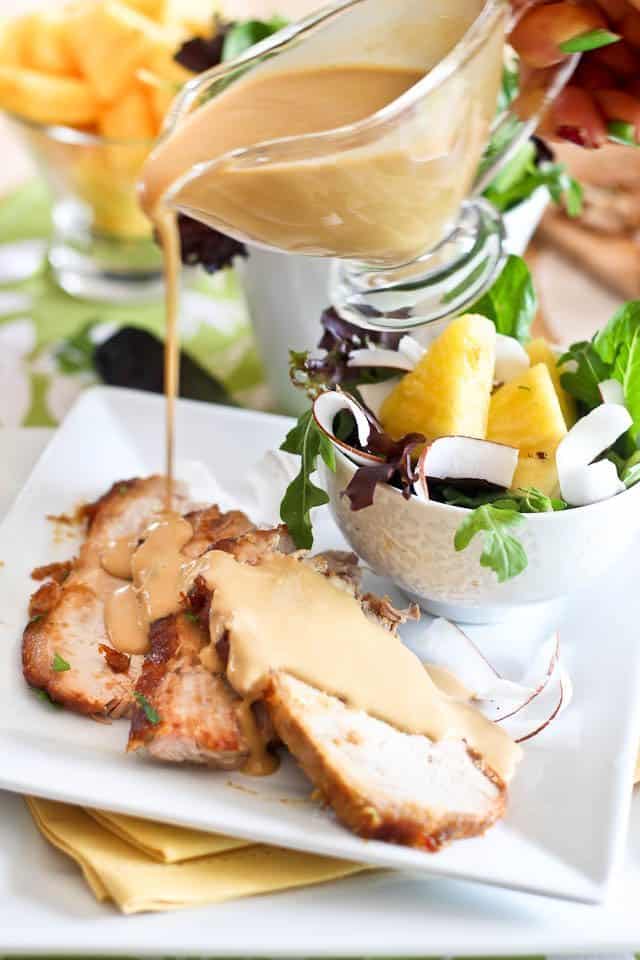 Wait, let me get some of that beautiful sauce on there for you… 
Will you be needing a straw?