Apple & Butternut Squash Pulled Pork Casserole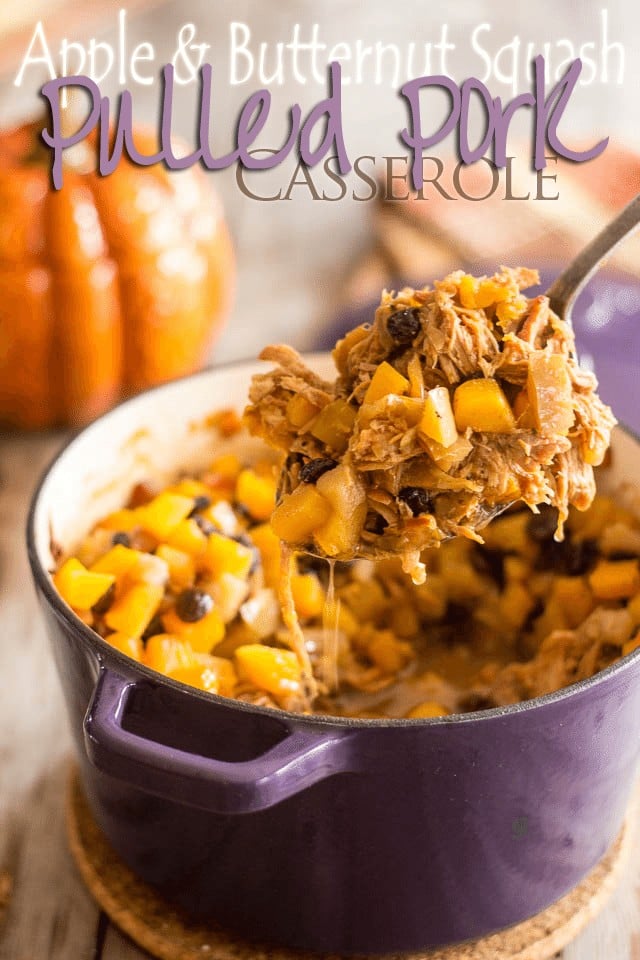 A few months ago, I made a very big mistake. A really, really big mistake. I was sort of in the mood for watching a few episodes of The Gilmore Girls, so I popped a disc in the DVD player…
I swear, the thing swallowed me whole, instantly. I've just been caught up in their universe since. Stars Hollow has become my second residence, or almost. It seems like I want to do nothing but watch a new episode or two, night after night after night.
There were even nights when I considered sneaking in parts of an episode during hockey intermissions! And if you know just how sacred hockey night is to me, then you know that I'm in deep… real deep. The Gilmore Girls has become my little nightly escape.
Funny thing is, I'm not even that kind of person, at all. I don't' watch much TV to start with, and I most certainly don't do series.
But there's something about The Gilmore Girls that drags me right in. When my daughter introduced me to them years ago, I remember falling in love instantly, much to her astonishment, and wanting to watch a second and third episode right away even if it was the middle of the night.
The thing is, she'd almost begged me to PLEASE watch ONE episode with her and if I didn't like it (which she was almost certain I wouldn't), we could stop watching it halfway, but she wanted me to at least give them a chance because she thought our mother / daughter relationship was so similar to Lorelai and Rory's, she wanted to share / discuss that with me.
For the record though, unlike them, we do not feed exclusively off coffee and donuts and candy and pop tarts and still look amazingly fit and glowingly beautiful. In fact, I get slightly irritated by that fact every now and then. Witches with a B, that's what they are.
Pffft! That's TV for ya: unrealistic seller of dreams. I think that's why I don't care much for it.
But dream or not, this thing now has me hooked. And it also managed to get me badly wanting, needing me a Luke Danes…
Or maybe a Christopher? Or would Jason Stiles possibly be more my style?
Nah, I think not. I'm positively, definitely a Luke Danes kinda chick!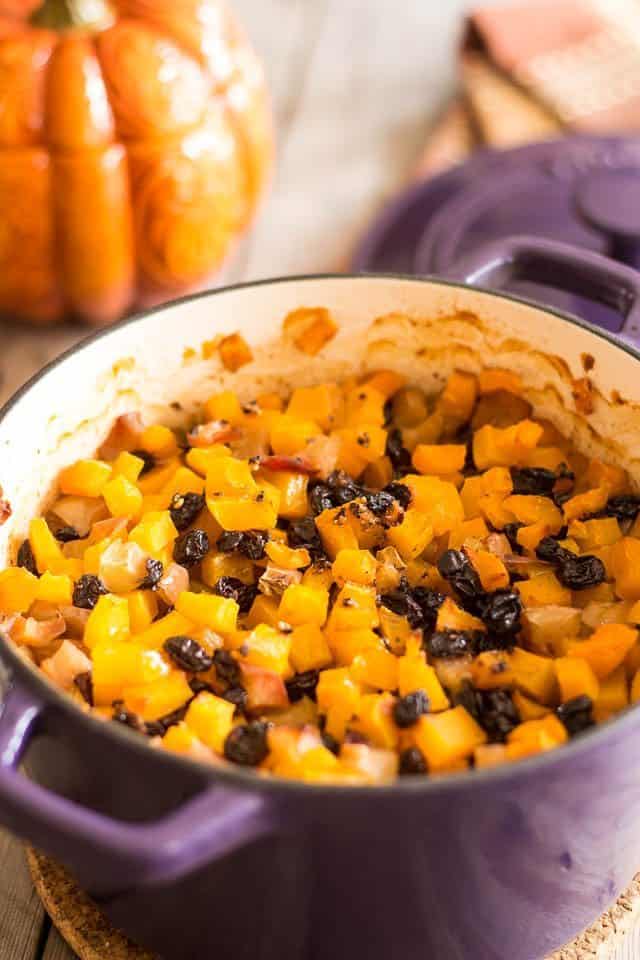 Alright, enough about The Gilmore Girls now. Let's talk about this delicious casserole, shall we?
After I made this amazing Pork Roulade with Candied Butternut Squash & Ginger Chutney the other day, I had quite a nice chunk of pork loin and half a butternut squash left, so I had to figure out what to do with them. At first, I thought I would just go with simple pork chops and roasted squash, but then I had this very inspiring vision.
I thought of combining pulled pork with some sort of a casserole, incorporating sweet apple notes and spicy seasonal aromas. Oh, the dream! I could almost taste it. My mind has a very vivid imagination, sometimes.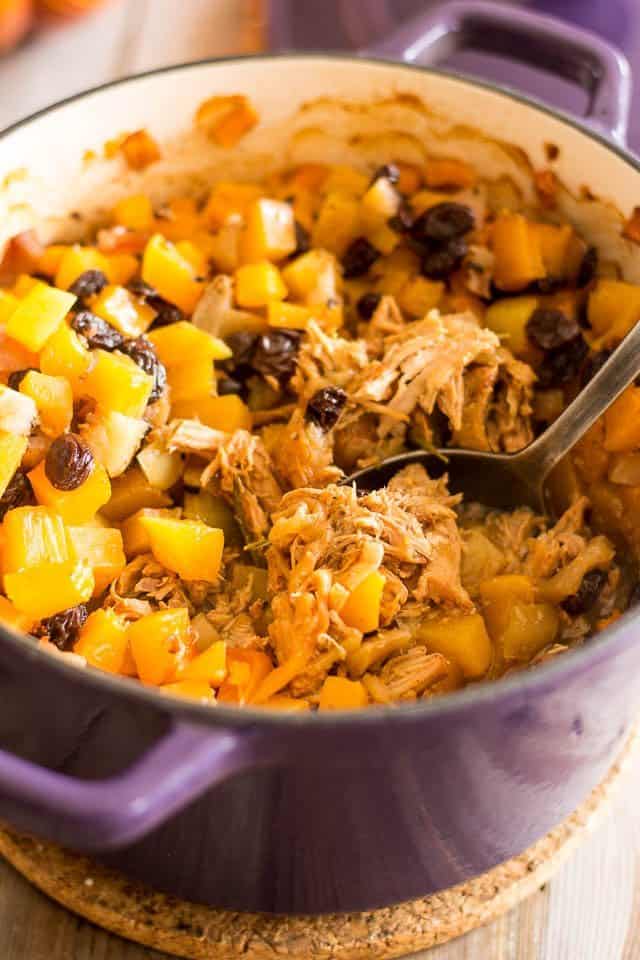 This was seriously delicious, my friends. It IS somewhat sweet, I have to warn you. So much so, it almost feels like you're eating dessert. Kind of. The subtle tones of salted butter (don't ask me where those come from) and the very omnipresent strands of pork constantly remind you that it's in fact a savory dish you're enjoying. But if you are a fan of sweet and savory, you are in for a MAJOR treat, I guarantee you.
The whole time I was eating this, I was dreaming of eating pie. Maybe I oughta create some kind of a pie version of this, with sweet potatoes perhaps, and a real creamy, velvety sauce.
Bet it would be a huge hit on Thanksgiving, or maybe even Christmas! Or any other chilly autumn night, for that matter.
Or even morning, why not?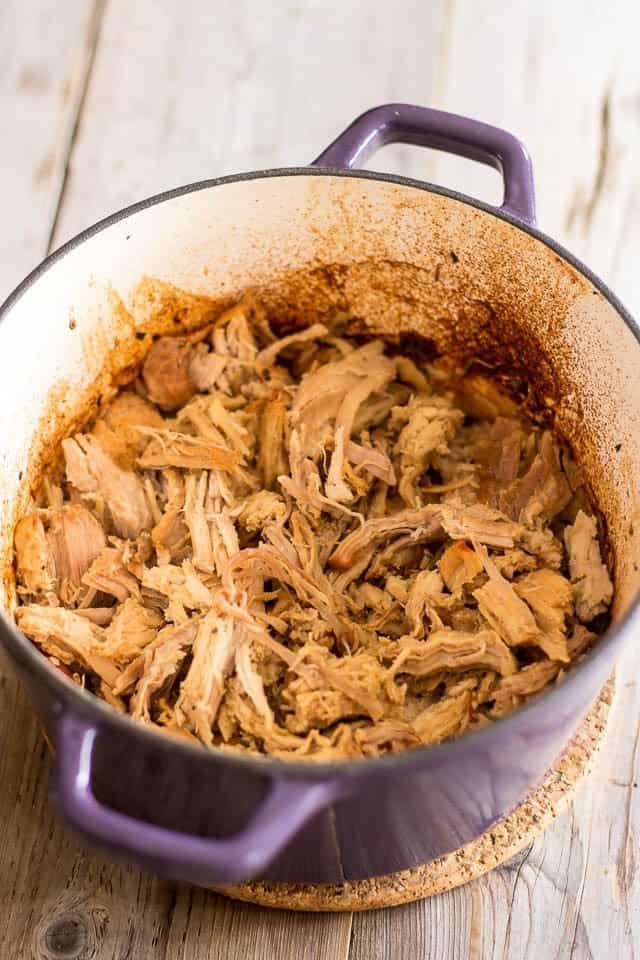 Cook the meat until it's tender enough to be broken down into tasty little morsels.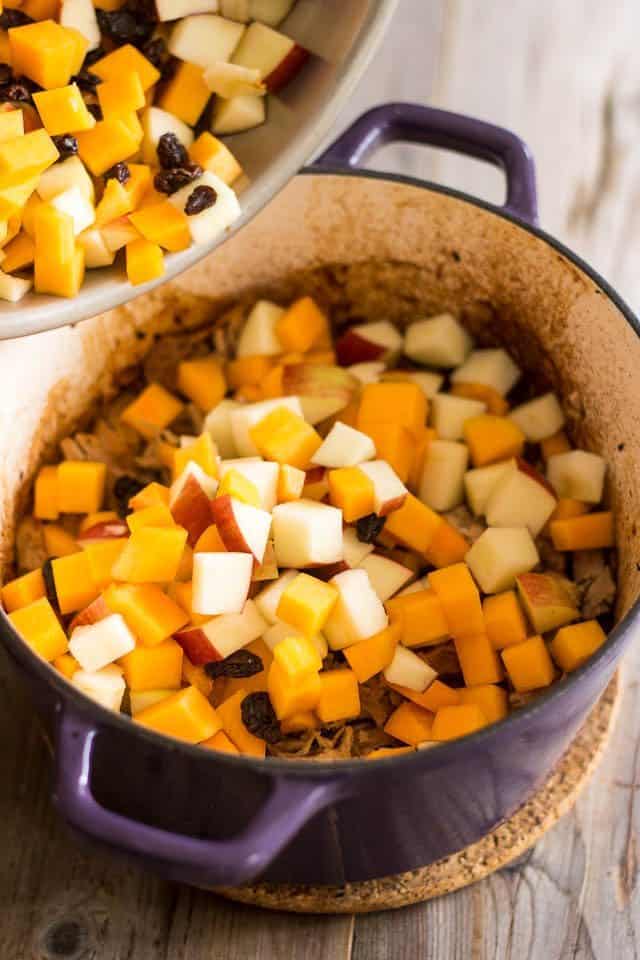 Add the butternut squash, apples and raisins right on top…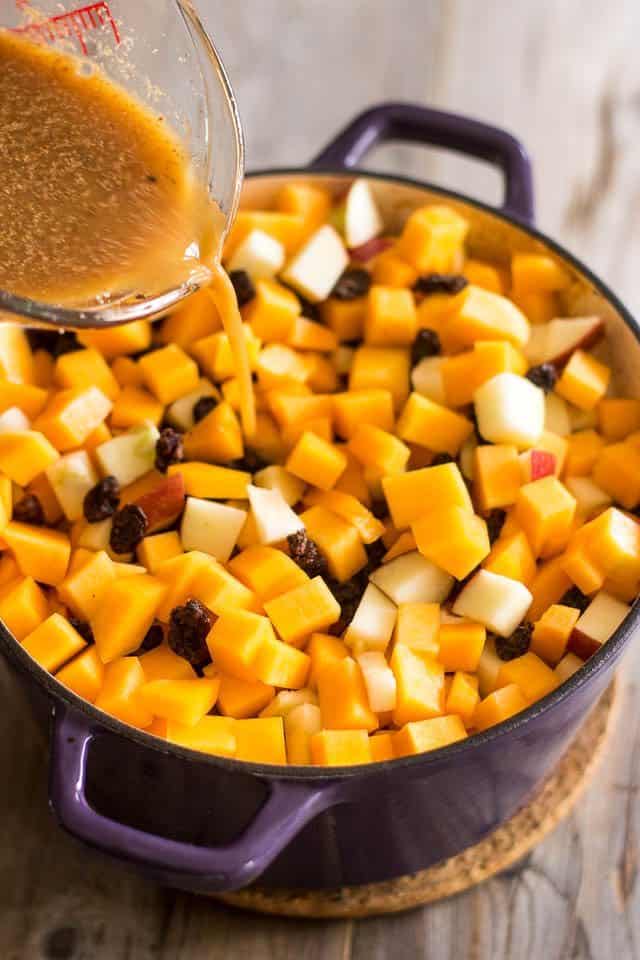 Followed with the cooking liquid…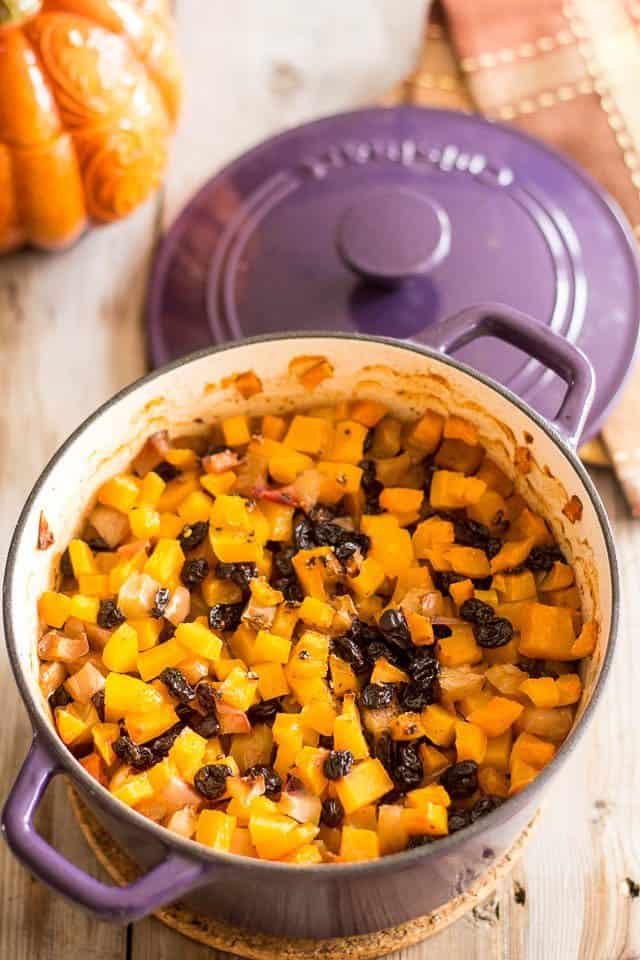 Return to the oven for an other long while. Be patient, I swear it'll pay off!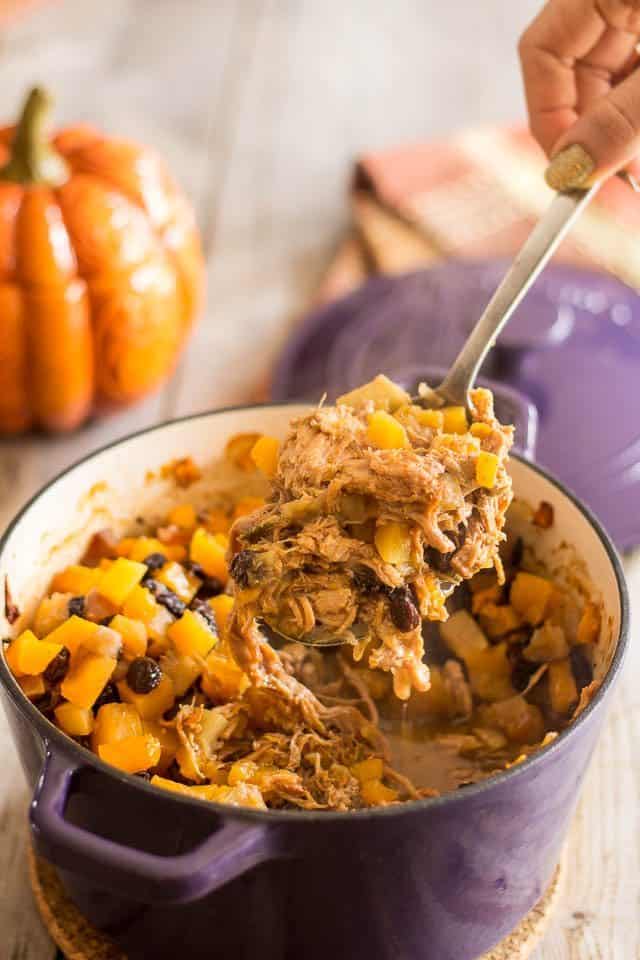 And there you have it. Look at how gorgeous that is! Oh, how I wish you could smell it, and taste it too.
Unfortunately, the only way for you to do that is to make your own batch. Or invite yourself for dinner!
Apple & Butternut Squash Pulled Pork Casserole
This paleo pulled pork and butternut squash casserole has ample notes of sweet apple, spicy seasonal aromas and delicious tones of salted butter. A dream!
Servings: 4
Ingredients
Part I
2 large onions, sliced
2 lb pork loin (or boneless butt or shoulder)
¾ cup sweet apple cider, or unsweetened apple juice
3-4 sprigs fresh rosemary
Salt and pepper to taste
Part II
2 large red apples, diced
½ medium butternut squash, diced (about 500g or 4 cups)
1/3 cup raisins
Instructions
Place the onions, pork roast, sweet apple cider and fresh rosemary in a Dutch oven. Sprinkle generously with salt and pepper, place the lid on and cook in a 325°F oven for about 3 hours, or until meat is tender.

Remove rosemary and, using 2 forks break the meat into small pieces and / or strands.

Add the butternut squash, apples and raisins right on top.

In a separate container, mix all the ingredients for the cooking liquid and pour that right over the dish. Put the lid back on and return to the oven for an additional 45 minutes.

Remove the lid and continue cooking for 30 minutes more.

If you want the top to take a bit of a golden coloration, drizzle a little bit of melted coconut oil all over the casserole after it's done baking and set it under the broiler for 3-5 minutes.
Nutrition
Calories: 500kcal, Carbohydrates: 51g, Protein: 53g, Fat: 10g, Saturated Fat: 3g, Cholesterol: 143mg, Sodium: 459mg, Potassium: 1563mg, Fiber: 6g, Sugar: 24g, Vitamin A: 10015IU, Vitamin C: 30mg, Calcium: 86mg, Iron: 3mg
If you've tried this recipe, please take a minute to rate the recipe and let me know how things went for you in the comments below. It's always such a pleasure to hear from you!
You can also FOLLOW ME on PINTEREST, FACEBOOK, INSTAGRAM and TWITTER for more delicious, healthy recipes!