Pork Roulade with Candied Butternut Squash & Ginger Chutney
A rolled pork roast filled with the most delicious candied ginger and butternut squash chutney. Totally worthy of a prime spot on your Thanksgiving table!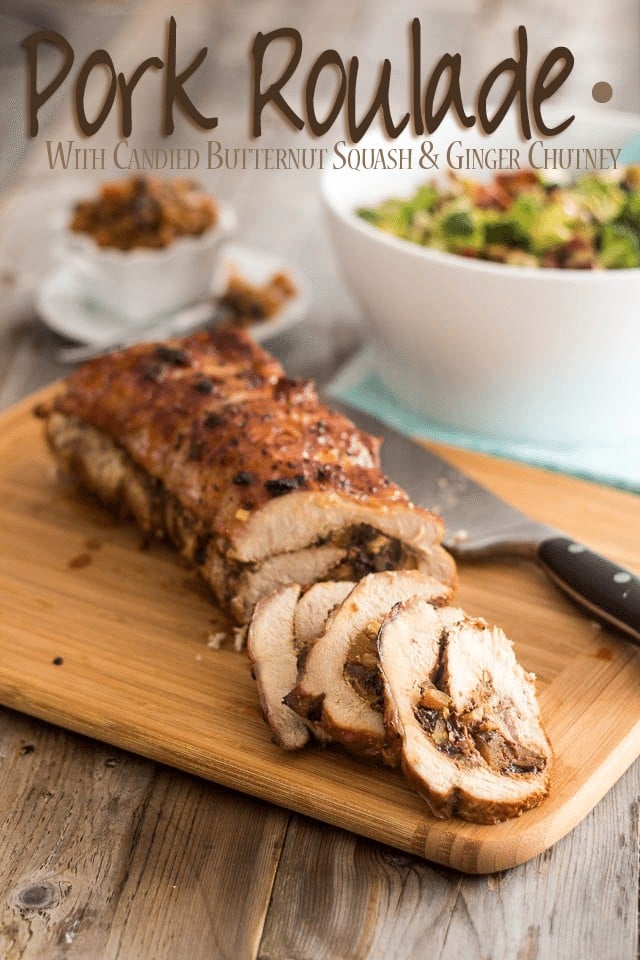 Today we're making something that's a tad on the extensive side. The kind of recipe that you might want to save for special occasions, you know.
With the delicious Candied Butternut Squash and Ginger Chutney that is at the heart of this spectacular pork roulade, I say this one is a very serious contender for top spot on your Thanksgiving table!
Something to give Ms Turkey a little bit of serious but healthy competition!
What do you say we take a look at the different steps and kinda make this together? I'll sort of walk you trough the entire process, then you can check out the recipe and fly solo.
Have faith, you can do this! You'll see, it's not that complicated.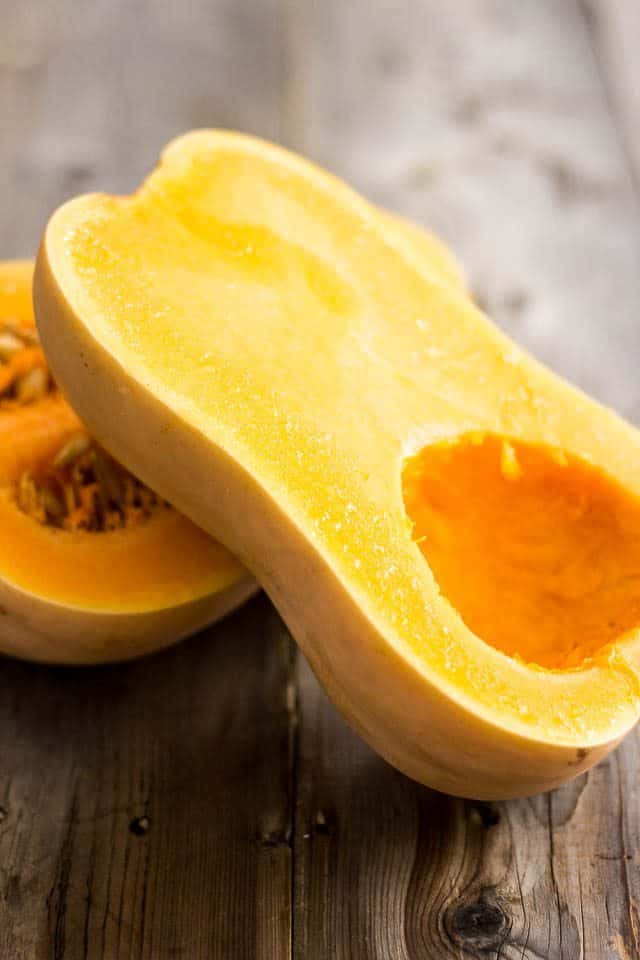 Alright, so let's start with the Chutney, shall we?
First, we need half a medium butternut squash, that's about 500g total.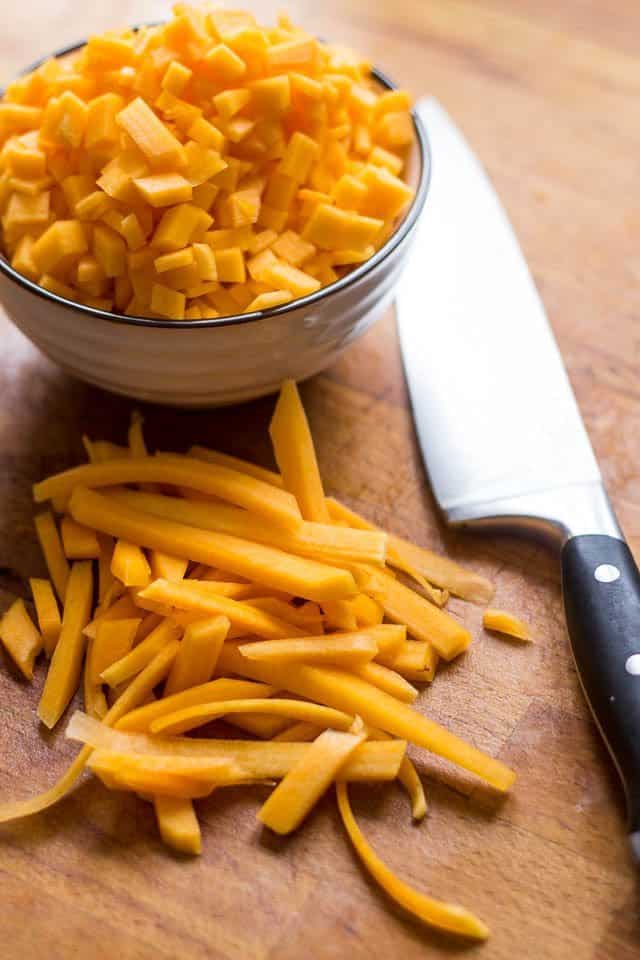 Remove the seeds and peel the squash, then chop it into neat little cubes.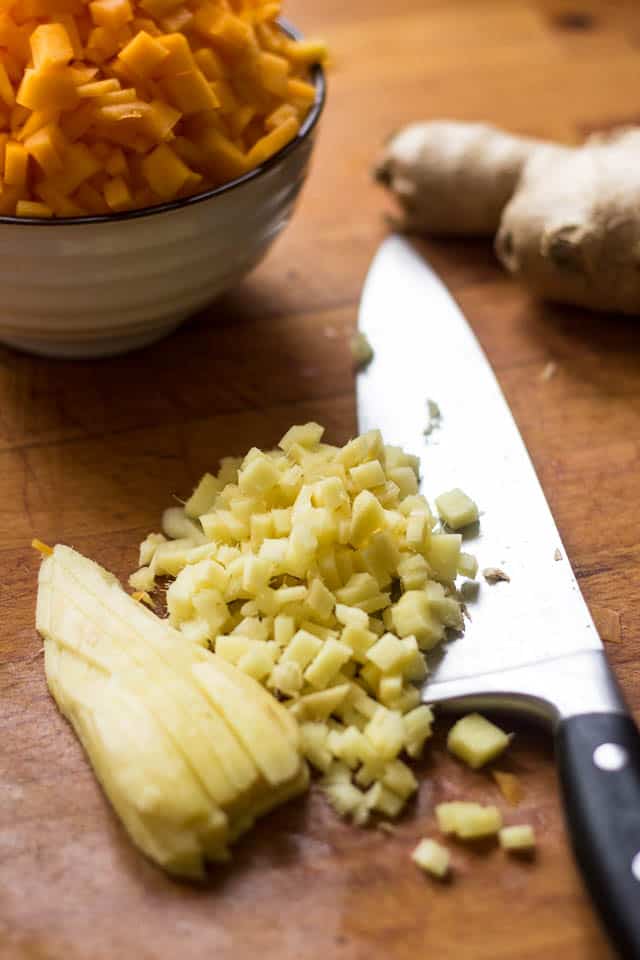 Do the exact same thing with the ginger. Well, except for the seed part!
This might seem like a lot of ginger, but trust me on this one. The ginger totally makes this chutney.
Just make sure you dice it as finely as you possibly can, without turning it to mush.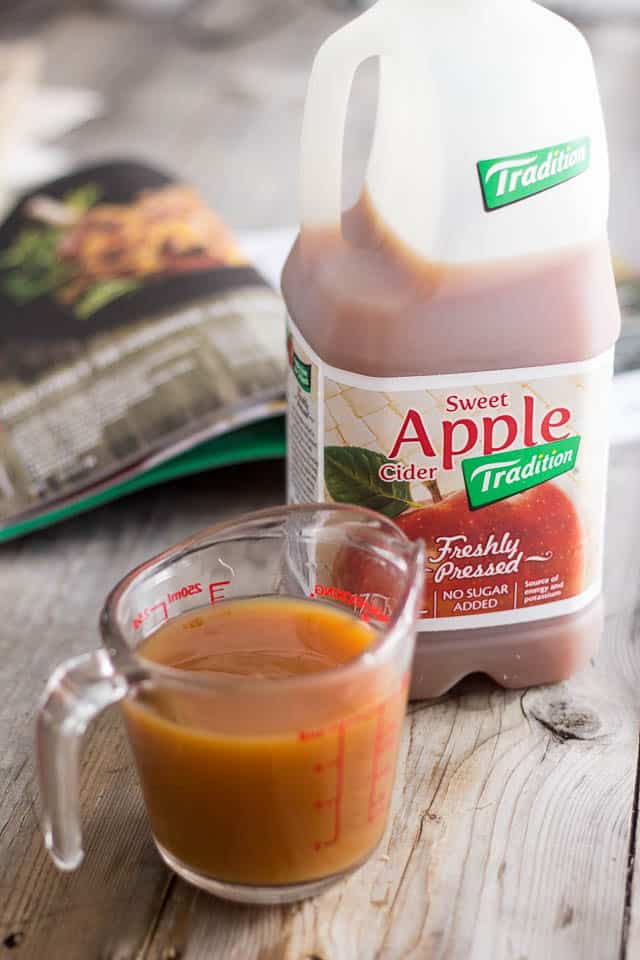 This is the Sweet Apple Cider that I used. Sweet Apple Cider is basically unfiltered, unsweetened apple juice. Nothing but freshly pressed apples.
If you can get your hands on this delicacy, by all means, get some. It IS absolutely fabulous in this dish.
If you can't find it, you can use pure, unsweetened apple juice. It'll do the trick.
Put the onion, ginger and butternut squash to cook and soften for a few minutes, then add the rest of the ingredients to the pan.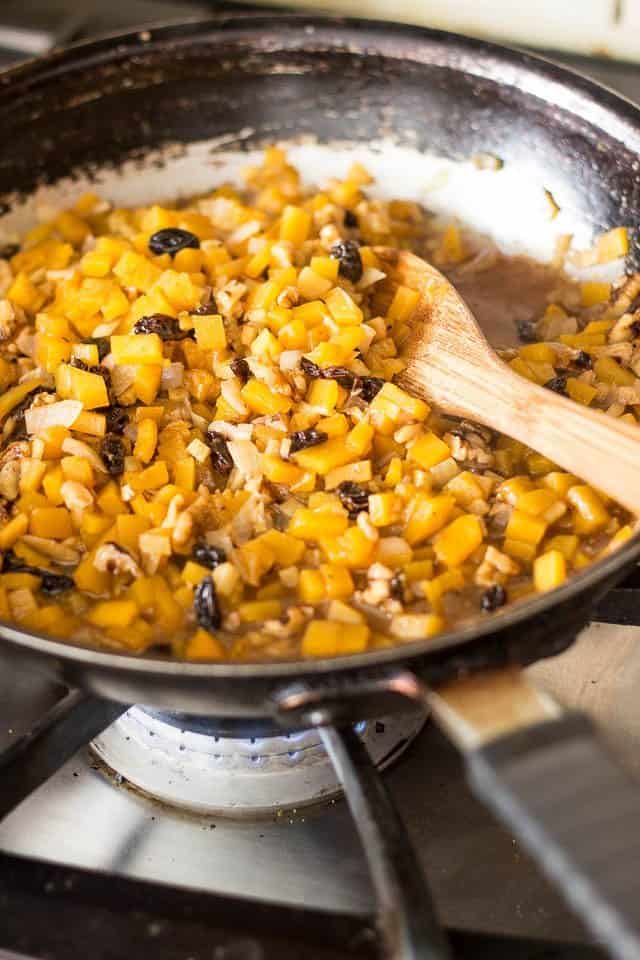 Let that simmer over low heat for 30 to 35 minutes, while stirring occasionally.
Nothing too complicated so far, is there? Ah! I thought not.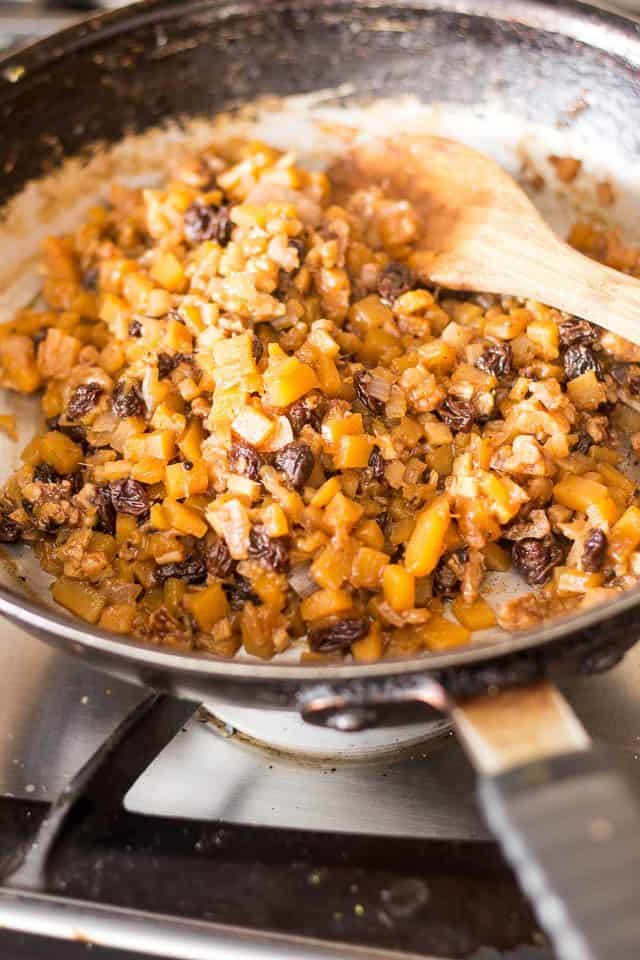 Once all the liquid is gone, your Chutney is pretty much ready to go.
See how nicely candied it looks now? Oh, it's a thing of beauty!
Fight the urge to eat it all right away. Focus. We need to save some for the roast.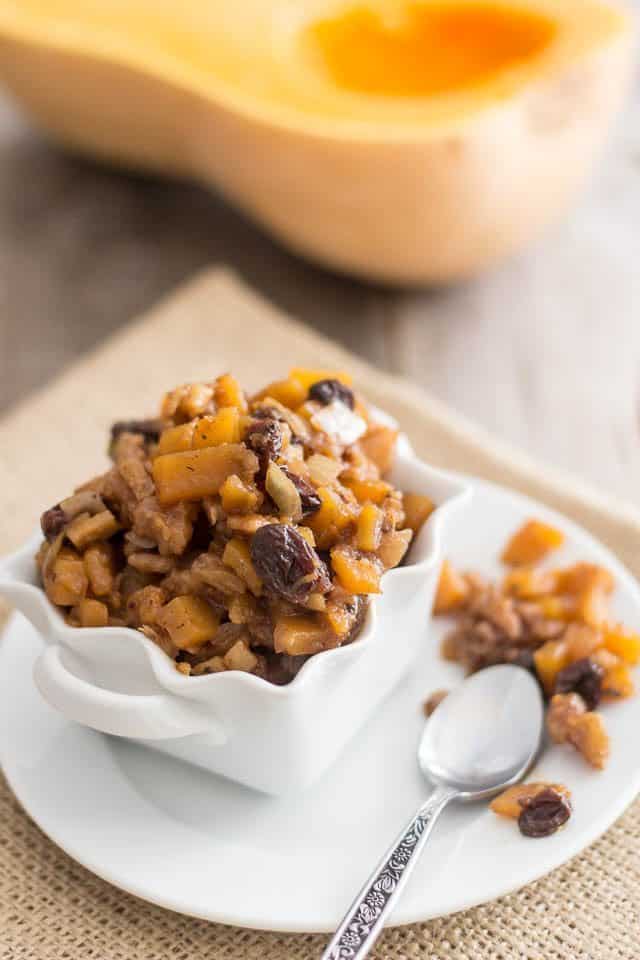 Reserve about one third of the batch to serve with the Pork Roulade later. Put it away so you don't eat it all.
Seriously. Put it away!
The rest you can leave in the pan to cool while we work on that Pork Loin…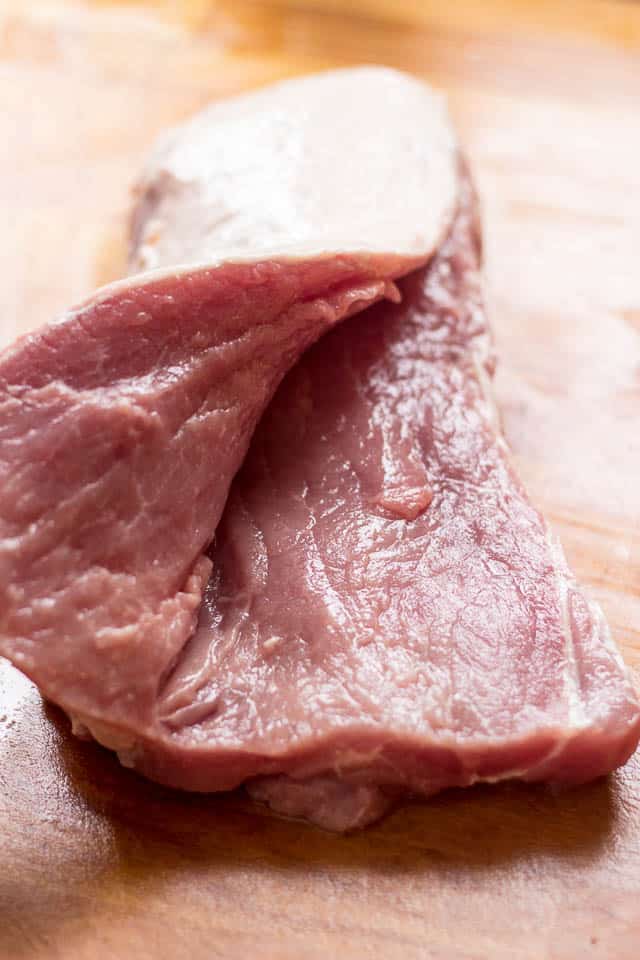 Alright, so now we get to the part that's a tad more complicated. We need to make this beautiful roast go from round to flat!
In order to do that, we'll start by making an incision through the entire length of top third of the roast, from right to left, but without cutting all the way to the end; The roast needs to stay in one piece.
Try to keep your blade as flat as possible and work your way in slowly, a few inches at a time.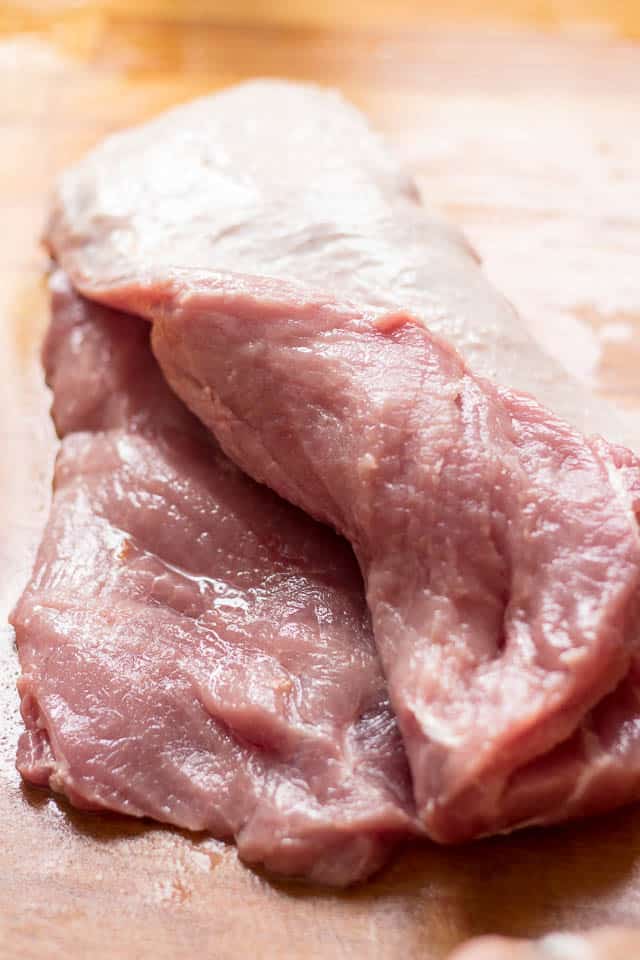 Once you have worked your way through the entire length of the top third, do the exact same thing about two thirds of the way down, but go in the opposite direction this time, i.e. from left to right. (or, to make this easier, flip the roast around and do the top third again…)
Now, I know this probably doesn't sound too clear, so I made a little diagram to try and better illustrate how to cut the meat.
Please, don't laugh, alright? You'll quickly be able to tell that graphics is NOT my forte!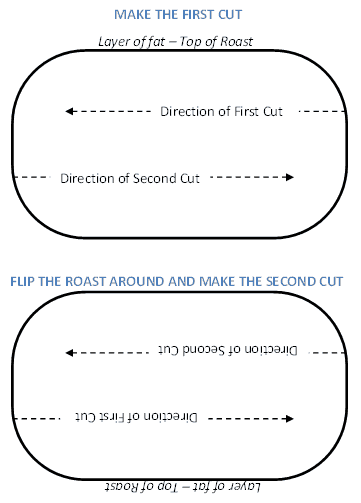 Does it at least help make things a little bit clearer? Or did I just confuse you even more?
Gah! I guess that's where videos come in handy! If only I were as comfortable on "that other end" of the camera.
Sorry to say, I'm not, so I'm afraid this little sketch will have to do the trick!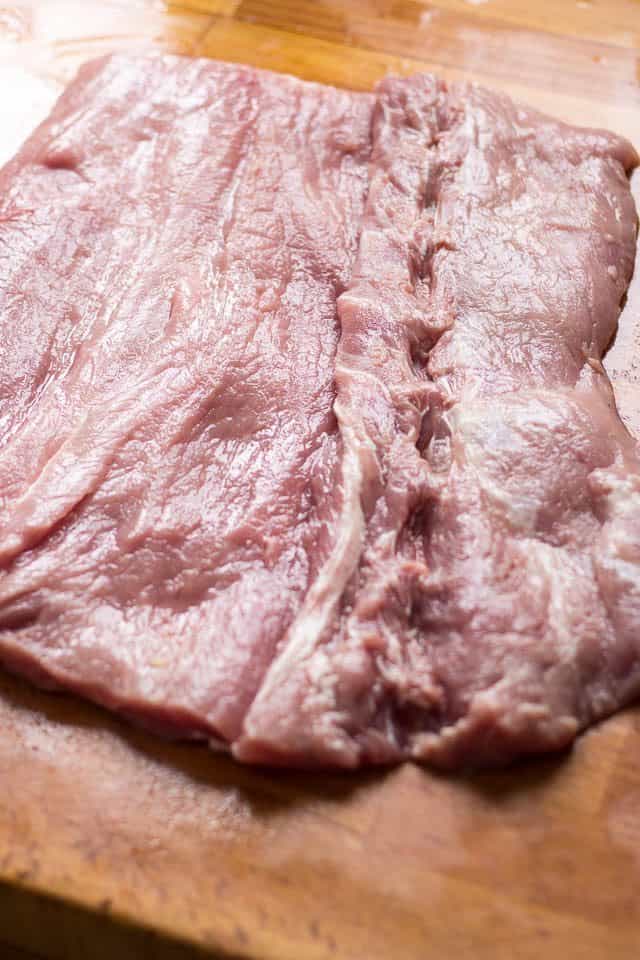 Alright, so thanks to my super clear instructions, you should now be able to unfold your roast into a flat slab of meat.
You might have to pound it lightly and cut a little bit more here and there to get it to lay real flat, but the real tricky part is now behind you.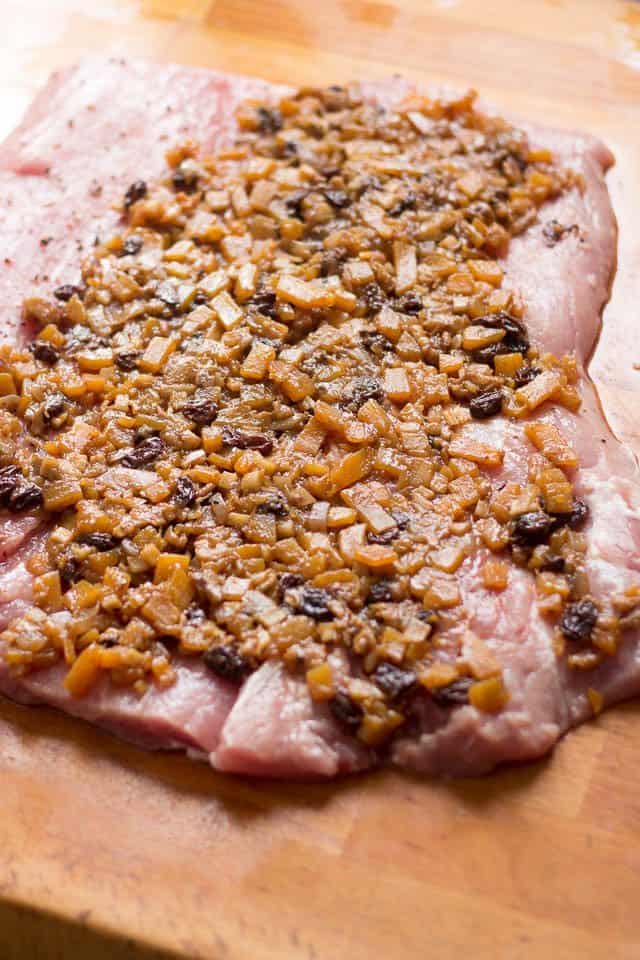 Now place the roast fat side down on a cutting board and spread the reserved chutney over the entire surface of the meat, except for a few inches on the side where the layer of fat is located. This is where your roulade will close up.
Roll the meat as tightly as you can starting with the side opposite the "naked strip" and shape it into a nice roll.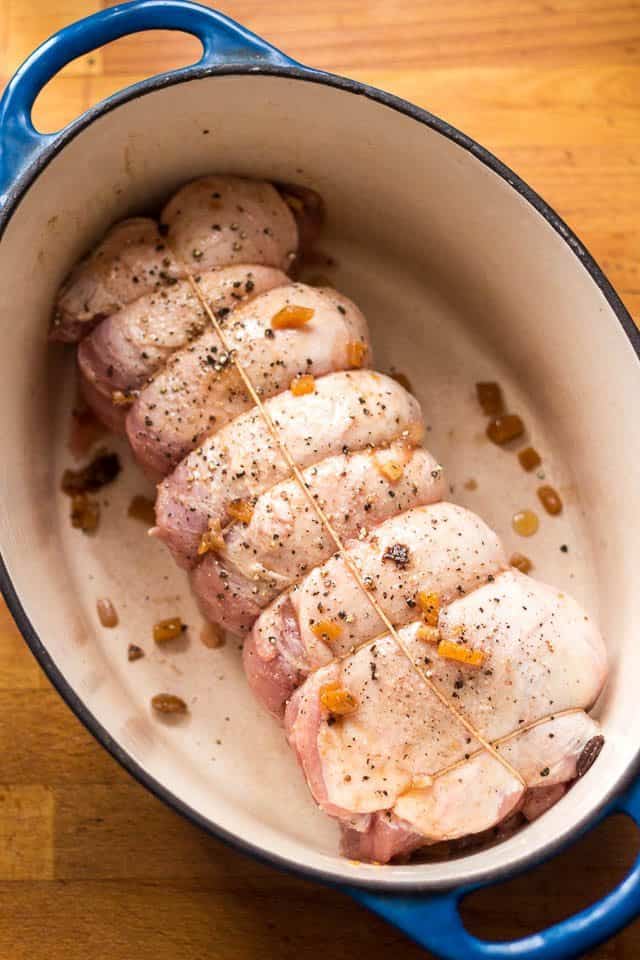 Tie your roast with butcher's twine and delicately place it in a Dutch oven or roasting pan.
If a little bit of Chutney got lost in the process of making the roulade, just sprinkle it right over the roast.
Sprinkle generously with salt and pepper, drizzle with a little bit of maple syrup, add water and apple juice to the bottom of the pan, cover and place your beautiful roast in the oven.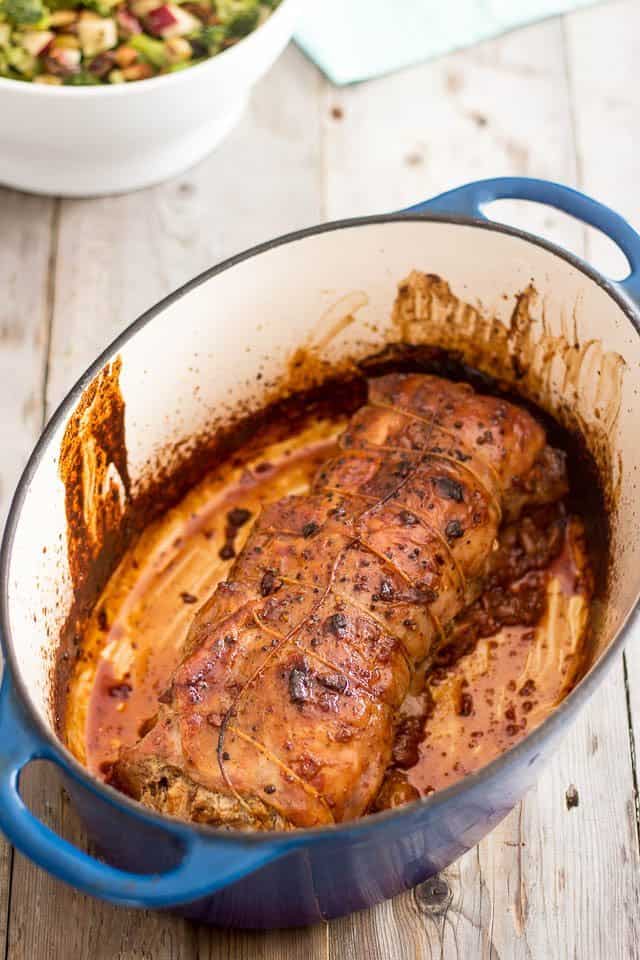 After a few hours and a little bit of basting love, this is what you should be left with.
Pretty enough for you? Notice how the liquid is pretty much completely gone.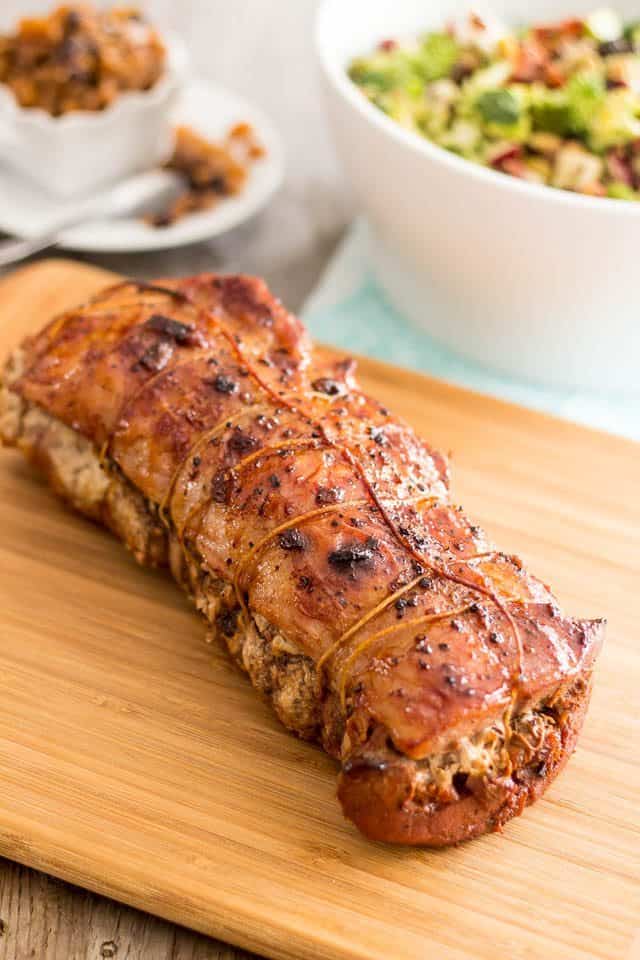 After your roast has been given a few minutes to rest and relax, take it out to a wooden cutting board and admire it for a few minutes more.
Now would be a good time to rid it of all this twine, too!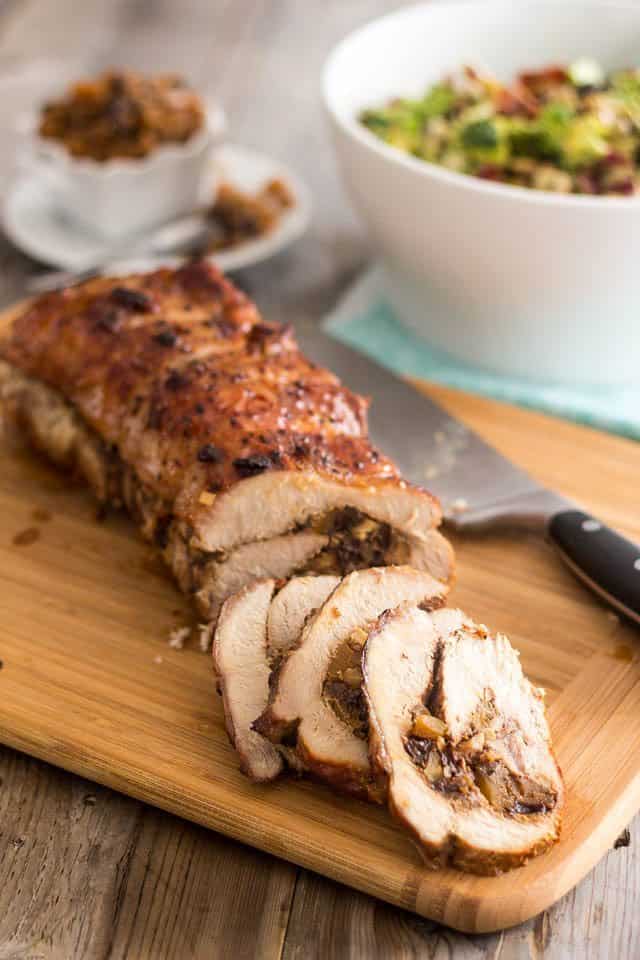 Now for the moment of truth: here's the time you've been waiting for!
Slice up the roast and serve! Oh, and prepare to have your taste buds do a little dance and maybe one or two backflips, too!
This is some SERIOUSLY good pork roast. Definitely special occasion material, I swear!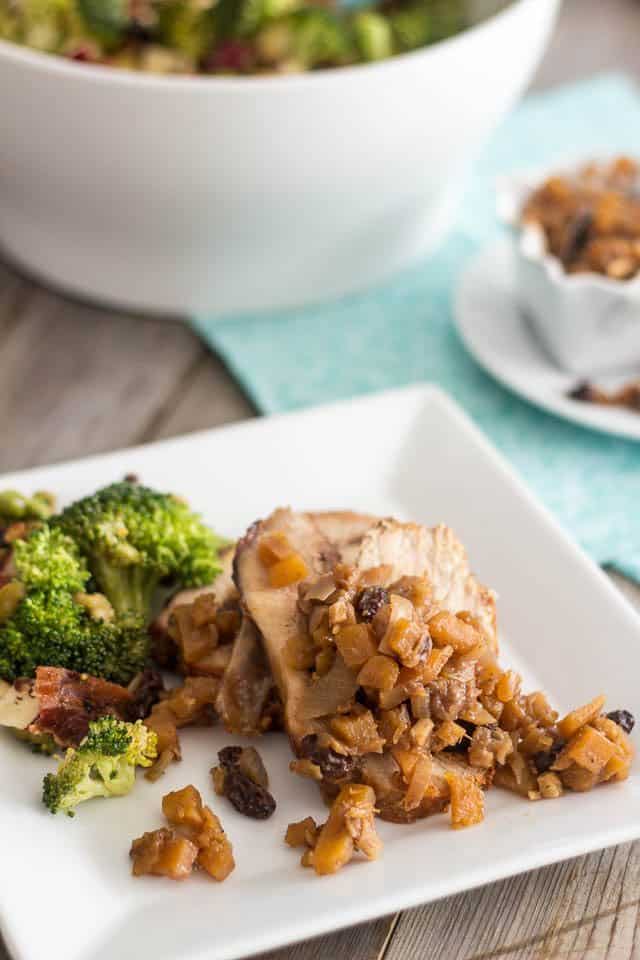 Oh, and don't forget that extra Chutney we reserved before. You didn't eat it all, did you? It's probably gotten a little cold by now, so it might be a good idea to reheat it just a tad. Then spoon a little bit right over that gorgeous pork roulade.
And there you have it. That wasn't too hard, was it?
Tomorrow, I give you that amazing Broccoli Almond Apple salad that I chose to serve as a side… And yes, it has bacon in it!
Think your guests will like?
Candied Butternut Squash & Ginger Chutney Pork Roulade
A rolled pork roast filled with the most delicious candied ginger and butternut squash chutney. Totally worthy of a prime spot on your Thanksgiving table!
Servings: 12
Ingredients
For the Candied Ginger and Butternut Squash Chutney
The Roast
3.85 lb pork loin
Salt pepper to taste
1/4 cup sweet apple cider, or unsweetened apple juice
1/4 cup water
1 tbsp maple syrup, Canadian Medium or Grade B
Instructions
Add the rest of the ingredients and simmer over low heat, stirring from time to time, until liquid is completely gone and chutney has a candied look, about 30 - 35 minutes.

Let the mixture cool while you cut the pork loin open.

First, cut an incision in the top third of the loin, going from right to left, but without letting the blade go all the way through. Then, do a second incision through the bottom third of the roast, but going left to right this time. See the diagram below.

Open both flaps and pound the roast lightly to get it real flat; Sprinkle liberally with salt and pepper

Spread 2/3 of the candied chutney over pork loin, leaving a few inches on each side.

Roll tightly and tie with butcher's twine.

Place in Dutch oven, sprinkle with salt and pepper drizzle maple syrup

Apple juice and water at bottom

Cover, cook for 2½ hours in a 350°F oven, baste 2 or 3 times
Nutrition
Calories: 325kcal, Carbohydrates: 26g, Protein: 34g, Fat: 9g, Saturated Fat: 2g, Cholesterol: 92mg, Sodium: 273mg, Potassium: 878mg, Fiber: 2g, Sugar: 13g, Vitamin A: 4961IU, Vitamin C: 11mg, Calcium: 57mg, Iron: 1mg
If you've tried this recipe, please take a minute to rate the recipe and let me know how things went for you in the comments below. It's always such a pleasure to hear from you!
You can also FOLLOW ME on PINTEREST, FACEBOOK, INSTAGRAM and TWITTER for more delicious, healthy recipes!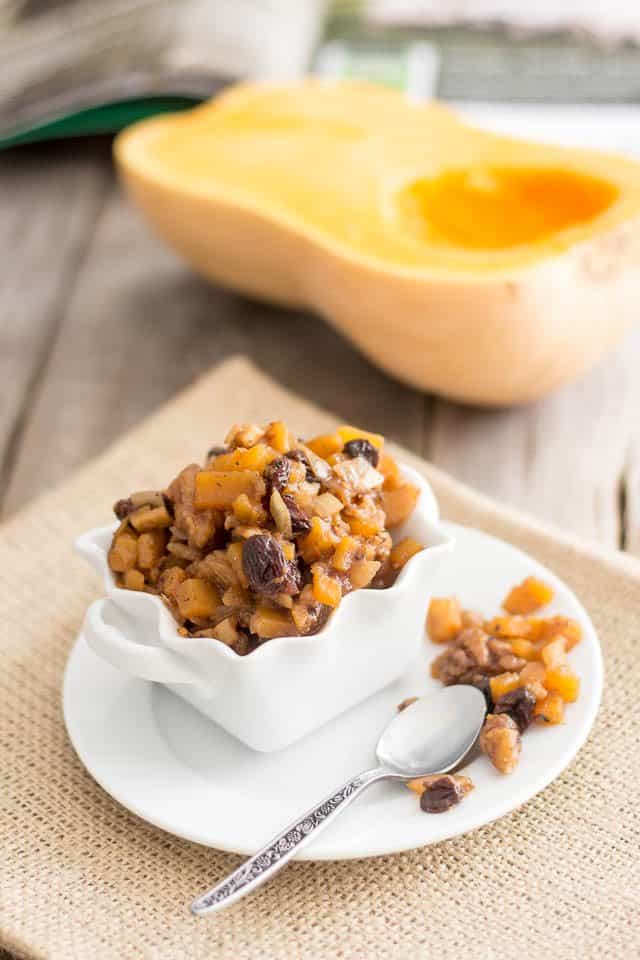 That Chutney alone is simply to die for!