Cauliflower Crust Grilled Chicken and 3 Cheeses Pizza
Packed full of flavors and nutritious ingredients, this cauliflower crust pizza beats delivery hands down and will satisfy the toughest of cravings, guaranteed!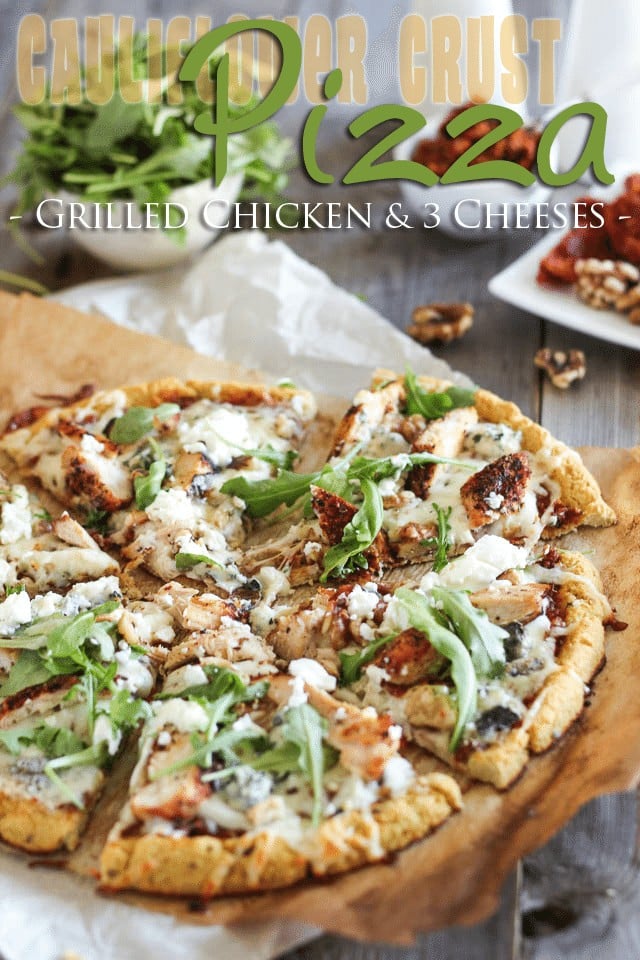 They say you eat with your eyes first, don't they? Well, I think I eat with my camera first…
And when it comes to that, pizza is the worst! Whenever I eat pizza, I get overly so excited and end up taking WAAAAY too many pictures and then I always have an incredibly hard time picking my favorites out of the lot.
So please, bare with me: if you think there are there are a lot of images in this post, you should have seen the amount that I took… I think this particular one got the royal treatment because I'd been craving it for SO long before I got to finally eat it.
I'd even gone to the restaurant a couple of weeks prior and had decided that I would treat myself to a real pizza that night. After all, it had been well over a year since I'd last indulged…
Well, I think that craving this particular flavor combo saved me that night after all, for no matter how good the pizza at that place really is, they had nothing on the menu that even resembled what my tummy was demanding: Grilled Chicken, Blue Cheese, Goat Cheese, Walnuts and Arugula on Sun-dried Tomato Pesto.
Having such a pizza made to order would've cost me a fortune, so I decided to pass and figured I would make my own at home. On cauliflower crust, of course!
'Cuz after all, crust is one thing, but it's the toppings that truly make the pizza, don't you think?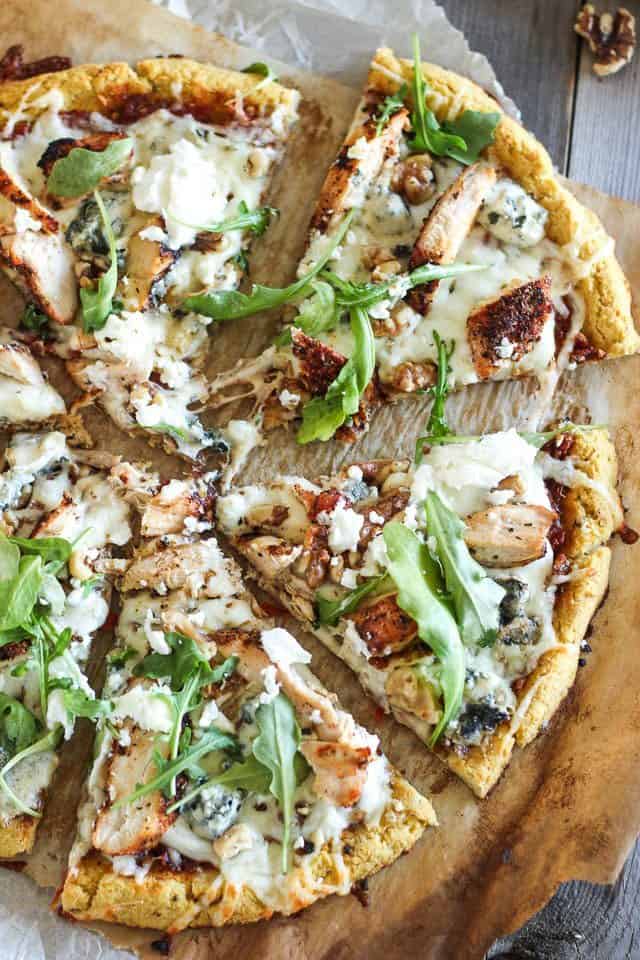 Well, okay. I'll give it to you. The crust DOES play an important role too.
And if you've never tried cauliflower crust, you might be like "meh.. looks good ant all, but surely it can't beat "the real thing". I bet the thing crumbles to pieces as soon as you try and pick up a slice."
NOT!
I too at first was highly skeptical as to its ability to perform well at the task of holding toppings and carrying them all the way to my mouth. But just one try and I was totally convinced.
Don't believe me?
Take a look at the pictures below. I'm sure they will convince you that, no matter how you like to hold your pizza, this crust is up to the challenge and can be trusted to get those delicious toppings all the way to your mouth, without crumbling miserably to pieces halfway there.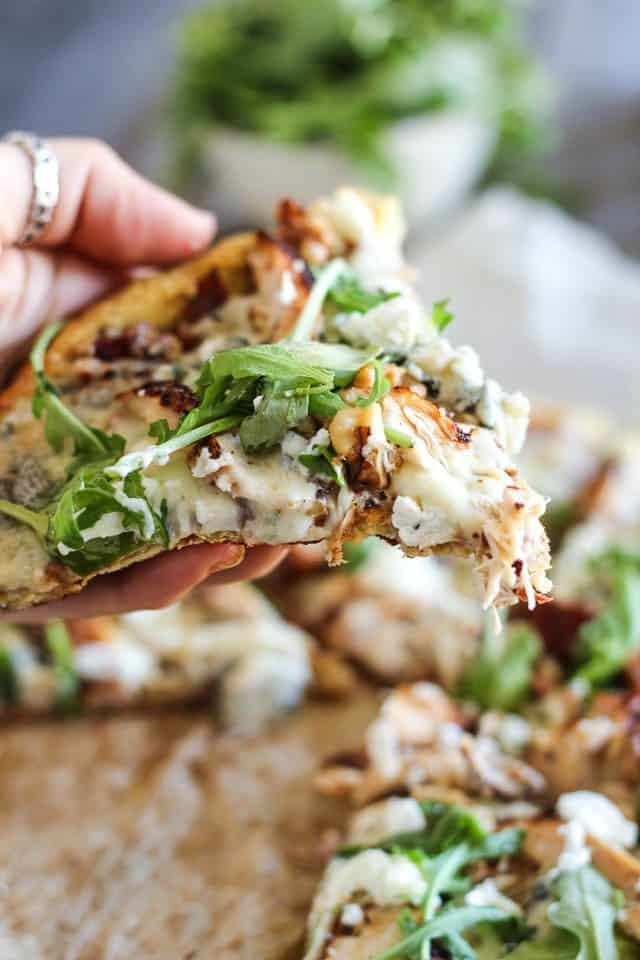 Maybe you like to gently scoop it from underneath, supporting it with your fingers like such…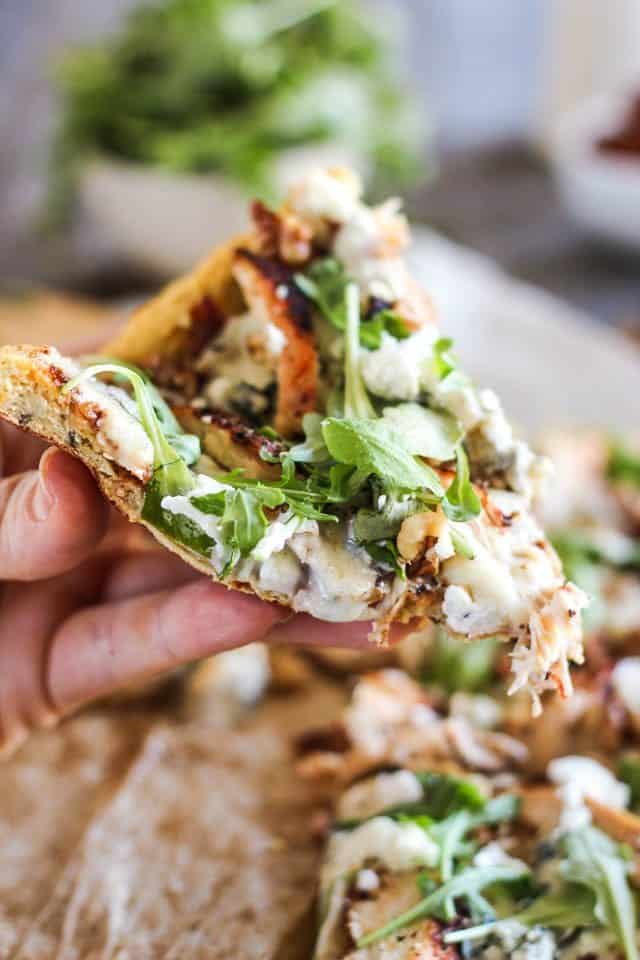 Or maybe you prefer to kinda fold it right down the center, like this?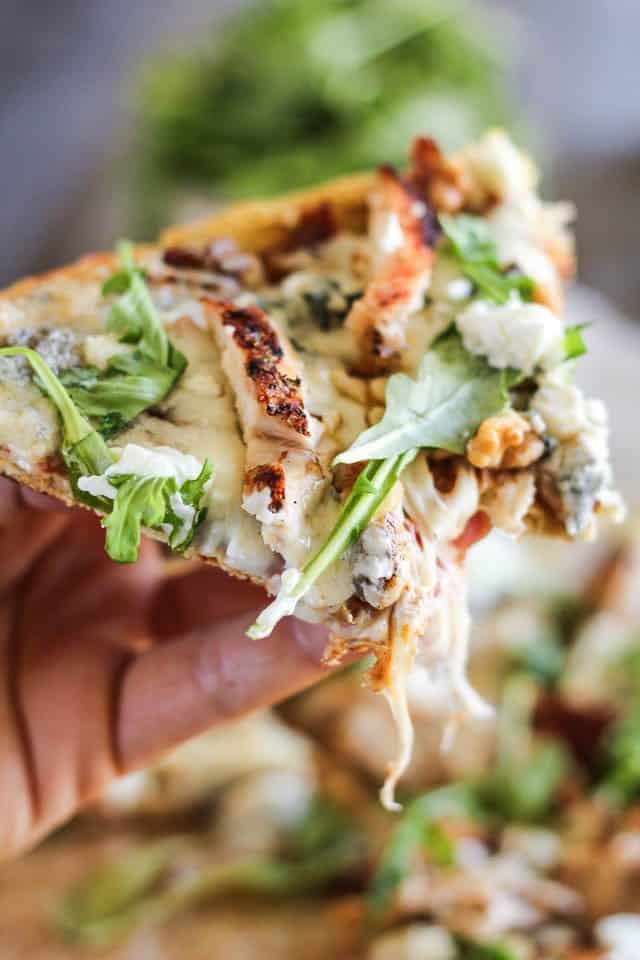 Or maybe you go for the fingers spread wide across the entire surface of the crust technique?
(oops, erm, yeah… sorry… couldn't resist taking a bite. I didn't think that you would notice…)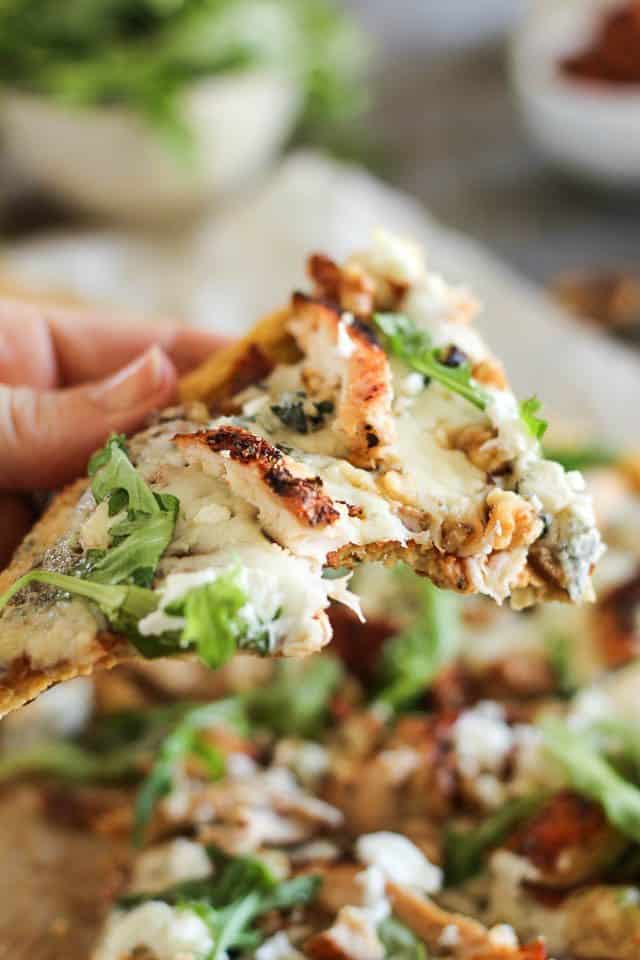 Or maybe you kinda like to grab yours by the very edge of the crust, so as to not dirty your fingers too much…
(What? Noooo! I most certainly did NOT take another bite! Well, ok, maybe just a very tiny little one. It really shows THAT much? Darn you guys have a keen eye!)
 Whichever way you choose to hold your pizza, you can see that this crust is clearly up to the challenge. It will not let you (or your toppings) down!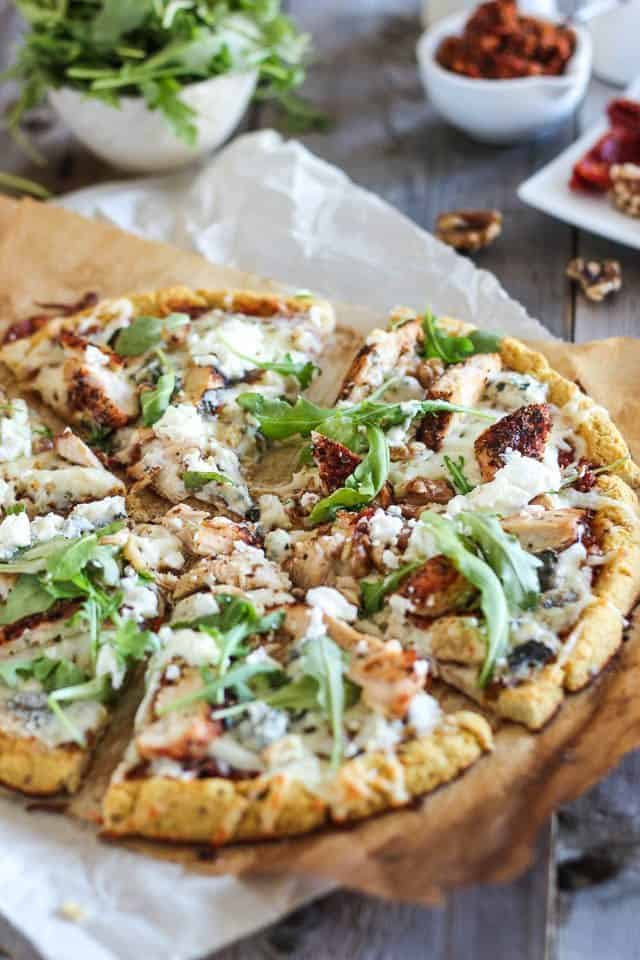 As for the taste, I'm not gonna lie to you and tell you that it tastes and feels everything like a cracking, crispy and chewy traditional grain based crust.
But it sure packs in A LOT of flavor and has a very satisfying dense and chewy texture.
No doubt, this pizza with all the yummy toppings gave me much more satisfaction than any other pizza I could've ordered at the restaurant that night.
Looking back on this whole experience now, I've only got one regret…
I really should've made two pizzas.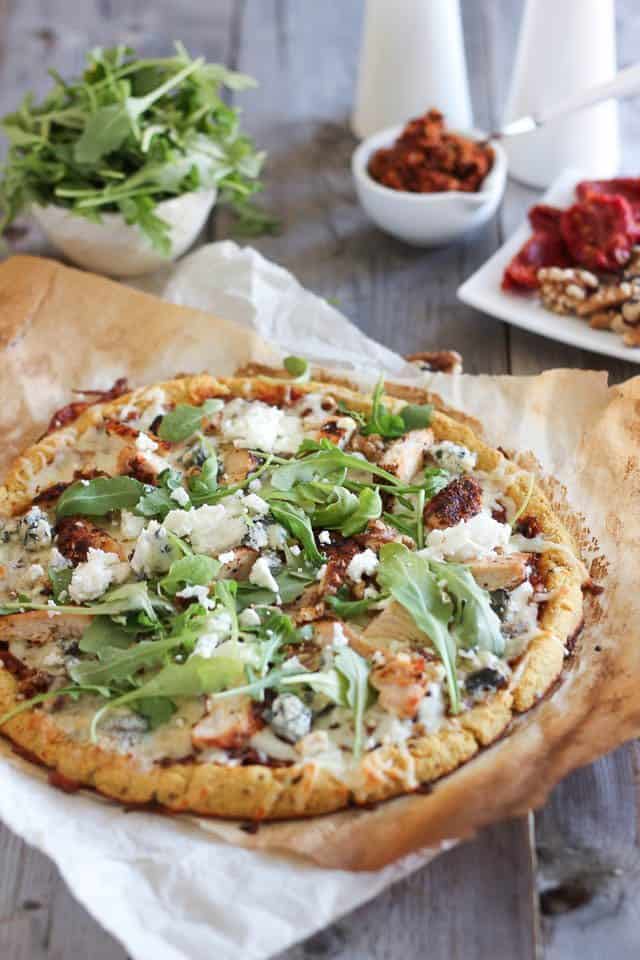 Cauliflower Crust Grilled Chicken and 3 Cheeses Pizza
Packed full of flavors and nutritious ingredients, this cauliflower crust pizza beats delivery hands down and will satisfy the toughest of cravings, guaranteed!
Servings: 4
Ingredients
Sun-dried Tomato Pesto
2.5 oz sun-dried tomatoes
1 large garlic clove
2 tbsp avocado oil
Generous pinch salt and pepper
8-10 walnut halves
16-20 large fresh basil leaves
3-5 tbsp water
Garnish
6 oz leftover grilled chicken, cut into bite size chunks
4 oz mozzarella, grated
1.2 oz blue cheese, crumbled
1.2 oz soft goat cheese, crumbled
5-6 walnut halves, chopped
A handful of fresh arugula leaves
Instructions
For the crust
Place a pizza stone or baking sheet in the oven and preheat oven to 475°F.

Use a box grater or the grater disc of your food processor to grate the cauliflower.

Place the grated cauliflower in a microwave safe bowl and cover loosely; microwave for about 4 minutes on high. Place the cooked cauliflower in a fine mesh sieve and press it down real hard with a ladle or an unbreakable bowl or plate that fits snugly into the sieve; You need to remove as much water as you possibly can, so don't be afraid to squeeze. If you don't have a fine mesh sieve, you could also dump the cauliflower onto a clean tea towel, let it cool for a few minutes then wrap it like you would a candy and squeeze the heck out of it by wringing the towel.

Put the cauliflower into a bowl, along with the rest of the ingredients. Mix well by hand until all the ingredients are well incorporated and resemble dough.

Place a piece of parchment paper onto a cutting board and dump your dough smack in the center. Form it first into a ball, then flatten it down gently with your fingers and form it into a nice, flat disc or approximately 8 to 10 inches in diameter. If you want a ticker border, you will have to also form that with your fingers, as the dough won't rise.

Use the cutting board to slide your crust onto the hot pizza stone or baking sheet that's been sitting in the oven. Bake for 8 - 11 minutes, until it starts to turn golden brown; remove from oven by sliding it back onto your cutting board.
The Sun-dried Tomato Pesto
While the crust is in the oven, prepare the sun-dried tomato pesto

Add the sun-dried tomatoes, garlic, avocado oil, salt, pepper and walnuts to the bowl of a small food processor and process until reduced to a crumbly puree. Add fresh basil leaves and pulse a few times until fully incorporated. Add the water, one tablespoon at a time and process until fully incorporated. Add as much water as necessary to reach the desired, "spreadable" consistency, which should be 3 to 5 tablespoons (depending on how moist your sundried tomatoes were to begin with)
The Garnish
After the crust comes out of the oven, spread as much or as little sun-dried tomato pesto as you like over the entire surface of the crust (I used about half the recipe)

Top with grated mozzarella cheese, followed by the grilled chicken, walnuts, half the goat and half the blue cheese.

Place in the oven and bake for 8-10 minutes, until the cheeses are melted and start to get bubbly and golden around the edge.

Take pizza out of the oven and sprinkle with the remaining goat and blue cheeses. Top with a handful of arugula leaves, cut into 4 to 6 slices and serve.
Nutrition
Calories: 480kcal, Carbohydrates: 23g, Protein: 35g, Fat: 29g, Saturated Fat: 10g, Cholesterol: 151mg, Sodium: 623mg, Potassium: 1155mg, Fiber: 9g, Sugar: 10g, Vitamin A: 618IU, Vitamin C: 49mg, Calcium: 277mg, Iron: 4mg
If you've tried this recipe, please take a minute to rate the recipe and let me know how things went for you in the comments below. It's always such a pleasure to hear from you!
You can also FOLLOW ME on PINTEREST, FACEBOOK, INSTAGRAM and TWITTER for more delicious, healthy recipes!
Now for some pizza porn…  Please excuse me while I drool!