Portable Western Omelettes – Inspired by Primal Cravings | Your Favorite Foods Made Paleo
I got the inspiration for these little gems out of a brilliant Paleo Cookbook that isn't getting a fraction of the attention it deserves, if you ask me!
Seriously, this is one book that is worthy of having its picture broadcasted all over the place, of having its name on everybody's lips, of finding its way onto everyone's bookshelves, whether they are paleo or not.
You know how certain cookbooks seem to be absolutely everywhere, get loads and LOADS of attention from all over the place but end up being a big disappointment when you finally get your hands on them while others seem to go practically unnoticed in comparison but turn out to be absolute gems that you never want to put down from the moment you take them out of the box (or bag)?
Primal Cravings definitely belongs to that second category.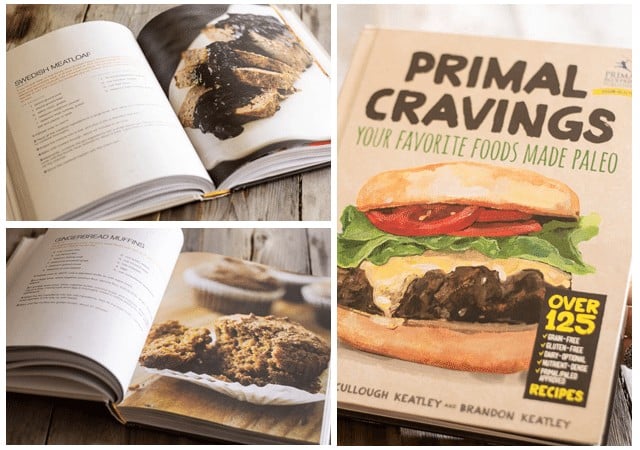 This cookbook is absolutely fabulous, from cover to cover. Speaking of which, is that one sexy drawing of a juicy burger on the front cover, or what? I don't know about you, but it really talks to me!
And that burger isn't just for show, either. Primal Cravings is all about helping us recreate that comforting food, that "junk" food we all grew up with and still love and crave from time to time, but without even putting so much as a dent in our beloved paleo lifestyle.
How do Sloppy Joe Meatballs, Bacon & Guacamole Pepper Poppers, Chicago Dog Skewers, Cheese Crackers, Chicken Enchiladas, Chocolate Almond Gelato or even Coconut Caramel Cupcakes sound to you? Yummy and familiar, right? Well, you can find all of those recipes, and way, way more, in Primal Cravings.
Not only do the dishes look absolutely delicious and easy to recreate, they are also made with high quality but easy to find ingredients. In short, every recipe in that that book is super accessible.  You need not be a seasoned chef or have access to all sorts of impossible stores to whip up these dishes at home.
Every recipe in that book looks better than the next. I'm telling you, I want to try each and every single one of them. And the pictures… Oh,the pictures!  They are beautiful AND plentiful. Every recipe has its own mouth watering picture, a feature that is absolutely crucial for me in a great cookbook.
Can you say food porn anyone? Oh yeah! That's exactly what it is!
And as if all of that wasn't enough, the first pages are filled with all kinds of useful information, such as an extensive list of paleo approved foods and ingredients, practical tools and equipment and even tips on how to stock your kitchen.
Megan and Brandon, the authors of the book and creators of the amazing website Health-Bent also share their top notch philosophy and perception of the Paleo lifestyle and offer great tips to get you started, or help keep you on track!
Seriously, I say treat yourself to something good and get a copy of this book today. And while you're at it, get a copy for your friends and family members, too!
What a fantastic present that would be… and what a great favor you would be doing them!
Oh, right… I almost forgot. They also have super genius ideas in there, such as these Western Omelettes To Go. Whish I'd thought of that one myself!
For sure, these will now be part of my regular rotation, as well as many other variations on the subject.
Portable Western Omelettes
Servings: 12 cups
Ingredients
12 slices deli ham or prosciutto
200 g baby spinach leaves, roughly chopped
1 small onion, chopped very finely
1/2 red bell pepper, chopped very finely
1/4 cup green olives, chopped
6 eggs, beaten
1/2 tsp baking soda
1/4 tsp freshly cracked black pepper
1/4 tsp freshly grated nutmeg
Instructions
Preheat the oven to 375F

Line each of the 12 cups of a large muffin pan with a slice of ham or prosciutto. Make sure there aren't any holes anywhere or the egg mixture could leak out.

Throw the spinach in the microwave for about 1 minute or until wilted, then squeeze the heck out of it to remove all excess moisture (you might want to let it cool down for a few minutes before you do that, unless you want to severely burn your fingers!)

Divide the cooked spinach between the 12 ham lined muffin cups

Add the chopped onion, bell peppers, green olives, baking soda, black pepper and nutmeg to a mixing bowl. Mix with a spoon until well combined, then add the beaten eggs and resume mixing until well incorporated.

Pour about ¼ cup of that mixture right over the spinach. You should have just enough to fill up all 12 cups.

Bake in a 375F oven for 15 minutes then cool for 5 minutes before removing from the pan.

These can be served right away but are equally delicious warm and even cold. They also reheat extremely well in the microwave.
If you've tried this recipe, please take a minute to rate the recipe and let me know how things went for you in the comments below. It's always such a pleasure to hear from you!
You can also FOLLOW ME on PINTEREST, FACEBOOK, INSTAGRAM and TWITTER for more delicious, healthy recipes!
Disclaimer: I have been offered a free copy of  Primal Cravings by the fine folks over at Primal Blueprint, but the opinions expressed in this post are my own. I was under no obligation to write this post, but I happen to really like the book and I like sharing the stuff that I truly believe in. This one most definitely fits the description.