Chicken Casserole with Chanterelles and Goat Cheese
I have a new fave mushroom you guys. It goes by the name of chanterelle!
A few weeks ago, I was lucky enough to stumble across HUGE containers of these beauties as I was appraising the produce section at my local Costco.
They were going for a ridiculously low price too, well, for mushrooms, that is.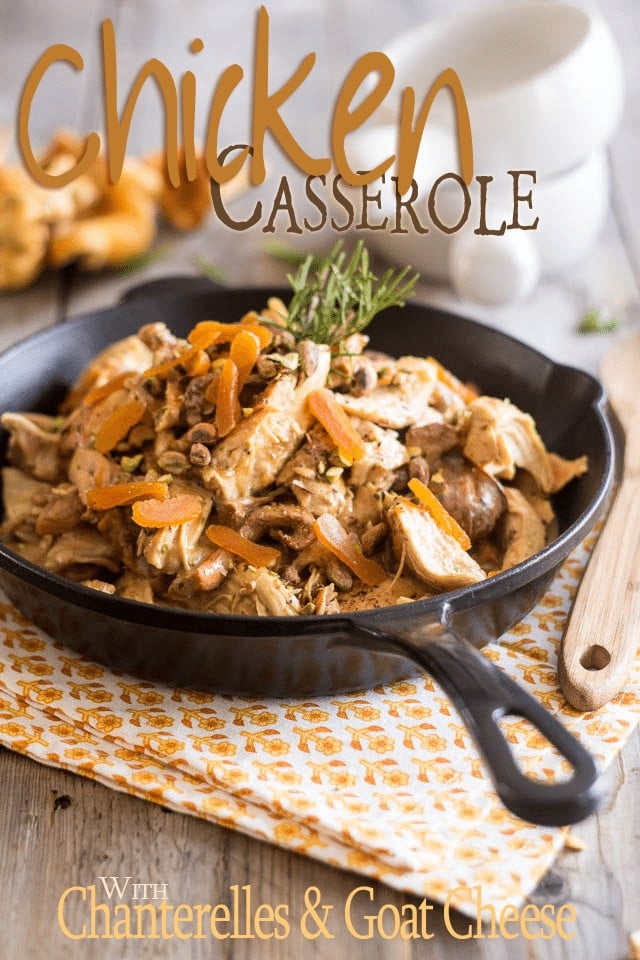 I'd always wanted to taste that intriguing and noble mushroom but never until then had I come across some that were actually affordable. Needless to say I jumped on the occasion and swiftly tossed one package into my cart.
My oh my, if I had known just how good these things were, trust me, I'd have tossed WAY more in there, like at least 3-4 more! I'm telling you, these were the best mushrooms I ever had.
Oyster and Shiitake just got officially de-ranked.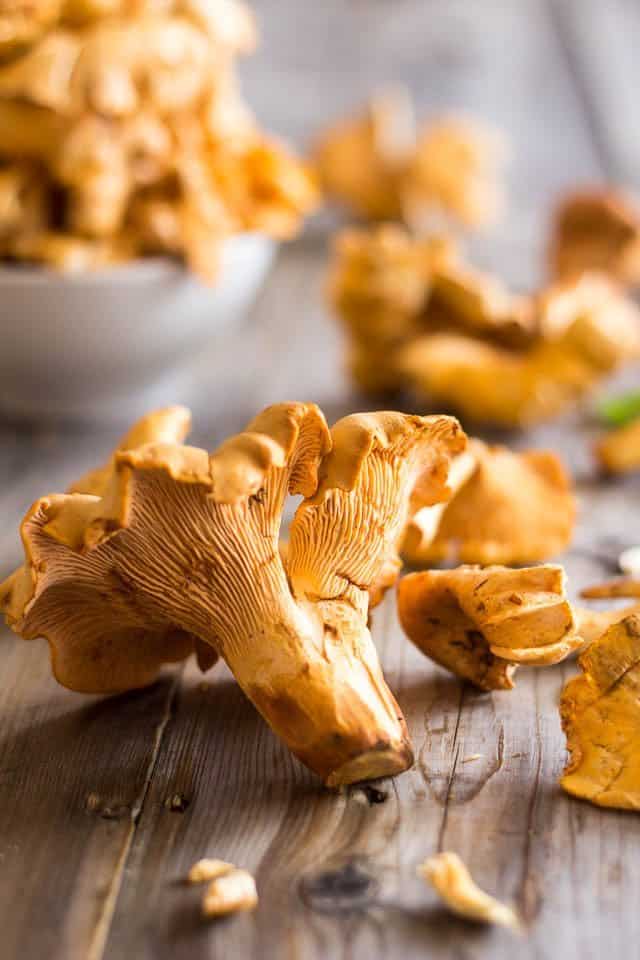 I'm telling you, if you're a fan of mushrooms but have not yet had the pleasure of tasting chanterelles, jump as high and as far as you can at the next occasion you get.
For starters, chanterelles are absolutely beautiful to look at. Seriously. Their color is like a luscious golden blonde caramel, and their beautiful smooth-yet-sort-of-curly-and-trumpet-like shape is almost a work of art. Nature sure knows how to create beautiful things.
Culinary-wise, they have a  very chewy texture, even more so than oyster mushrooms and a very rich and somewhat buttery flavor, a tad fruity perhaps, with faint tones of spiciness, but definitely not too "mushroom-y", if it's even possible for a mushroom to not taste like mushroom…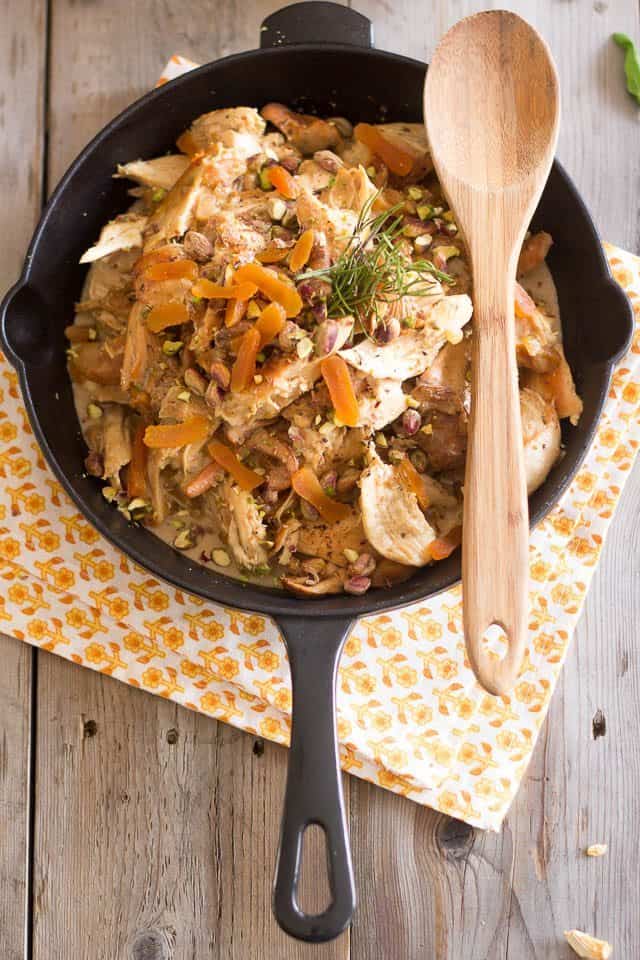 Frankly, I don't want to tooth my own horn, but I think this elegant mushroom inspired me to come up with one of the tastiest culinary creations I have ever made! And one that is so super easy to put together, too!
First off, the marriage of flavors is like an angel singing softly to your ear. Delicate and creamy, yet pungent and fruity. Sweet, salty, tangy, buttery, a tad spicy… I'm telling you, it was a union made in the highest, brightest and shiniest part of heaven.
And what to say of the contrast in textures. Oh my. I can't even find the words.
This dish is pure bliss in your mouth. It's like a gentle caress for your tongue and palate with every bite. It pretty much gives a whole new meaning to the term "oral sex".
Oh yeah! That good.
The least I can say is it sure did justice to the delicious mushroom known as Chanterelle.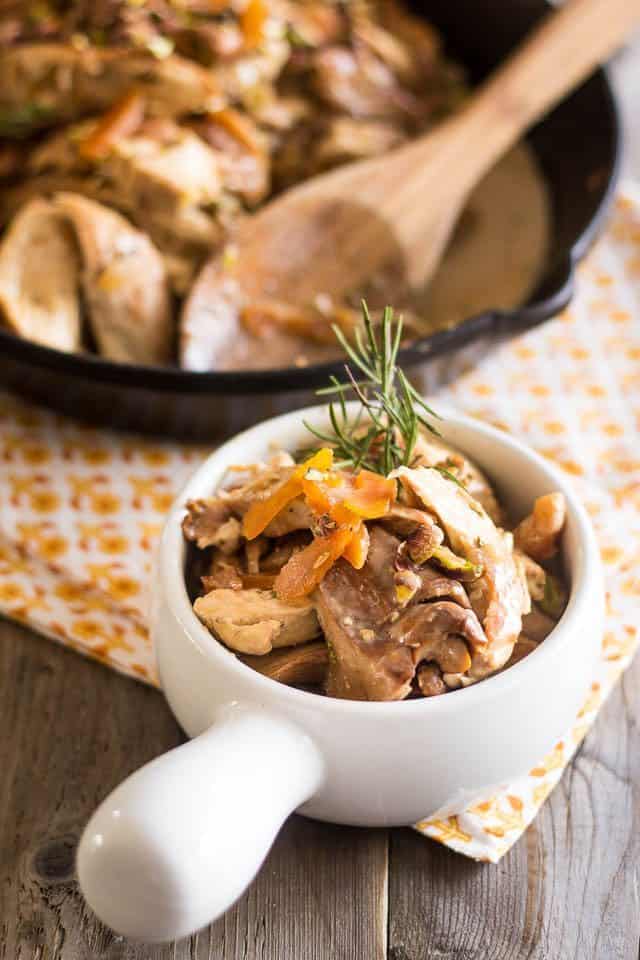 Of course, if you don't have any chanterelles on hand, you could very well use any other kind of mushrooms. I suspect Oyster would be fabulous, but plain ole button would probably work just as well.
And if dairy is not your thing, you could always leave the goat cheese out, but know that it does add a lot of dimension to the dish, and I do mean A LOT. The gustatory experience simply won't be the same without it.
So if you do treat yourself to a little bit of dairy from time to time, take my word for it and do put it in. I'm sure you will agree that it was totally worth it.
As for me, I think I need to stop by Costco on my way home tonight, just to see if they wouldn't happen to have more of those delicious mushrooms in stock. I highly doubt it, but you never know.
Hey, wish me luck!
Chicken Casserole with Chanterelles and Goat Cheese
Servings: 4
Ingredients
2 tbsp lard or ghee
1 kg skinless boneless chicken breasts
1 medium onion, finely chopped
1 garlic clove, minced
1/2 tsp Himalayan or fine sea salt
1/2 tsp freshly cracked black pepper
1 sprig fresh rosemary, finely chopped
1 lb chanterelles, coarsely chopped
1/4 cup white wine vinegar
1-1/2 cup light chicken stock
75 g soft goat cheese
1 tbsp tapioca starch
2 tbsp water
1/4 cup dried apricots, chopped (about 10)
2-3 tbsp pistachios, chopped
Instructions
Season the chicken breasts with a little bit of salt and pepper.

Melt some cooking fat in a heavy skillet (cast iron preferred) set over medium high heat. When the fat is nice and hot, add the chicken breasts and cook until a nice golden crust forms on each side and the meat is cooked through, about 5-7 minutes per side.

Remove chicken to a plate and add chanterelles to the skillet. Cook until slightly softened, about 2-3 minutes. Add to the plate with the reserved chicken.

Add onion, garlic, salt, pepper and rosemary to the skillet (and more fat if necessary) and cook until fragrant and the onion is translucent, about 4-5 minutes. Add white wine vinegar and chicken stock and bring to a simmer. Meanwhile, mix the tapioca starch and water together to form a slurry. Add that to the simmering stock and whisk until slightly thickened, about 30 seconds. Add goat cheese and stir until completely melted.

Tear or cut the chicken into bite size pieces and return to the skillet, along with the chanterelles, dried apricots and chopped pistachio. Stir to combine and serve.
If you've tried this recipe, please take a minute to rate the recipe and let me know how things went for you in the comments below. It's always such a pleasure to hear from you!
You can also FOLLOW ME on PINTEREST, FACEBOOK, INSTAGRAM and TWITTER for more delicious, healthy recipes!