Avocado Stuffed Meatballs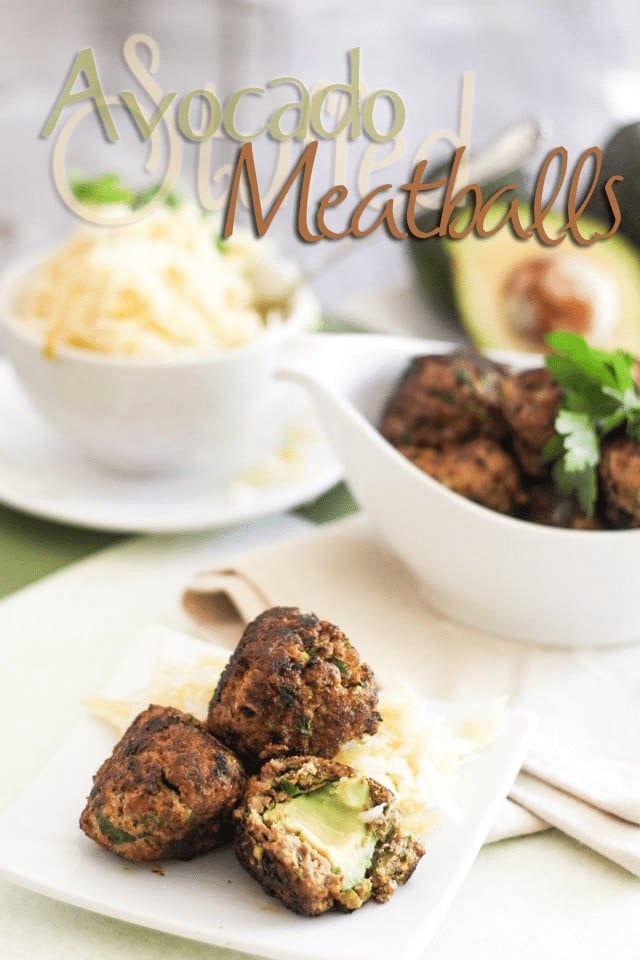 It's a meatball.
And it's got a beautiful chunk of creamy avocado "built" right into it.
It's absolutely genius!
Oh, and delicious, too!
I know, I haven't really reinvented the wheel, here.
As a matter of fact, a quick search on Google for avocado stuffed burgers will probably yield thousands of different results.
BUT, after seeing the aforementioned burgers numerous times on the foodgawkers, Instagrams and chowstalkers of this world, I thought that I wanted to make an easier, less messy and more portable version of the dish.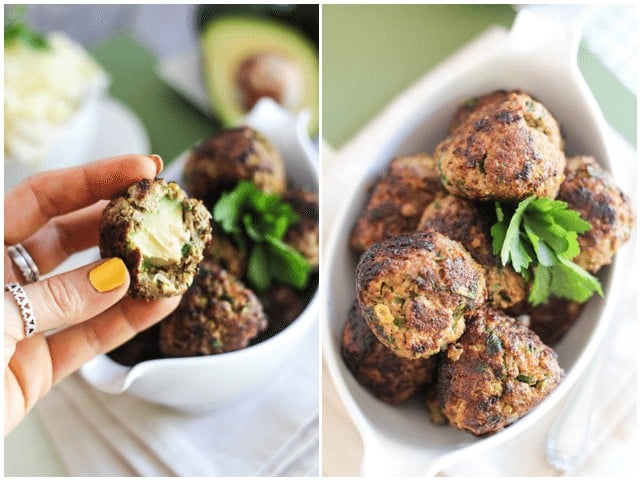 Without a doubt, meatballs were the way to go!
To make my meatballs extra tasty, I decided to add some of the delicious Crispy Lardons that got left behind when I rendered me some lard at home a few weeks ago.
WOW! Talk about adding TONS of extra flavor, moisture and juiciness. I never thought that such a tiny thing could pack SO much character.
Now, if you don't have any lardons handy, you could very well cook a couple of slices of bacon to crispy perfection and use those, along with their drippings, instead of the crispy lardons.
Of course, you could also just leave them out altogether… but take my word for it: this is an addition that is very well worth the extra effort!
That sharp, flavorful, crispy and meaty shell coupled with the warm and creamy avocado center makes for a meatball like none I've had  before.
So delicious, in fact, that I'm thinking I want to start stuffing my meatballs with all sorts of goodies.
Olives would be pretty amazing, wouldn't they?
Or a mixture of goat cheese, cranberries and pistachio… now that would be insane! (yeah, I've been craving cheese big time, lately. Hopefully it'll pass, eventually…)
Oh, I know! Spinach, walnuts and sun dried tomatoes.
Or bacon and dates, apples and hazelnuts, in a pork meatball. Hell yeah!
Oh,  cute little meatballs, how I love thee!
Let's all pause for a moment and contemplate this beautiful creation of life that lays right before us: juicy, crispy, tender meat and creamy avocado, all rolled into one…
Eat up now, even if with your eyes only!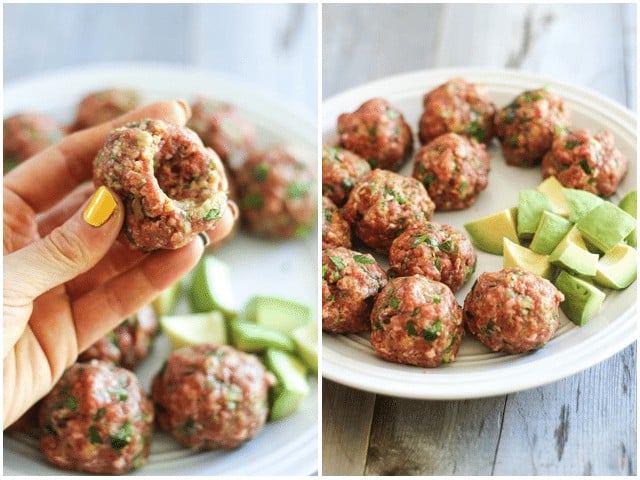 Start with 12 meatballs and 12 pieces of avocado. 
Make a dimple with your thumb in each meatball.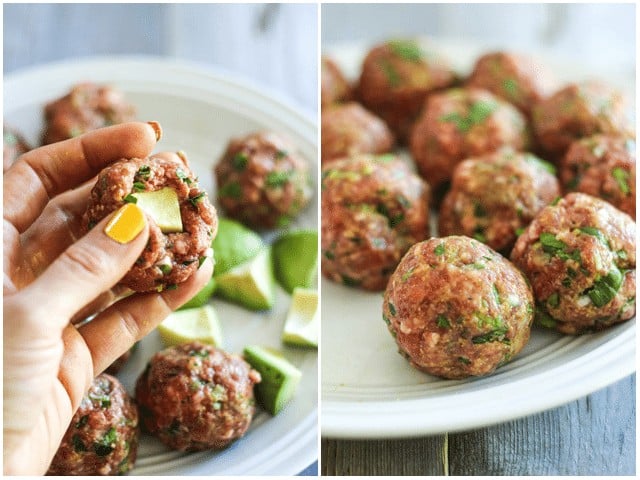 Stuff a piece of avocado right into that dimple and delicately close the meat around it. 
Boom, just like that, your meatball is almost twice the size it used to be!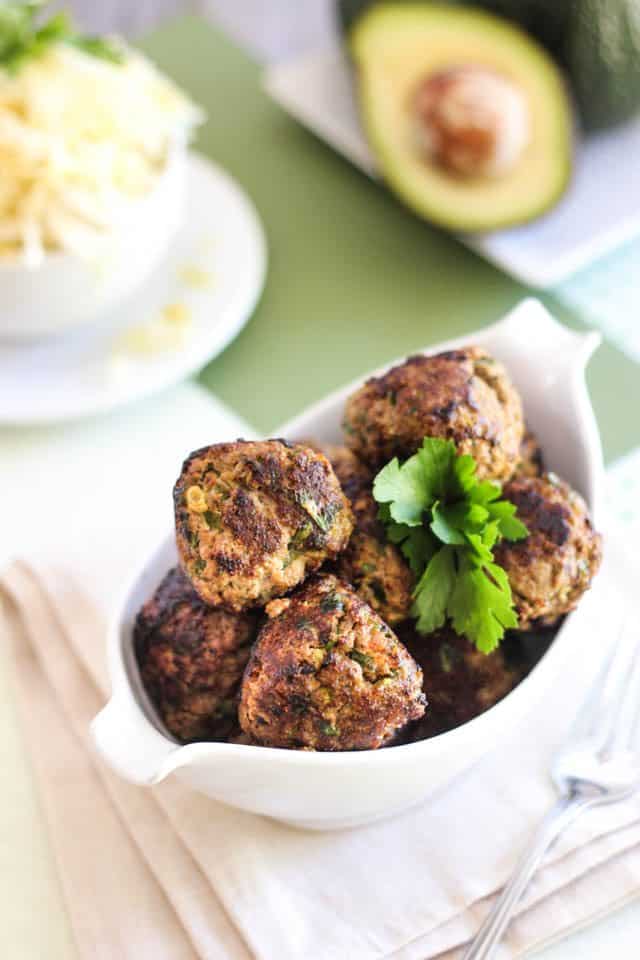 Cook until nice and golden on all sides and stack in a pretty bowl to eat. 
Don't sit yourself down with the whole bowlful though, or you might end up accidentally gobbling them all down!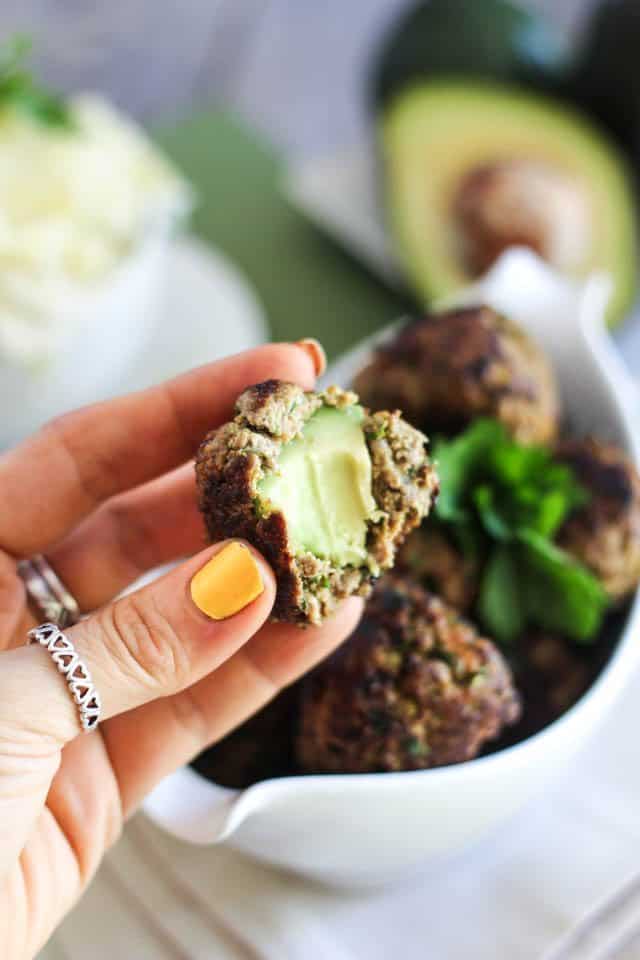 These are so tender, creamy and tasty, you don't even need a dipping sauce! 
I wish all meatballs came stuffed with avocado!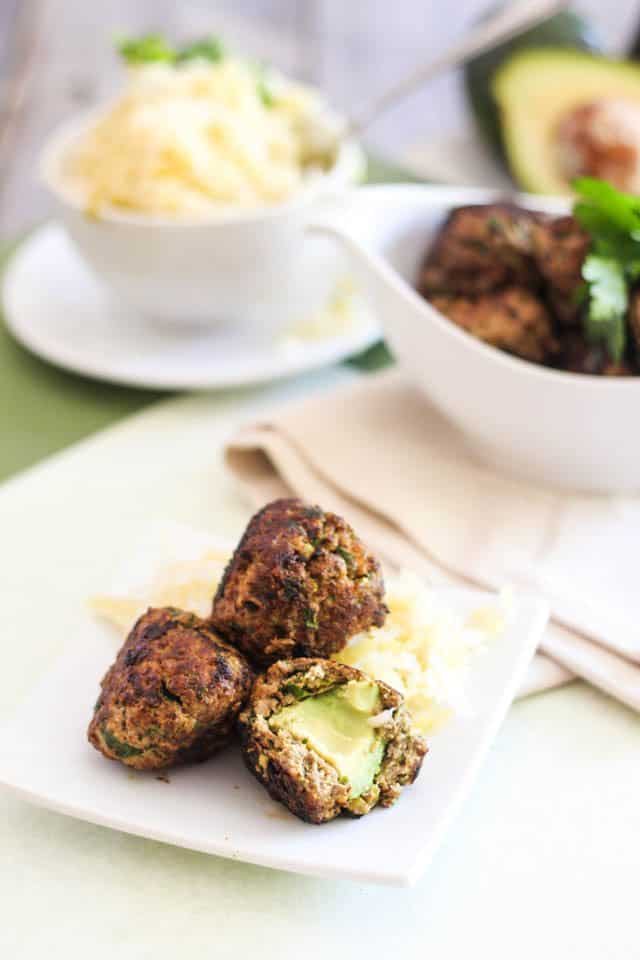 Avocado Stuffed Meatballs
A crazy flavorful, crispy and meaty shell that hides a warm and creamy avocado center...a meatball like none I've had before.
Servings: 12 meatballs
Ingredients
1 lb grassfed lean ground beef
5-6 cloves roasted garlic, or 1 clove raw garlic, minced
2 tbsp Dijon mustard
¼ cup crispy lardons, or 2-3 slices cooked bacon and drippings
1 pastured egg
½ tsp Himalayan salt
¼ tsp ground white pepper
1 tsp Ras El Hanout
¼ tsp ground ginger
2 tbsp fresh parsley, finely chopped
2 green onions, finely chopped
½ ripe avocado, peeled and cut into 12 pieces
Instructions
In a small food processor, add the garlic, lardons, Dijon mustard , egg, salt, pepper, Ras El Hanout and ground ginger and process into a puree.

Add that to a medium mixing bowl along with ground beef, parsley and green onions and knead well with your hands until uniformly blended. Form the meat mixture into 12 medium sized meatballs (no need to get them super nice and round at this stage)

Using your thumb, make a dimple in each meatball and place a piece of avocado in that dimple. Delicately work the meat around that piece of avocado to completely encase it and form your meatball into a perfect sphere.

Heat some coconut oil, ghee or

lard

in a large skillet over medium high heat. When pan is nice and hot, add the meatballs and cook, turning frequently, until crispy and golden brown all around, about 5-6 minutes total.

Serve without delay.
Nutrition
Calories: 113kcal, Carbohydrates: 2g, Protein: 9g, Fat: 8g, Saturated Fat: 3g, Cholesterol: 42mg, Sodium: 193mg, Potassium: 196mg, Fiber: 1g, Sugar: 1g, Vitamin A: 108IU, Vitamin C: 2mg, Calcium: 16mg, Iron: 1mg
If you've tried this recipe, please take a minute to rate the recipe and let me know how things went for you in the comments below. It's always such a pleasure to hear from you!
You can also FOLLOW ME on PINTEREST, FACEBOOK, INSTAGRAM and TWITTER for more delicious, healthy recipes!