Quick Fresh Fig and Pork Loin Ragoût
If you are so lucky as to live in a country where fig trees grow in your very own backyard, then you probably have an overabundance of this delicious fruit at the moment and are looking for great ways to use them up.
And I say: lucky you!
Mind you, this is the time of year where, even in my part of the world, these beauties can be had for mere pennies a piece, as opposed to their usual price of well over a dollar for a single fruit!
When prices go so low, it's hard for me to resist the urge to buy them by the case and gobble them down by the dozen.
Figs have to be one of my top, TOP favorite fruits. Like right up there in my top 5, next to raspberries, cherries and cantaloupe.
If only they weren't so outrageously high in sugar!
Because of that, even when they are in season, I do have to restrain myself… else I could easily "get high" on them.
Still, I will give myself permission to go a little nuts a few times a year and enjoy a dish such as this one right here.
The thing with figs is, not only are they delicious, but they are also extremely beautiful, like some sort of a natural gem. And they're so delicate, too…
That alone, to me, makes them exceptionally precious.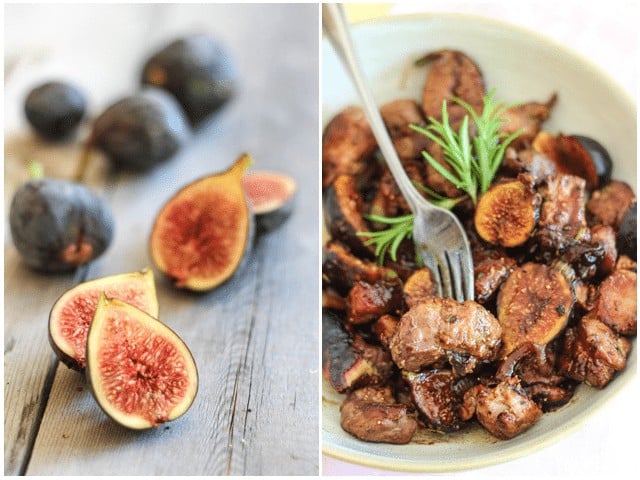 And figs go well with pretty much any kind of meat. Especially liver, lamb and pork!
Ever tried pairing them with paper thin slices of prosciutto? They magically transform into a feast that is equally pleasing to the eyes as it is to the palate.
And how about figs topped with soft, creamy goat cheese, fresh rosemary and raw honey? Oh my! Be still my heart!
The delicate flavor of figs, associated with the sweet tanginess of balsamic vinegar, will turn just about anything into a carnival of crazy nomnomness.
In fact, I think I could very well feast on *just* that: a fig and balsamic reduction. Oh yes! Can that be made into a caramel, you think?
Or, wait, wait! I know! I think that the two of them could easily be made into a striking jam. I'll have to give that a try, sometime…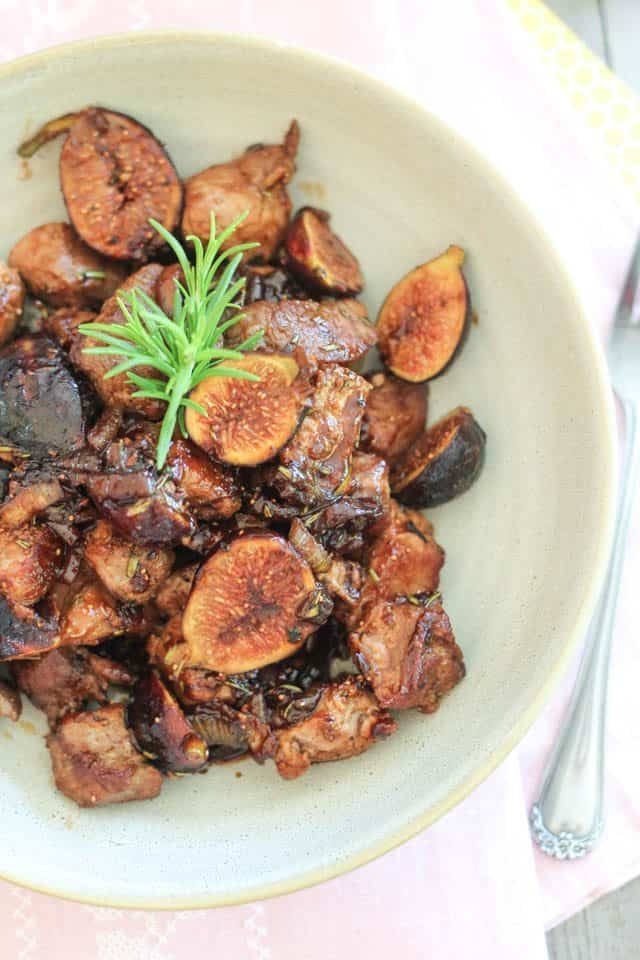 Perhaps I could even try my hand at fermenting this beautiful fruit.
Hmmmm… now I'm almost wishing that I hadn't already used up all the ones that I bought.
If they still have some next time I hit the market, I might buy a few more containers.
Hey, might as well enjoy fig season while it lasts… 
Quick Fresh Fig and Pork Loin Ragoût
Servings: 3
Ingredients
2 tbsp cooking fat, lard or ghee or coconut oil
450 g pork loin or tenderloin, cut into ½" chunks and patted dry
6 fresh figs, cut in half
1 large onion, sliced
¼ cup balsamic vinegar
1 cup water, divided
¼ tsp salt
½ tsp black pepper
2 tbsp fresh rosemary, chopped
Instructions
Add cooking fat to a medium skillet and place to heat over medium-high heat.

When pan is nice and hot, add the pieces of pork, sprinkle with salt and pepper and sear until nice and golden brown on all sides (don't overcook your meat, otherwise it will become tough)

Remove pork to a plate and add onions, salt and pepper. Cook until softened and slightly golden, about 2 minutes.

Add ¼ cup of water and continue cooking until water is completely evaporated. Add another ¼ cup of water and this time, continue cooking past the point of complete evaporation, until the onions take a nice caramel color.

Add the balsamic vinegar and remaining ½ cup of water as well as chopped rosemary and cook over medium heat until liquid becomes nice and thick.

Return pork to the pan, stir in fresh figs and cook until heated through, about one minute.

Serve immediately.
If you've tried this recipe, please take a minute to rate the recipe and let me know how things went for you in the comments below. It's always such a pleasure to hear from you!
You can also FOLLOW ME on PINTEREST, FACEBOOK, INSTAGRAM and TWITTER for more delicious, healthy recipes!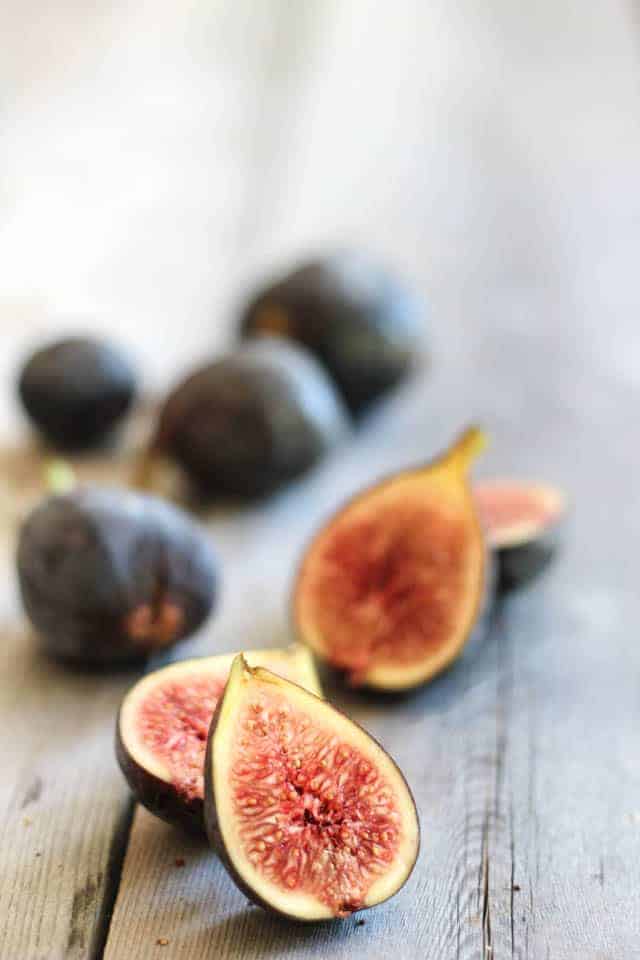 Have you ever seen a prettier looking fruit? I could stare at it all day!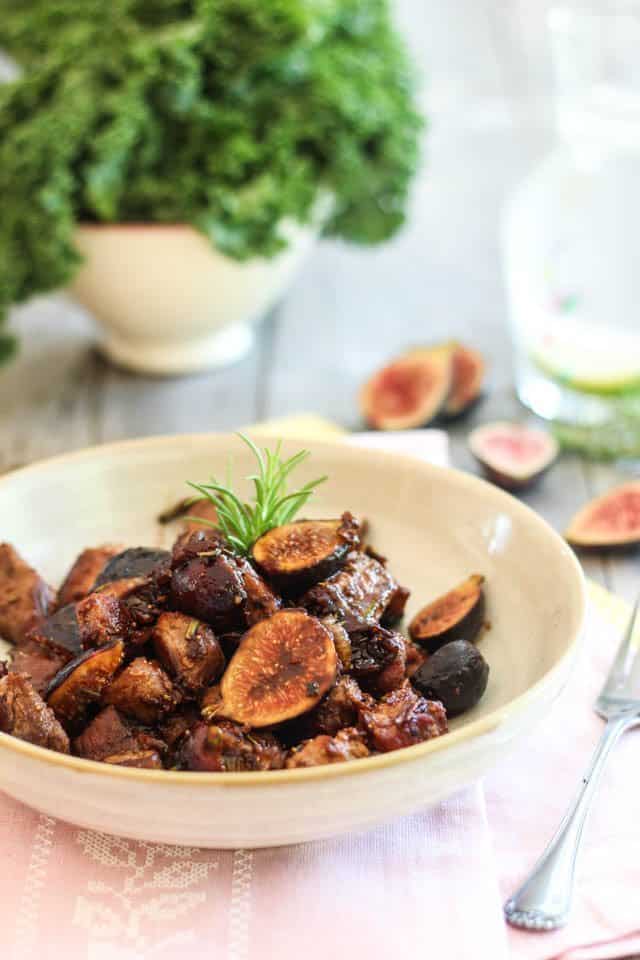 And look at all those figs in that bowl. A real treat for the eyes!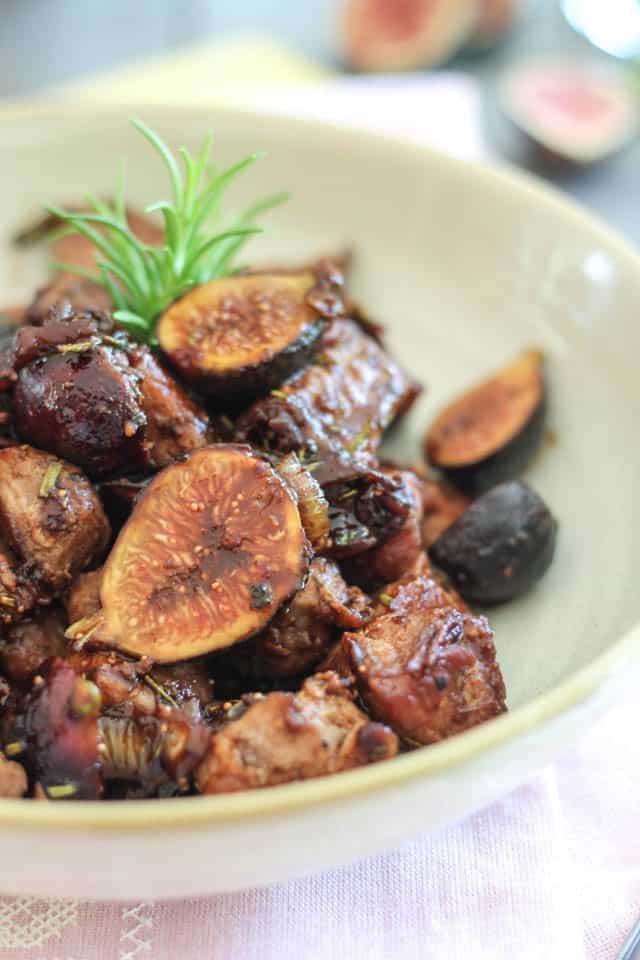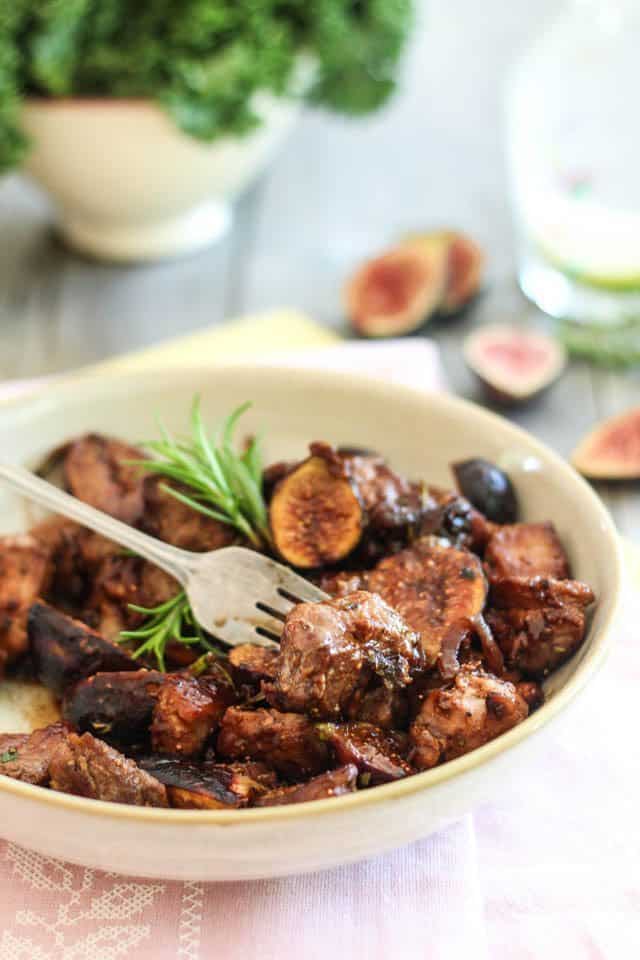 Yeah… the meat doesn't look so bad either!