Ground Beef and Baba Ganoush Breakfast Bowl
Could someone PLEASE tell me what the proper spelling is for the name of this dish?
Is it Baba Ganoush?
Ghanoush? Gannoush?
Ghanouj? Ganouj?
Or is it Gannouj?
Or maybe Ghannouj?
I've never seen a single word take so many different spellings.
A quick search on the Internet will yield just about as many different spellings as it will recipes.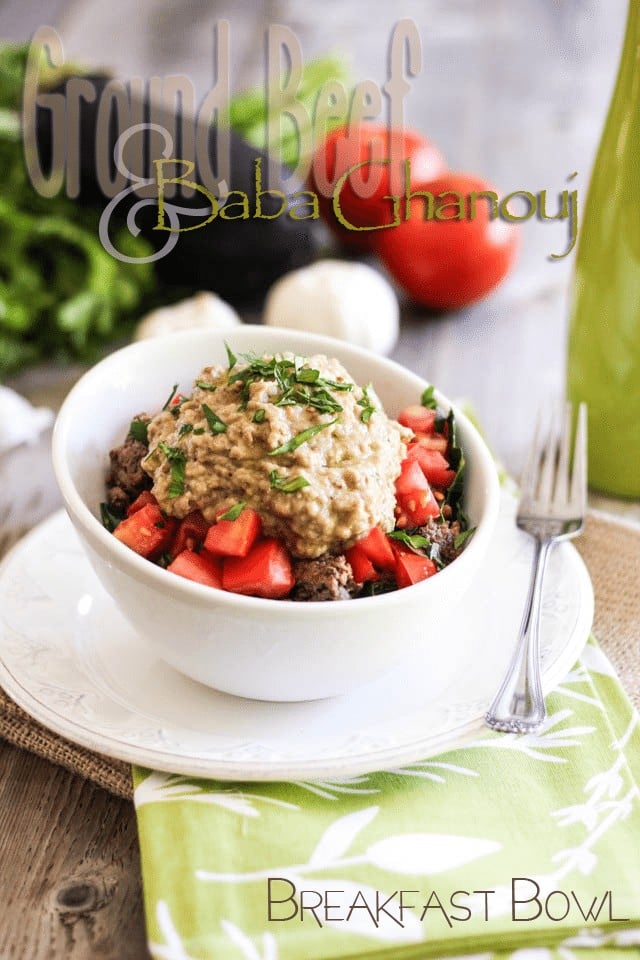 But, no matter which way you decide to spell it, I have yet to find a version that isn't pictured as a bowl of creamy, smokey aubergine goodness.
Even if you're not a big fan of eggplant, you simply cannot not go ga-ga for Baba Ghanouj (or Ganouj, or Ghanoush, or Ganoush…)
It has such a luscious, rich an creamy texture to it, almost like a fine tapioca pudding. And what to say of the flavor! Oh my… that flavor! I don't know exactly what happens when roasted aubergines, tahini paste and lemon juice get together in the same bowl, but what I do know is that it's a beautiful thing.
It's like some sort of a magical chemical reaction is taking place and a tasty, smokey flavor suddenly emerges to life, as if out of nowhere.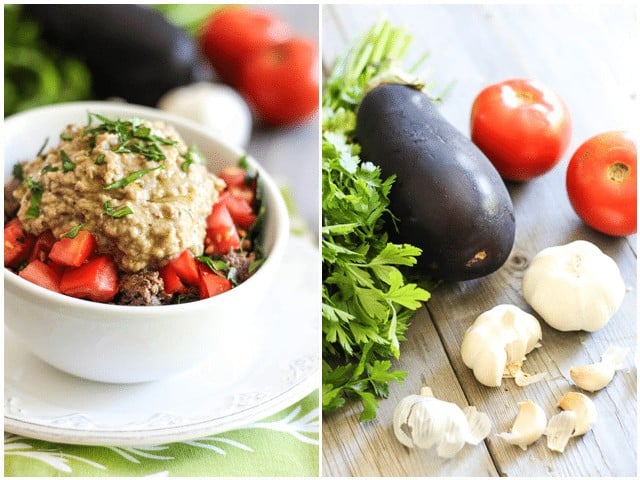 There was a time when I would only indulge in this delicacy when eating at traditional Lebanese restaurants, for I thought it was extremely complicated to make at home.
I couldn't have been farther from the truth!
Making Baba Gan… Ghann… Ghanouj at home couldn't be easier.
You simply need to cut a few aubergines in half, drizzle them with olive oil, sprinkle with salt and pepper and roast them in the oven for a wee while. Then you let them cool, scoop out their flesh and throw it in a food processor along with a few other ingredients.
Easy as pie, I tell you.
I even have a proper recipe for you…
Back in the days, as in my non-paleo days, I used to always eat this creamy appetizer with torn up pieces of pita bread.
Then I moved on to crudités…
But this… this!
Sitting atop ground beef and sauteed collards like that, flanked with a handful of fresh tomatoes, it quickly transforms into a breakfast fit for a king.
It's now my favorite way of enjoying it…
Until I come up with something else, that is.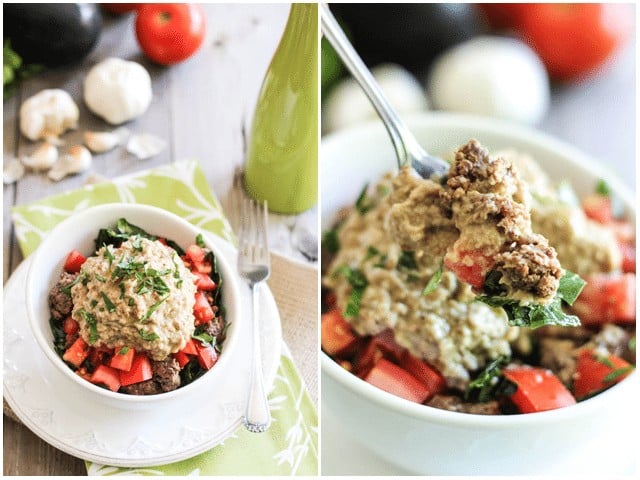 Do you think it would work with caramelized plantains and salted caramel sauce?
OK, maybe not…
But it's so good, it could almost be dessert…
Although I think I'll stick with breakfast for now!
Oh, and if you can't really do meat for breakfast still, feel free to do this one for lunch or dinner.
BUT! If you're wanting to introduce meat to your breakfast table, though, I think that this one would be a very good place to start!
A very good place indeed… 
Ground Beef and Baba Ganoush Breakfast Bowl
Servings: 1
Ingredients
150 g leftover cooked ground beef
100 g collard leaves, chopped
Salt and pepper to taste
1 tsp za'atar
1 ripe tomato, diced
3/4 cup Baba Ghanouj
Fresh parsley and evoo to garnish
Instructions
Heat a skillet over medium-high heat. Melt a little bit of cooking fat (

lard

or ghee preferred) and add the chopped collards. Cook for one or two minutes, until they become wilted and dark, dark green, then stir in the cooked ground beef, salt, pepper and za'atar and continue cooking for about one minute, until the ground beef is heated through.

Transfer the meat mixture to a bowl and top with the chopped tomatoes and baba ghanouj.

Garnish with fresh parsley and drizzle generously with extra-virgin olive oil.

Dig right in, and enjoy!
Notes
*You can also use uncooked ground beef, just make sure you cook it all the way through first and THEN add the collard leaves.
If you've tried this recipe, please take a minute to rate the recipe and let me know how things went for you in the comments below. It's always such a pleasure to hear from you!
You can also FOLLOW ME on PINTEREST, FACEBOOK, INSTAGRAM and TWITTER for more delicious, healthy recipes!