BBQ Pulled Pork (with Homemade BBQ Sauce)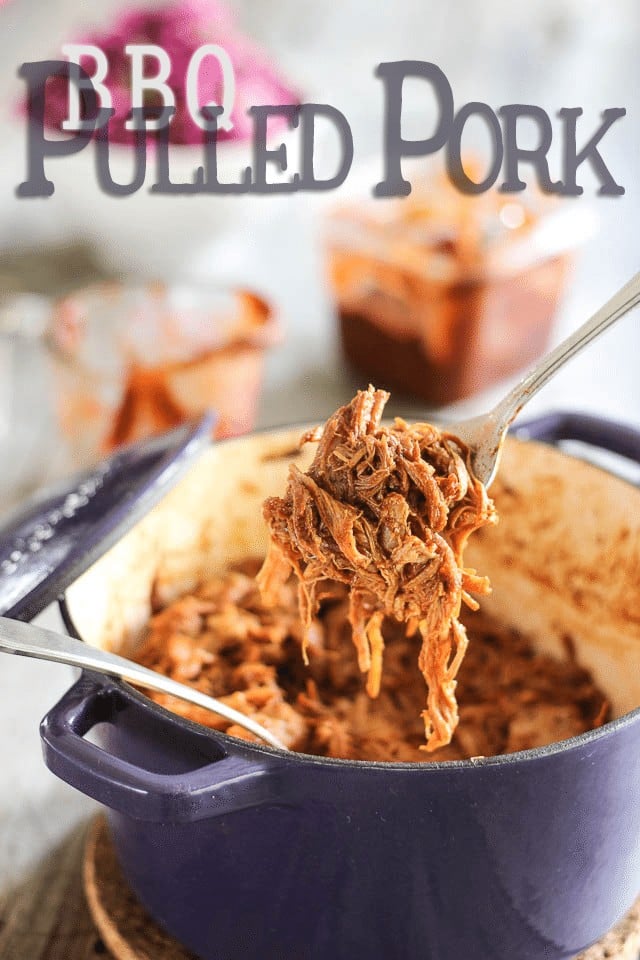 I usually talk a lot in my posts. I mean really. A lot.
And sometimes about everything BUT the food that is being offered.
Hey, you should know, right? You're the ones reading them, after all.
Truth is, I probably talk too much but no one will ever tell me because you're all way too polite for that!
And you are just the sweetest things!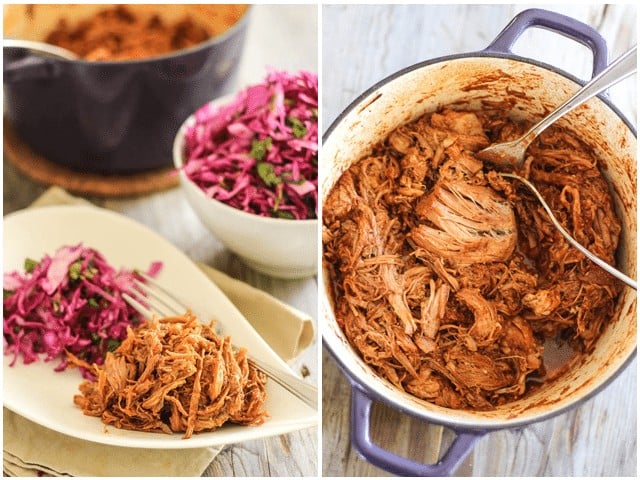 But, tonight I won't be saying much. I won't be saying much at all!
Tonight, food will be the true star, here. For you see, I think I got a little bit carried away when I took the pictures of this delicious melt-in-your-mouth-throw-you-right-to-the-floor-and-make-you-beg-for-more BBQ Pulled Pork
And now, well, I'd much rather share those pictures with you than tell you all about it.
A picture is worth a thousand words, isn't that what they say?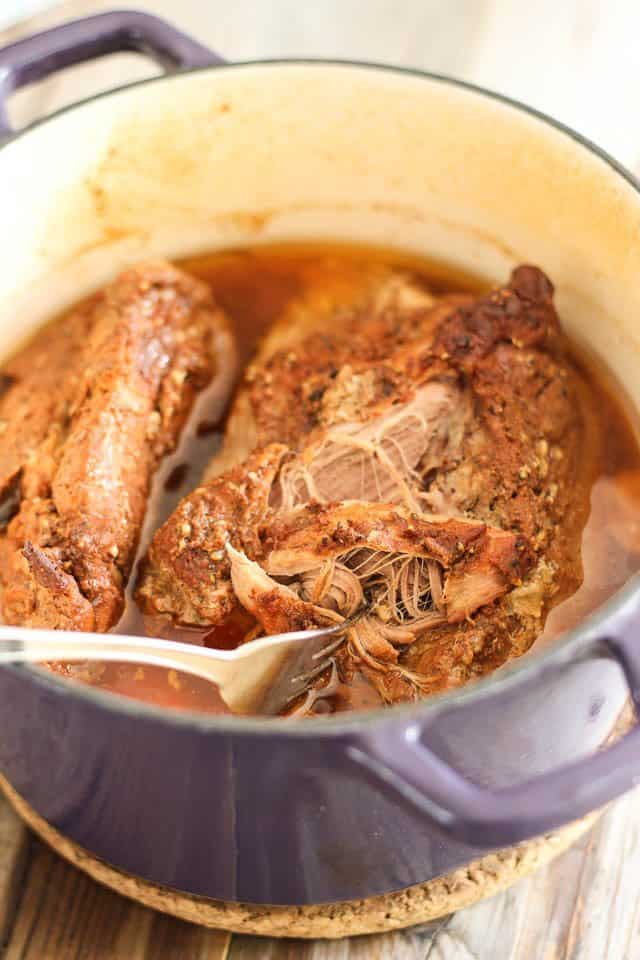 So if you don't mind, let me turn this into a pornographic post. Or porkographic, rather!
For frankly, can one ever get enough of looking at pictures of Pulled Pork? I don't think I can!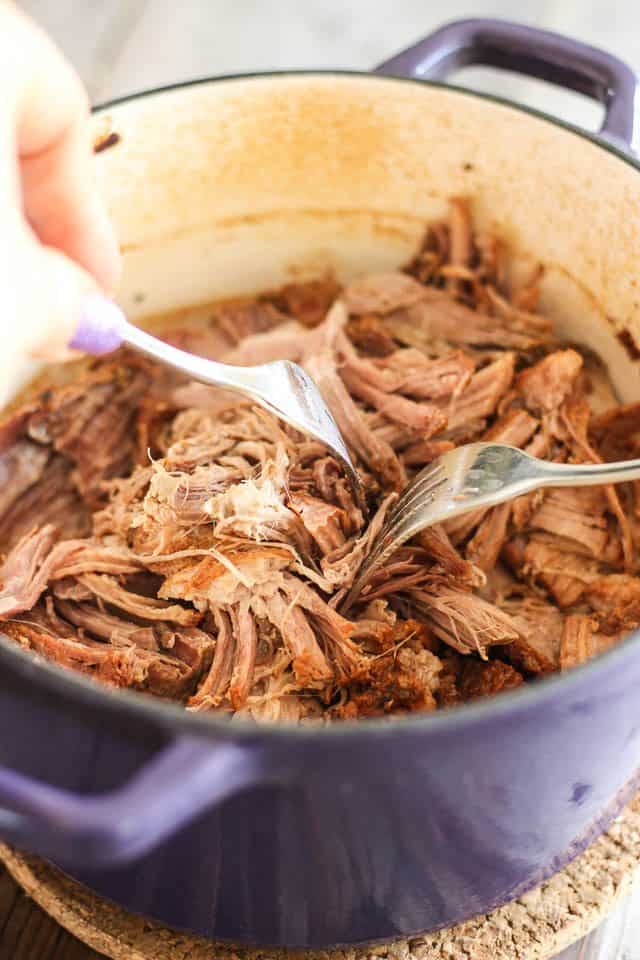 After 5 hours in the oven, the pork roast is done and ready for action… Grab 2 forks and pull that pork to shreds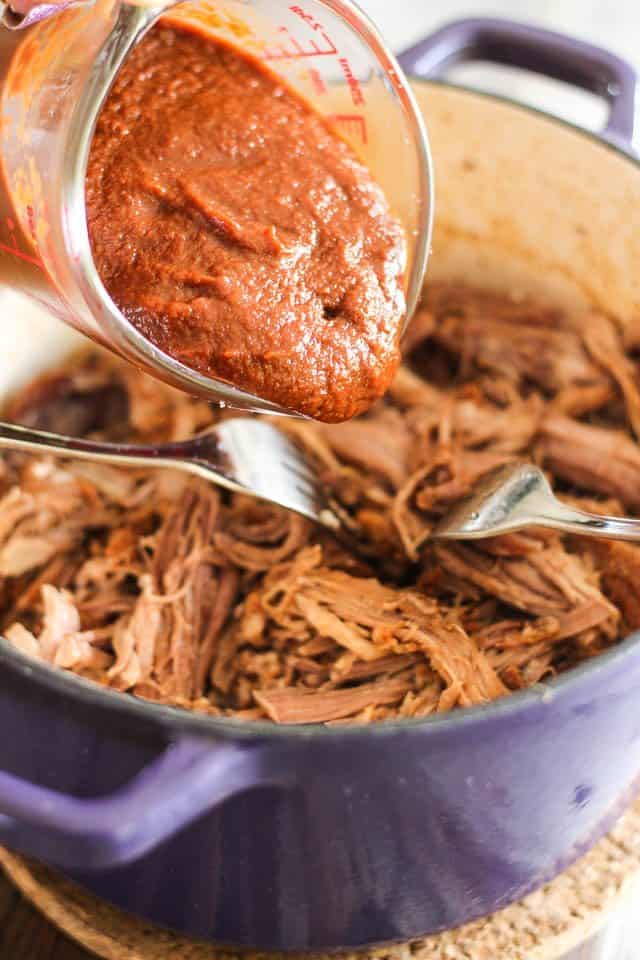 Add some of that delicious BBQ Sauce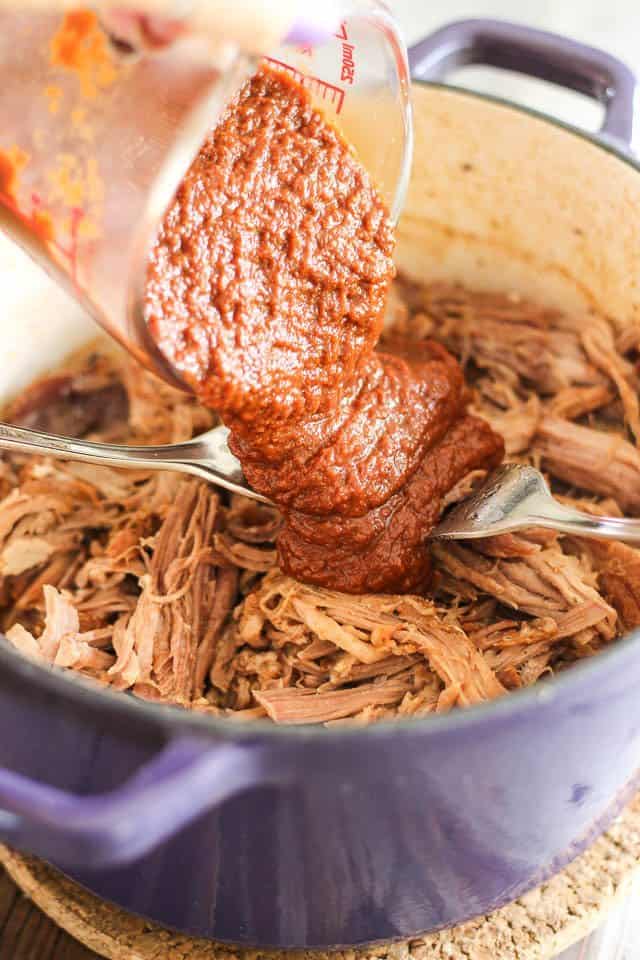 Oh yeah. That's what I'm talking about… Pouuuur some sugar on meeeeee!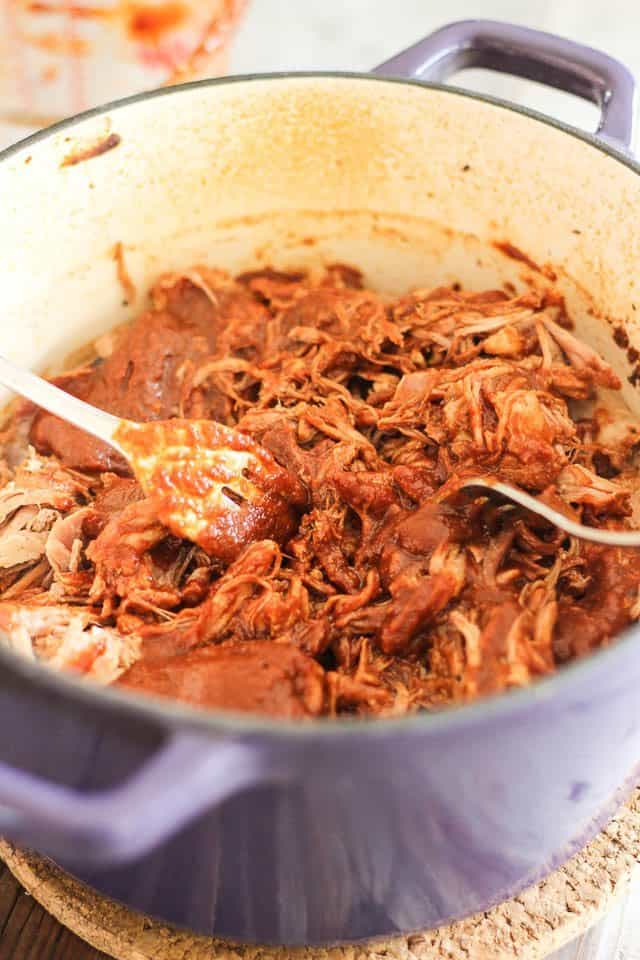 Mix that sauce in nice and good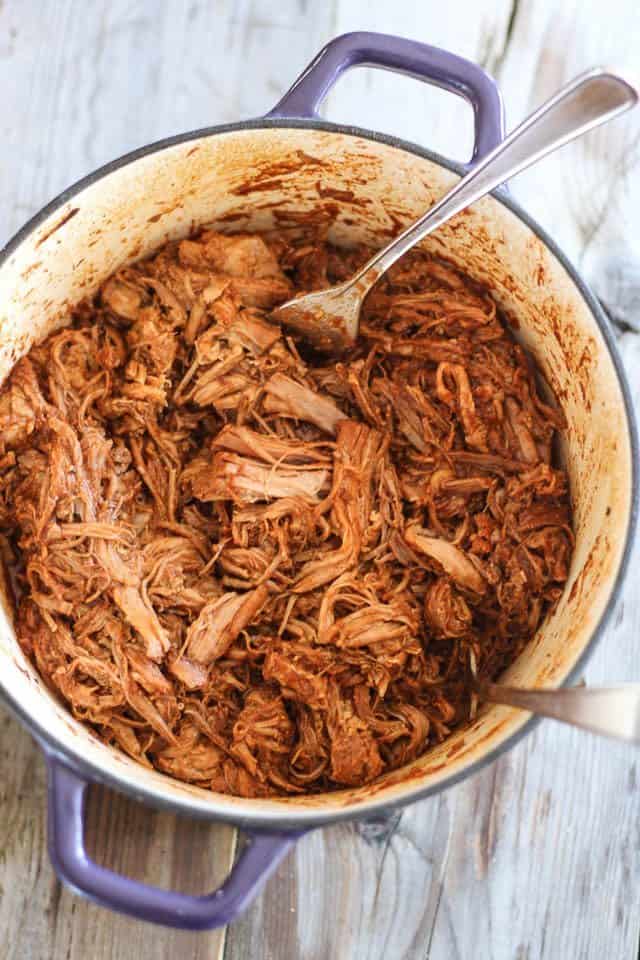 YUM! Does that look good or what? Be still my heart!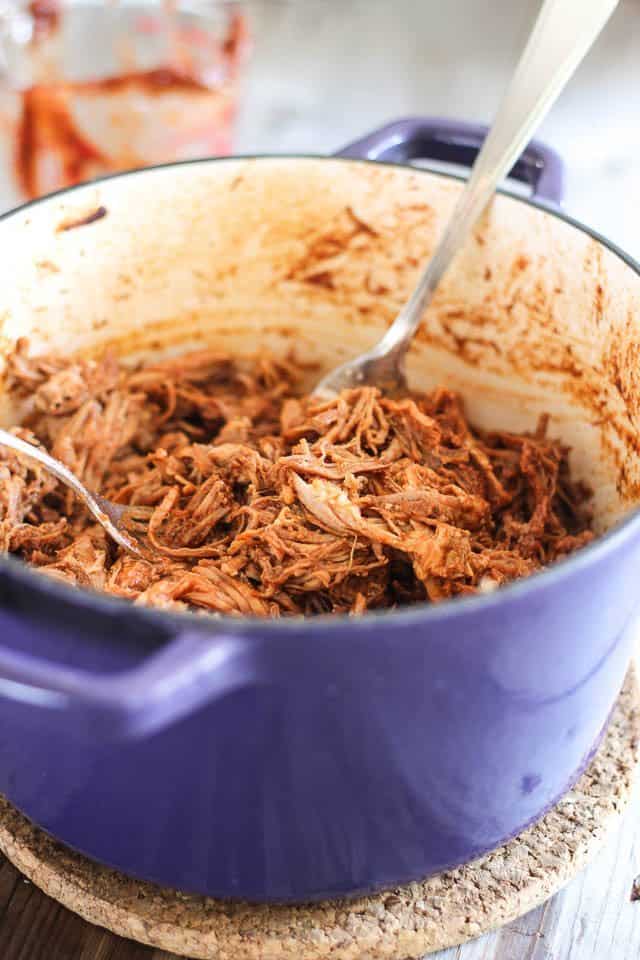 We're finally all good and ready to serve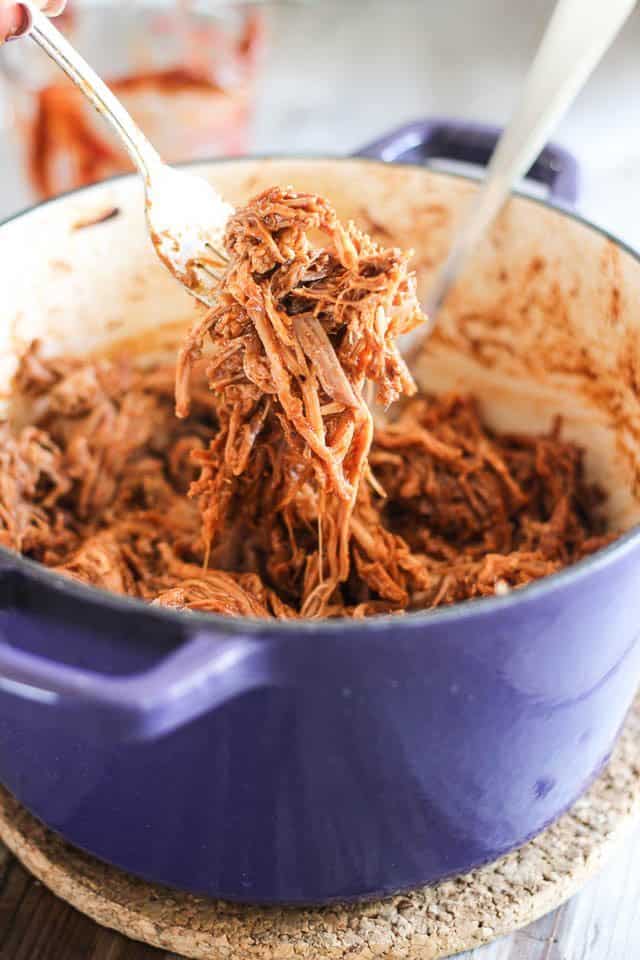 Pass your plate please?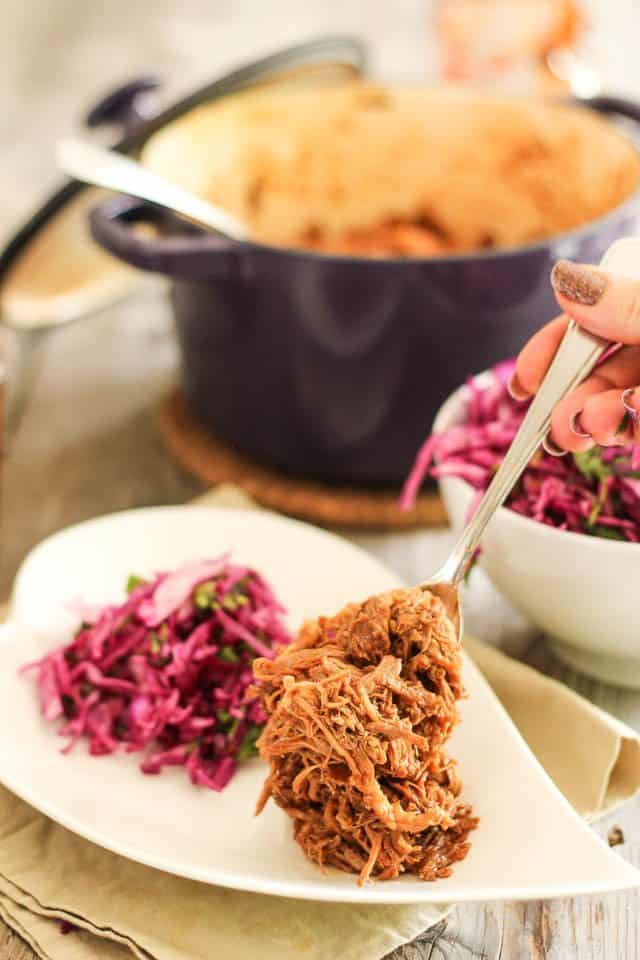 Here you go my dear, will that suffice? You know, there's plenty more where that came from if you want to come back for seconds…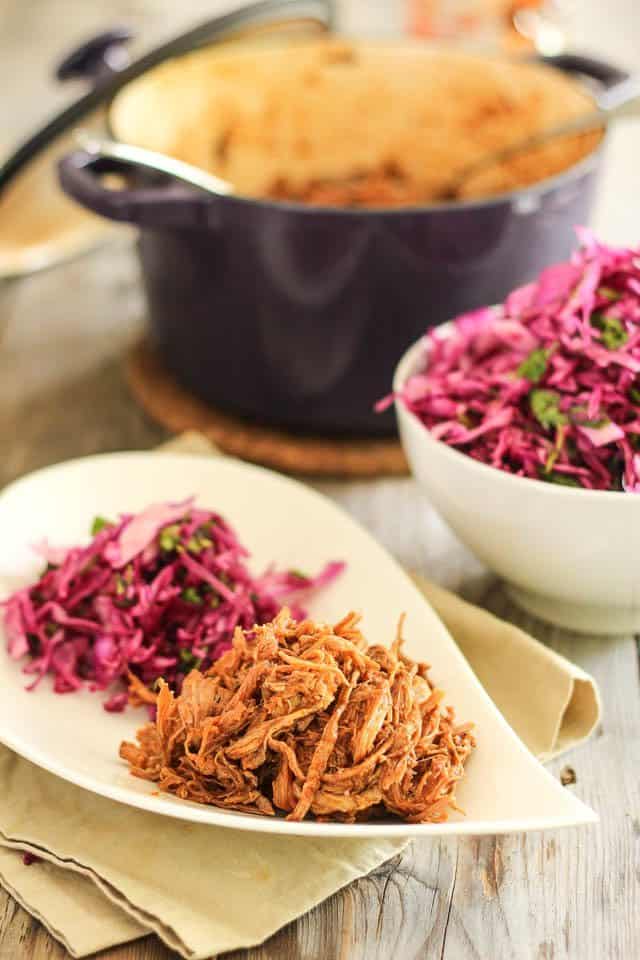 Oh lordy lord, silly me, I forgot to give you a fork! Guess you're gonna need one of those, right?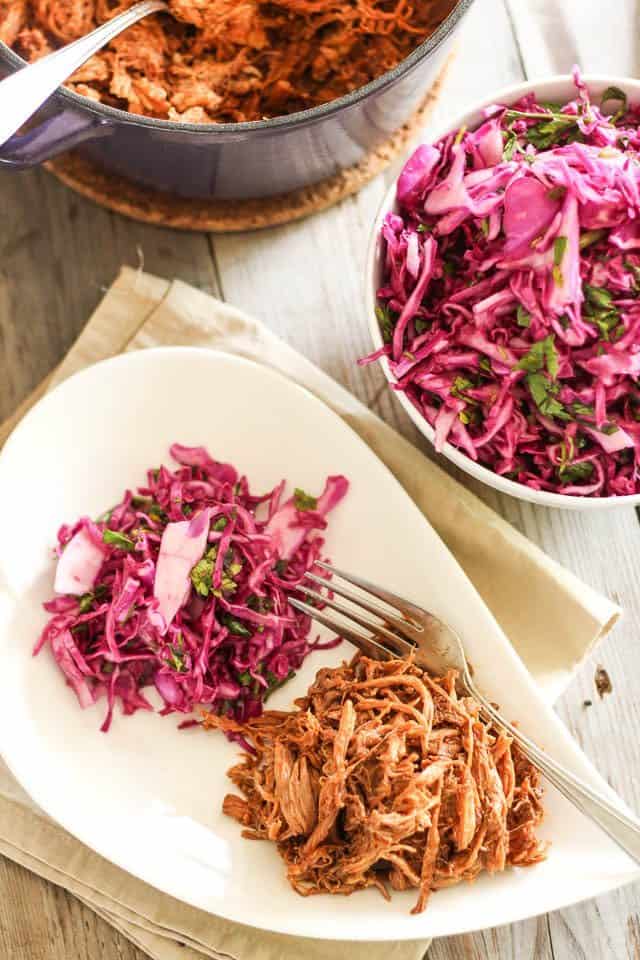 And there you have it. Dig right in, my friend! Feel like eating pulled pork yet?
BBQ Pulled Pork
Made entirely from scratch, even the sauce, this BBQ pulled pork recipe is simply "throw you off your chair" delicious. Comfort food to the 10th power!
Servings: 6
Ingredients
3.25 lb pastured pork butt or shoulder
1½ cups BBQ Sauce
4-6 cloves garlic, smashed
Instructions
Remove netting from roast if present. Season pork generously with salt and pepper and cover it with

BBQ Sauce

(you'll need about ¼ cup)

Put the meat in a resealable plastic bag, close it nice and tight and refrigerate overnight or at least 6 hours.

Place the meat in a Dutch oven, add garlic cloves and enough water to half cover the roast. Put the lid on and cook in a 250°F oven for 5 hours.

Drain all but about 1 cup of the liquid that's left at the bottom of the Dutch oven (don't throw it out, though, that stuff is delicious! You'll want to hang on to it and use it in soups or sauces)

Use two forks to pull the meat into strands and mix that with the remaining cooking liquid. Add the rest of the BBQ sauce and mix until well combined.

Put the lid back on and return to oven for about 30 minutes or until nice and warm.
Nutrition
Calories: 368kcal, Carbohydrates: 10g, Protein: 46g, Fat: 14g, Saturated Fat: 5g, Cholesterol: 147mg, Sodium: 405mg, Potassium: 896mg, Fiber: 1g, Sugar: 8g, Vitamin A: 53IU, Vitamin C: 1mg, Calcium: 46mg, Iron: 3mg
If you've tried this recipe, please take a minute to rate the recipe and let me know how things went for you in the comments below. It's always such a pleasure to hear from you!
You can also FOLLOW ME on PINTEREST, FACEBOOK, INSTAGRAM and TWITTER for more delicious, healthy recipes!