Smoky Hot BBQ Sauce – Paleo and Whole30 Compliant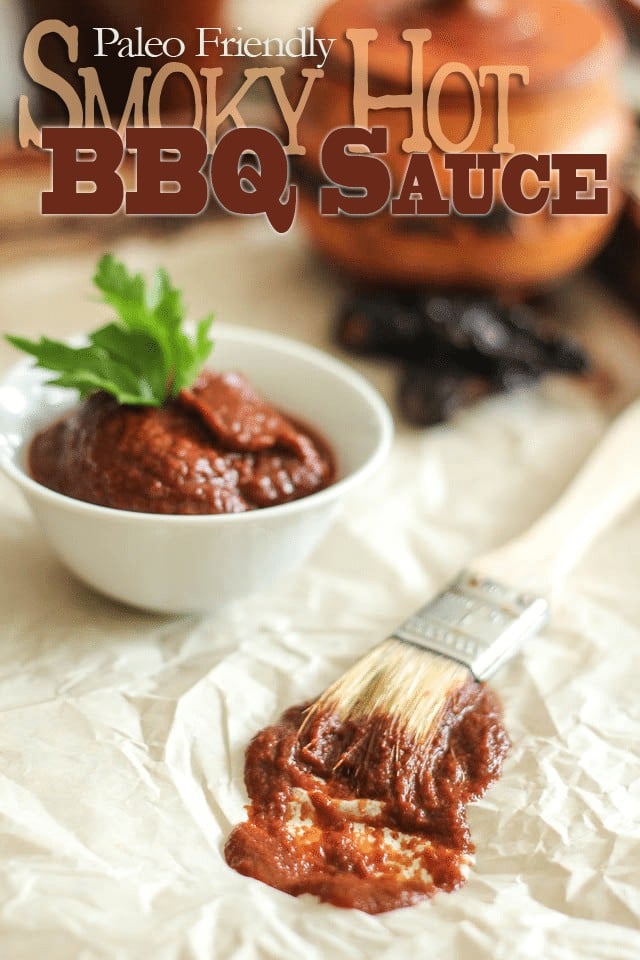 I've never been a big fan of ketchup. Not even as a kid.
In fact, one might even say that I have a true aversion for ketchup.
If you are ever invited to my dinner table, know that nothing insults me quite as deeply as having someone ask me if they could "please have some ketchup with that".
And that holds especially true if said person happens to be eating something that I put a lot of effort into creating!
If I spent a great deal of time perfecting the flavor of say, Shepherd's Pie or Tourtière and you go and ask me for ketchup, I feel like you're basically telling me that the flavor really isn't up to par and that you need to mask it somehow.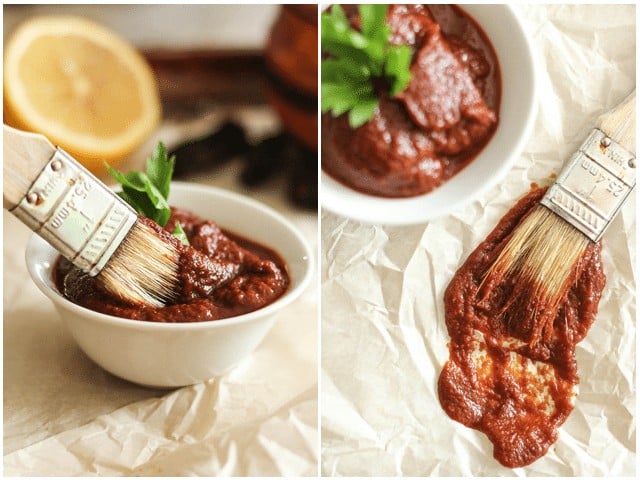 Because to me, that's what ketchup does. Cover up the nasty flavors of not so palatable food.
I suppose that's because, when I was a kid, ketchup used to ALWAYS be served with overcooked, dry and grainy liver, in an effort to make it taste better, you know. That, or hot-dogs, which I really, but really could not stand. They literally made me gag.
I think that, somehow, my brain got stuck on a concept that goes something like this: "ketchup = awfully pungent condiment frequently used to cover up the not so agreeable flavor and/or texture of certain prepared foods and dishes."
And don't even try and use the French Fries argument on me. You will not convince me that no French Fry is ever truly complete without ketchup. Sorry, I'm a member of the MAYO camp. Mayo mildly complements the delicate and sweet flavor of the fries, whereas ketchup completely overpowers it. Renders it null and void.
BBQ sauce, on the other hand, now that's a completely different story!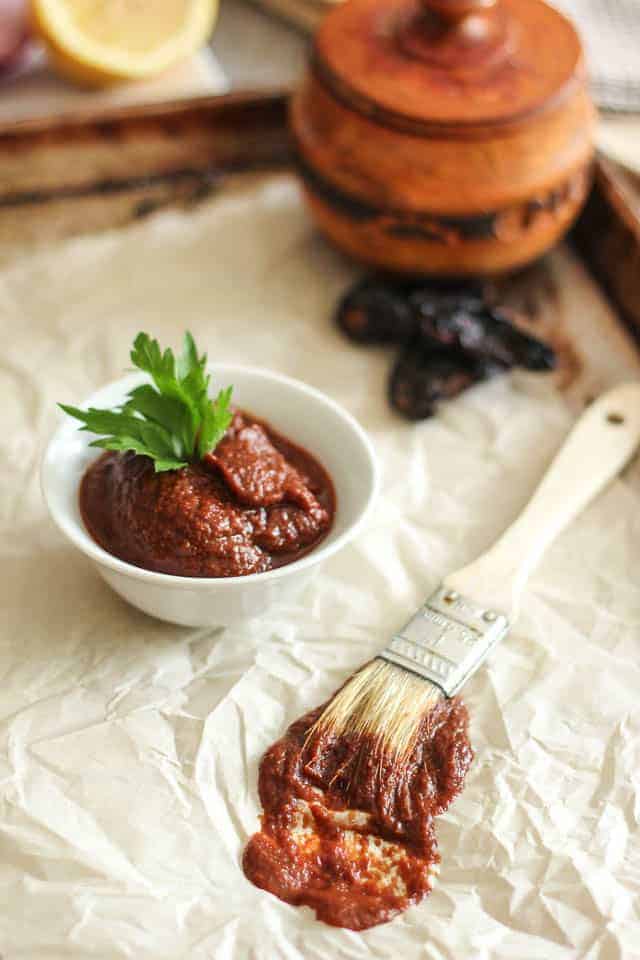 BBQ sauce actually tastes super good. It is a complex amalgam of many different aromas which actually serve to enhance the flavor of whatever it gets smothered on, especially meat.
I remember a time when I was younger, MUCH younger: I would put BBQ sauce on everything. I think my mostest favoritest way of enjoying it was as a dipping sauce for my pizza crust. BAD, I know! Good thing people change, isn't it?
One thing that hasn't changed, though, is that I still have a thing for BBQ sauce. A big thing. Especially in the summertime, when I get to grill tons of meat and stuff. And since I choose not to eat any of that sugar laden (and god only knows what other chemicals) store-bought stuff anymore, I decided it was about time I reacquainted with this old friend of mine and tried my hand at making my very own at home.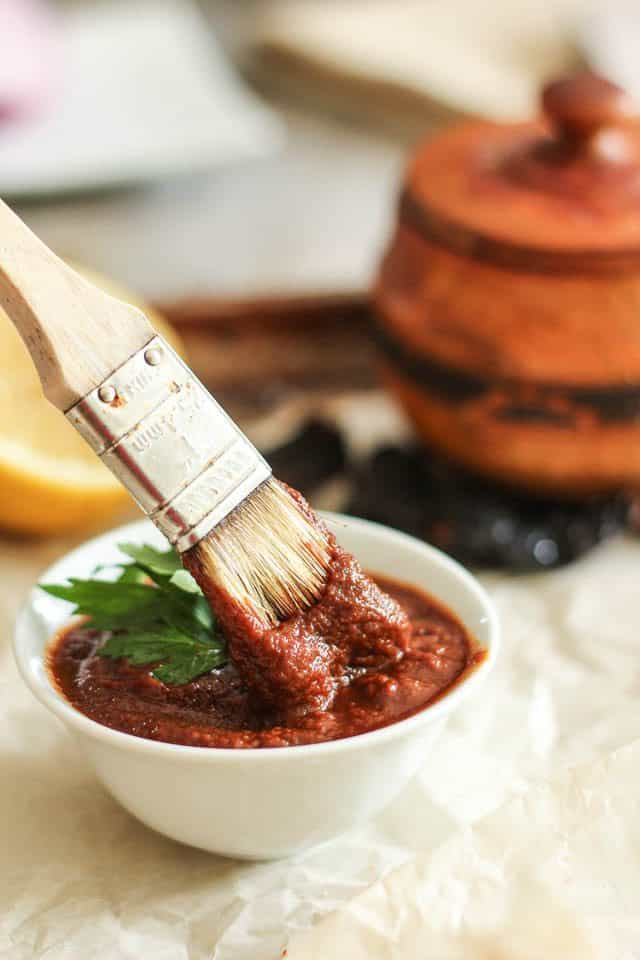 And so I did. I managed to create a succulent BBQ sauce that not only is far superior to any of the commercial stuff I've ever had, it's also Paleo friendly AND Whole30® compliant.
This sauce turned out absolutely delicious. To me, it had the perfect balance of everything I like to taste in a good BBQ sauce: a little hint of sweetness, a faint point of sourness, an explosion of spiciness, a great deal of heat and a little bit of a smoky finish. I'm telling you, the addition of liquid smoke really took it to the next level.
A word of warning, though. I like my BBQ sauce fairly hot and spicy, and this one truly delivered in that area. If you prefer yours to be on the milder side, use a little bit less chipotle peppers (or use a milder pepper). And if a real fireball is what you're after, no one's keeping you from using a few more!
Hey, even my son approved of this one and asked if he could use some to grill his pork chops.
He, who pretty much rebels against everything and anything that would be worthy of receiving a "healthy" seal of approval.
Now THAT is what I call a serious win! 🙂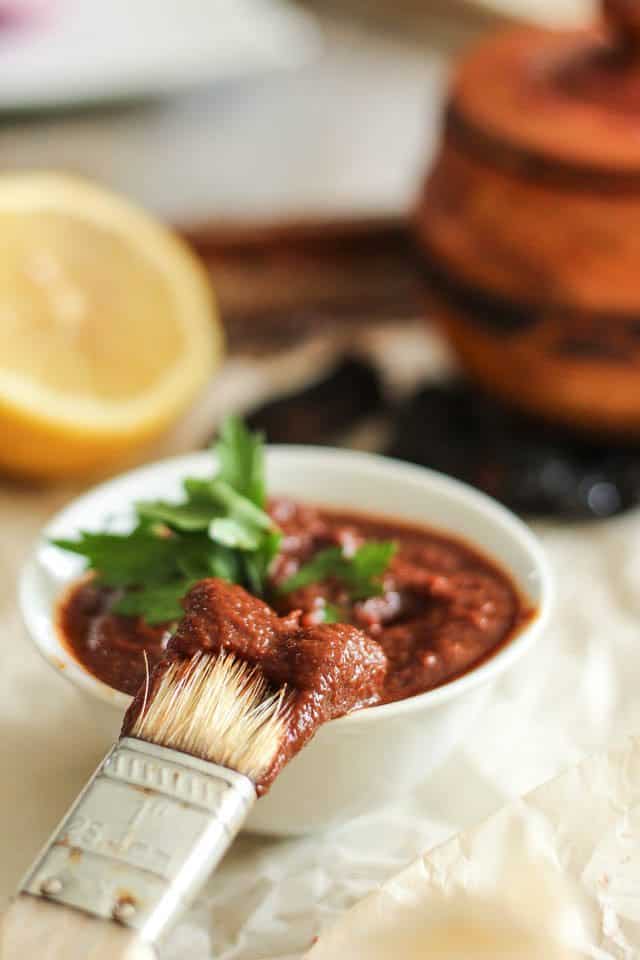 Smoky Hot BBQ Sauce – Paleo and Whole30 Compliant
Smoky Hot and Super Tasty BBQ Sauce that's both Paleo Friendly and Whole30 compliant. So good, you probably won't ever want to buy the ready made stuff ever again!
Servings: 16 ±2 cups
Instructions
Add all the ingredients to your blender or food processor and process until completely reduced to a fine, liquid puree.

Transfer that puree to a medium saucepan and bring to a boil. Lower the heat, partly cover and simmer for 45 to 60 minutes, stirring from time to time, until the sauce is nice and thick and darker in color.

Kill the heat and let the sauce come down to room temperature.

If you want a really smooth BBQ sauce, pass it through a fine mesh sieve (you will have to help it through by swirling it around with a ladle), otherwise, just transfer it straight to an airtight container and refrigerate.

This BBQ sauce gets better after sitting in the fridge for a few days and it will keep for 2-3 weeks in the refrigerator.
Nutrition
Serving: 2tbsp, Calories: 35kcal, Carbohydrates: 8g, Protein: 1g, Fat: 1g, Saturated Fat: 1g, Sodium: 199mg, Potassium: 122mg, Fiber: 1g, Sugar: 5g, Vitamin A: 118IU, Vitamin C: 3mg, Calcium: 15mg, Iron: 1mg
If you've tried this recipe, please take a minute to rate the recipe and let me know how things went for you in the comments below. It's always such a pleasure to hear from you!
You can also FOLLOW ME on PINTEREST, FACEBOOK, INSTAGRAM and TWITTER for more delicious, healthy recipes!