Gound Beef Skillet – Greek Style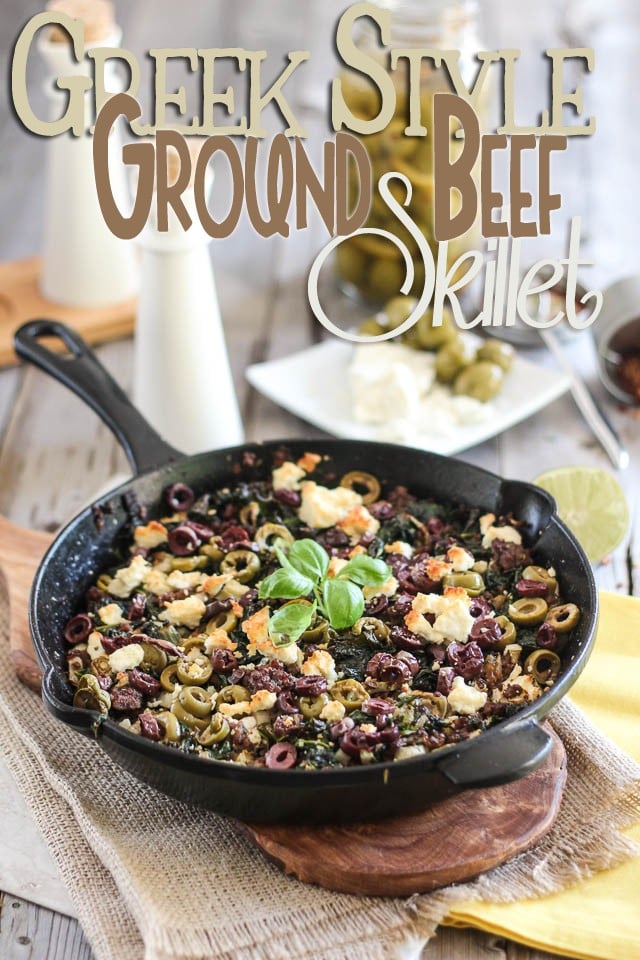 While I was in Cuba, there was this one night where they organized a special dinner for all the repeat guests, i.e. all the people who had already visited the hotel in the past.
That night, I got to sit down at the same table with a bunch of fellow Québécois and, funny thing is, one of them also happened to have her own webpage where she logs all her favorite culinary creations and photos.
Needless to say we started talking about food, photography and all that we like to eat and cook!
One of the guests asked me what my favorite ingredient to cook with was, and without even thinking about it, I heard myself respond: ground beef.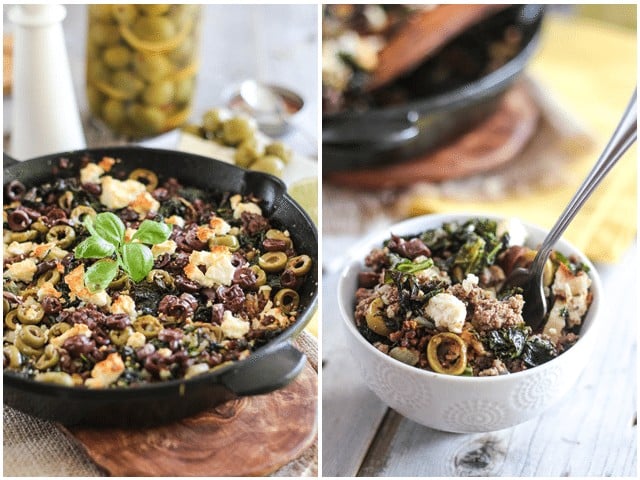 They were a bit surprised with my answer and quite frankly, so was I… (Had I been asked that very same question last year, ground beef would've been the last thing to cross my mind and chances are, I'd have replied, just as rapidly, Greek yogurt.)
Pretty soon, though, we all came to agree that ground beef truly is one of the most versatile, affordable, convenient and easy to use ingredient there is out there. Very well worthy of being so high on one's list of preferred food items list.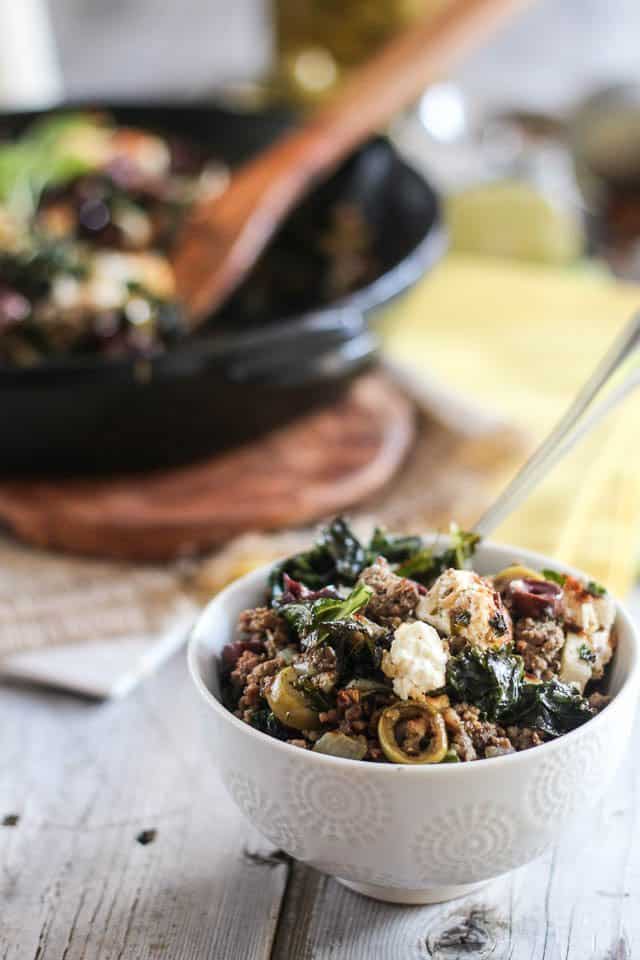 Think of  it: ground beef can really be made / shaped into an infinite amount of dishes, not just patties or meatballs! It can be enjoyed hot or cold, morning, day or night. It can be turned into something extremely fancy or totally super rustic.
Ever had a real Ground Beef Egg Muffin? Talk about a convenient way to start your day right!
Heck, you could even use it as pizza crust if you wanted to. Now that you really have to try, if you haven't already!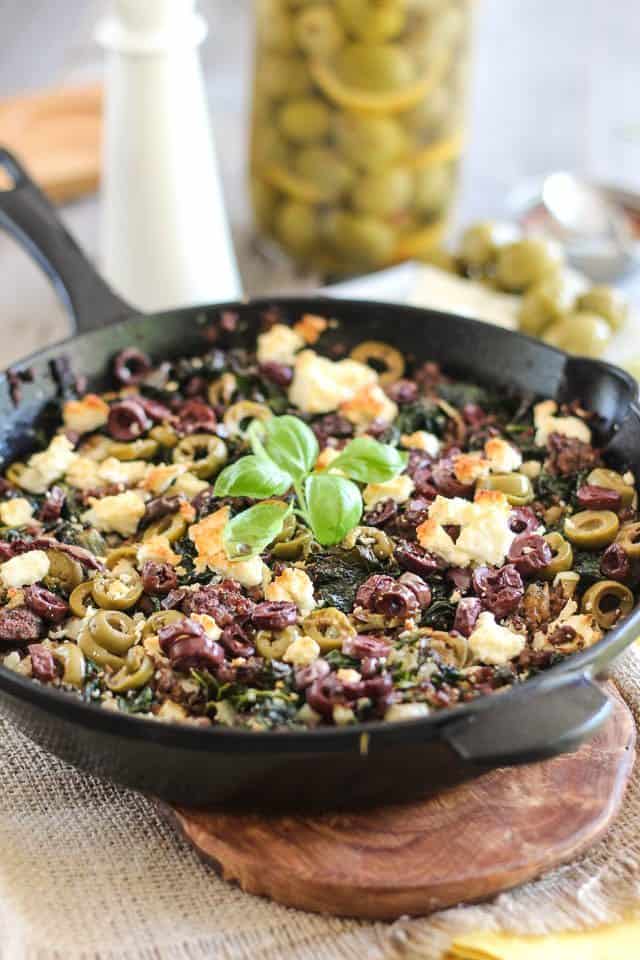 Ground beef is the one meat that will always take me out of trouble when the fridge is practically empty. I know it's done miracles for me this week. I'm very grateful to have a fairly good supply of the stuff in my freezer.
Now, I chose to add crumbled Goat Feta Cheese to this skillet just because, frankly, I happen to love the stuff and had a really bad craving for it. And since dairy is a thing that I still do from time to time, as in a couple of times a month, I thought I would indulge a little.
If you, however, prefer to stay away from cheese altogether, I'm sure you can very well leave it out without completely defacing the dish.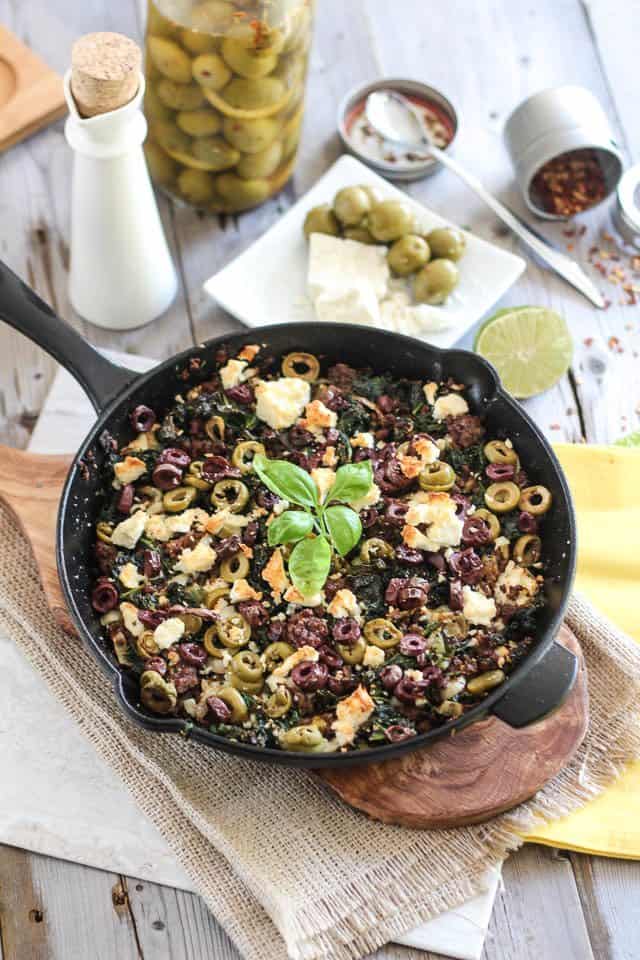 Oh, and if you happen to have ground lamb on hand, by all means, use it. I'm absolutely positive that it would be a total winner here. For after all, who says you absolutely have to stick to ground beef all the time? Pretty often, any ground meat will do and a making a quick switch will result in a totally new experience.
So go on, experiment and have fun with your ground meat.

Just make sure you get it from a sustainable source! 😀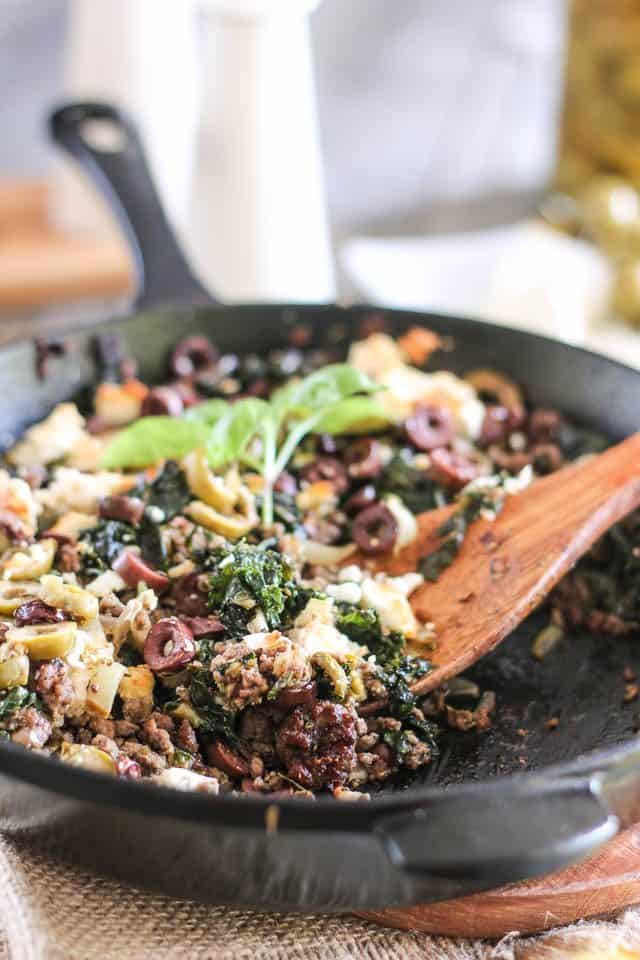 Gound Beef Skillet - Greek Style
Ground Beef, Kale, Olives and Goat Feta Cheese combined in one extremely tasty, nutritious and satisfying single skillet dish.
Servings: 4
Instructions
Add a little bit of cooking

lard

or ghee to a heavy skillet (cast iron preferred) set over medium high heat. When the fat is nice and hot, add onion, garlic and salt and pepper and cook until fragrant and softened, about 2-3 minutes.

Add ground beef and continue cooking until the beef is completely brown. Add kale, endives, oregano, savory and parsley and stir well. Set heat to medium and continue cooking until kale is dark green and wilted, about 3-4 minutes.

Kill the heat and stir in half the goat cheese, if using.

Sprinkle the olives on top, followed by the rest of the goat cheese.

Set in the oven on broil for a few minutes, until the olives start to wrinkle slightly and the cheese takes a light golden coloration.

Serve piping hot and drizzle generously with extra-virgin olive oil. For a bit of an added kick, sprinkle a little bit of hot pepper flakes all over the top.
Nutrition
Calories: 394kcal, Carbohydrates: 11g, Protein: 32g, Fat: 25g, Saturated Fat: 12g, Cholesterol: 118mg, Sodium: 1051mg, Potassium: 654mg, Fiber: 3g, Sugar: 3g, Vitamin A: 2822IU, Vitamin C: 34mg, Calcium: 374mg, Iron: 5mg
If you've tried this recipe, please take a minute to rate the recipe and let me know how things went for you in the comments below. It's always such a pleasure to hear from you!
You can also FOLLOW ME on PINTEREST, FACEBOOK, INSTAGRAM and TWITTER for more delicious, healthy recipes!