Butternut Squash Biscuits with Mushroom Gravy – A Guest Post by Beth of Hooked on Health
Boy have I got a special treat for you today, guys…
PALEO BISCUITS AND GRAVY!!! How does that sound?
I'd been toying with the idea of creating a paleo version of that great American classic for quite some time now but since, sadly, I never even got to experience the real thing (I know, right?) I didn't really know how to tackle the beast.
So when Beth, from Hooked on Health, offered to share one of her recipes on THF, I asked her if she thought she could come up with a yummy recipe for paleo biscuits and gravy, and she said "Of course I can!". I was so thrilled, I immediately accepted her offer. (and boy am I glad I did! Now I really can't wait to give her recipe a try! Man, does that look good or what?) 
Alright, I'm outta here. Time for Beth to take the floor.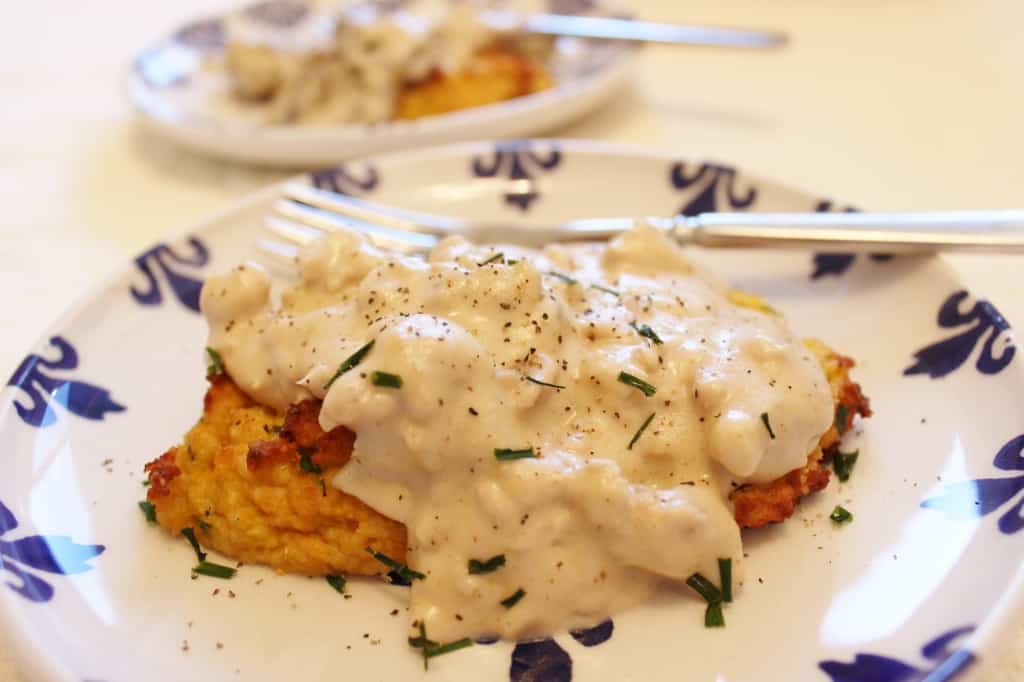 My name is Beth and I have been interested in healthy eating since I was 18 (39 years ago). I had become really sick from eating crappy food and I got well from eating whole foods. I was hooked.
One year ago I had surgery to remove a large brain mass. I felt so good once it was gone that I wanted to change how I felt physically, as once again I had slipped into bad habits. I started researching, doing and changing. I also became paleo. I have reversed the fibromyalgia that was crippling my life and lost a lot of weight. I also got divorced.
I came from such a dark place. I have been emotionally, spiritually, mentally and physically bankrupt. Now I am not! I changed everything in my life. And I have found my place. That place would be a blog called Hooked on Health. I share recipes, stories, myth-busting and general information about what I find to be important to getting the most out of this life.
So I have a secret, shhhhh…. I've never told anyone before.  I have a forbidden food obsession, at least it was forbidden. Biscuits and gravy are a pretty strange thing to have a secret thing for but I couldn't let anyone know. I would have been mocked and criticized to the ends of the earth (or maybe that was just in my mind).
The fat, the salt, the white flour, the lack of any healthy qualities whatsoever would have been enough for most health conscious people to give it up altogether but not me. I secretly jumped for joy (inside) whenever I spied it on a buffet or at a breakfast function. I rarely made it at home because of the repercussions (again, probably mostly in my mind).
So, guess what, neither you, nor I ever have to give up biscuits and gravy again. You can have it anytime you want, guilt free.  This recipe is a huge improvement over the standard biscuits and gravy and it is still incredibly filling, satisfying and delicious. As a matter of fact, it is paleo approved.
Butternut squash biscuits with mushroom gravy
Servings: 2
Ingredients
Gravy
2-3 tbsp ghee
1 large clove garlic, minced
6 oz mushrooms, sliced
1 cup cashew cream*
1 tsp coconut aminos
dash white pepper
salt and pepper to taste
Instructions
To make the gravy
Heat a medium, ceramic skillet to medium. When it is hot add the ghee, then the mushrooms and garlic. Saute until mushrooms are tender.

Pour in the cashew cream. Stir well. Add more water, a little at a time, if the gravy is too thick. Add the coconut aminos and seasonings. Adjust salt and pepper.

The instructions are the same for the sausage gravy. Just add some cooked breakfast sausage, (turkey or pork) and leave out the mushrooms. Of course you can always use both.
To make the biscuits
Mix all of the dry ingredients.

Slightly beat the egg, then stir in the squash, mixing well. Add the wet ingredients to the dry ingredients. Add the chives and stir (by hand) until well mixed

Drop large spoonfuls onto a parchment lined baking pan, flatten slightly. I do four biscuits.

Place in a 425F oven and then turn it down to 375F and bake for 23-24 minutes
Notes
*To make the cashew cream, you will need 1 cup raw cashews, soaking water and 3/4-1 cup water. Put the cashews in a medium/smallish bowl and cover with water. Allow them to soak overnight. The next day, drain and place cashews in a blender. Gradually add 3/4 - 1 cup water. Blend on high until smooth and creamy.This should make about 2 cups.
If you've tried this recipe, please take a minute to rate the recipe and let me know how things went for you in the comments below. It's always such a pleasure to hear from you!
You can also FOLLOW ME on PINTEREST, FACEBOOK, INSTAGRAM and TWITTER for more delicious, healthy recipes!