Calamari, Roasted Bell Peppers and Pickled Grilled Red Onions Salad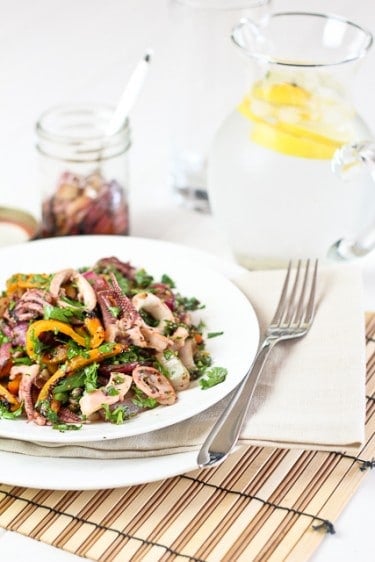 It's been awfully quiet around here over the past few days… well, ever since the Olympics started.
You guys are probably all nailed to your TV screens, watching your favorite athletes compete for their country, hoping to bring home the gold!
I used to be just like that. You couldn't remove me from my seat while the games were on. Sadly, I haven't really had time to watch much of the action this year, but I do try to catch up at every occasion I get.
To me, these athletes simply command an incommensurable amount of respect for all their hard work, commitment and dedication. They are an example for all to follow and I have nothing but admiration for each and every single one of them.
I sometimes wish I had been one of them…
Anyway, I'm sort of hoping that this slowdown in traffic is a direct consequence of the Olympics fever and that it has nothing to do with me, the things I say or the recipes I have to offer.
Mind you, I probably won't be helping my cause with today's recipe…
I admit it, this one is not for everybody. Most people like their calamari generously dipped in batter, cooked in a great big tub of super hot oil and served with a decent amount of spicy dipping sauce.
Remove that crispy batter and the poor fish suddenly loses all of its appeal. It even becomes repulsive to some.
To me, "naked" calamari not only tastes great, but it also represents an amazing source of  lean protein at a very low calorie cost!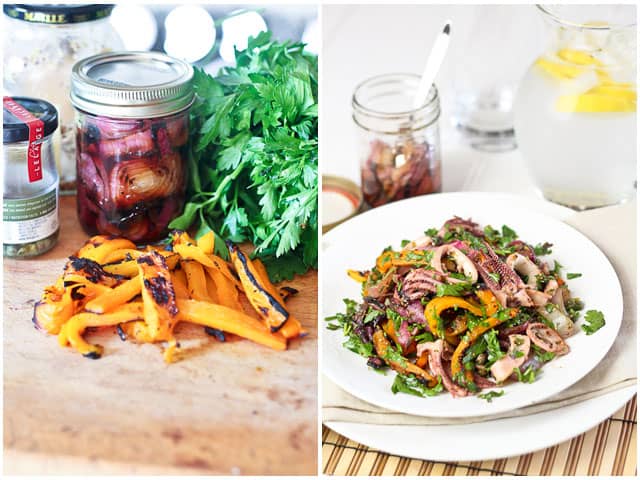 I also happen to love its chewy texture and especially appreciate the tentacles…
Yeah, I know!
But wait, before you simply make the decision to pass on that one, know this: even if you really don't care for the little beasts, this salad might very well be for you!
The addition of pickled red onions and vinegar from said onions pretty much covers the "fishy" taste of the calamari.
All that you are left with is a brilliant array of all sorts of textures and refreshing flavors. The vinegary onions bring soft and crunchy, tangy and sweet to your palate, while the creamy roasted peppers and parsley help tone the vinegar down a bit and bring a whole lot of freshness to the dish. Of course, you get some chewy action from the calamari, but if you cook them right, it's a very pleasant and soft chewiness that you will be getting… not rubbery!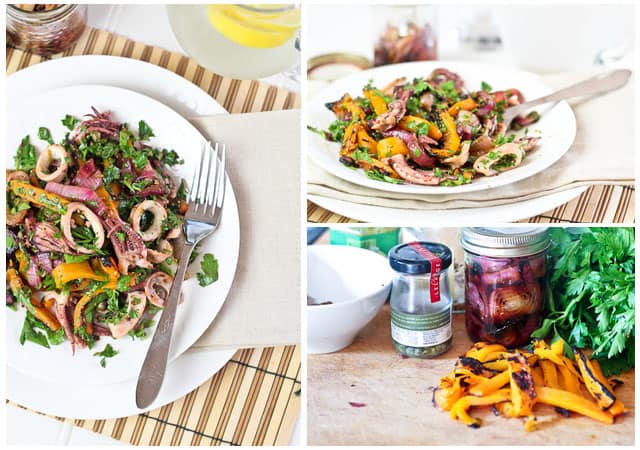 And if you really don't care to even give this one a try, you might still benefit from this post, if only for the Quick Pickled Grilled Red Onion recipe.
Seriously, I never thought that these things would be this good. And I never thought that it would be possible to actually pickle something so quickly and effortlessly.
But really, you can, and they are!
Plus, they don't leave you with stinky onion breath. How perfect! See, I really love onions, but I tend never to eat them, or garlic for that matter, because of the nasty taste they leave in my mouth and well, foul odor they put on my breath.
I just can't take it.
Especially not now that I've decided to give up on gum! 😉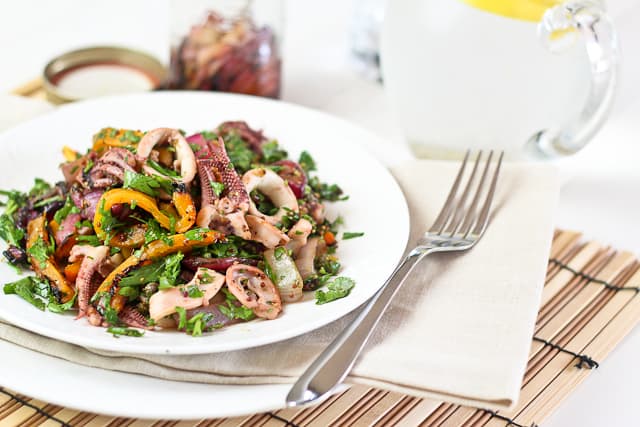 But I am telling you, these pickled onions, they're almost like candy! Soooo good and super sweet and tangy, they're nice and soft but do retain a little bit of a crunch to them… I'm hooked! This is so much better than the little pickled pearl onions we buy in a jar. This is one thousand times better.
And they're ready in about 15 minutes!
Like I said, they go admirably well with this calamari salad, but no doubt they would be absolutely delicious in a sandwich or to garnish a hamburger.
They are also plain fabulous on their own, right out of the jar, especially when standing right next to the fridge with the door wide open while you stick your fork (or fingers) in to grab one or two slices…
Did I mention that they made this salad a wonderful thing?
They did… 
Calamari and Pickled Red Onions Salad
Servings: 1
Ingredients
For the salad
1 roasted orange bell pepper, sliced
200 g calamari, rings and tentacles
½ cup fresh parsley, chopped
For the vinaigrette
1 tsp Old Fashion grain mustard
1 tsp capers
1 tbsp vinegar from pickled onions
½ tsp Hymalayan salt
¼ tsp black pepper
Instructions
For the pickled onions
Preheat your grill to medium high heat;

Slice the onion into ½ inch thick slices and place them on the grill. Cook for about 2 minutes per side, until they get nice grill marks and the onion starts to soften up a little bit.

Remove the onion slices from the grill and stuff them directly into a half pint Mason jar

While the onions are cooking, bring vinegar and honey to a boil

Pour this over the onions after you have placed them in the Mason jar.

Close the lid and let sit for about 10 minutes.
For the salad
Roast the bell pepper

over the open flame of your gas range or grill, until skin becomes charred all around. Remove the skin and cut into long strips. Place in a medium mixing bowl.

Coat a skillet with cooking spray and preheat over medium high heat. While this is happening, pat your calamari really dry, pressing them between two pieces of paper towel. When your skillet is hot enough, throw in the calamari and cook for a few minutes only, until it starts to curl and turns opaque. Add to the bell peppers.

Throw in the fresh parsley and set aside while you get working on the vinaigrette.
For the vinaigrette
In a small mixing bowl, all add the ingredients and mix to combine.

Pour over reserved salad, add half the jar of pickled onions and toss gently.

Serve immediately.
Nutrition
Calories: 334kcal
If you've tried this recipe, please take a minute to rate the recipe and let me know how things went for you in the comments below. It's always such a pleasure to hear from you!
You can also FOLLOW ME on PINTEREST, FACEBOOK, INSTAGRAM and TWITTER for more delicious, healthy recipes!