Cantaloupe Tomato Gazpacho
Filled with deliciously refreshing ingredients such as cantaloupe, tomatoes and cucumbers, this Cantaloupe Tomato Gazpacho makes for a perfect appetizer or light lunch when it's simply too hot to even think about cooking!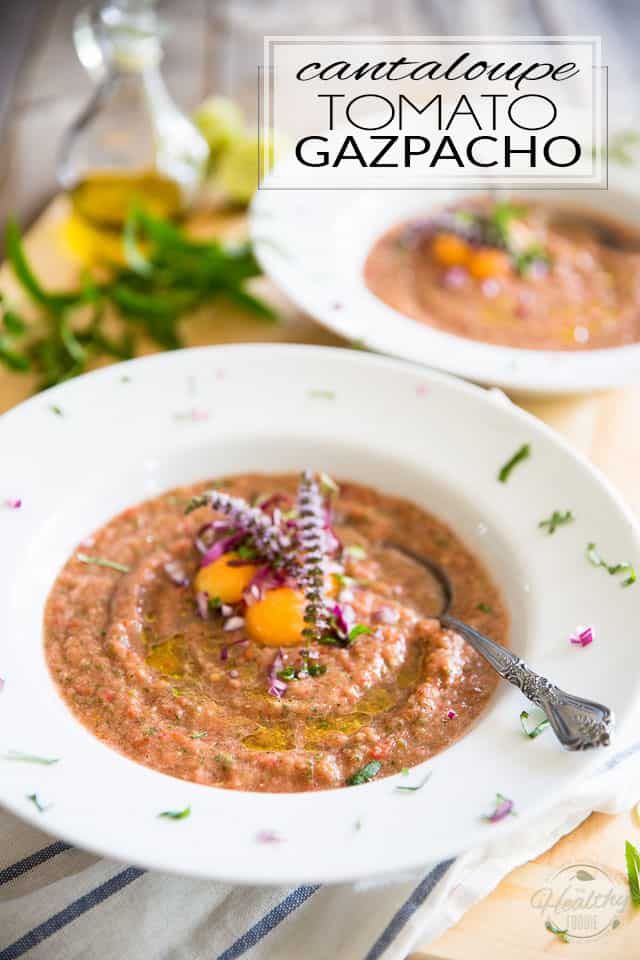 If you're a fan of cold soup, then this Cantaloupe Tomato Gazpacho is bound to become a very good friend of yours. Personally, I don't really care much for cold soup, as I find they tend to be rather boring, but I found myself falling head over heals for this one.
Based on color alone, this soup will probably stop you right in your tracks: it's like the loveliest shade of "summer fresh", which falls somewhere between watermelon pink and ripe tomato red, and is charmingly speckled with myriads of little flecks of deep forest green.
And just wait until you get a taste of it. The combination of flavor is simply perfect. Like really. There's nothing boring about this soup: it seems like all the ingredients are holding hands and skipping together, balancing each other out, like they were simply meant to be together.
And every single one of them is more refreshing than the next. Now if that doesn't scream of summer, I don't know what does.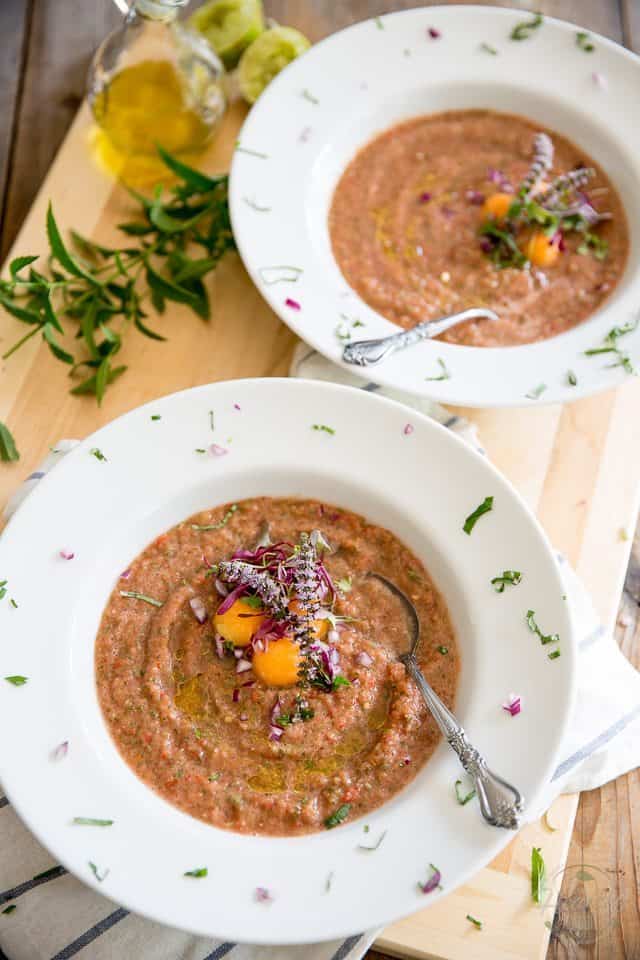 What's best is this soup is incredibly easy to make. With it being cold and all, that means there's no cooking involved; that means no heat gets generated, so the kitchen stays nice and cool. Even better: that also means no pots and pans are required, so the kitchen stays nice and clean!  I'm all for that!
The only things you will need really are a good chef knife, which no kitchen should be without, and a blender or food processor. While I think that the blender would be the better tool for the job, I'm absolutely convinced that you would get very similar results with a food processor, if that's all you had.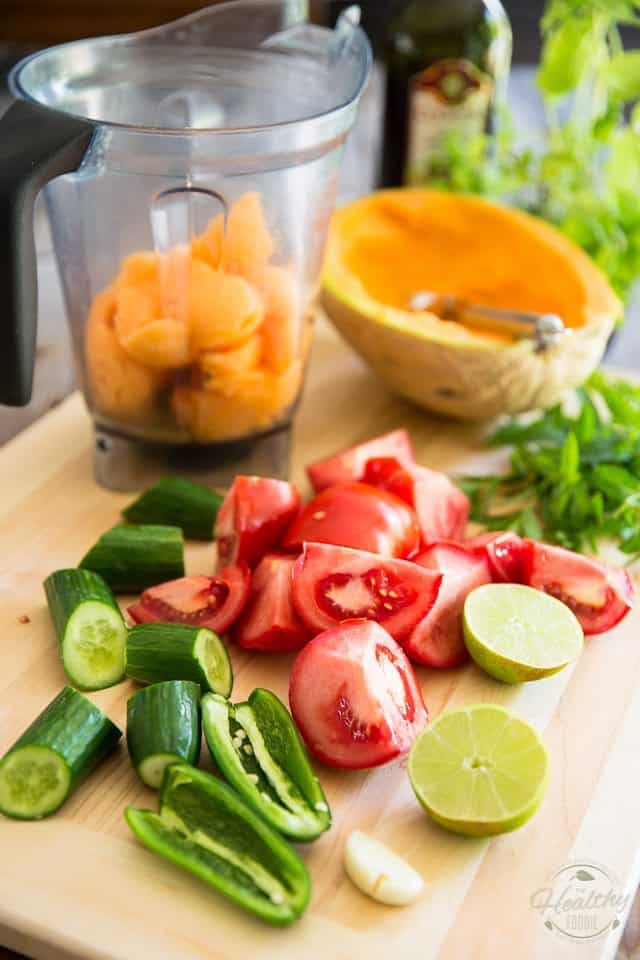 You don't even need to get all fancy with your food preparation. Simply empty out half a cantaloupe and throw the flesh directly into the bowl of your blender (or food processor!)
Then, cut your tomatoes into quarters and your cucumbers into big chunks; remove the seeds and membranes from the jalapeno pepper, peel the garlic clove…
About that jalapeno pepper, you don't absolutely have to add it if you really can't tolerate the heat, but know that it doesn't make the soup taste spicy at all. It merely gives it a little kick, but the kind that you can barely feel; It's a very timid little kick. Like it's not really sure that it truly wants to get your attention…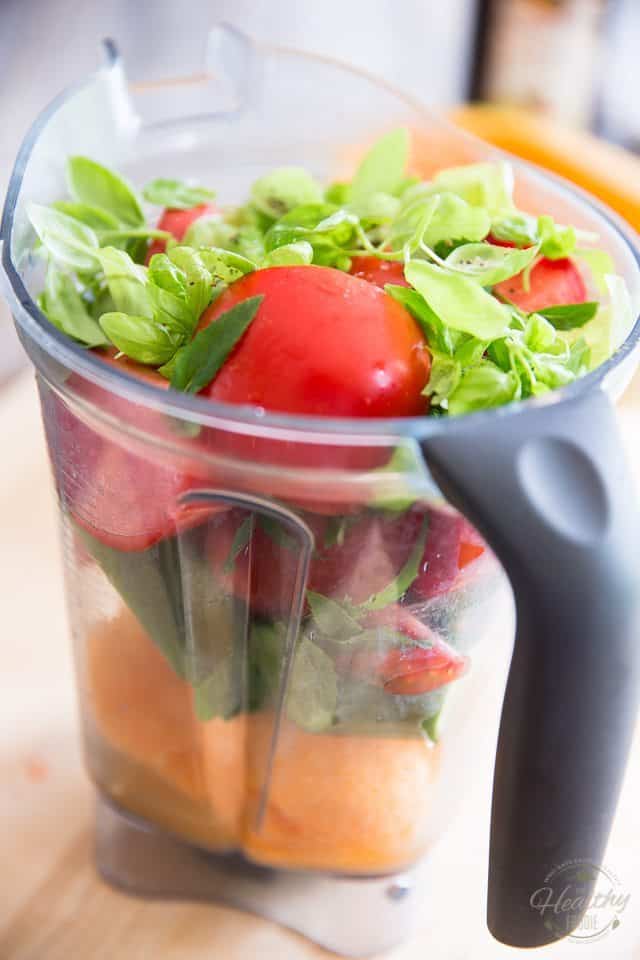 Send all your veggies to join the cantaloupe in the blender, and then throw in the rest of the stuff: squeeze in the juice of a lime, throw in a couple of tablespoons of red wine vinegar (you could also use apple cidar vinegar or white balsamic vinegar), a tablespoon of evoo, some salt, pepper and a couple of handfuls of fresh mint and basil leaves.
How much is a handful, you ask? I'd be tempted to say as much or as little as you want, but that wouldn't give you much of an indication now, would it. I used the equivalent of 2 to 3 tablespoons, or what I would've needed to get this much if I'd chopped the herbs before to throw them in the pot.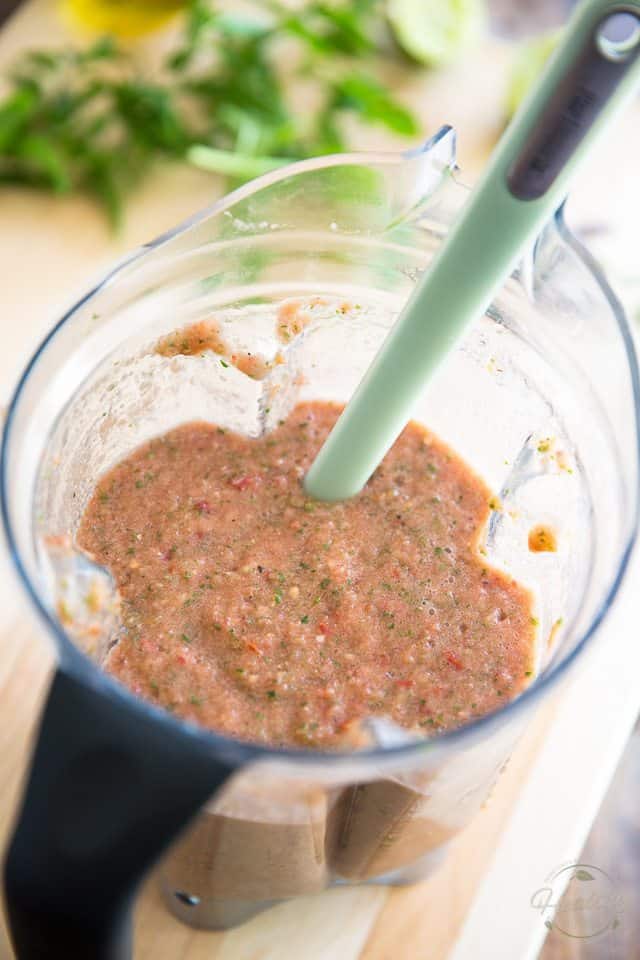 Once you've got everything in, go ahead and whizz your ingredients down to a puree.
If you want your soup to retain a little bit of texture and a bunch of pretty little flecks of color, I strongly suggest that you do that using the pulse button; that way, you're in complete control… unless of course you prefer your soup to be silky smooth, in which case you can just let her rip!
Once your soup has reached the desired consistency, transfer it to a large bowl, cover it and allow it to chill completely, AT LEAST 3 hours, but preferably overnight.
Seriously. Don't skip that last step; chilling the soup really makes all the difference in the world, in that it allows the flavors to really meld and blend together and become best of friends. If you were to eat it right now, you'd probably find it very bland and think that there was something wrong with my taste buds for saying that it was so amazingly good.
Give it time to rest. It needs it! It DEMANDS it!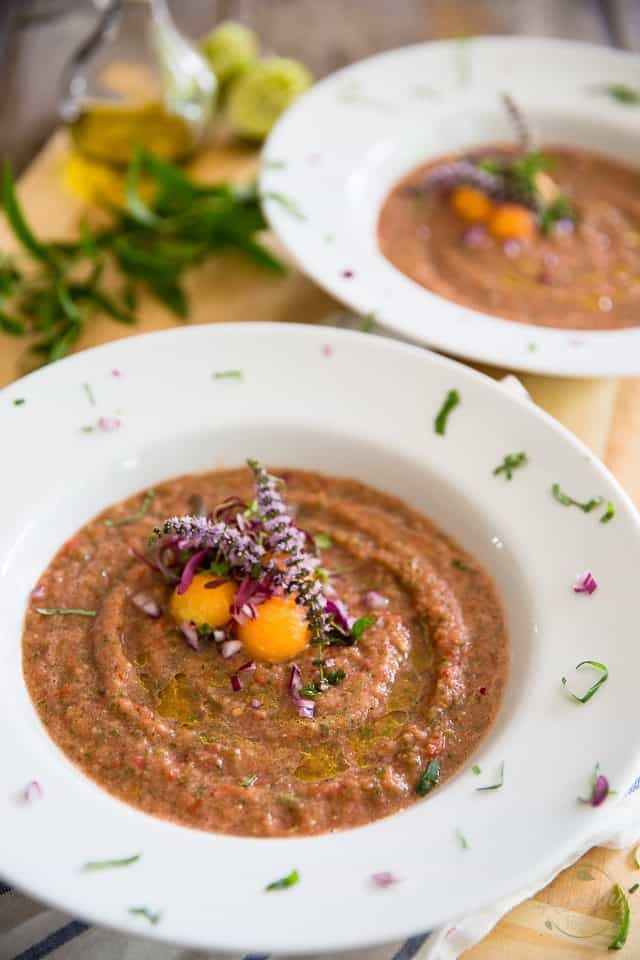 At the moment of serving, drizzle a little bit of extra-virgin olive oil over the soup, and then garnish it as you feel…
I chose to go with a few balls of cantaloupe, which I cut out from the remaining melon half, a tiny little bit of very finely chopped red onion (I didn't want them onions in my soup but felt that they added a very interesting little zing when sprinkled over the soup as a garnish) a pinch of micro-greens, some chopped basil, and finally, a couple of mint flowers.
Pretty little things, aren't they? Pretty flowers for a pretty bowl of soup…
Now all that's left to do is taste it!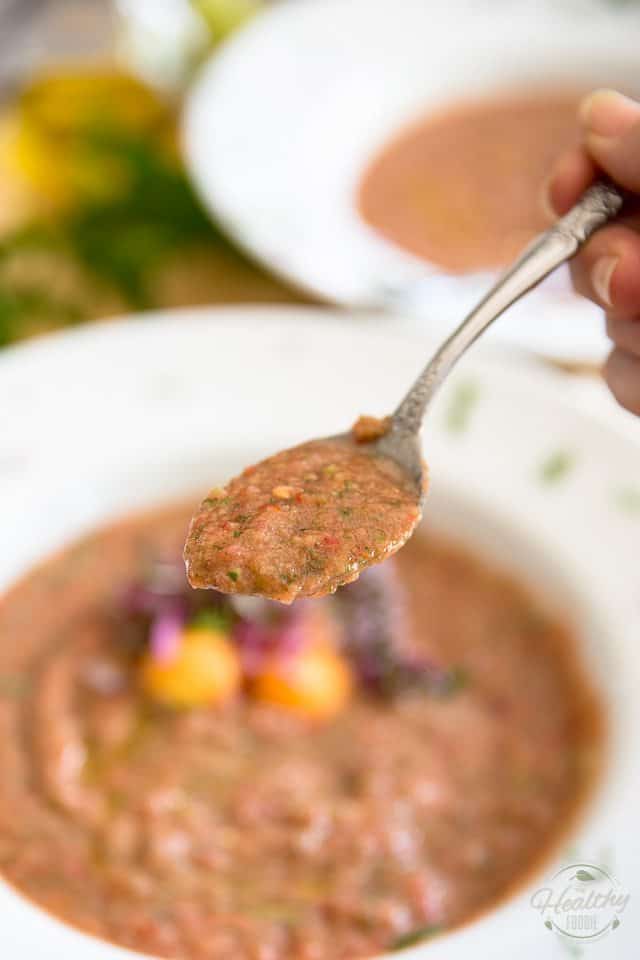 Cantaloupe Tomato Gazpacho
Filled with deliciously refreshing vegetables, this Cantaloupe Tomato Gazpacho makes for a perfect appetizer or light lunch when it's simply too hot to cook
Servings: 4
Ingredients
1/2 large cantaloupe, peeled and diced (about 500g of flesh)
3 large tomatoes, quartered (about 600g total)
2 Lebanese cucumbers, cut into big chunks
1 jalapeno pepper, seeds removed
1 garlic clove, peeled
2 tbsp red wine vinegar
1 tbsp extra-virgin olive oil
1 tsp salt, I use Himalayan salt
1/2 tsp ground black pepper
handful fresh mint leaves
handful fresh basil leaves
juice of 1 lime
Garnish Ideas
Melon Balls
Micro-greens
Finely chopped red onions
Finely chopped jalapeno peppers
Fresh mint Leaves
Fresh basil leaves
Instructions
Place all the ingredients in the

blender

(or

food processor

) and process on pulse until reduced to a puree. Transfer to a large bowl, cover and allow the soup to chill completely, at least 3 hours but preferably overnight.

At the moment of serving, drizzle with a little bit of extra-virgin olive oil and garnish as desired.
Nutrition
Calories: 105kcal, Carbohydrates: 17g, Protein: 2g, Fat: 4g, Sodium: 608mg, Potassium: 662mg, Fiber: 2g, Sugar: 13g, Vitamin A: 5115IU, Vitamin C: 65mg, Calcium: 32mg, Iron: 0.7mg
If you've tried this recipe, please take a minute to rate the recipe and let me know how things went for you in the comments below. It's always such a pleasure to hear from you!
You can also FOLLOW ME on PINTEREST, FACEBOOK, INSTAGRAM and TWITTER for more delicious, healthy recipes!