Carob Banana Creamy Dreamy Buckwheat Breakfast Pudding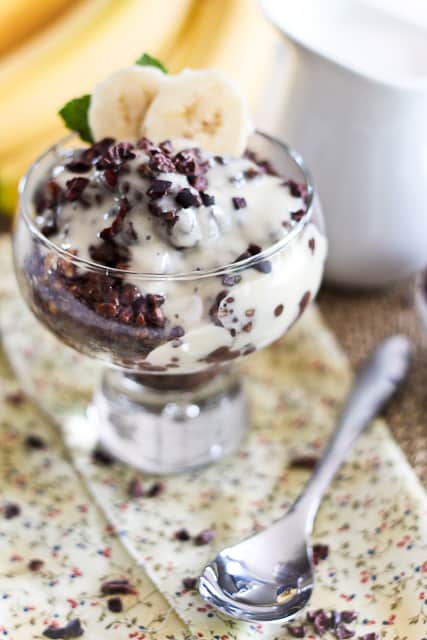 For a lot of people, well, in this part of the world at least, the definition of a good, super filling and satisfying breakfast consists in a couple of pan fried eggs accompanied with bacon, sausage, ham, baked beans, hash brown potatoes, toasts and fruit jam.
Oh, and let's not forget the coffee and orange juice!
I used to be part of that clan.
I remember going to the restaurant and ordering exactly that. I'd always order my bacon extra crispy. And I especially loved to have this kind of breakfast when I'd had way too much to drink the night before…
Wow, have I come a long way!
My definition of a decadent, good, filling and satisfying breakfast now is this, right here. A bowl of warm, comforting, sweet chocolatey buckwheat pudding.
And I happen to find it especially good after a particularly intense workout… or a nice, long bike ride!
This will have me dreaming for days of the moment when I finally get to dip my spoon in, bring a bite back to my lips, close my eyes, chew sloooowly, let all the flavors and textures dance in my mouth for a while, enjoying every second of it, then swallow and repeat the whole process all over again… and several times, at that!!!
Oh, bliss!
How I love creamy, dreamy warm cereal.
Even in the summer time. Even when it's a gazillion degrees out.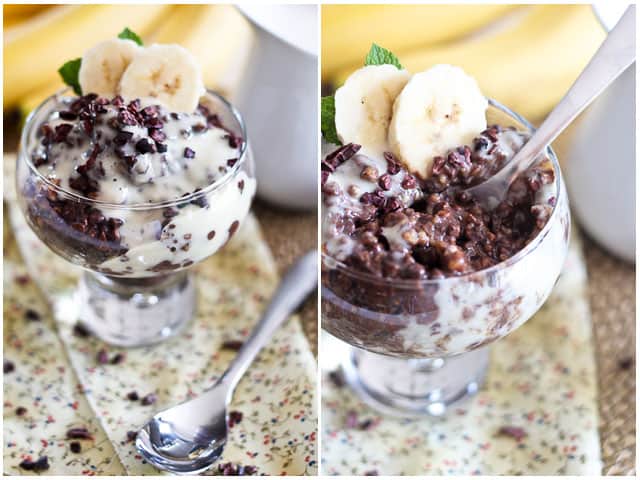 Sometimes, I cheat a little bit, however. As was the case with this breakfast pudding. How did I cheat, you ask?
Simple! I cooked my buckwheat ahead of time!
Instead of cooking this over low heat and stirring for about 20-30 minutes like I normally do when making any kind of warm breakfast cereal, I cooked the buckwheat in advance, which takes close to no time at all, and doesn't generate that much heat.
Cooking buckwheat is very similar to cooking rice: using a 2 to 1 water to buckwheat groats ratio, all you need to do is bring the [slightly salted] water to a boil, add buckwheat groats, lower heat, cover and cook until all water is absorbed. This normally takes about 8-10 minutes. You then want to kill the heat and allow to rest for about 5 minutes.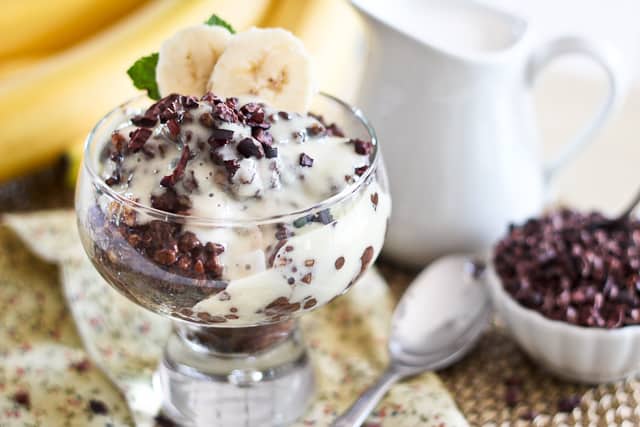 You can then remove the lid, fluff your buckwheat with a fork and try not to eat it all use immediately or keep it in the fridge to use later in recipes such as this one right here.
As an added bonus, cooking the buckwheat in advance allows you to enjoy your breakfast MUCH faster! And if you're like me, you're REALLY hungry after a good workout and don't have much patience to wait for your food to be ready. The faster, the better!
Now, if I still haven't convinced you to try buckwheat despite the numerous times I've talked about it, I hope that this one seals the deal! Buckwheat is my favorite non grain now.  It's like so super yummy! Much more flavorful than rice, it has a really cool chewy yet creamy texture. It's just perfect for making creamy "puddings" such as this one.
Of course, if you've already tried it, then you know exactly what I'm talking about and chances are you already have the water boiling so you can make this for breakfast tomorrow.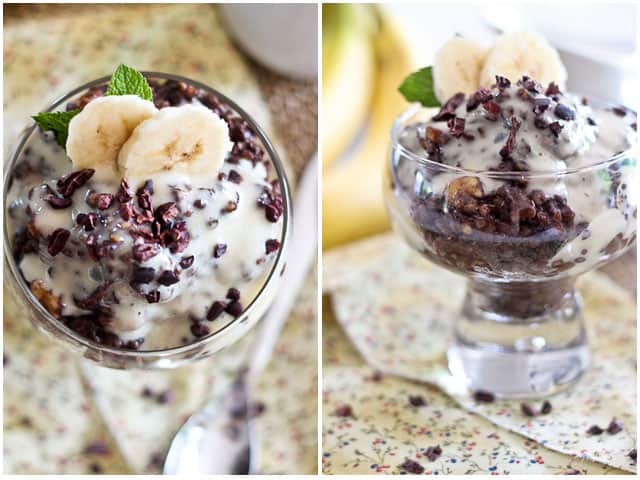 Now, I chose to make this with carob, but if you don't care for it, you can very well use cacao instead. I happen to really like the rich, intense sweet flavor of carob and I think it works absolutely wonderfully with this dish. Bananas and carob are definitely a match made in heaven, if you ask me.
Now if you'll excuse me, I think I need to get some water going…
I know what I'm having after my bike ride this coming Saturday!
Until then, I'll be dreaming about it!
Creamy Banana Carob Breakfast Buckwheat Pudding
Servings: 1
Ingredients
½ ripe banana
½ cup milk of choice, I used home made almond milk
2 tbsp carob powder
1 cup cooked buckwheat
½ banana, cut into small chunks (save a few slices to garnish)
1 tbsp cacao nibs
Garnish
½ scoop vanilla flavored whey protein powder
1 tbsp fat free Greek yogurt
½ tsp cacao nibs
Fresh mint leaves
Banana slices
Additional milk, if desired
Instructions
Add banana, milk and carob powder to your small blender or food processor and process until smooth.

Transfer to a small saucepan and heat over medium low heat until it simmers.

Add cooked buckwheat, lower the heat and continue cooking, stirring often, until the mixture becomes thick and creamy.

While buckwheat is cookingk, add protein powder and yogurt to a small mixing bowl and mix until smooth and creamy (just mix to combine, let rest for a minute or two and stir again until smooth)

When buckwheat has reached the right consistency, remove from heat, stir in banana chunks and cacao nibs.

Transfer to serving bowl, top with yogurt mixture and sprinkle cacao nibs. Garnish with mint leaf and banana slices, if desired.

Add a little bit of cold milk to warm cereal for a delicious temperature contrast, if desired.
Notes
Grain Free, Gluten Free, Refined Sugar Free, High Protein
If you've tried this recipe, please take a minute to rate the recipe and let me know how things went for you in the comments below. It's always such a pleasure to hear from you!
You can also FOLLOW ME on PINTEREST, FACEBOOK, INSTAGRAM and TWITTER for more delicious, healthy recipes!