Quick Leftover Salmon Salad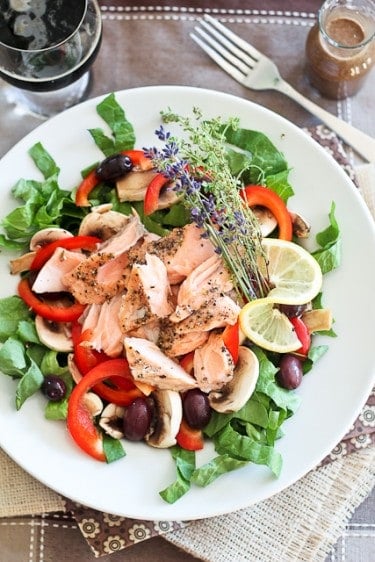 This isn't going to be a fancy post. I mean, let's face it, it's a post about leftovers! There's nothing fancy about leftovers.
But still. However uninspiring they may sometimes be, they are a reality that we have to deal with. And they can be a great lifesaver, too.
So let's not be too hard on them, alright?
When I made my cedar plank salmon, I'd made 2 individual fillets, even though I was eating alone. Now why did I go do that? Hmpft. Do you really want to know? Truth is I thought my pictures would look much better with 2 fillets instead of just one poor, single, lonely looking piece of fish. So one was actual dinner, the other one was just a "prop".
How's that for dedication? 😉
I wasn't too sure what to do with that leftover fillet. The old me would've no doubt taken the creamy pasta route. But I don't do pasta much anymore.
A sandwich?
Bah! Boring… Plus, I eat so little bread now that it's a bit of a turnoff for me to buy an entire loaf of bread when I know full well that I'm only going to have one or 2 slices and chuck the rest a few months down the road. I don't care for frozen bread, see? I keep putting my "leftover" bread in the freezer, only it never gets eaten. I always end up tossing it in the trash a couple of months later.
And of course, you all know how much I despise wasting food. So a sandwich was not even an option.
I really wanted to keep it simple and also wanted to avoid reheating the delicate flesh of this perfectly cooked piece of fish.
Well, there was but one option left, I'm afraid: A SALAD!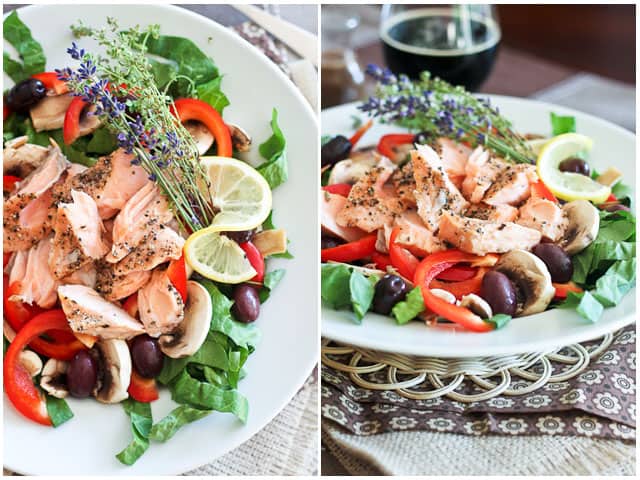 Seriously guys, tell me… what am I going to do when summer is over and I can't have my daily salad anymore?
Oh, how I'm gonna miss them. Guess I'll have to start making soups and stews instead…
But for now, since I can still enjoy my salads, I will do just that. I just can't get enough of them.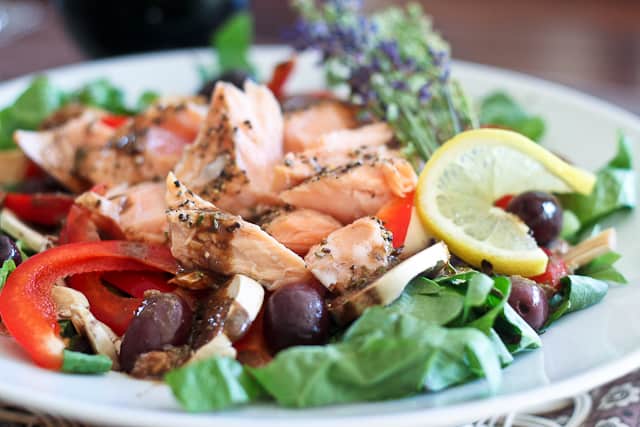 This particular one here isn't necessarily what I would call a light meal because it has quite a "healthy" portion of salmon on it. If you wanted to keep it on the lighter side, you could always use less salmon and/or omit the kalamatas.
Or better yet, you could double up the amount of greens and veggies and share it with someone you love, why not?
They sure will thank you for it.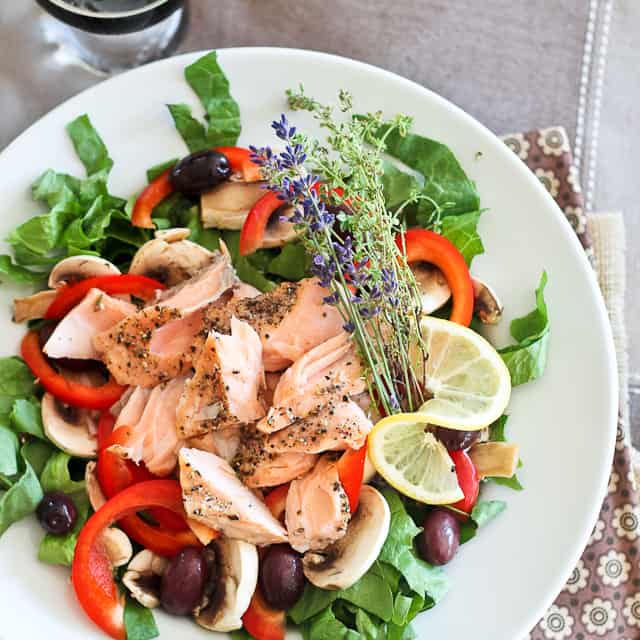 The combination of ingredients was really nice and fresh and made for an awesome summer day feast, but honestly, I would've preferred a creamy yogurt dill dressing to go with that. The problem is, I had absolutely nothing on hand to make the creamy dill version, so I had to settle for a tangy balsamic.
Don't get me wrong, though. It wasn't bad at all. In fact, it was delicious. I just think it would've been GLORIOUS with the dill.
So hey, next time you have leftover salmon in the fridge, give that one a try.
I'm sure you won't regret it.
Quick Leftover Salmon Salad
Servings: 1
Ingredients
6 leaves Romaine lettuce, shredded
3 white mushrooms, sliced
¼ red bell pepper, sliced
10 kalamata olives
150 g leftover cooked salmon
Instructions
Add all the ingredients of the dressing to your small blender or food processor and process until smooth and well incorporated. Set aside.

Lay the shredded lettuce at the bottom of a serving dish. Add mushrooms, bell peppers, kalamata and leftover salmon.

Drizzle vinaigrette over your salad when ready to serve.
Nutrition
Calories: 650kcal
If you've tried this recipe, please take a minute to rate the recipe and let me know how things went for you in the comments below. It's always such a pleasure to hear from you!
You can also FOLLOW ME on PINTEREST, FACEBOOK, INSTAGRAM and TWITTER for more delicious, healthy recipes!