Cooking Salmon on a Cedar Plank – Much easier than I thought!
I've always been fascinated with this method for cooking salmon.
The resulting fillets are just so moist, so tender and so deliciously fragrant, all infused with that delicate sweet and smoky aroma.
However, for some reason, I imagined that it was extremely complicated to do this at home, with the soaking of the planks and what not, so I sort of always left it to others to take care of it for me.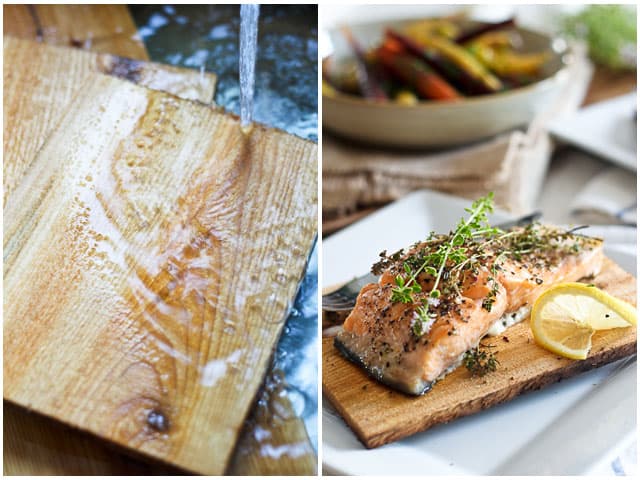 Others as in professional chefs, I mean.
But there came a day in the life of this foodie when she really craved a piece of salmon cooked on a cedar plank and she just couldn't be bothered to go out and sit in restaurant and spend an hour eating all by her lonesome…
So she started reading up on the subject and soon came to realize that there really wasn't much to it.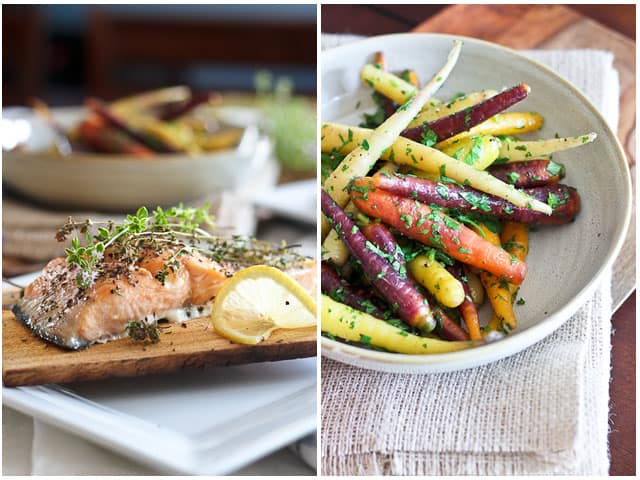 It basically all comes down to this:
First, head out to your favorite hardware or even grocery store and buy wooden planks of the desired essence (they have several available now, such as cedar, maple, birch, oak, cherry, apple or even hickory).
If you want to cook individual fillets like I did, cut your wooden planks to desired size. I cut my 12" x 7" planks into 2 pieces of 6" x 7".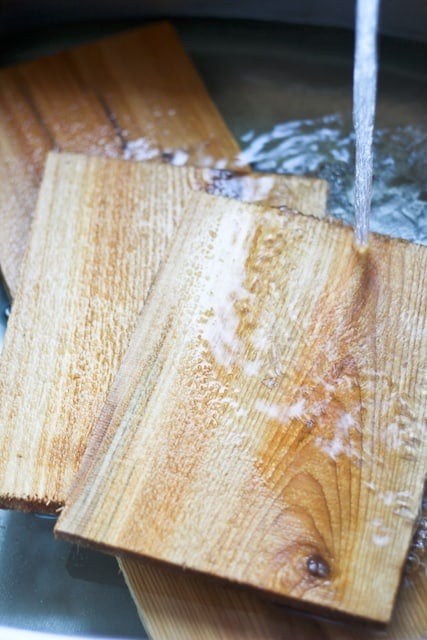 Soak said wooden planks for at least 2 hours prior to "grilling" your fish. You can soak them in plain water, fruit juice, white or red wine, cider, sake or even tea. Some people also like to add fresh herbs, spices, a splash of vinegar, a few slices of lemon / lime / orange or other flavouring components to their soaking liquid. Feel free to use whatever you want, so long as it's humid! I chose to use plain tap water.
Preheat your grill to medium heat (about 350F).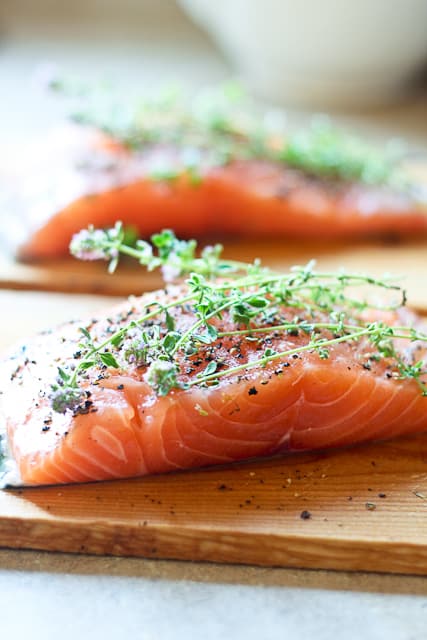 While this is happening, prep and season your salmon fillet. If you want individual fillets, now is the time to cut it into pieces of approximately 225 grams. Do not remove the skin. Just sprinkle a little bit of salt and pepper and rub it all over the entire surface of the fish. Yes, on the skin side too.
Oh, and if you're lucky enough to have a Trader Joe's near you, know that their Flower Pepper works wonderfully with this!
Take your planks out of the water and place your fish onto them, skin side down. I decided to add a few sprigs of fresh lemon thyme on top of my fish.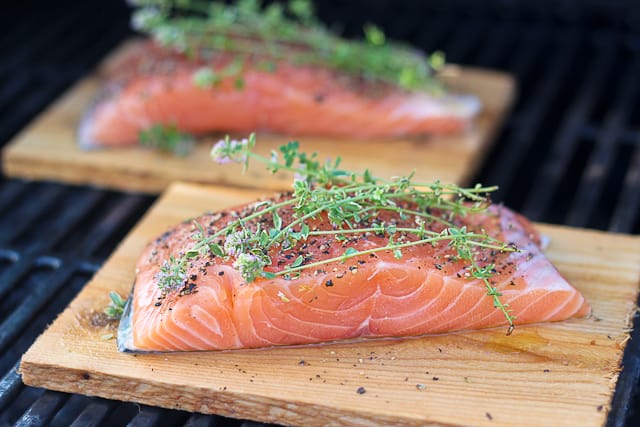 Place the planks on the grill, close the lid and cook for 12-15 minutes, depending on size and thickness of your fish. Make sure to check for doneness from time to time. The fish is done when it's uniformly pink and no longer translucent in the center (although I like mine to retain just a little hint of translucence)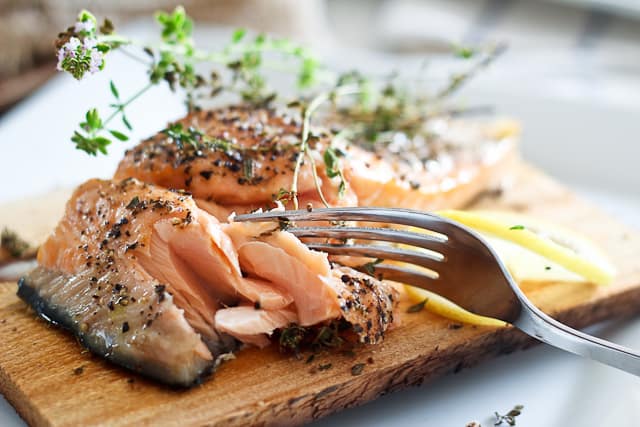 I chose to serve my salmon directly on the cedar plank, with a side of multi-colored carrots. A handful of chopped parsley made them all nice and pretty (and quite tasty too!)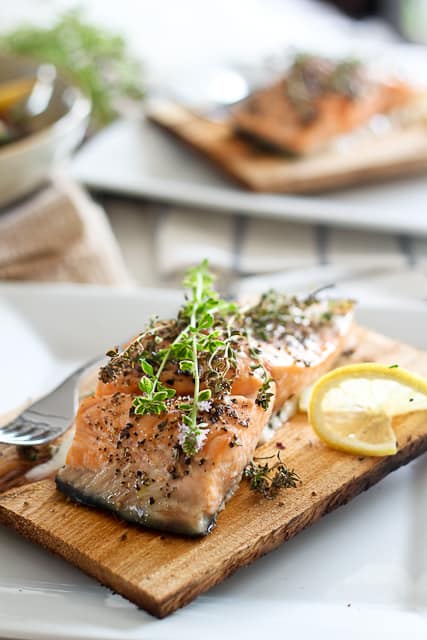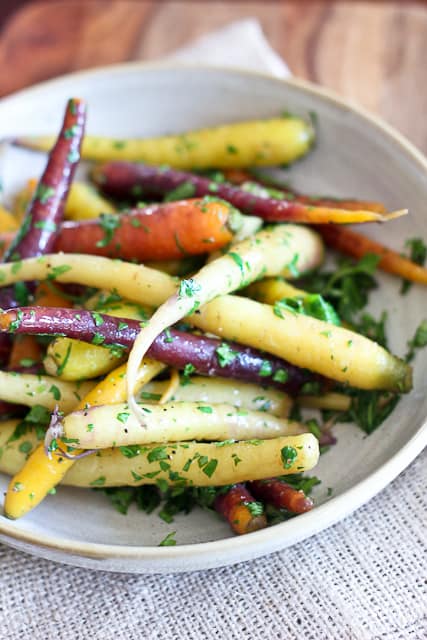 If you prefer, you can also remove your fish from the plank and place it directly in a serving plate.
The easiest way to do that is to run a spatula between the flesh and the skin. The skin should stick to the plank and you'll be able to lift your filet without breaking it.
If you want more of a smoky flavor, you can also place the planks directly on the preheated grill for 2 minutes, turning them once after one minute. When the planks start crackling, they are ready to use. At this point, just place your fish directly on the planks as you did with the previous method.
I am so trying that next time!
Oh, and it might be a good idea to keep a spray bottle filled with water handy in order to extinguish flames in the event that the planks start to burn…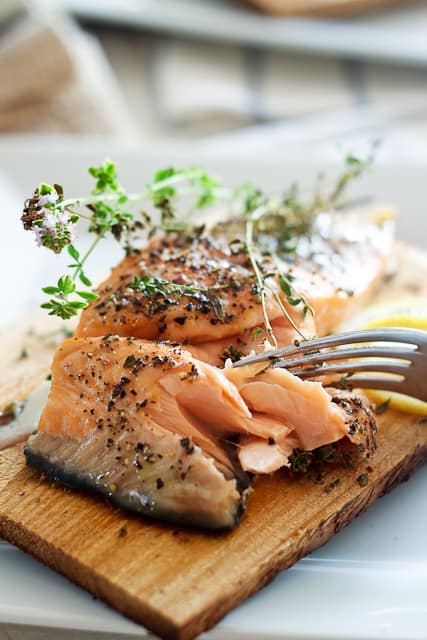 After grilling, wash the planks in soapy water and let dry for future use. Most planks can be used 3-4 times before they become unusable.
A neat trick is to soak them and place them in plastic bags in the freezer, that way they are ready to use the next time you get a sudden craving for cedar plank salmon!
Need I tell you that I did just that? There's just no saying when the craving will hit again!