Mango, Celery and Goat Cheese Salad – A Winning Performance!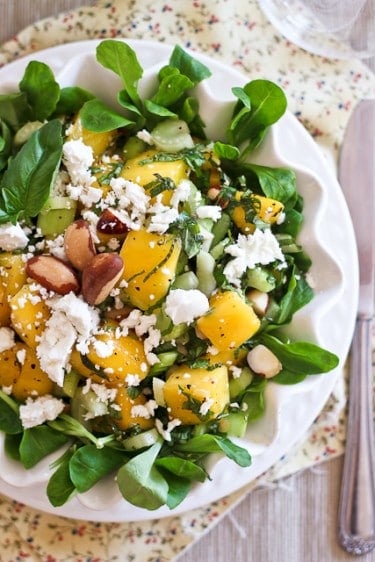 A few weeks ago, I was out shopping at Costco and treated myself to this ENORMOUS bag of frozen mangoes.
I don't know about you, but whenever I get some new and exciting food item like that, I seem to become obsessed with it and want to eat nothing but that for days.
This bag of frozen mangoes was no exception and I must've gone through close to half the bag before I got tired of having mango smoothies every morning! I wanted to actually sink my teeth into real chunks of mango, not just taste the pureed fruit.
I racked my brains to try and think of a main course that would make real good use of LOTS of big pieces of cold mango. Something that would truly make it the star of the dish, put it on a pedestal, make it shine like a true star, elevate it to great summits, you know…
Ok, I'll stop now. I think you get the idea!
Well guess what guys… it seems that all I could come up with was… Right on: another salad!
So be it.
I started building around that star ingredient and decided that it needed a super crunchy yet insanely fresh partner to play the role of second in command. Something rather plain and fairly simple though, so it wouldn't go and steal the show. A humble player but whose reputation was very well established, still.
Celery got the role.
Now that the two main actors had been chosen, I needed yet another key player that would add a little bit of substance to this play. Again, something that would have a great presence without being too distracting. No flamboyance wanted here, thank you very much. Still, that guy would have to be a little nut. A foreigner? Why not?
It was Brazil who made the cut.
Then, to balance things out, we needed a final player, one that would tie this whole gig together, that would make the whole story run smoothly and harmoniously whilst bringing the performance of the entire troup to the next level.
A goat to lead the way!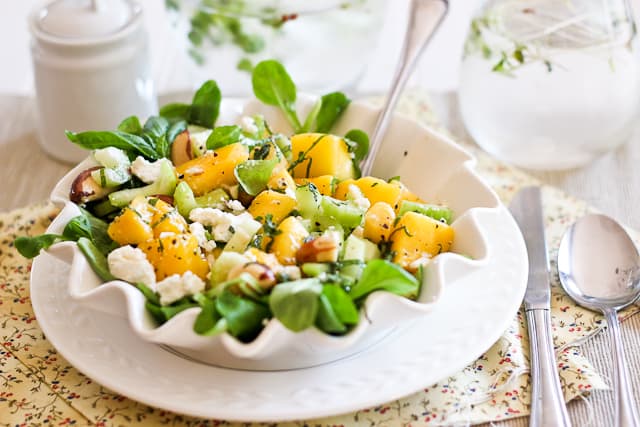 A few more figurants were called upon to tie up the loose ends and a repetition was immediately scheduled.
Only one tiny little detail remained. Where to set the scene?
It was decided that a bed of mâche would make a pleasently suitable ground for this colourful bunch to offer the best performance they had to give.
As for me, I was lucky enough to be the guest of honor at this great première and as such, I was the first to appreciate the fruit of this deliciously refreshing act.
My verdict? I believe a star is born! The commingling of all those involved was simply brilliant.
Well worthy of a red carpet…
BRAVO!
Mango, Celery and Goat Cheese Salad
Servings: 1
Ingredients
1-2 cups mâche
250 g mango cubes, I used frozen but fresh would be even better
2 large celery stalks, sliced
30 g Brazil nuts, coarsely chopped
12-15 large fresh basil leaves, chiffonade
12-15 large fresh mint leaves, chiffonade
2 tsp cidar vinegar
¼ tsp salt
¼ tsp black pepper
30 g unripened goat cheese, crumbled
Instructions
In a medium mixing bowl, add mango cubes, celery, Brazil nuts, basil, mint, vinegar, salt and pepper. Mix until ingredients are well distributed.

Directly onto your serving plate, form a bed with the mâche. Place the mango / celery mixture on top of that bed.

Sprinkle with crumbled goat cheese and serve immediately.
Nutrition
Calories: 496kcal
If you've tried this recipe, please take a minute to rate the recipe and let me know how things went for you in the comments below. It's always such a pleasure to hear from you!
You can also FOLLOW ME on PINTEREST, FACEBOOK, INSTAGRAM and TWITTER for more delicious, healthy recipes!